As you may know, we visited the Disneyland Resort for the first time ever earlier this month and used MaxPass along the way. We wanted to give our thoughts on the service, how it is similar (and different) to FastPass+ at Walt Disney World, and offer a few tips as well. Let's dive in.
What is MaxPass?
MaxPass is an optional, paid digital FastPass procurement offering at the Disneyland Resort. As of print time, the cost is $10 per person, per day.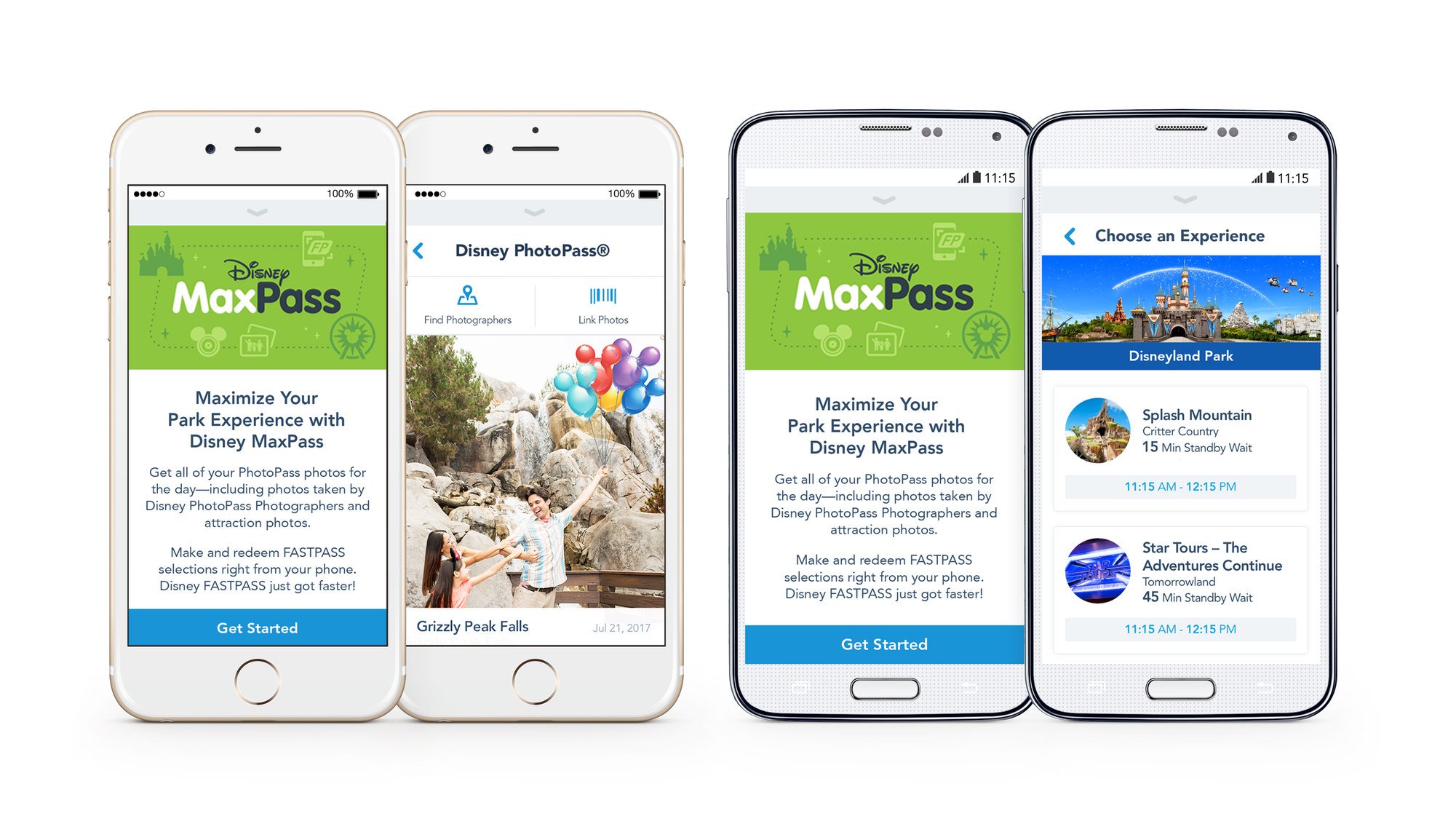 MaxPass works in tandem with the traditional paper FastPass system, and the same rules apply. The main difference between MaxPass and the traditional paper FastPass system is the ability to request and reserve FastPass selections via the Disneyland mobile app on your phone.
In addition to the FastPass benefits, all PhotoPass downloads are included with MaxPass.
How do you buy MaxPass?
You can either buy tickets with MaxPass already included (which is what we did), or you can add MaxPass to your linked tickets via the Disneyland mobile app.
MaxPass Tips
Before we get into our thoughts on the service, we wanted to pass along some tips and info on the MaxPass system.
You can only make one FastPass reservation at a time. This differs from FastPass+ at Walt Disney World, where you can make up to 3 initial selections.
You can make your next FastPass selection when one of two things happens:

You redeem your current FastPass. Pro Tip: This means that you can make a new selection the second you scan your ticket at the first touchpoint in an attraction!
Two (2) hours elapses from the time you made your current FastPass. The app will tell you when you can make your next FastPass selection without having to redeem your current FastPass.
Make sure you take a photo of your on-ride photo. You'll need to enter the PhotoPass code manually later. This is one area where Walt Disney World, and My Disney Experience, excel. On-ride photos are linked via your MagicBand, so you never have to worry about fidgeting with your phone. No MagicBands at Disneyland means that you have to enter the code seen on the on-ride photo preview… every single time.
You can make a FastPass selection for either park at any point with MaxPass. This means that your first FastPass might be Haunted Mansion Holiday at Disneyland Park, followed up by Mission: BREAKOUT at Disney California Adventure. The walk between parks is quick, and it's definitely worth your time to check the other park for a better time when checking for FastPass.
A bit of a specific use case, but Guardians of the Galaxy – Mission: BREAKOUT transforms into Monsters After Dark just before sunset, daily. A fresh set of FastPass are distributed at 3pm (as of this post) for Monsters After Dark. We saw a line form for the Monsters After Dark FastPass distribution well over an hour before distribution started. With MaxPass, you can sit back and relax. The Monsters After Dark FastPass popped up in the app right at 3pm and we were able to skip the hours-long line.
The biggest caveat to MaxPass is the Disneyland mobile network. We've heard stories of MaxPass being nearly unusable due to network congestion. We were at Disneyland from Wednesday through Saturday and only experienced the network congestion in the evening hours of Saturday. That said, it's true that the app becomes unusable. While we think it's never a good idea to try and take on Disneyland during the weekend, we would still recommend MaxPass for the morning and afternoon hours, when the network is still functioning. We got some great usage from MaxPass during those hours and it only became unusable around 7 or 8pm.
What did we think of MaxPass?
Overall, we loved MaxPass. The ability to book available FastPasses from the phone is something that we're used to at Walt Disney World, but due to the same-day distribution nature of FastPass at Disneyland, MaxPass is a no-brainer. Let me explain. At Walt Disney World, FastPass+ are distributed either 30 or 60 days in advance, depending on if you're staying on property, or off property. That makes getting some of the headliner attractions difficult to nearly impossible at Walt Disney World.
At Disneyland, FastPass are still distributed day of. That means you can purchase MaxPass, enter the park, and book any attraction you want on the day that you're visiting, right from your phone. No need to run to a distribution area and waste valuable time. We were able to ride Haunted Mansion Holiday, Mission: BREAKOUT, Indiana Jones, and pretty much any ride we desired, multiple times, throughout our visit.
Here's a comparison of searching for some of the top attractions at roughly the same time of day. A Haunted Mansion Holiday FastPass is not only available, but it has a redemption time of just 40 minutes after park opening. Not so easy for the attractions in Pandora – The World of Avatar.
At $10 per person/day, MaxPass might be the best investment you make for your Disneyland trip. You don't have to worry about running around to the next FastPass distribution center and all of your PhotoPass downloads are included. As long as Disney keeps it at this price, we'll include it on every return trip.