After months of construction and even a partial demolition, the reimagined Walt Disney World McDonald's is now open! The location opened today at 11am and we have a look around the solar-powered McDonald's!
We have video and photos for you today, including a video that can be found in the McDonald's that educates about the location and some of the cool design choices they implemented. Perhaps the coolest thing that we learned from talking with a manager is that the location is planning on being COMPLETELY solar-powered this year! They will learn more about their energy consumption as the year progresses.
Here are some quick facts about the location:
1,066 solar panels spanning over 18,000 square feet on the main roof
Those solar panels can generate 600,000 kilowatts per year
4,800 square feet of solar glass panels covering the outdoor seating area
Solar glass generates up to 70,000 kilowatts per year
600 square feet of Louver windows that push the heat out and keep the cool air in
Parking lot lights are solar powered, offsetting 9,000 kilowatt hours per year
Stationary bikes power the Golden Arches!
1,700 square feet of living wall that provides a cooling effect for the building while absorbing CO2
Collects rain water to prevent erosion
Plants native to Florida are used and require less water
There is a lot of outdoor seating and it's incredibly cool even under the hot central Florida sun.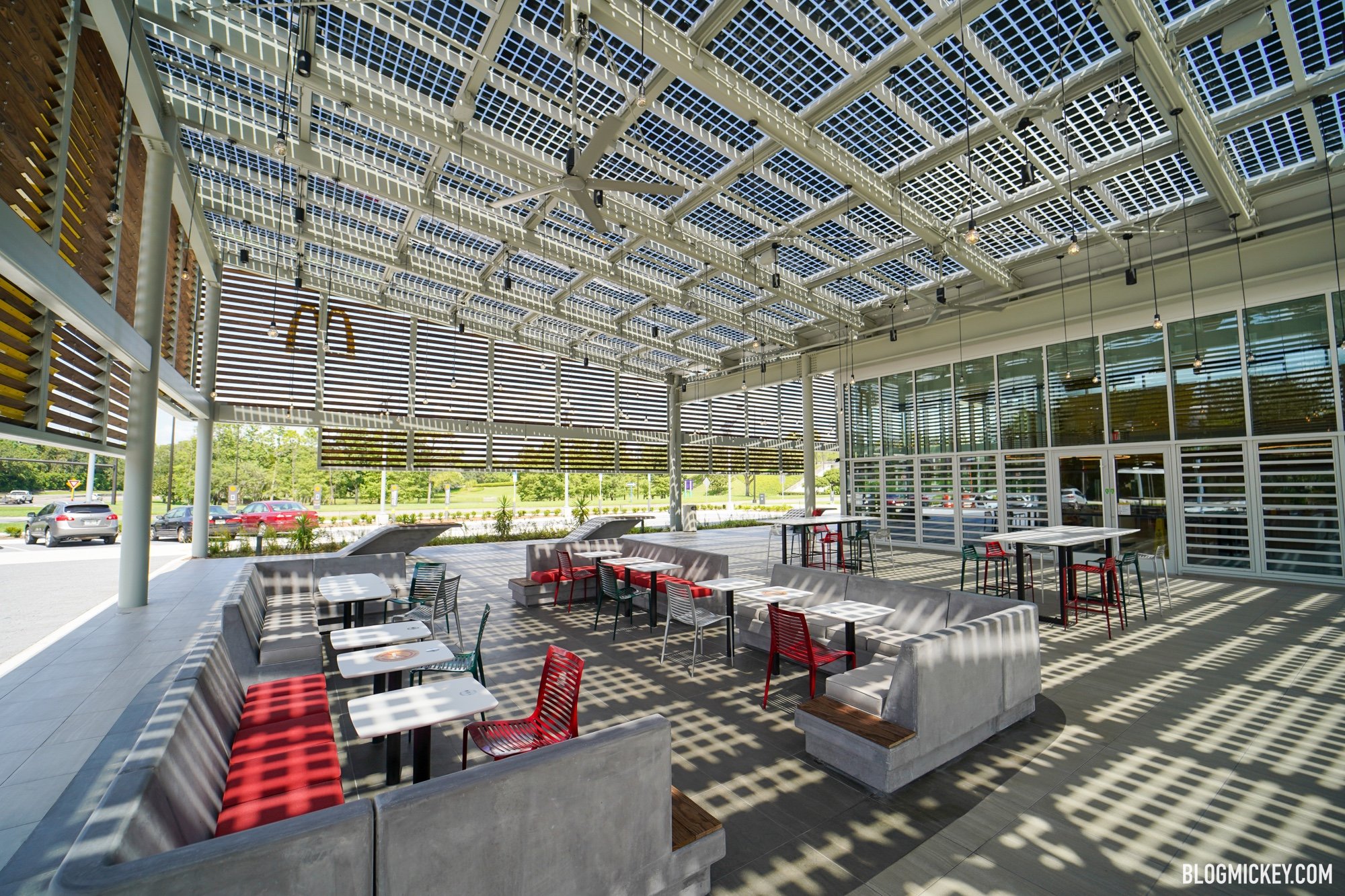 Guests order via touchscreen or mobile app.
There are bikes and a handcrank outdoors to power the Golden Arches! We'll have to come back at night to see them in action.
The McDonald's is accessible to anyone and can be found at 1596 W Buena Vista Dr, Kissimmee, FL 34747. Their hours are 11am to 8pm today.
As always, keep checking back with us here at BlogMickey.com for the latest Disney Parks news and photos. We'll continue to bring you news and photos, where possible, through the Disney Parks closure due to Coronavirus (COVID-19) and will resume our normal coverage once the parks reopen to guests on July 11th!