Last Friday marked the last day that Wreck-It Ralph and Vanellope would be meeting with guests at the Magic of Disney Animation in Hollywood Studios. They will be replaced by Baymax and Hiro. Here's a look at the meet and greet location on it's last day.
We entered the queue at about 5:40pm, 20 minutes before it was to be closed. The queue is short, but takes a long time for some reason. Both Ralph and Vanellope don't talk, so it surprised me how long it took. Lets take a look at the queue and meeting area.
Size of the queue is small, but equivalent to other queues in the other Meet and Greet areas in the Magic of Disney Animation.
The first game you encounter in the queue is Fix-It Felix Jr.
Circuits are everywhere in the queue. Hero's Duty can be found in the queue too.
The arrival screens are fun to watch while standing in line and keep with the Game Central Station feel. Audio also plays with the latest information on arrivals.
You will even encounter a cybug!
The last screen you see before meeting Wreck-It Ralph and Vanellope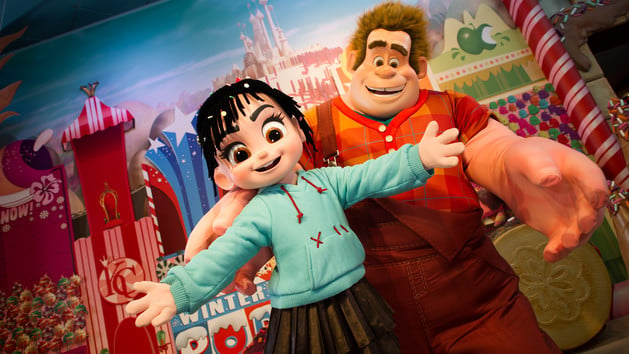 Vanellope gives out kisses and Wreck-It Ralph gives hard high-fives and may even "wreck" you by hitting you on the head!
The nostalgic music in the queue, watching the Game Central Station arrival board, and getting a hard high-five will be missed. Did you like this meet and greet?