The final track piece has been installed for the Tron Lightcycle Run roller coaster at Magic Kingdom! The final piece connected the exterior loop to the show building and marked a fully completed track less than 5 months after the first track piece was installed.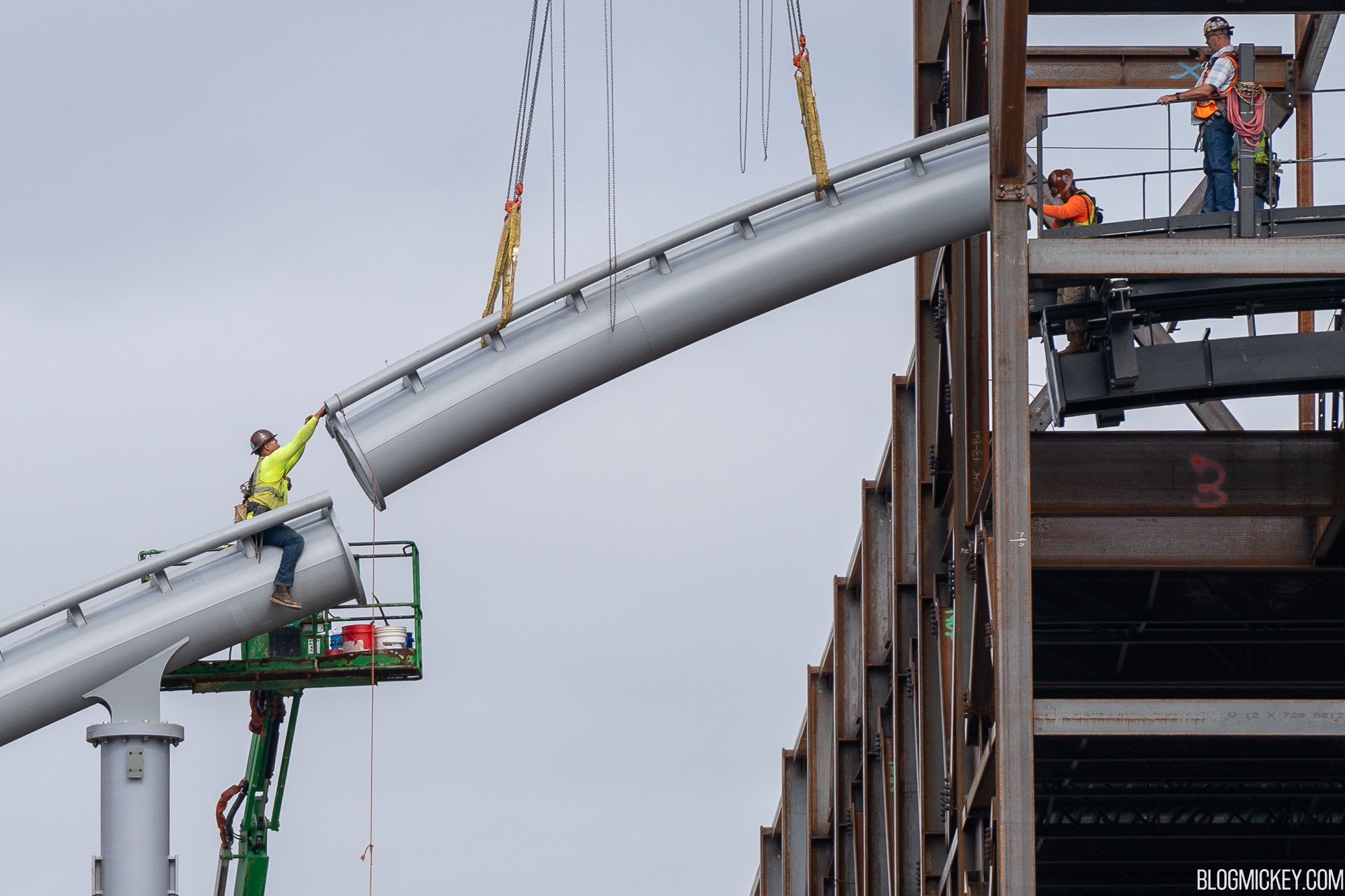 Of course, a few closeups don't show the whole picture, so we went to the top of Disney's Contemporary Resort to give you an overview of the project.
We also took to the Tomorrowland PeopleMover to get a look at the entire exterior portion of the ride.
Here's where the track goes from indoors (black) to outdoors (white).
And a look at the track from more of the PeopleMover.
The Tron Lightcycle Run project has been wonderful to watch so far, from the first permits filed for the project nearly two years ago to the latest development of a completed track, getting Tron in Magic Kingdom at Walt Disney World is certainly exciting!
The Tron Lightcycle Run at Magic Kingdom will be a clone of the same attraction that can be found out at Shanghai Disneyland. We made it out to Shanghai to ride Tron and give you our thoughts on the attraction before it opened here at Magic Kingdom. For our full review, check out our post (HERE).
Adrenaline-pumping music, lights and 3-D graphics inspire a furious surge toward the winner's circle. Traverse TRON's electrifying multi-sensory environment as you speed, dip and dive through digitized darkness on one of the fastest indoor roller coasters in Disney theme park history.
Sync Chamber
Step inside the techno-style zone featuring glowing glass rails, a real-time Raceview and blue laser lights that etch patterns through space—this is where Users synchronize with their Lightcycles. Feel the power activating as you jump on, grab the handles and brace to face an unknown digital frontier.
Launcher-Upload Conduit
Anticipation heightens as the Lightcycles lunge forward with sound effects building to a feverish pitch. Suddenly, you're throttling through a tunnel of flashing markers and, just as quickly, plummeting onto a turbo-charged track known as the Grid!
The Grid
Filled with brilliantly illuminated shapes and sleek, color-changing TRON iconography, this game-world "gravity box" seems to rev harder with enhanced energy as Lightcycles catapult past each Gate. Will Team Blue capture them all and take the championship? See if you can defeat the Programs, survive the Power Run and make your way back to the real world!
While the final track piece to be installed is an important milestone for the project, it's far from the last milestone that we'll cover here at BlogMickey.com, so make sure you keep checking back with us as the project approaches a 2021 opening date at Magic Kingdom!