We take a break from our normal Star Wars: Rise of the Resistance planning to take on a much less stressful task – rope dropping Flight of Passage in Pandora – The World of Avatar at Disney's Animal Kingdom.
Our Flight of Passage rope drop takes place in February 2020, after Presidents Day weekend, but still in the midst of elevated crowds. We note this because while crowds can oftentimes be considered low in February, we're starting to see fewer and fewer "slow seasons" at Walt Disney World, making planning tips more consistent throughout the year except for during the Christmas and New Year's seasons. In this post, we'll talk through our experience and try to help you plan your own Flight of Passage rope drop!
Our day starts at Disney's Animal Kingdom at 7am on a Wednesday. While thousands are lined up at Disney's Hollywood Studios trying their luck at securing a boarding group (which have become infinitely more difficult to obtain in the past few weeks), we're one of the first 10 cars in the parking lot. Construction at the front of the park, means you might have to weave through some walls. As far as theme park entrance construction goes, Disney's Animal Kingdom has been the least confusing.
Four directional signs pointing to the same destination in a single photo.
We're off to a good start. Of course, not everyone is a morning person, so we'll talk about timing your arrival in a bit. It's worth noting that our arrival at 7am is two hours before the 9am scheduled open.
To get to Disney's Animal Kingdom this early, you can't rely on Disney buses, but you do have a Disney-operated option if you'd like – Minnie Vans. Because Star Wars: Rise of the Resistance demands an early arrival to the parks Minnie Vans are currently available beginning at 6am. If that changes due to Hollywood Studios opening later in the coming weeks, you'll always be able to grab an Uber or Lyft to get you to Disney's Animal Studios early. Of course, the option to drive yourself always exists too and we were able to get into the parking lot as early as 6:30am, if not earlier.
When we arrived at bag check, they were still closed at 7am, but would open at about 7:15am. From there, guests were asked to form one of two lines before the park entrance touchpoints or even the plaza where we'd end up spending the majority of our time.
This was actually a savvy move by operations as they staffed up the touchpoints and uncovered the touchpoints that would open when the park began accepting guests. By uncovering the touchpoints that would be in use and communicating that fact to guests, there was no guessing on if a lane would later open up and no crowding of a single touchpoint out of fear others wouldn't open. A little bit of excitement to choose a lane acted as a warm up for the race to Pandora. In reality, if you're at Disney's Animal Kingdom this early, you don't have to rush.
As you can see, we went to the far right touchpoints when we were let into the entrance plaza at about 7:30am. Eventually, more touchpoints would open to the right. If you find yourself showing up a little bit later than you had planned, staying to the right might allow you to luck out and skip a few families if Disney opens more touchpoints.
Now, we wait. Thankfully for you, we can skip ahead the 30 minutes or so that we waited. A nice thing that Cast Members did while we were waiting was make their way down the line and check with any guests who either needed tickets made or have any ticket issues that might need to be addressed.
Crowds would build to a few hundred in the course of 30 minutes. While we showed up 2 hours before rope drop, guests who showed up closer to 8am would still get onto the ride in an hour or less. If the ride is operating at 1400-1600 guests an hour, anyone who arrives to Disney's Animal Kingdom before 8:15am or so should have an hour or less wait.
The touchpoints opened at about 8:02am and the race was on. Flight of Passage rope drop is always a good opportunity to practice some sports photography.
We were distracted by a clear shot of the Tree of Life, which actually works to your benefit a bit. Not only do we get a couple of empty shots of the Tree of Life, but we also put ourselves further back in line.
While we showed up at 7am, we ended up taking 10 minutes or so to take photos and let a couple hundred guests pass us. If we just showed up at 7am and ran straight to the front of the line, we'd be doing you, the reader, a disservice.
By the time we get to the spot where Cast Members hold guests before walking them back to Flight of Passage, we have a decent crowd in front of us, effectively simulating a 7:45am or 8am arrival.
From here, the crowd would build up behind us until the full length of the pathway was jam packed to Pizzafari. Going back to the 1400 to 1600 hourly capacity for Flight of Passage, the crowd here is probably less than that, effectively meaning that these guests will get onto the ride in an hour or a bit more.
Cast Members began walking us back to the attraction entrance at 8:28am. Crowd flow goes past the Flaska Reclinata and back towards Africa.
This is where things start to get a bit dicey. The crowd will head towards the exit of Pandora – The World of Avatar, but then be asked to make a u-turn to get into line.
The front of the line is seen along the pathway to the center-left of the image. We're headed back down the pathway to the right.
It gets quite claustrophobic here.
A Cast Member at the back of the line beckons guests down the path before they naturally fill in as they make a u-turn.
We've passed every single person that we stood near or next to at the 8am opening of the touchpoints by walking a bit slower, but we're still not in nearly as bad of shape as we could have been if we showed up at 9am or after. Putting in some time at the beginning of the morning will pay off bigtime over the next 15 minutes.
We've made the u-turn and are starting to walk back towards the attraction entrance.
Here's a look at the masses "behind" us making their way down the path and to the same u-turn that we just did. Of course, that u-turn is much further down the walkway to Africa, so their wait will get much longer as the line stacks up. These guests likely showed up at 8:30 or later.
Once you get into the Flight of Passage queue, spaces between parties start to expand as some guests stop for photos. We'll end up walking straight to the Link Chamber lines at merge.
It's worth noting that this early in the morning, you might end up skipping a lot of the queue as Cast Members prioritize loading guests as quickly as possible versus giving them the full queue experience. It's a trade off, for sure, but it might be welcome when compared to the alternative.
The Cast Member above rerouted us to the FastPass+ line to get onto the attraction quicker.
Here's a look at some of what you'll miss.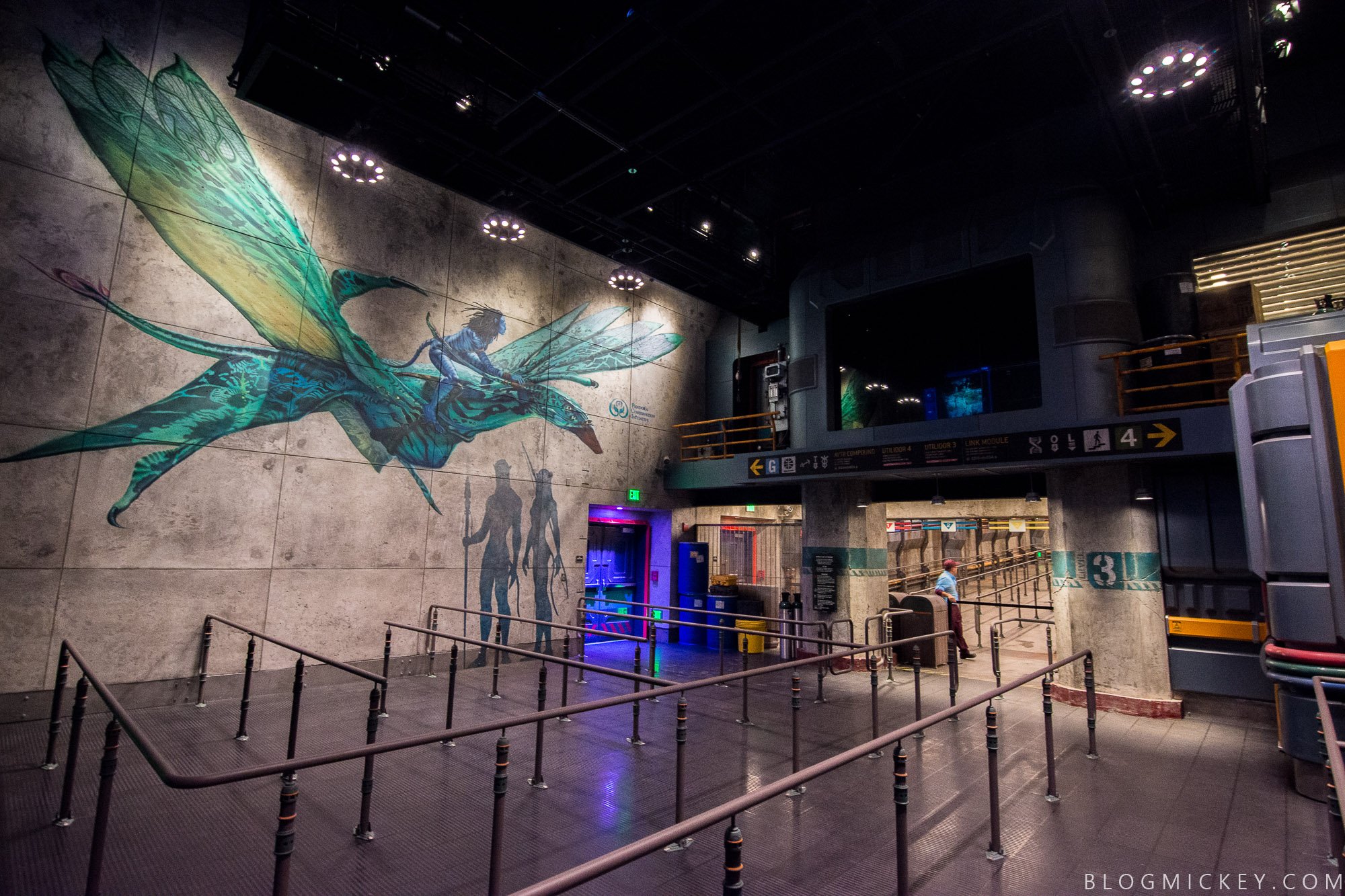 Eventually, we'll find ourselves sorted into a Link Chamber line.
A few minutes wait here and it was into the briefing room. Just like with the briefing room in Rise of the Resistance, we consider this the beginning of the attraction (or experience), so let's take a look back at the timing of our morning.
Parked – 6:55am
Bag check arrival – 7:01am
Bag check opens – 7:10am
Park entry plaza opens – 7:26am
Park opens to guests – 8:03am
Pandora – The World of Avatar opens – 8:28am
Flight of Passage queue entry – 8:38am
First Pre-Show Entry (pictured above) – 8:49am
Exit Flight of Passage – 9:03am
Again, keep in mind that while we arrived before bag check opened, we ended up simulating a 7:45-8am arrival by letting guests pass us.
Ok, so what time should you arrive? If you want to have as pleasant of an experience as possible, the answer is: as early as you can stomach. With guests already use to waking up hours before the park opens at Disney's Hollywood Studios opens, and an hour later park opening at Disney's Animal Kingdom, a 7am wake-up call doesn't seem so bad.
In reality, you'd be fine showing up before 8am and likely find less than an hour wait. Using our time table above should give you a great idea of what to expect on your vacation.
The premise here is that you're going to wait anyway, either in a long, snaking queue when the park is open, or before the park is even open with somewhat civilized people around you, maybe even enjoying a coffee while sitting cross-legged waiting for the touchpoints to open. There is little doubt that showing up early to get your "waiting" out of the way before the park opens is the best option if you're able to do it.
What happens if hit the snooze button a couple of times in the morning and show up after 9am? Here's a look at what we saw on the way out of Pandora – The World of Avatar after enjoying Flight of Passage.
The line snaked from the entrance to the attraction, back out of Pandora – The World of Avatar and into Africa before coming back into Pandora…and then exiting again and backing up past Tiffins, past Pizzafari, past Creature Comforts (Starbucks), and to the entrance to Africa. Here's a map of the line before we jump into the photos.
Needless to say, this line is crazy and something that you should try to avoid at all costs. Even waiting until the end of the night is a better option than jumping into this line just after 9am.
The vast majority of guests who visit Disney's Animal Kingdom will never read this Flight of Passage rope drop blog post, so hopefully our tips will put you ahead of the curve and off to a wonderful start to your day at Disney's Animal Kingdom. If you have any questions or comments, please leave a comment below or reach out to us on our Facebook Page or Twitter!
For more information about Walt Disney World, including news and photos, keep checking back with us here at BlogMickey.com.