While we've already taken a look at the completely empty Disney's Hollywood Studios, we decided we should take a closer look at the Roundup Rodeo BBQ table service restaurant being built in Toy Story Land.
With the news that construction crews would not be working during the closure, it's likely that the state that we saw Roundup Rodeo BBQ on the first day of closure will be what it looks like on the last day of the park closure. Of course, as the Coronavirus (COVID-19) situation improves, it's possible that Disney could get construction back up and running shortly before the parks reopen, but we're simply not sure when that will be and we don't want to speculate.
Before we jump into the photos, let's take a look at the Roundup Rodeo BBQ concept art released so far!
Guests will be immersed with all their favorite toy pals in the western atmosphere of Woody's Roundup providing a fun, family-friendly dining experience that could only be had in Toy Story Land. A new artist concept image released today emphasizes the theme of the new dining locale constructed from Andy's favorite larger-than-life playsets and games.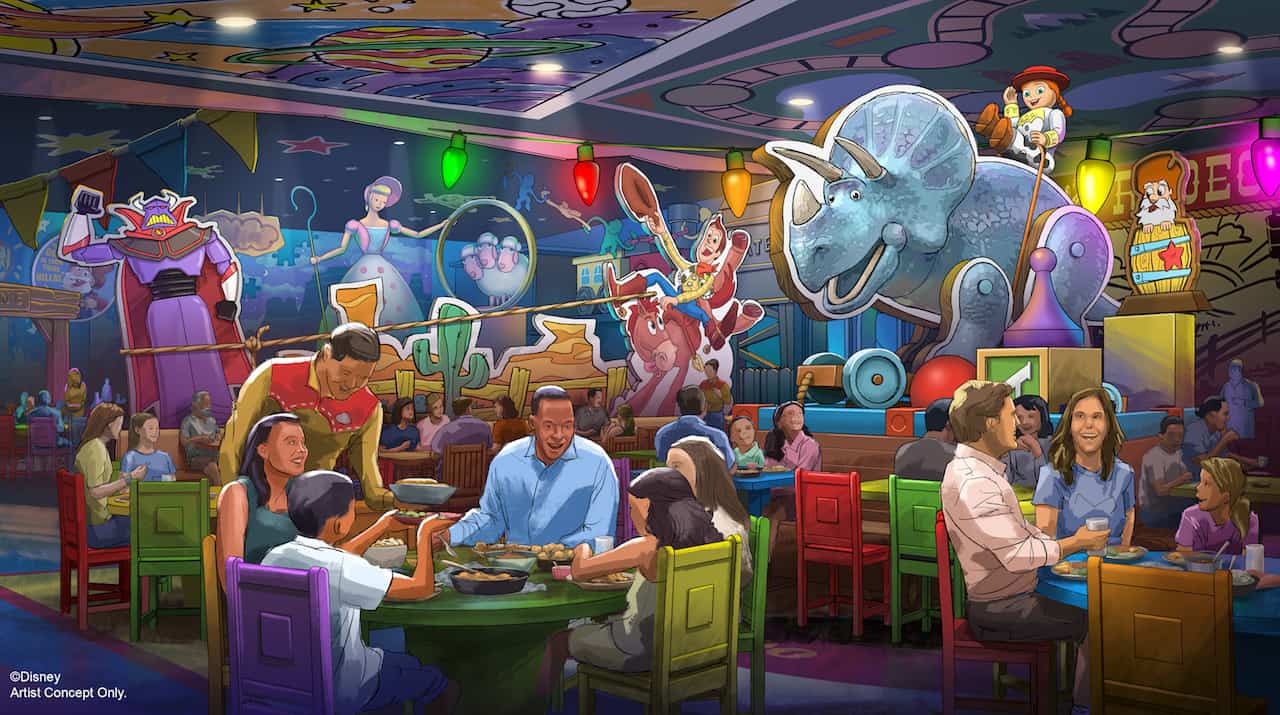 And here's a look at the building from the air.
In this overview photo, you can see the building in the top right of the photo. Because we're looking at it from over Star Wars: Galaxy's Edge, it might be tough to exactly understand where the building sits in relation to the land, but it basically sits to the right of the Woody entrance statue. Guests will walk right by Woody and take a right to enter the new table service restaurant.
Here's a closer look, with Woody hiding behind some trees.
Looking at the restaurant from over the park entrance, we can see that there is some roof access, but nobody is working on the structure.
Zooming in a bit from our helicopter's position over the parking lot, we can see Roundup Rodeo BBQ hidden behind some trees next to the Woody entrance statue.
If you were wondering what this all looks like from the ground, here's a look at some photos that we captured before the parks closed to guests.
As always, keep checking back with us here at BlogMickey.com for the latest Disney Parks news and photos. We'll continue to bring you news and photos, where possible, through the Disney Parks closure due to Coronavirus (COVID-19) and will resume our normal coverage once the parks reopen to guests on July 11th!