Attached to the news today of the reopening of Disneyland Paris on July 15th was some new concept art showing the transformation of Catastrophe Canyon into a Cars-themed scene for the upcoming attraction – Cars Route 66. The former Backlot Tour is getting a Cars makeover at Walt Disney Studios Park at the Disneyland Paris resort and the concept art seen below was posted by @DLPReport on twitter earlier today.
As we noted back in October, a section of the Studio Tram Tour will live on in a way at the Walt Disney Studios Park. As you might be aware, Disney is going to be overhauling the park in the coming years, which will lead to the removal of the Studio Tram Tour.
While details about the retheme are still in the early stages of being released, the description given says that guests will "buckle up and join Cars stars Lightning McQueen and Mater for a fun filled family road trip where you'll discover natural and mechanical wonders along the legendary Route 66".
The rethemed attraction looks similar on the map to what guests might expect from the Catastrophe Canyon portion of the Studio Tram Tour, but with the addition of Lightning McQueen.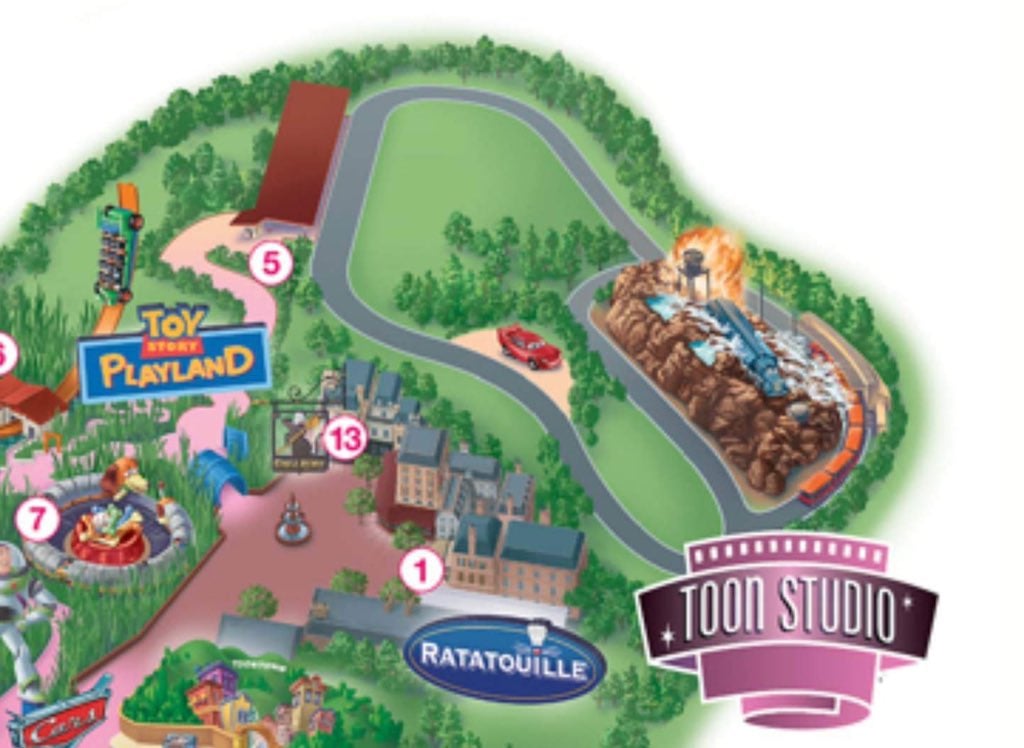 The Studio Tram Tour will need to be shortened considerably as part of this retheme to allow for construction on the next phase of Walt Disney Studios Park additions. A new entrance and queue for the attraction will need to be built as the current entrance will be demolished for the upcoming work. The current entrance to the Studio Tram Tour is essentially right in the middle of their future "main street" avenue that can be seen in the concept art below for the additions.
As you can see in the current map for the park, only a small portion of the Studio Tram Tour will be used for "Cars Route 66" in the upper right portion of the map. This will contain the Catastrophe Canyon part of the attraction and little else. You can find the current entrance to the Studio Tram Tour marked "13" below.
Here's a comparison shot of the 2020 map with current Studio Tram Tour entrance removed and new "Cars Route 66" attraction in the upper right section of the park map.
As always, keep checking back with us here at BlogMickey.com as we keep an eye on the transformation of the Walt Disney Studios Park at Disneyland Paris.