With the turn of the calendar page from October to November, Walt Disney World is starting to gear up for the 2021 holiday season. This year, the holidays at Walt Disney World will officially start on November 12th, but there will be some offerings that get started a bit early. In this article, we're going to outline our 2021 Disney's Animal Kingdom Holiday Guide.
Tree of Life Awakenings – Holiday Edition
Dates: TBA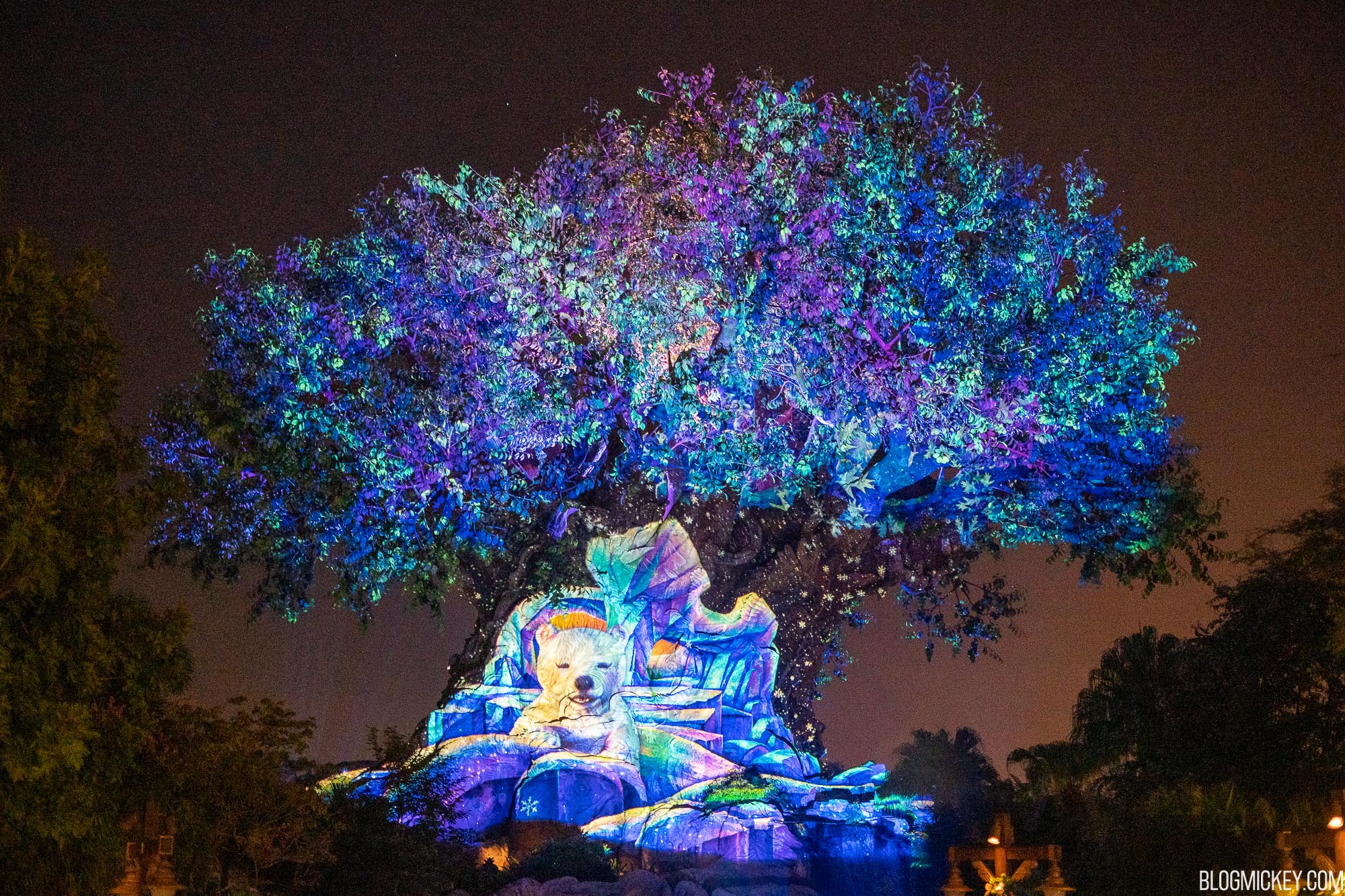 The iconic Tree of Life will come alive with holiday scenes and a heartwarming musical score as Animal Kingdom celebrates the holidays.
Discovery Island Decor
Discovery Island will be decorated with animal lanterns as Animal Kingdom celebrates the holiday season.
Merry Menagerie
Dates: TBA
A whimsical winter celebration awaits you at Discovery Island. By day, look for life-size, artisan-sculpted animal puppets—including reindeer, foxes and polar bears. And at night, colorful rooftop luminaries and bird lanterns light up the sky.
Santa Claus Festive Flotilla
Dates: TBA
See Santa Claus as he sails down the Discovery River to a jolly, world-beat holiday soundtrack.
Chip & Dale's Festive Flotilla
Dates: TBA
Groove with Chip 'n' Dale as they bring their own style of festive flair to the park's waterways, jingling through the jungle to the rhythm of the holidays.
Donald's Dino Bash Festive Flotilla
Dates: TBA
Spot Donald Duck and friends taking their holiday celebration to the water, waving to everyone as they traverse the Discovery River.
Discovery Island Drummers Festive Flotilla
Feel the beat as a colorful group of percussionists cruise along the Discovery River, entertaining Guests like you on the shore.
Specialty Food and Drink
Restaurantosaurus
Open-Faced Thanksgiving Turkey Sandwich – Grilled multigrain bread with roasted garlic mayonnaise, cornbread stuffing waffle, sliced smoked turkey breast, herb gravy, cranberry sauce, and a fried sage leaf (available Nov. 25)
Satu'li Canteen
Thanksgiving Bowl – Cornbread stuffing, sliced roasted turkey, cranberry boba pearls, gravy, and slaw (available Nov. 25)
Pumpkin Cheesecake Mousse – Pumpkin cheesecake, chocolate "dirt," and cranberry boba pearls (available Nov. 25-28)
Peppermint Cream Cheese Mousse – Peppermint cream cheese mousse, peppermint sauce, peppermint candy pieces, and chocolate "dirt" (available Dec. 1-30)
Tiffins Restaurant
Thanksgiving Plate – Turkey roulade, fine-herbs whipped potatoes, maple-glazed carrots, sweet potato pave, wild mushrooms, green bean casserole, cornbread dressing, cranberry gel, and turkey gravy (available Nov. 25)
Roasted Squash Soup – Ginger-pear chutney, pickled jalapeño, chai-spiced and candied pistachios (available Nov. 25)
Apple Pie Cheesecake – Whipped caramel cheesecake, apple pie compote, white chocolate streusel, and cranberry sauce (available Nov. 25)
Horchata Mousse Snow Globe – Golden coffee crémeux, gingerbread sable cookie, coriander chantilly, elderflower meringue, bourbon caramel, and candied pecans (available Dec. 25)
Pork T-Bone – Apple-brined pork, sweet potato variations, boniato mash, and ginger-pear butter (available Dec. 25)
Tusker House Restaurant
Thanksgiving Dinner – Spit-roasted turkey, turkey gravy, mashed red potatoes, and focaccia bread dressing along with seasonal vegetables, pork loin, flank steak, and an assortment of desserts (available Nov. 25)
Pandora – The World of Avatar Holiday Decor
Status: Unknown
Disney has not officially announced that Pandora – The World of Avatar will partake in the festivities, but it is likely.
As always, keep checking back with us here at BlogMickey.com as we continue to bring you the latest news and photos from around the Disney Parks!