Back in 2018, Disney broke ground on new Disney College Program housing at Flamingo Crossings. The $630 million facility has over 10,000 beds and was initially designed to be a massive, new campus to house their extensive College Program participants. Then COVID-19 hit.
On March 14, we reported that the Disney College Program was coming to an abrupt halt, and that all participants would be sent home due to the COVID-19 theme park closures. Now, more than a year after the College Program was suspended, the vast majority of those 10,000+ beds are empty.
That said, American Campus Communities has opened up the apartments to all current Disney Cast Members, and is now renting the spaces that were originally intended for College Program participants. With Disney CEO Bob Chapek saying that Disney hopes to reinstate the Disney College Program near the end of 2021, it will still be quite some time until there are enough program participants to fill all 10,000+ beds.
Recently, we took a tour of the campus and wanted to take you along for a rare look at the offerings!
Both the east and west campuses contain a massive community center that will act as the hub of not only leisure activity, but also contains classrooms and office spaces for when Disney College Program participants are welcomed back. While we couldn't tour the learning spaces, we do have a look around the modern leisure section of the community center.
The main breezeway contains lighting elements that can change based on time of day, season, or even special event. When we visited on St. Patrick's Day, the community center was wearing green!
In the photo below, we're standing on a balcony on the "leisure" side of the community center looking towards the learning side. The space is massive and really is built out to be a hub. Even without the College Program participants on site, all leisure activities we'll take a look at are fully available to the Cast Members who are currently renting.
Going back to the main floor of the leisure side of the community center, the floor is set up for a combination of lounging, gaming, and meeting. Here's a look around!
There are also some Disney-themed functional spaces that are open to residents.
Also nearby are some recreational offerings.
If this wasn't impressive enough, the entire second floor is the fitness center. The Disney College Program housing fitness center contains a wide variety of modern equipment.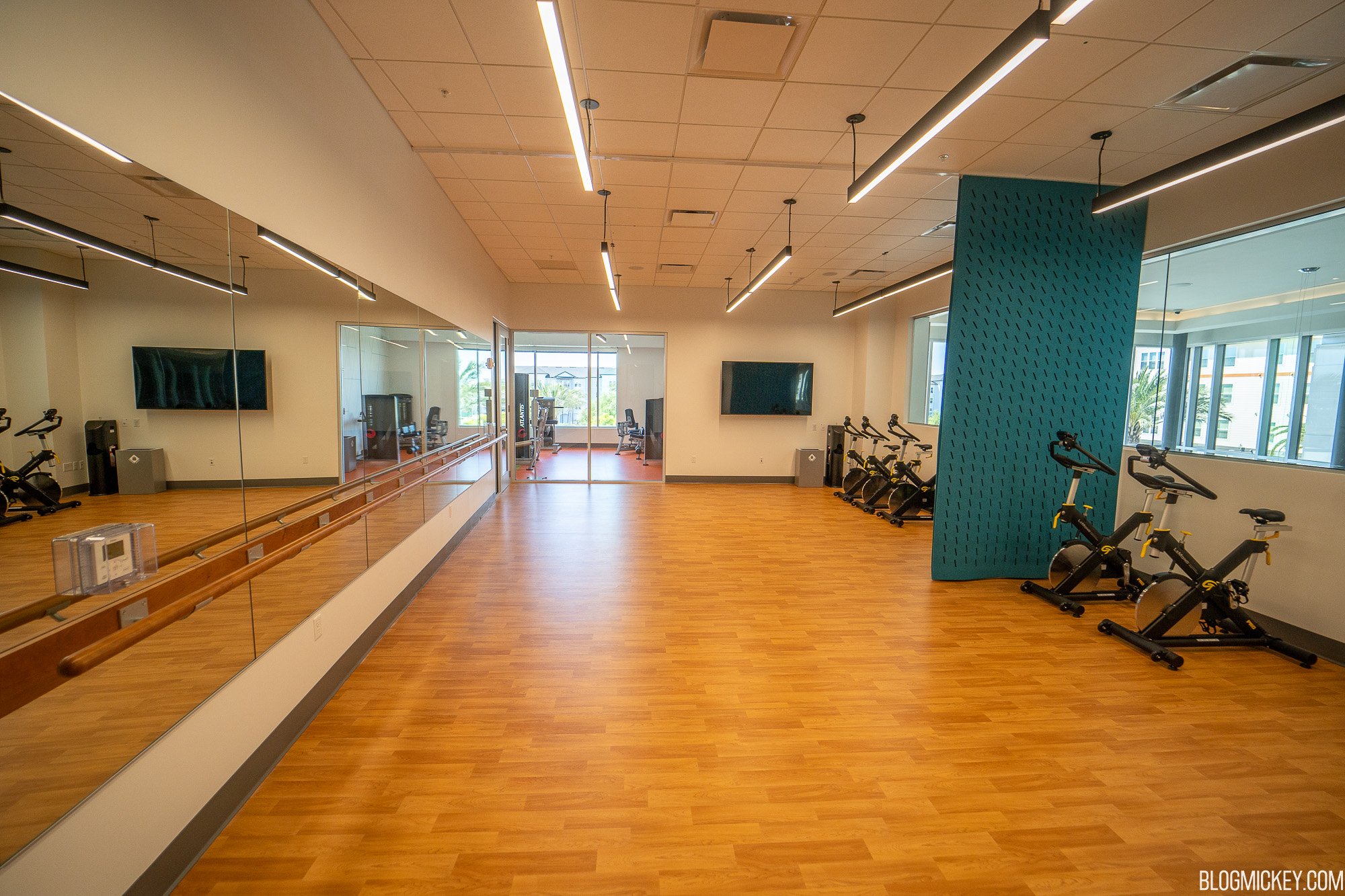 There are lockers available within the fitness center.
There is even an all-gender restroom.
Outside, there are a few different recreation and leisure spaces including multiple basketball courts, sand volleyball, a multi-purpose field, and pool areas complete with lounging furniture and grills.
As part of our tour, we were also able to tour two apartment configurations – a basic four-bedroom and a furnished two-bedroom. Let's take a look!
Basic Four Bedroom
The basic four-bedroom offers complete privacy for each individual living in the space. The four-bedroom options come with either two bath or four bath depending on configuration, but all of the rooms are private. As you'll see in the two-bedroom configuration, a private room isn't always an option.
For now, let's take a look around the basic, unfurnished four-bedroom.
Each room comes with digital locks on the doors and physical locks on some of the drawers.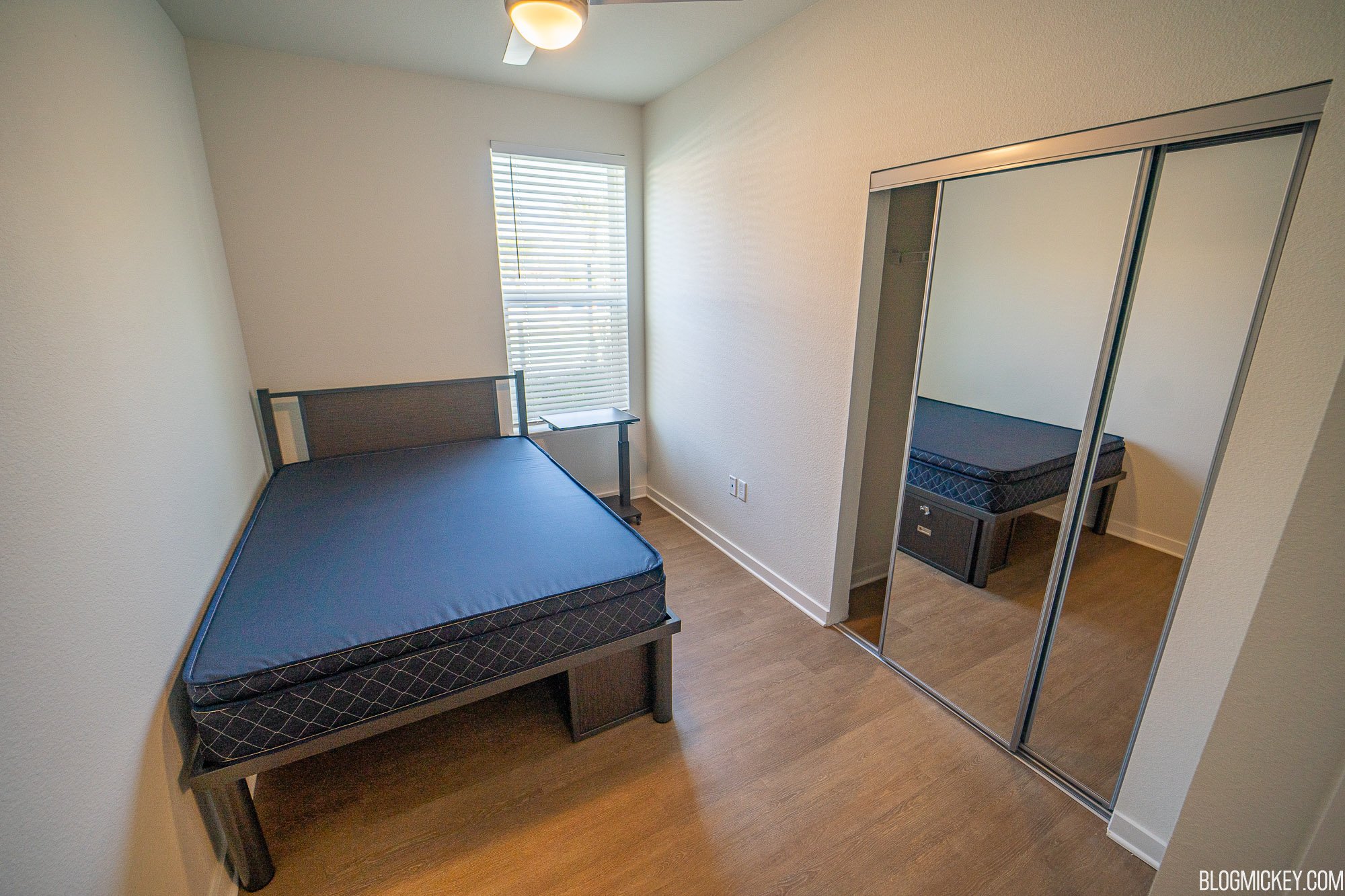 We toured a 2-bath, so here's the shared sink space and bathroom.
Furnished four bedroom
Making our way over to the furnished two-bedroom space, we get to see how a shared room works.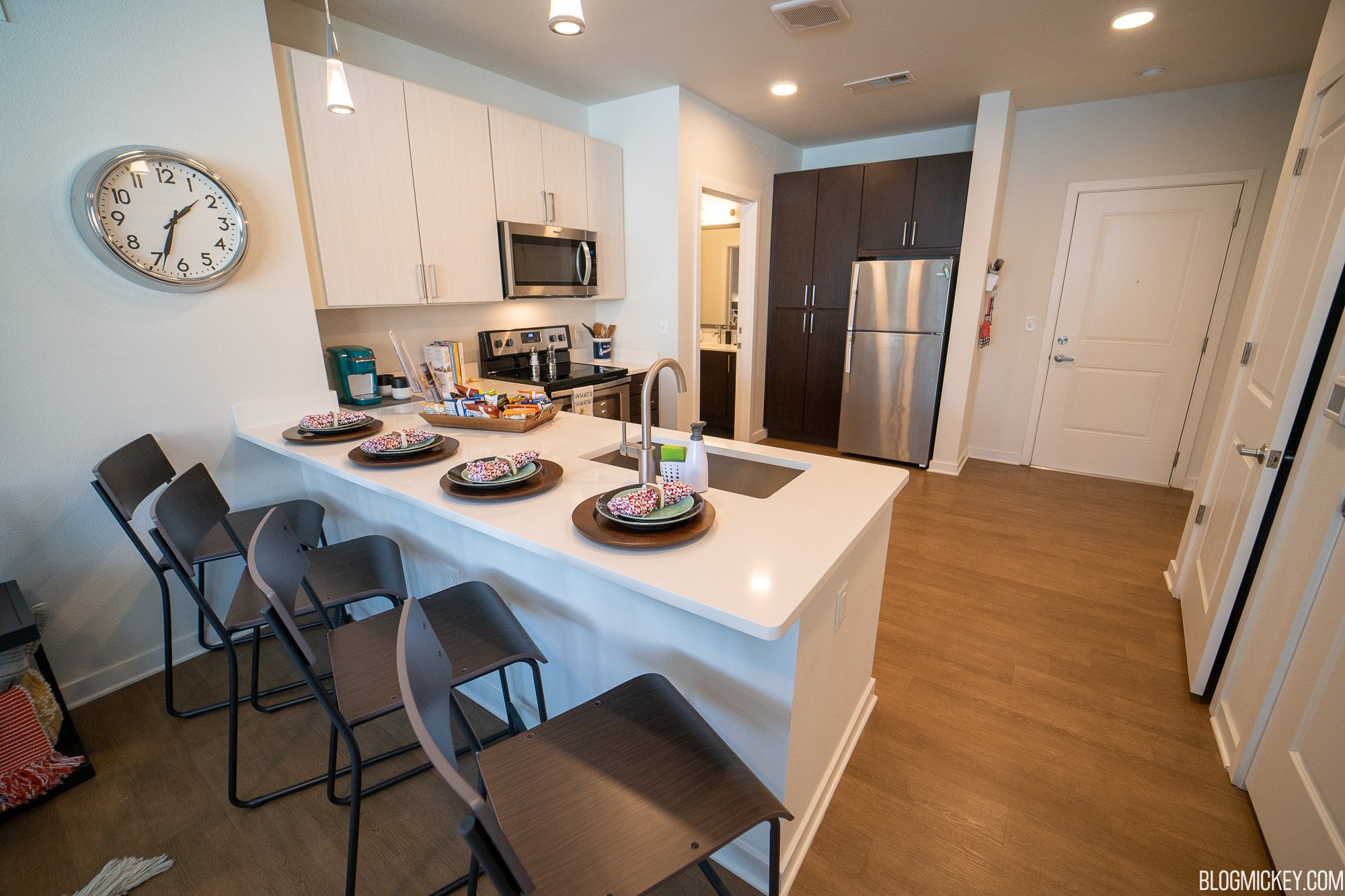 First, here's a look at the private king bed option in the two-bedroom.
And here's a look at the shared room. This configuration will probably be the most popular when it comes to Disney College Program housing. It's also the cheapest option.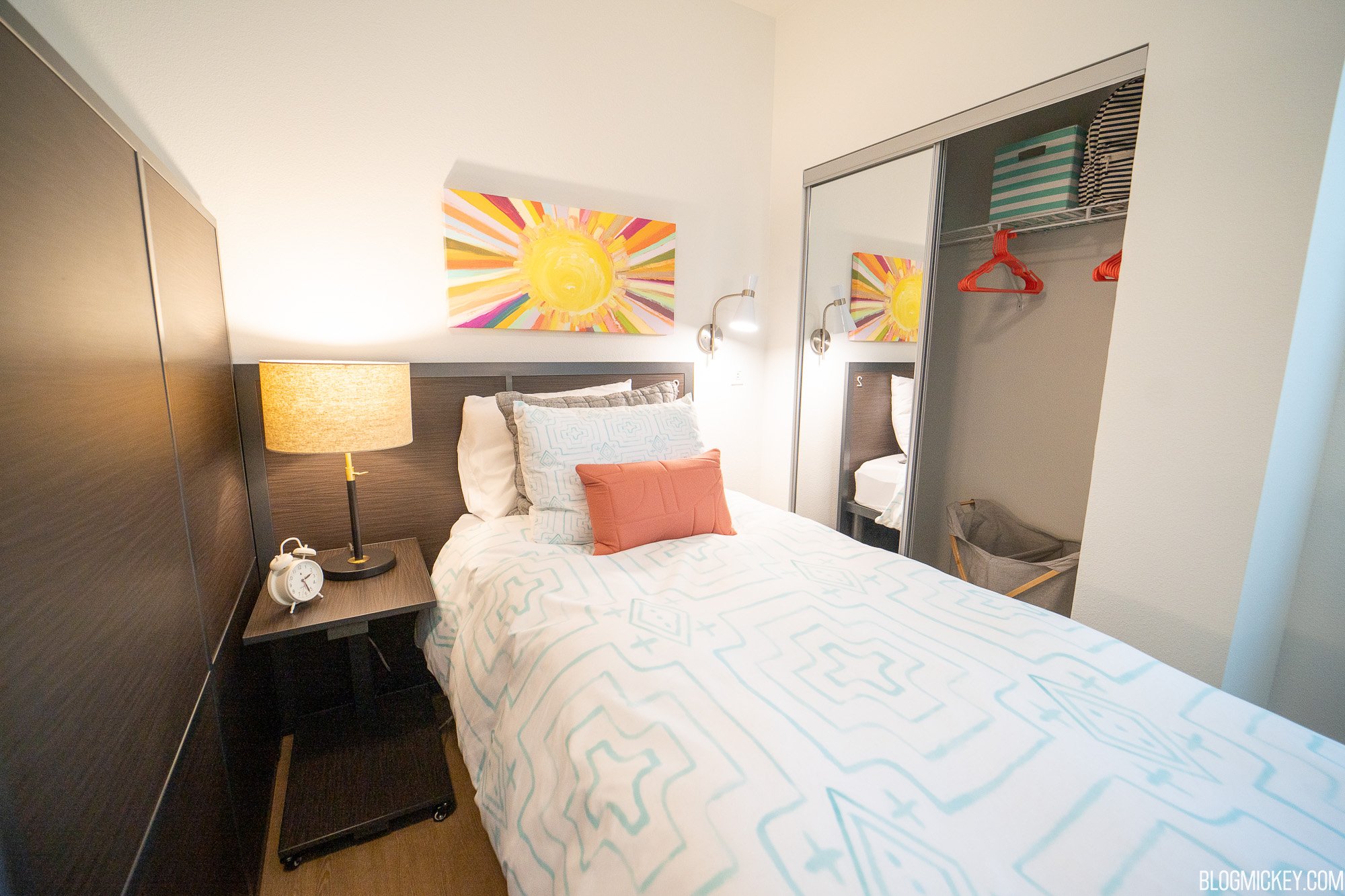 Flamingo Crossings Village is exclusively renting to Disney Cast Members. For more information, check out their website.
As always, keep checking back with us here at BlogMickey.com as we continue to bring you the latest news, photos, and info from around the Disney Parks!