With the opening of Remy's Ratatouille Adventure earlier this fall, Disney has put together a timeline of significant moments of Pixar characters and stories in the Walt Disney World theme parks. Let's take a stroll down memory lane!
Fall 1995 – Let's Hear It for the Toys
On November 22, 1995, the first Toy Story film hit theaters and revolutionized the world of animation. Less than a week later on November 27, the toys leapt from the silver screen and made their way into Disney's Hollywood Studios—then known as Disney-MGM Studios—in the official Toy Story Parade. It was followed weeks later by the park's Toy Story Pizza Planet Arcade, and while Toy Story would soon venture into other Disney Parks, Disney's Hollywood Studios will always hold a special place as the first park to feature a Pixar experience!
Spring 1998 – Attractions Begin Crawling In
Believe it or not, Toy Story (1995) was NOT the first Pixar story to transform into an official Disney Parks attraction—that honor belongs to A Bug's Life (1998)! On April 22, 1998, the 3D experience It's Tough to Be a Bug! debuted at Disney's Animal Kingdom Theme Park, just days after the park itself first opened its gates. Set deep within The Tree of Life Theater, It's Tough to Be a Bug! actually introduced audiences to its characters for the first time, as the attraction debuted a full seven months before the release of the feature film on November 20, 1998!
Fall 1998 – To Infinity… and Beyond!
Prior to the release of Toy Story 2 (1999), one Pixar character, in particular, took center stage at Magic Kingdom Park: Buzz Lightyear, star of an all-new attraction in Tomorrowland. Buzz Lightyear's Space Ranger Spin would bring a new level of interactivity to Disney Parks and would eventually find a home at multiple Disney destinations around the world, albeit with some slightly different names—Buzz Lightyear Astro Blasters (Disneyland Park); Buzz Lightyear Laser Blast (Disneyland Paris); and Buzz Lightyear Planet Rescue (Shanghai Disneyland).
Fall 2004 – Time to Grab Shell, Dude
Interactive attractions would seemingly turn into a Pixar tradition as time went on, and characters from Finding Nemo (2003) swam into EPCOT. On November 16, 2004, Turtle Talk with Crush surfaced, giving Guests a chance to interact with the 150-year-old sea turtle in real time during a live animated show. The aquatic attraction become so popular that over the next few years, the entirety of what was known as The Living Seas pavilion would transform into The Seas with Nemo & Friends—complete with a clam-mobile attraction by the very same name!
Winter 2007 – Fish Are Friends, Not Food
Continuing the trend of live entertainment, Pixar experiences at the parks moved on from their animated form in early 2007, and into a world of puppets and performance with "Finding Nemo – The Musical." Located in The Theater in the Wild at Disney's Animal Kingdom Theme Park, this 40-minute show took place multiple times daily, with music composed by Academy Award® winners Kristen Anderson-Lopez and Robert Lopez—a.k.a. the writers behind the score of Frozen. Though the show is currently closed, a re-imagined take is set to return in 2022!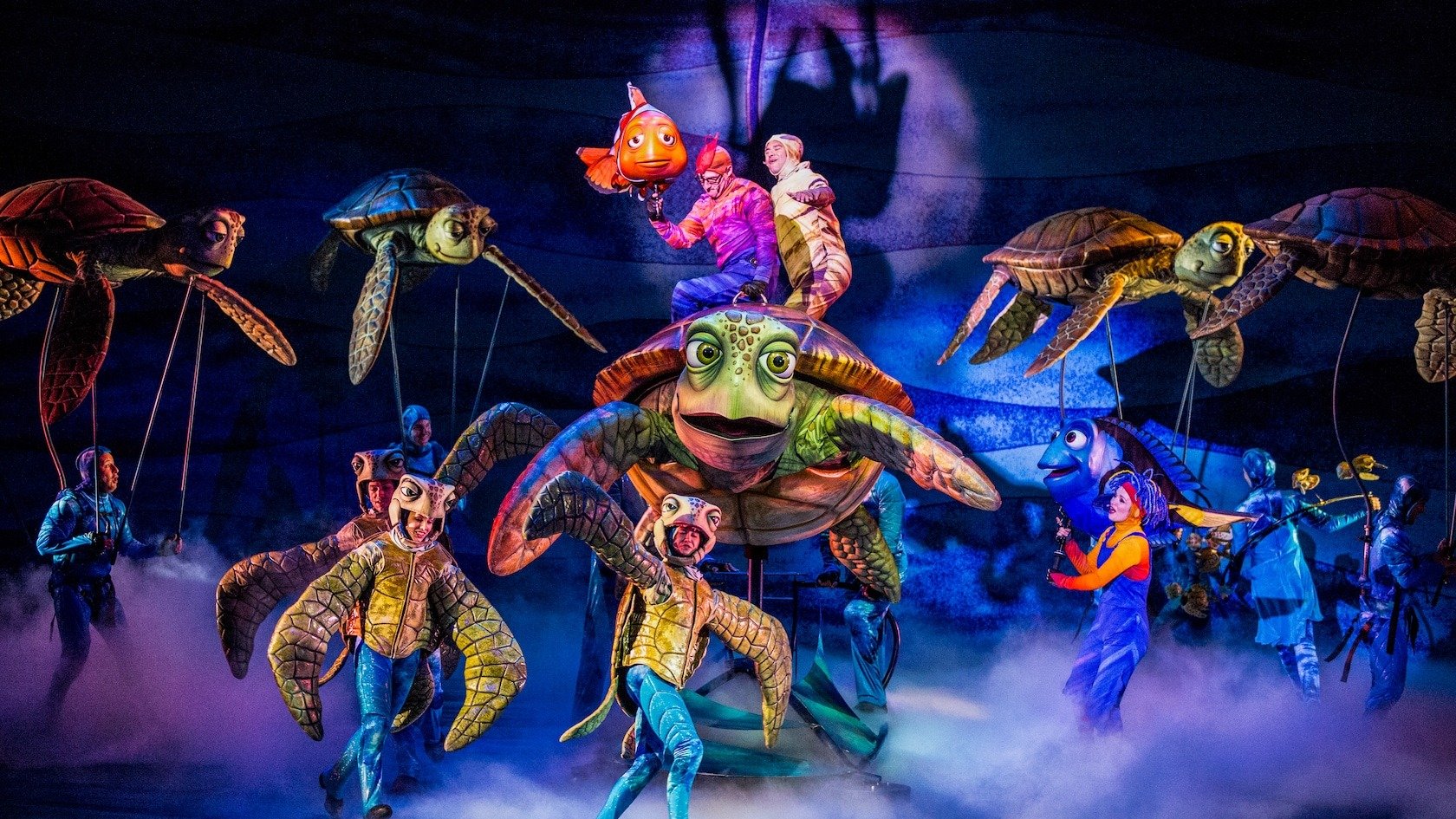 Spring 2007 – More Laughs Than Scares
Perhaps more so than any other Pixar tale, the stories of Monsters, Inc. (2001) have had a distinct presence in every Disney Parks destination where they're found. On April 2, 2007, Magic Kingdom Park unveiled the experience known as Monsters, Inc. Laugh Floor—an interactive comedy club straight from Monstropolis where Guests have the chance to get in on the act!
Spring 2008 – Hollywood Hits the Midway
More than a decade after first hitting theaters, the world of Toy Story (1995) was more popular than ever… and its legacy would only continue to grow with the introduction of Toy Story Mania! Opening May 31, 2008, the interactive 4D attraction made its official debut at Disney's Hollywood Studios, before later firing its way into Disney California Adventure Park and Tokyo DisneySea. In recent years, it's continued to receive enhancements—including the Toy Story Mania! Playset game, a queue-based experience available through the Play Disney Parks app.
Summer 2013 – The Wilderness Must Be Explored
With the premiere of Up in 2009, Pixar welcomed us to the characters like Dug, Carl, Kevin and Russell—a junior Wilderness Explorer who's collected nearly every badge. Only a few years later at Disney's Animal Kingdom Theme Park, the Wilderness Explorers would spring to life with a nature-themed experience that follows in Russell's footsteps. Popular across the park, the fun-filled challenges offer Guests a chance to complete self-guided activities, collect more than 25 badges, and earn the right to echo the Wilderness Explorer call: "Caw! Caw! Roar!"
Fall 2013 – Supers Take the Scene
It wouldn't be a Pixar party without some favorite Supers! As Autumn rolled around in 2013, Mr. Incredible, Elastigirl and Frozone hit Tomorrowland for the "Incredibles Super Dance Party." But one park wasn't big enough to contain the fun—and characters from The Incredibles (2004) soon made their way into Pixar Place at Disney's Hollywood Studios. Transformed into a Municiberg city block, the area even included the Edna Mode Experience, where after touring a gallery of the designer's Super suits, Guests were able to meet Edna Mode herself!
Spring 2015 – A Long-Time Festival of Shorts
The story of Pixar at the parks isn't solely about feature-length films; it's about the shorts too! On December 23, 2015, EPCOT introduced the Disney & Pixar Short Film Festival in the park's iconic Magic Eye Theater, a location that's been home to many legendary 3D attractions. Currently showcasing a trio of Disney and Pixar short films—including Get a Horse (2013), Feast (2014) and Piper (2016)—this 18-minute experience is presented in stunning 4D, featuring some incredible in-theater effects!
Summer 2018 – The Toys Play Bigger Than Ever
Since its very beginnings, Toy Story (1995) has always had a presence at Disney Parks… but at Disney's Hollywood Studios, Woody and friends would take their largest stage yet with the introduction of Toy Story Land! Here, Guests of all ages have the chance to shrink down to the size of a toy and join their Toy Story pals for a trio of attractions: Slinky Dog Dash, Alien Swirling Saucers and the classic Toy Story Mania! And while it wasn't the first Toy Story Land to debut at a Disney theme park, it's definitely the largest of them all—clocking in at nearly 11 acres.
Spring 2019 – Lightning Revs His Engines
It's impossible to recount a history of Pixar without Cars (2006)! Though the film series began more than a decade prior, a Cars attraction wouldn't park itself at Walt Disney World Resort until May 31, 2019, when "Lightning McQueen's Racing Academy" pulled up to the starting line at Disney's Hollywood Studios. Located on Sunset Boulevard, the show is set after the events of Cars 3 (2017) and stars a life-size version of the legendary Lightning McQueen. But he's not alone—Mater, Cruz Ramirez and other friends from Radiator Springs also make appearances!
Fall 2021 – Welcome to France, Remy
On October 1, 2021, to help kick off The World's Most Magical Celebration, Remy's Ratatouille Adventure debuted as part of an all-new expansion to EPCOT. Inspired by a similar attraction at Disneyland Paris, this addition to the France Pavilion features a 4D culinary caper that captures your senses—and proves that when you're small, life is a big adventure! Currently, Remy's Ratatouille Adventure can be accessed by either the Virtual Queue or Individual Lightning Lane Selections.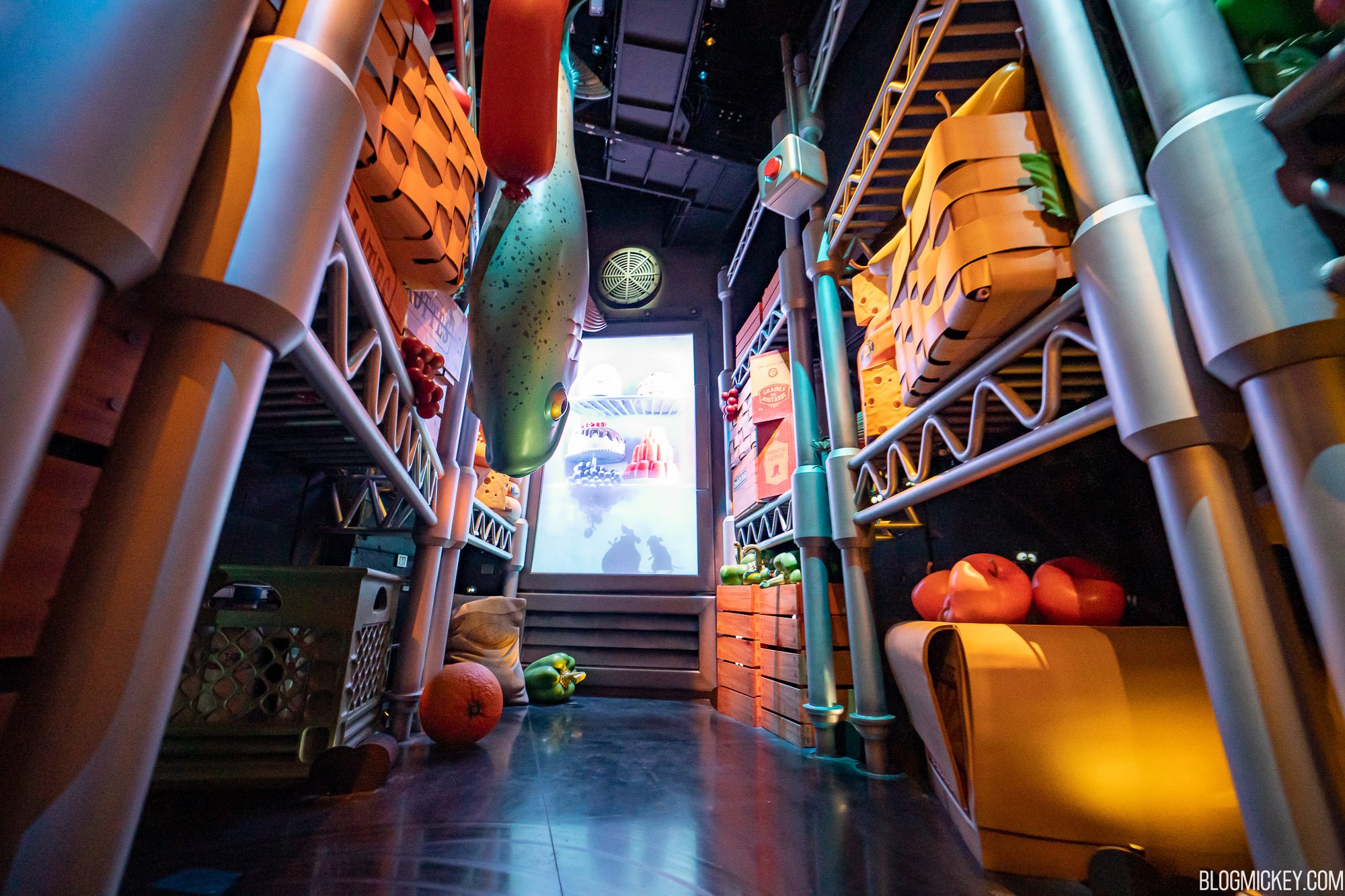 As always, keep checking back with us here at BlogMickey.com as we continue to bring you the latest news and photos from around the Disney Parks!