Remy's Ratatouille Adventure will officially open to the public on October 1, 2021 as part of "The World's Most Magical Celebration" – Walt Disney World's 50th Anniversary celebration. The attraction, which was delayed from a summer 2020 opening due to COVID-19, will continue EPCOT's transformation into a space where Disney characters and stories are allowed to live within the countries that inspired them. In our Remy's Ratatouille Adventure review, we'll not only talk about the attraction but also about how EPCOT continues to change to allow for more Disney storytelling in World Showcase.
Remy's Ratatouille Adventure Queue Tour and Full Ride Video
For a full video tour of the queue and low-light, 4K ride through, check out our video below. You may have to disable adblockers to view, or you can head to our YouTube channel.
Evolving EPCOT
EPCOT is in the midst of a major overhaul. As of publish time, the middle of the former "Future World" section of the park remains a pile of dirt as Disney slowly transformed the front of the park into three distinct neighborhoods. The fourth EPCOT neighborhood – World Showcase – will remain largely unchanged relative to the work that is taking place in the front of the park.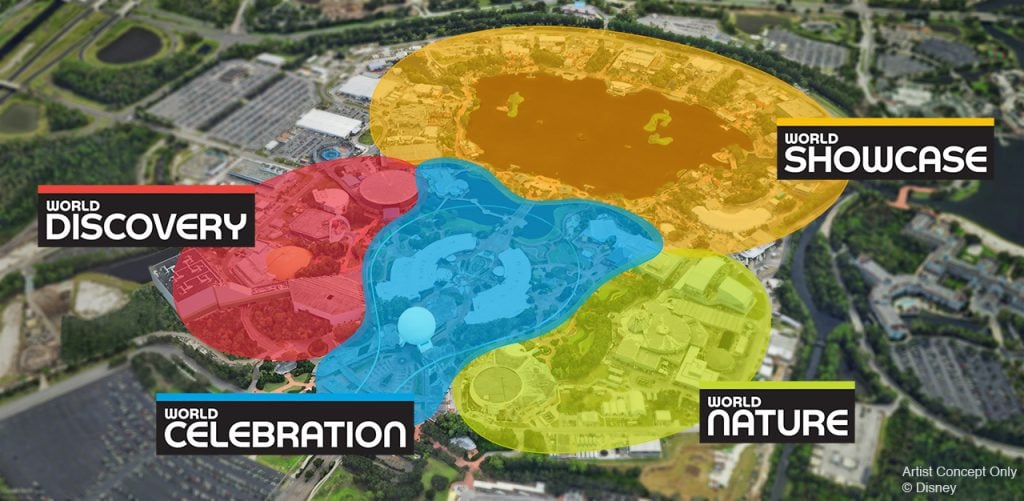 That said, there has been a major shift in philosophy for Walt Disney Imagineering as it relates to World Showcase. To better understand that shift, let's take a look back at what EPCOT, and more specifically World Showcase, has been up until this point.
A Celebration of Countries…
When EPCOT, and World Showcase, opened back in October 1982, the World Showcase concept was largely dedicated to allow for guests to have authentic experiences that they would if they were to actually visit those countries. To that end, painstaking detail went into creating facades for nine (at the time) countries that would represent the architectural and cultural highlights of each country.
In a recent presentation, Gary Landrum (Associate Show Producer, Show Awareness at Walt Disney Imagineering) shared the following description of World Showcase from the opening day program for EPCOT, transcribed below by BlogMickey.com:
Walt Disney's dream of a community of nations based upon cross-cultural communication and understanding is realized in prototype with the opening of World Showcase.

Here, clustered around a broad lagoon, nations of diverse and distinct cultures join together in friendship to demonstrate the wonder and richness of human social innovations and enterprise. Emerging from these experiences are the underlying commonalities that draw humanity together – the fact that all people build, work, eat, and play, and that humanity is enriched by its challenges and differences.

In World Showcase, the adventurer can readily savor, explore, and enjoy a variety of the world's cultures, and as Walt Disney dreamed, in the process discover our worldwide family.
This description is one of many used in various forms of media from the opening day time period that attempts to describe the scope and purpose of World Showcase.
Perhaps the easiest description to digest is that of a permanent World's Fair. In early concept art (and even a physical model), World Showcase was meant to be a stand-alone offering in what is now the Magic Kingdom parking lot.
Ultimately, the finished product would be what is realized in EPCOT theme park today – a diverse lineup of nations that celebrate the culture of each country. Before COVID-19 impacted theme park operations, Disney even staffed the various nations with individuals from those nations. It was truly an authentic experience that was unique in concept and execution at Walt Disney World.
Now, things are changing. At a D23 fan event, then-Parks Chairman Bob Chapek announced that EPCOT would undergo a transformation that would make the park "more Disney, timeless, relevant, family-friendly". While that is certainly the driving principle for the park-wide transformation, there is an internal Walt Disney Imagineering guiding principle that is informing the World Showcase changes.
…and the Fantastic Stories They Inspire
As EPCOT continues to evolve and expand, Walt Disney Imagineering Portfolio Creative Executive Tom Fitzgerald offered an updated theme for World Showcase:
In addition to the real world, we can acknowledged that stories have also provided inspiration to artists and Disney in particular.

So we said, 'look, World Showcase will always be about the real countries, but why can't it also be about the fantastic stories those countries have inspired?'.

Our artists at Pixar and Walt Disney Feature Animation are all inspired by…cultures of the world. It's what they look for as they look for inspirations for new stories. We have such a wealth of incredible stories that bring a diverse and inclusionary perspective – we really felt that was important to bring to World Showcase.

So that's the shift for World Showcase – the real countries and the fantastic stories they inspire. That means Norway can talk about Frozen…and, obviously, Ratatouille was inspired by France and Paris.
Fitzgerald went on to say that, in the case of Frozen and Ratatouille, it was the countries that played a pivotal role in the language of the film. Whether that was the architecture, artistry, or color of the country – it's films that rely on and relay the country heavily, that can be considered for inclusion in the existing World Showcase pavilions.
Fitzgerald said that there is "no bigger valentine to France than Ratatouille".
France Pavilion Expansion
With that as our background, let's dive into the France Pavilion expansion that houses Remy's Ratatouille Aventure before boarding a rat-mobile to take a ride through the attraction.
Act One
When discussing the France Pavilion, Imagineers consider the story of the pavilion to be told in three acts. In act one, we see the pavilion as a whole and the representation of the Belle Époque era of France.
Act Two
Act two of the France Pavilion has the important role of moving the audience from the France Pavilion proper to the world of Ratatouille. It's a segue that, in this case, comes via a walkway to the right of the traditional bounds of the France Pavilion back to the expansion area behind the 1980's original facades.
This transition begins as guests pass under a structure that is modeled after some of the metro signs found within Paris.
From there, hints of Remy and the Ratatouille story and language begin to pop up. Guests have to look no further than the wait time sign just a step beyond the archway seen above to get their first peek at Remy and a foreshadowing of the adventure to come. Little hints continue throughout the pavilion as you get closer to the entrance to Remy's Ratatouille Adventure.
Act Three
Act three is considered to be "Remy's Paris". This includes the walkway to the right of the France Pavilion proper and the entire Ratatouille-themed mini-land expansion. For those who casually stroll through this area, it largely resembles the rest of the France Pavilion. Details such as weathering beneath the trees and authentic street signs carry forward the story of "Paris", but a closer look reveals that we are truly in Remy's Paris.
Remy's Ratatouille Adventure Ride Review
We've laid down quite a bit of groundwork to get to this point, but it's time to board the attraction and ride Remy's Ratatouille Adventure. Here's how Disney describes Remy's Ratatouille Adventure:
In this 4D ride experience, join Chef Remy on a daring culinary caper that will captivate all your senses as you zip, dash and scurry through the bustling kitchen, dining room and walls of Gusteau's famous Paris restaurant. C'est magnifique!
The queue for Remy's Ratatouille Adventure begins as you "enter" a theater. In reality, you pass by some ticket booths before making a quick u-turn to either overflow into a queue inspired by the late-1800's look of Les Halles Centrales, or you make a quick turn into the interior portion of the queue. The queue is largely unremarkable with the exception of one excellent scene that takes you to the rooftops of Paris, and a bonus scene unique to the Florida version of this attraction.
Interior hallways have Remy-infused wallpapers, but largely feature a series of switchbacks as Disney tries to use as much space as possible. While the outdoor queue is covered and should provide shelter from the inevitable afternoon rains, guests will likely find some reprieve once they get into the air-conditioned portion of the queue.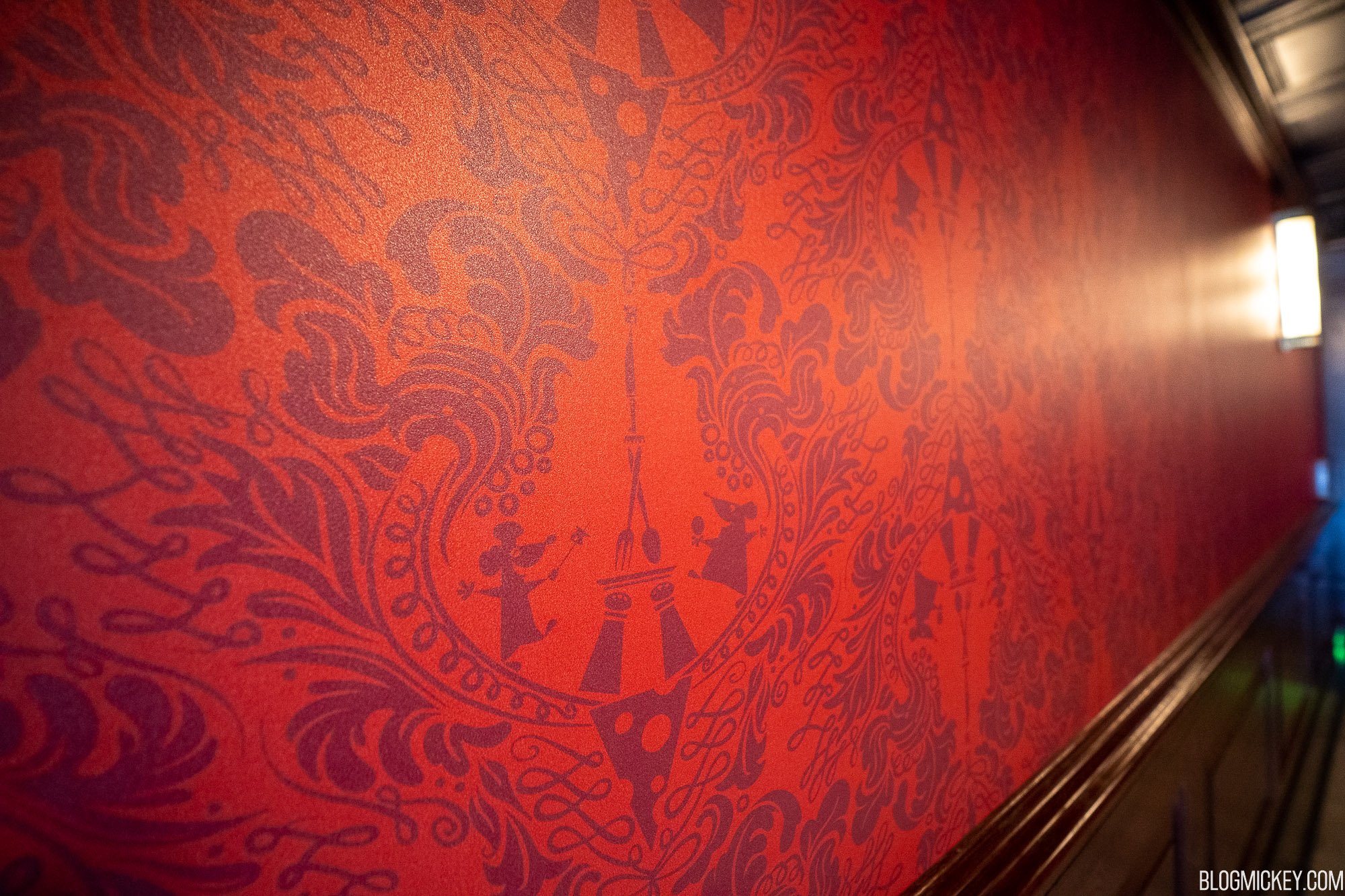 As guests make their way through the switchbacks, an unexpected scene reveals itself as you step out of theater corridors and onto the rooftops of Paris.
The best queues at Disney theme parks suspend time. Whether you're entranced by a full-size Avatar in the Flight of Passage queue, or stepping into the Darling family house in Peter Pan's Flight, there are moments within each queue that you might not mind spending an extra couple of minutes in. This rooftop scene in Remy's Ratatouille Adventure is one of those moments. You can hear the sounds of Paris beneath you as dogs bark, motorbikes pass by, and, if you're lucky enough, the Gusteau's sign will even come to life. For the shortcomings of other portions of the queue, this section completely makes up for it.
As you continue through the queue, the next scene is actually an exclusive for the Walt Disney World version of this attraction.
Requirements from the operations team at EPCOT led to the Artist's Loft scene. The canvas in this area serves as a pre-ride safety and informational screen. Providing this info ahead of boarding and further "upstream" allows for a smoother boarding experience and should improve efficiency for what is a very high capacity attraction.
The details here are wonderful, and the result is a convincingly "lived in" area that evokes the same feelings as other areas in the France Pavilion proper. We're immediately reminded of the bouquinistes along World Showcase Lagoon that make us feel as if we just missed the vendor.
As you continue through the queue, a few switchback areas stand between you and the 3D glasses distribution area. The glasses themselves are unthemed. From a 3D standpoint, the action scenes within the attraction rely completely on animated scenes. There are no audio-animatronics on the ride, and large screens drive the vast majority of the story.
Once you pick up your 3D glasses, you'll find yourself back on the rooftops of Paris, but this time you're the size of a rat and ready for your adventure. Logistically, each rat-mobile seats up to 6 guests in two rows of 3 with a single lap bar as the only restraint. There is no height requirement for Remy's Ratatouille Adventure.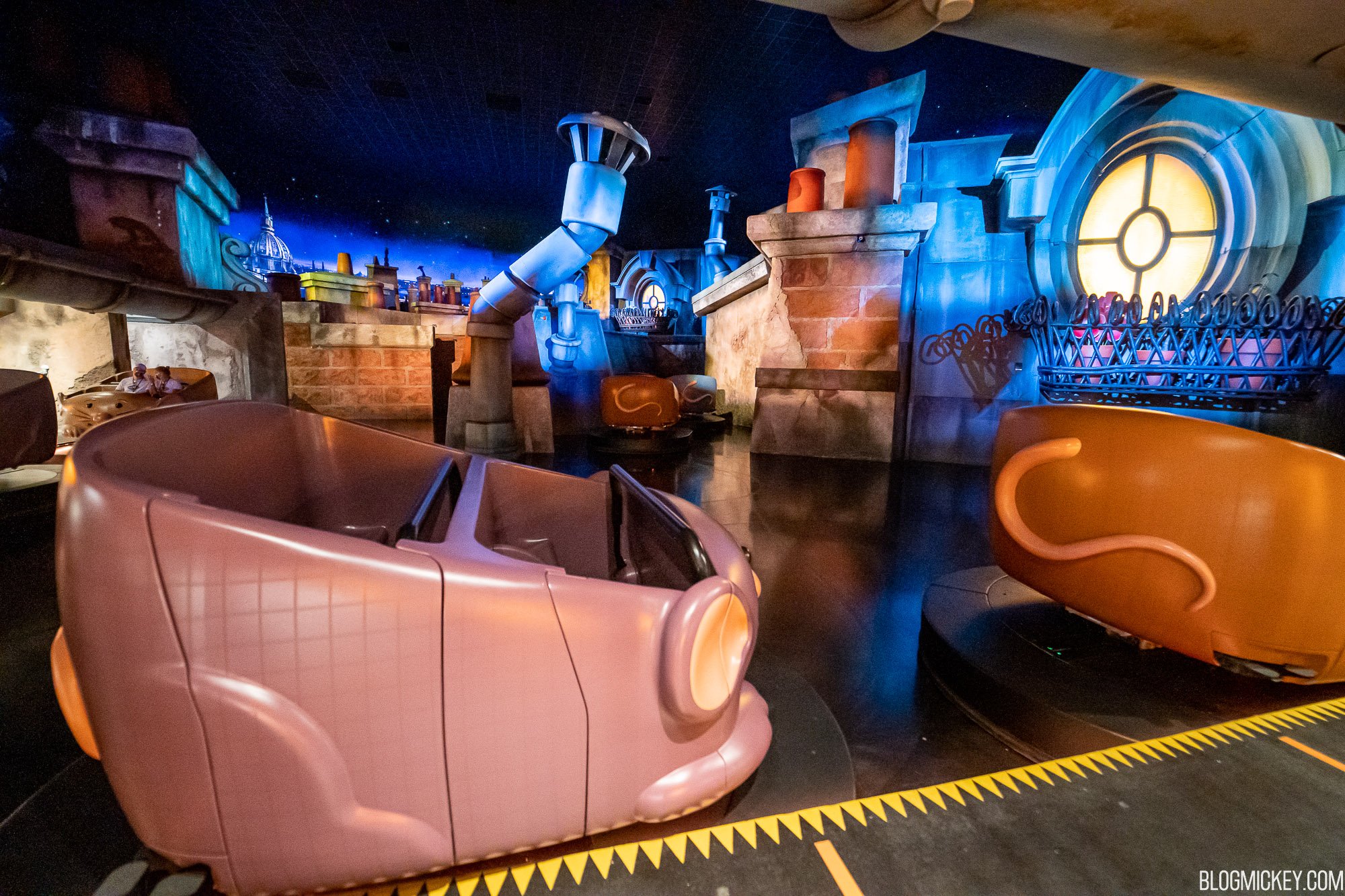 As you can see in the photo below, the rats scurry off into the attraction (in sets of three). A group of rats is called a mischief, which was actually the Walt Disney Imagineering codename for the attraction when it was under development for Walt Disney Studios Park in Disneyland Paris.
The trackless ride system allows for each vehicle to take a slightly different path during the attraction. While there are only a limited amount of physical sets in the ride, there are a few opportunities for each ride vehicle to have a "personality".
The largest physical set in the attraction does provide for a wow moment as you enter the pantry and find yourself beneath oversized food as you experience everything from a rat's-eye-view. Here's a look at the sequence of moving into and through the pantry.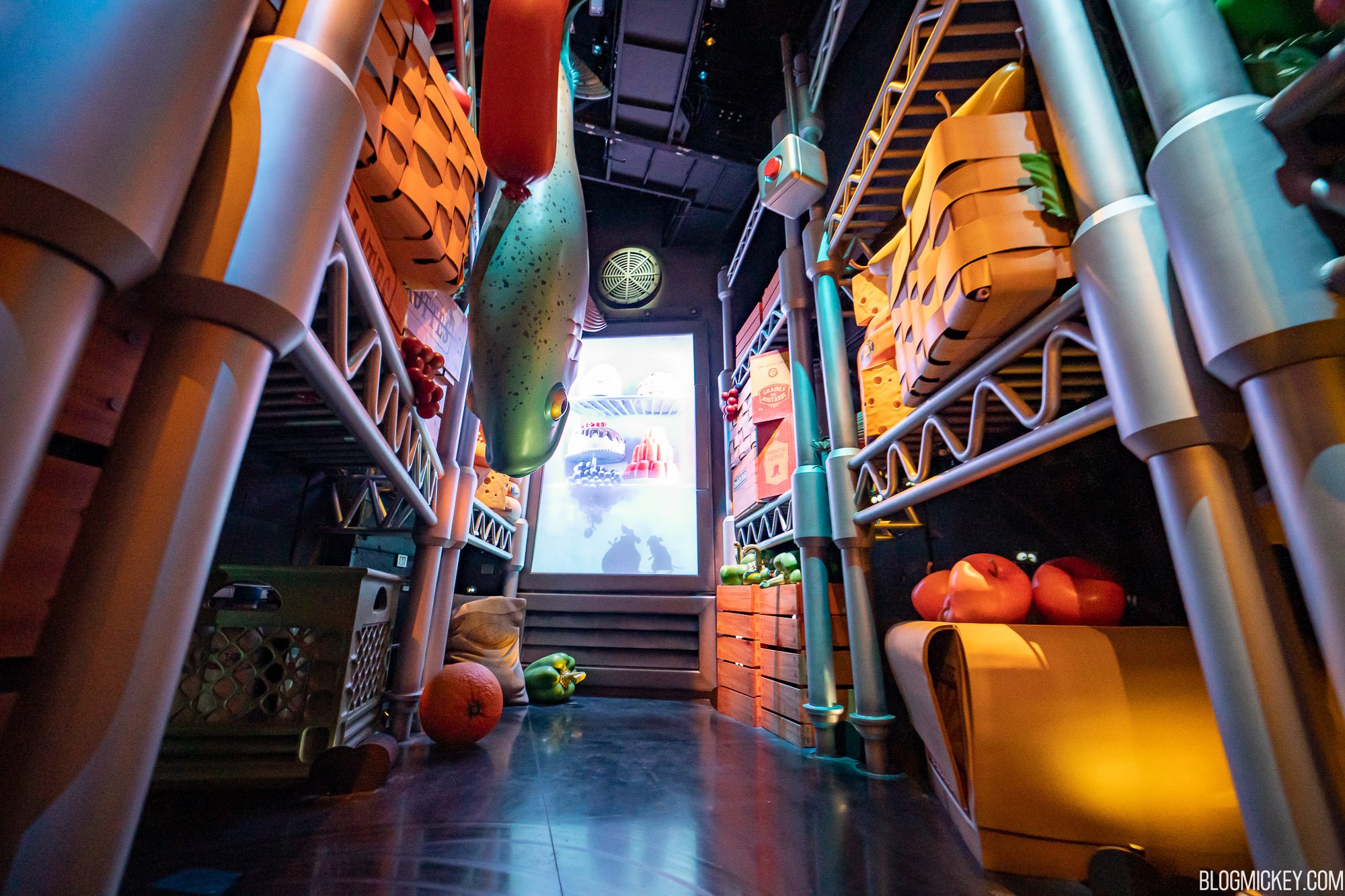 The attraction is actually referred to by Disney as a 4D attraction thanks to various effects in the ride. At a couple points during the ride, a water sprinkle effect will add to the adventure. During our rides, we would say that it was more intense than attractions like Mickey's PhilharMagic and Flight of Passage, but not intense enough to even be called intense. Other effects such as a brief heat effect under an oven and some themed scents round out the attraction. There is also a moment where an air burst is felt.
Ok, time to talk about screens. For all intents and purposes, Remy's Ratatouille Adventure is an attraction that was designed in 2009 or 2010. The EPCOT version is a clone of Ratatouille: The Adventure in Walt Disney Studios Park at Disneyland Paris. While that attraction opened in 2014, it was described, at the time, as the worst-kept secret in the theme parks. Fans saw it under construction for more than a year before it opened, and credible rumors dated back to 2009.
Ultimately, we're getting a brand new, old ride. I think that the ride mostly holds up and would be considered to be a good attraction even if it was developed in more recent times, but there are certainly some aspects that we wish were better.
Our biggest complaint with the ride is the execution of the screens. In some instances, guests are in a bare warehouse, and in others, you have some theming elements around you to try and blend the screens.
One great upgrade that we would've liked to have seen applied to this ride would've been projection mapping on the floor. It's a technique that is used in the new Enchanted Tale of Beauty and the Beast attraction in Tokyo Disneyland, and extending the action into the vast space of concrete between the guest and the screen would've allowed for a more immersive experience. Perhaps the best-dressed screen is in the finale scene seen below, but other than that, we generally find the multiple theater rooms to be a bit jarring.
That said, the screens are necessary for this attraction. It's a high-energy dash through Paris as guests try to evade Chef Skinner. Some elements are done effectively like the escape through the walls where each ride vehicle scurries off into a literal hole in the wall to have a screen-based chase through intimate spaces.
In the photo below, you can see the small theater to the left. It's a more themed version of the waterfall scene from Mickey and Minnie's Runaway Railway.
When looking for differences to the Paris version, we noticed a lot more "bumps" in the ride vehicle. When we rode in Paris, there was no motion in the ride vehicles beyond the standard ride path and some spinning. That is, the vehicles themselves didn't provide any additional immersion. In the EPCOT version of the attraction, we noticed what can only be described as small bumps akin to what guests would experience in the waterfall scene in Mickey and Minnie's Runaway Railway. There's no extreme range of motion to the vehicle beyond these bumps.
Whether or not this effect wasn't implemented or wasn't working when we rode the Paris version, it's a decent touch for the EPCOT version and should be expected to be the bare minimum for trackless rides going forward.
Speaking of Paris, the finale of Remy's Ratatouille Adventure in EPCOT falls flat compared to the version out in Paris for one reason – Remy's restaurant, Bistro Chez Rémy, is missing. In Paris, the unload area has floor-to-ceiling windows that work to extend the attraction into a highly themed restaurant where guests continue their rat-sized experience as they dine amongst oversized props.
Instead, guests can eat at La Crêperie de Paris in the France Pavilion expansion area. We'll have a full review of the restaurant later.
Virtual Queue
Turning our sights on some more logistical items, we need to address the fact that Remy's Ratatouille Adventure will utilize a virtual queue.
Guests who have a Disney Park Pass reservation will be able to secure their ride on Remy's Ratatouille Adventure beginning at 7am. Just like Rise of the Resistance, guests will be able to get a boarding group at 7am and again at 1pm.
A standby queue will not be offered during the opening season of Remy's Ratatouille Adventure. That said, the theoretical hourly ride capacity of the attraction could push north of 2,000 guests per hour – so it's an attraction that can run through a bunch of guests per day. We anticipate that boarding groups won't be as difficult to secure as Rise of the Resistance was in the opening months, and guests will find decent availability throughout the day. It's possible that a standby line will open up at some point during the day as demand for the attraction naturally levels off after the opening months.
Disney Genie and Individual Attraction Selections
If you miss out on the virtual queue, Remy's Ratatouille Adventure will be one of the attractions that you'll be able to buy your way onto with Individual Attraction Selections when Disney Genie debuts this fall.
Disney has not officially announced the price for a single ride on Remy's Ratatouille Adventure yet, but we'll update this post when that information becomes available. For more on Disney Genie and attraction access purchases, check out our article below.
Annual Passholder Previews
A quick note an Annual Passholder previews. Because Remy's Ratatouille Adventure has essentially been completed for months, waiting for the 50th Anniversary celebrations to kick-off, Disney is holding extensive Annual Passholder previews. Here are the preview dates, which are full as of publish time:
September 4, 6, 8, 9, 10, 13, 15, 16, 23, 24, 27, 28
Closing Thoughts
In rounding out our Remy's Ratatouille Adventure review, we wanted to talk a little bit more about the attraction, who it's for, and how it fits into EPCOT.
In our opinion, the France Expansion and Remy's Ratatouille Adventure is a perfect example of how Disney should expand World Showcase. The new ride and expanded mini-land do not replace any existing structures or attractions, unlike how Disney approached adding Frozen into Norway, and because Disney seems set on adding Disney stories into these pavilions, we'd rather see an expansion over a reskinning.
The details in the France Pavilion expansion area are not only consistent with the rest of the France Pavilion proper but also work in touches of Remy and the Ratatouille story that was inspired by France and Paris. You are allowed to find as much or as little detail as possible. With the exception of the feature fountain in front of the attraction, you aren't thrown into a world of fantasy or make-believe like you would be if this expansion lived in another theme park. This isn't your father's EPCOT, this is New EPCOT – a place where countries and cultures are still celebrated, but so are the Disney films and characters that were inspired by those countries.
As always, keep checking back with us here at BlogMickey.com as we continue to bring you the latest news, photos, and info from around the Disney Parks!