We're back with another Resort Guest Early Entry review, this time heading out to EPCOT to see how Remy's Ratatouille Adventure might fit into your early morning plans. Back on January 10th, Disney added Remy's Ratatouille Adventure to the Early Entry on the same day that the standby queue was opened and Virtual Queue was abandoned. This morning, we made our way out to EPCOT to try and board Remy's Ratatouille Adventure during the Early Entry period to see how crowds and waits stacked up.
What is Resort Guest Early Entry?
As part of The World's Most Magical Celebration, Guests staying at Disney Resort hotels and select other hotels can take advantage of a 30-minute early entry into Walt Disney World theme parks every day.
Valid admission and a Disney Park Pass for the park that you want to visit are required. You'll also be asked to validate your Resort Guest status, usually by scanning a MagicBand or using MagicMobile on a smart device.
For a full list of participating hotels, check out our earlier article: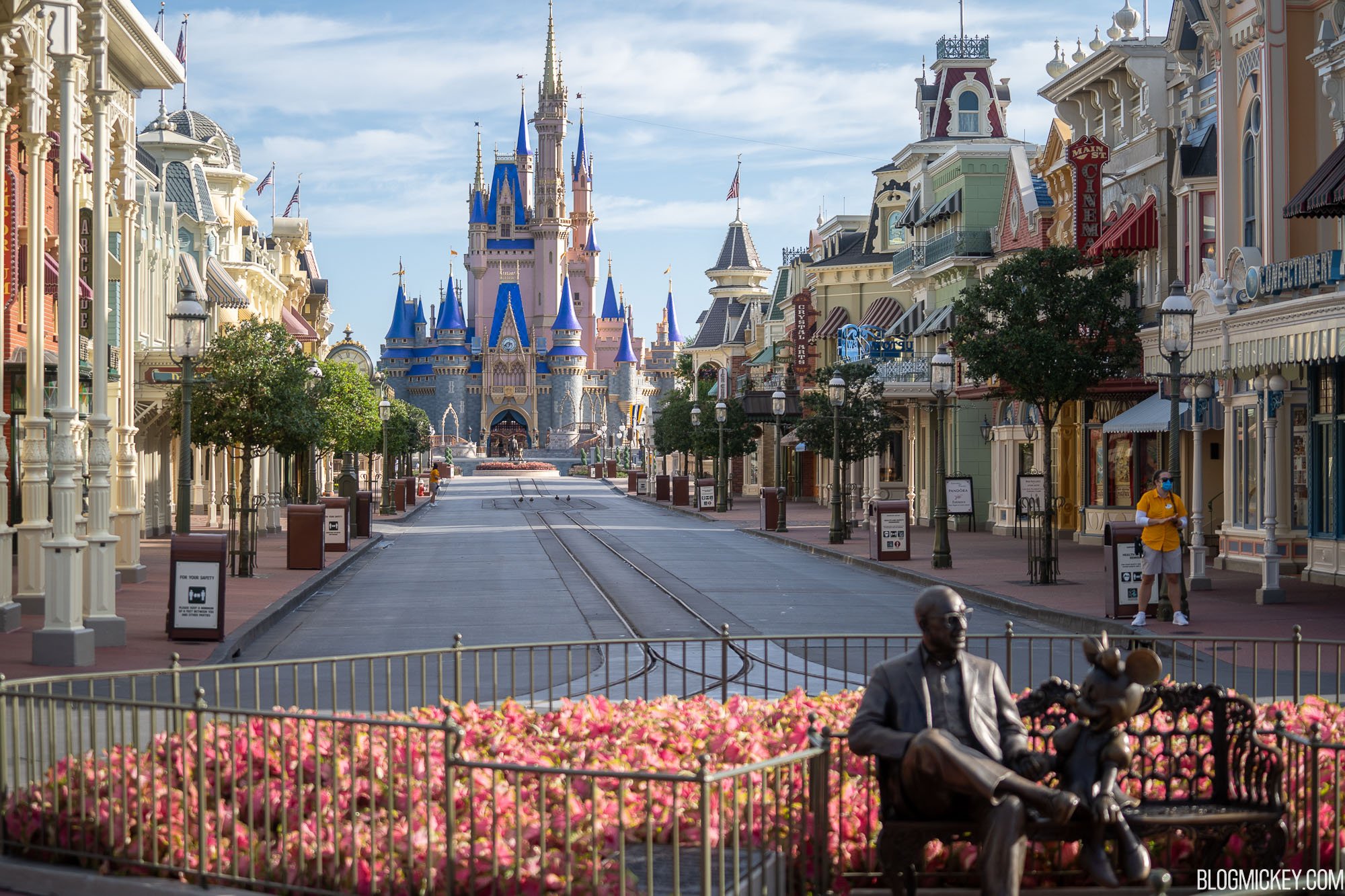 EPCOT Early Entry Attractions
The following attractions are available during Resort Guest Early Entry at EPCOT:
Beauty and The Beast Sing-Along
Frozen Ever After
Mission: SPACE
Remy's Ratatouille Adventure
Soarin' Around the World
Spaceship Earth
Test Track
The Seas with Nemo & Friends
EPCOT Resort Guest Early Entry Priorities
Perhaps more than the other theme parks, priorities can differ based on what you want to accomplish during Resort Guest Early Entry at EPCOT.
We're probably not ready to put together a final priority list, but here's how attractions rank in terms of pure posted wait time:
Remy's Ratatouille Adventure
Frozen Ever After
Test Track
Soarin' Around the World
Any other attractions would not make for a smart first attraction during Early Entry.
For our purposes, we're going to try and ride Remy's Ratatouille Adventure "the hard way". That is, entering EPCOT at the main entrance and walking all the way back to the France Pavilion. We'll probably test this versus an International Gateway entrance in the future, but suffice it to say that entering from International Gateway should save at least 10 minutes of walking, everything else equal.
Arrival Time
Just like our other Early Entry articles, we tried to arrive roughly 60 minutes before the Early Entry window officially opened. In some more Early Entry reviews in the future, we'll take a little bit more relaxed approach, but for now, we wanted to time what would probably be the earliest possible arrival time.
We're also arriving early because time is at a premium during Early Entry. With just 30 minutes' head start, Early Entry is usually used to get the busiest, or highest priority attraction out of the way first. Because our highest priority attraction today is Remy's Ratatouille, and because it's located further away than any other Early Entry priority attraction from the main entrance, we're going to try and arrive early.
The EPCOT Parking Plaza opened to guests at 8:30am – one hour before Early Entry was scheduled to begin. As with other Early Entry arrival advice, we don't suggest showing up before then simply because you won't be able to enter the parking lot. Through the summer, EPCOT remains particularly annoying to drive to because of a massive roadway project. You'll easily spend 10-20 minutes driving around to circle back to the EPCOT Parking Plaza because of the roadwork.
Beyond the annoyance of the roadway project, there isn't an advantage to showing up 60 minutes before Early Entry simply because you'll be held until the Early Entry period starts anyways. Our advice on arrival time is to plan to be at EPCOT 30 minutes before Early Entry, which translates to 1 hour before official park open.
Ok, so, what does the Early Entry holding period look like?
While the parking plaza opens at 8:30am, you'll have to wait outside of the tappoints to enter EPCOT until 9am. At this point, there were no Cast Members scanning your MagicBand, MagicMobile, etc to check your resort stay, so anyone can walk into EPCOT about an hour before official park open.
Crowds would build at the tappoints until 9am, but would soon be processed and let into the park. Cast Members also opened additional tappoints shortly before 9am to handle the crowds. Annual Pass entrances are available during this time (if there is enough staffing).
Once you're inside EPCOT, you'll find the Early Entry checkpoints to the right of Spaceship Earth. While crowds are still low, you'll also find additional checkpoints near the fountain. Just like other Early Entry checkpoints, you'll need one piece of media (MagicBand, card, MagicMobile, etc) per party for a Cast Member to scan.
There is plenty of signage and helpful Cast Members to help you find the Early Entry area and answer any questions you might have.
Once you're past the checkpoint, you have two decisions to make – left towards World Discovery, or right towards World Nature and World Showcase. There's probably nothing to prevent you from going either direction to accomplish your Early Entry goals, but we went right towards World Nature to rope drop Remy's Ratatouille Adventure.
Here's a look at the "left" option, towards World Discovery (Test Track, Frozen, etc). Crowds here were modest, but this was during the opening moments of the Early Entry period. They would build.
To the right of Spaceship Earth is a pathway that will lead you to World Nature (Soarin' Around the World, Finding Nemo, Figment, etc) as well as World Showcase. We tried to let some crowds build so we were middle of the pack when it would be time to start walking back towards Remy's Ratatouille Adventure.
Cast Members would hold guests here until 9:27am when we began the march back to the France Pavilion and Remy's Ratatouille Adventure.
Remy's Ratatouille Adventure During Early Entry
Let the walking begin. We could try and power walk back to the France Pavilion, but instead, we're going to stop to smell the roses a bit as your family might not be as inclined to consider rope drop at Walt Disney World a sport. It is.
Here's a look at the crowds as we made our way back to the France Pavilion.
A few dozen head off for The Land Pavilion, which might prove to be a smarter move. We'll find out.
As we continue our way around World Showcase through Canada and the United Kingdom, it's clear that Remy's Ratatouille Adventure is the spot for the Resort Guest Early Entry period. We'll be back to try other attractions during Early Entry in the future, but let's press on for now.
We've got a few hundred guests in front of us…and a few hundred behind us. So far, we're doing a good job of staying in the middle of the pack. You can adjust your experience based on your own willingness to get to the front of the pack or hang back. Here's a look at the scene behind us as we make our way through the United Kingdom and towards France.
We made it back to Remy's Ratatouille Adventure by 9:37am and there was a posted wait of 40 minutes.
We'd consider ourselves in the Remy's Ratatouille Adventure queue at this point. Extra queue was available, but not in use just yet.
As you can see, there is a significant crowd in front of us. Not only did we maintain being about halfway through the pack from the main entrance, but there is a side entrance to EPCOT called International Gateway. This entrance services the EPCOT Area Resorts such as BoardWalk, Beach Club, and Yacht Club. Guests from these resorts can simply walk over to the International Gateway entrance and enter EPCOT that way instead of going to the main entrance. In fact, anyone is able to use the International Gateway entrance – not just resort guests. Our theory, which we'll put to the test in the coming weeks, is that the International Gateway entrance is the only way that guests should be rope dropping Remy's Ratatouille Adventure during Early Entry.
As we arrived to the ride, there were some guests already leaving. Presumably, these guests entered from International Gateway and not only had a head start from not being in the middle of the pack like we were, but also a head start by starting at International Gateway and not the main entrance.
Here's a look at some of the crowds that we experienced.
We didn't reach the loading area until 10:15am, a 38 minute wait against a posted 40 minute wait.
By 10:25am, we were done with the ride and ready to continue our morning.
With the park now open, the queue continued to build to a posted wait of 75 minutes by the time we were done.
Our morning started at 8:30am at the parking plaza, and we were done with Remy's Ratatouille Adventure 2 hours later. It's not a terrible way to start your morning, but we think that there might be a split strategy going forward based on if you're entering EPCOT from the main entrance or from International Gateway. Remy's Ratatouille Adventure seems like a no-brainer when utilizing Early Entry from International Gateway, but it might be best to start with Frozen Ever After or Test Track if you're coming from the main entrance. We'll put that theory to the test soon, but for now it's off to try some new food during the 2022 EPCOT International Festival of the Arts!
As always, keep checking back with us here at BlogMickey.com as we continue to bring you the latest news, photos, and info from around the Disney Parks!