A new Disney patent has revealed a new type of ride system that moves through a space based on collaborative steering from each guest. The new ride system appears to build off of previous ride systems such as a trackless ride vehicle, but leaves the steering up to guests. The patent talks about the shortcomings of a Toy Story Mania-type attraction and a Smugglers Run-type attraction. In the case of Toy Story Mania, the vehicle moves along a defined path and guests compete against each other. For Smugglers Run, or even something as simple as Dumbo, only a single guest can control the direction and either has to share control or other guests don't participate. To solve both of these issues, Disney seeks to create a collaborative, roaming attraction that allows guests to share in the experience and work together to move the vehicle.
In the photo below from the patent, guests are seen in a simple ride vehicle that allows each guest to have input on the direction of the vehicle. In the image below, guests are seen attempting to direct the ride vehicle towards one of two targets – either a fuel-up area or a star that would assign 100 points to the team of riders. In other examples, Disney envisions guests working collaboratively to move through the space and avoid obstacles as the story or attraction unfolds.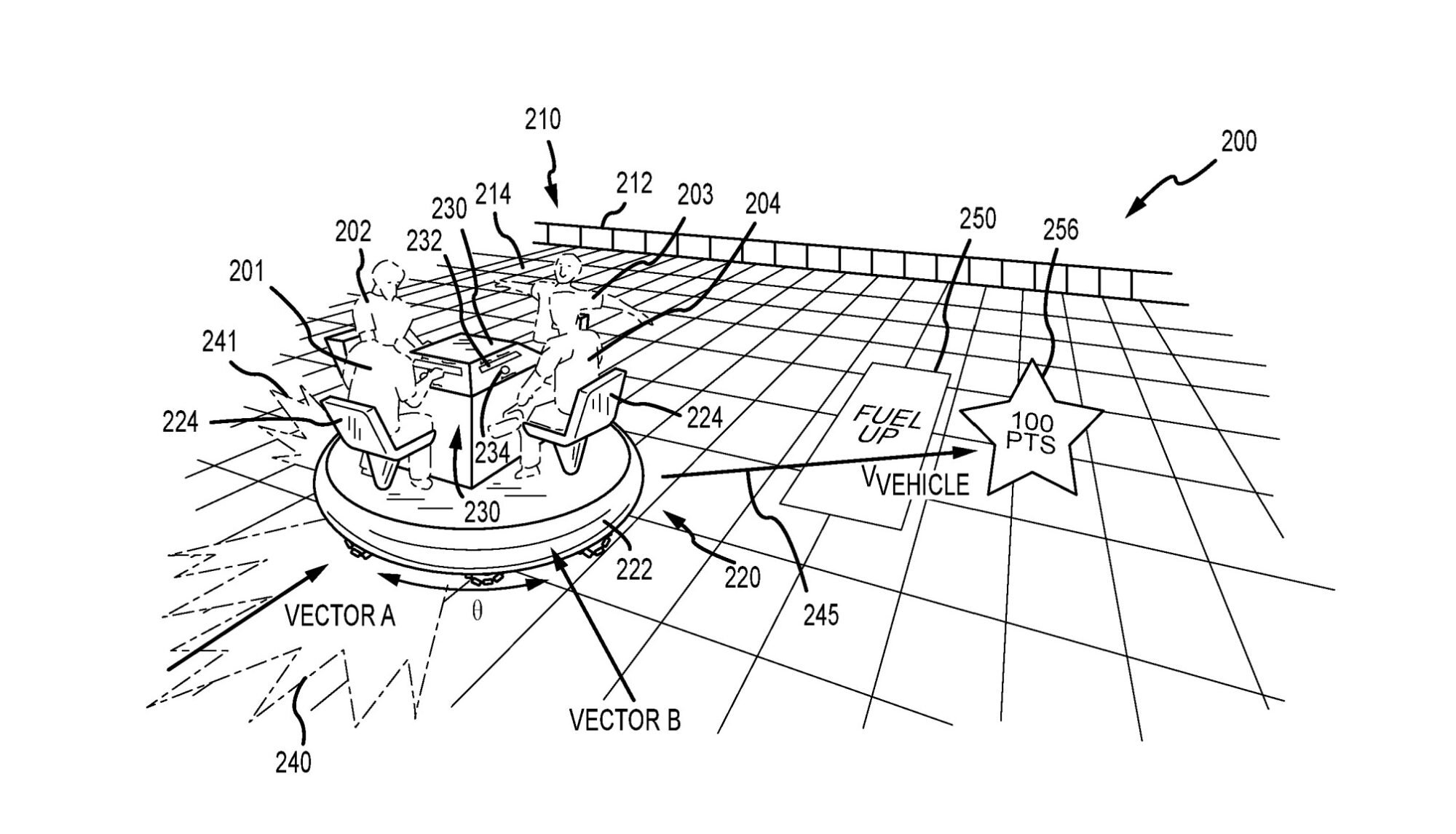 The patent describes a series of discrete controls for each passenger that would work in tandem with other passengers to create a direction of movement for the ride vehicle. In the example given, each passenger might have a control button, slider, joystick, a power/fuel display, and more in front of them which they can use collaboratively with other passengers to move the vehicle through a physical space. The patent goes on to describe how each passenger may be assigned a set amount of "fuel" for input that might require even more collaboration between passengers to create a desired vehicle movement.
In our opinion, this would solve the "pilot problem" that Millennium Falcon: Smugglers Run has where if you're not in one of the two pilot seats on the ride, your role is little more than button smashing as 2/3rds of the cabin watches the pilots have fun. With this new ride system, all guests would be involved in the outcome of the attraction. Of course, that poses other challenges, but that's for another day.
As always, keep checking back with us here at BlogMickey.com as we continue to bring you the latest news, photos, and info from around the Disney Parks!