Salt & Straw ice cream shop has rolled out its June menu, dubbed "The Picnic Series". There are five new flavors ranging from deviled egg custard to honey fried chicken.
While Salt & Straw does repeat monthly flavors from time to time, all five of these flavors are brand new and never-before-seen. These flavors can be found at both the Disney Springs and Disneyland locations starting today!
Here's a first taste of the June menu at Salt & Straw!
Pink Rose & Watermelon Sorbet (vegan)
Watermelon and rose sorbet with a housemade rose-raspberry jam
While the flavors change often at Salt & Straw, the one thing that is consistent is how well ice cream creator Tyler Malek hits the mark with flavors. You often won't find yourself searching for the flavors listed on the menu. Instead, you'll usually find the flavor hits the tip of your tongue on the first bite, or even subtly makes its presence known a few seconds after the first scoop.
In the case of the Pink Rose & Watermelon, we found the flavor presented up front was actually refreshing. The sorbet texture played well here and a hint of rose was present.
Baked Brie & Fig Cheesecake
Whipped brie cheesecake baked onto a candied ritz cracker crust, dark ribbons of sweet, thick fig jam, salted sweet ice cream.
A wonderful balance of sweet and savory, this was the first ice cream where we reached the bottom of the cup. The sweet ice cream and fig jam paired wonderfully with a cheesecake flavor and ritz cracker crust. Fans of fig will enjoy this one!
Deviled Egg Custard with Smoked Black Tea
Indian black salted custard ice cream with smoked tea shortbread crumble and peach balsamic marshmallow fluff
Between the deviled egg and (later) the fried chicken, we think that this might be at least a must-sample menu. Thankfully, the entire Salt & Straw experience is built around sampling. We certainly got the flavor of deviled egg in every bite, which makes it fun to try, but an entire cup of it might only be reserved for the biggest deviled egg fans.
Cinnamon & Honey Fried Chicken
Spiced vanilla ice cream with bits of fried chicken croissant
Another extremely interesting flavor was the cinnamon & honey fried chicken. Kind of tart up front, you were quickly ushered into a cinnamon flavor for 70% of each bite before being taken to a traditional honey chicken flavor to finish. Again, you might find the baked brie & fig cheesecake a better flavor to get a scoop of, but you'd be missing out if you didn't at least try the deviled egg and fried chicken entries.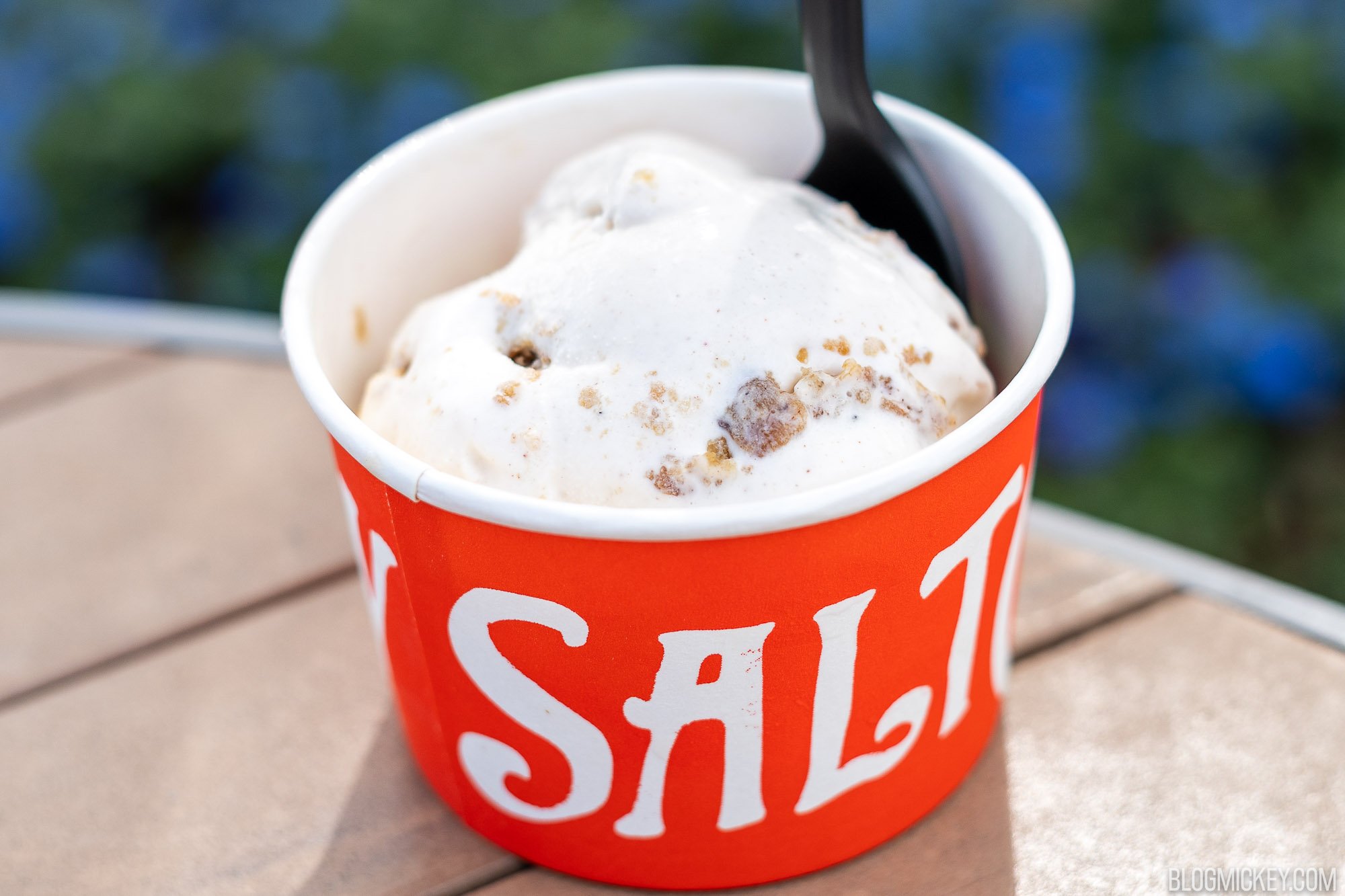 Chocolate Nocino Cherry Pie
Rich, single-origin chocolate ice cream spiked with Nocino brandy and hunks of rustic cherry slab pie
We round out the June menu with a classic chocolate and cherry mashup. The description says the chocolate is "rich" and we'd agree! Unlike other ice creams that might hint at the cherry, this is a cherry-first offering with rich chocolate completing the flavor profile. This is a great offering for fans of a more traditional take on ice cream.
Overall, here's how we'd rank the June 2022 menu at Salt & Straw:
Baked Brie & Fig Cheesecake
Pink Rose & Watermelon Sorbet (vegan)
Deviled Egg Custard with Smoked Black Tea
Cinnamon & Honey Fried Chicken
Chocolate Nocino Cherry Pie
If you get a chance to visit Disney Springs, swing by Salt & Straw ice cream on the West Side near AMC Theaters and Splitsville and let us know what your ranking is!
As always, keep checking back with us here at BlogMickey.com as we continue to bring you the latest news, photos, and info from around the Disney Parks!