Disney has released the entertainment showtimes for the upcoming Mickey's Not-So-Scary Halloween Party starting at Magic Kingdom on August 12th. Here's the latest:
Disney's Not-So-Spooky Spelltacular Fireworks Show
Showtime: 10:15pm
Jack Skellington from Tim Burton's "The Nightmare Before Christmas" serves as the host of this nighttime extravaganza, with state-of-the-art projection effects, lasers, lighting and dazzling fireworks filling the sky above Magic Kingdom Park. Jack has come to tell a not-so-scary story about how anything can happen on Halloween night. Jack's ghost dog, Zero, then flies off carrying everyone along on a trick-or-treating adventure, where four friends – Mickey, Minnie, Donald and Goofy – find themselves drawn into a mysterious haunted house. Their journey takes them from one room of the house to another, encountering dancing skeletons, waltzing ghosts and a whole series of troublemaking Disney villains.
Mickey's "Boo-to-You" Halloween Parade
Showtimes: 9:15pm and 11:15pm
The parade has become a Halloween staple and is widely received as one of the best parts of Mickey's Not-So-Scary Halloween Party. Shown twice per night, the parade draws big crowds along Main Street USA and moderate to low crowds along other parts of the parade route depending on which showing you see. The parade kicks off in Frontierland, next to Splash Mountain, and works through Liberty Square and eventually down Main Street USA.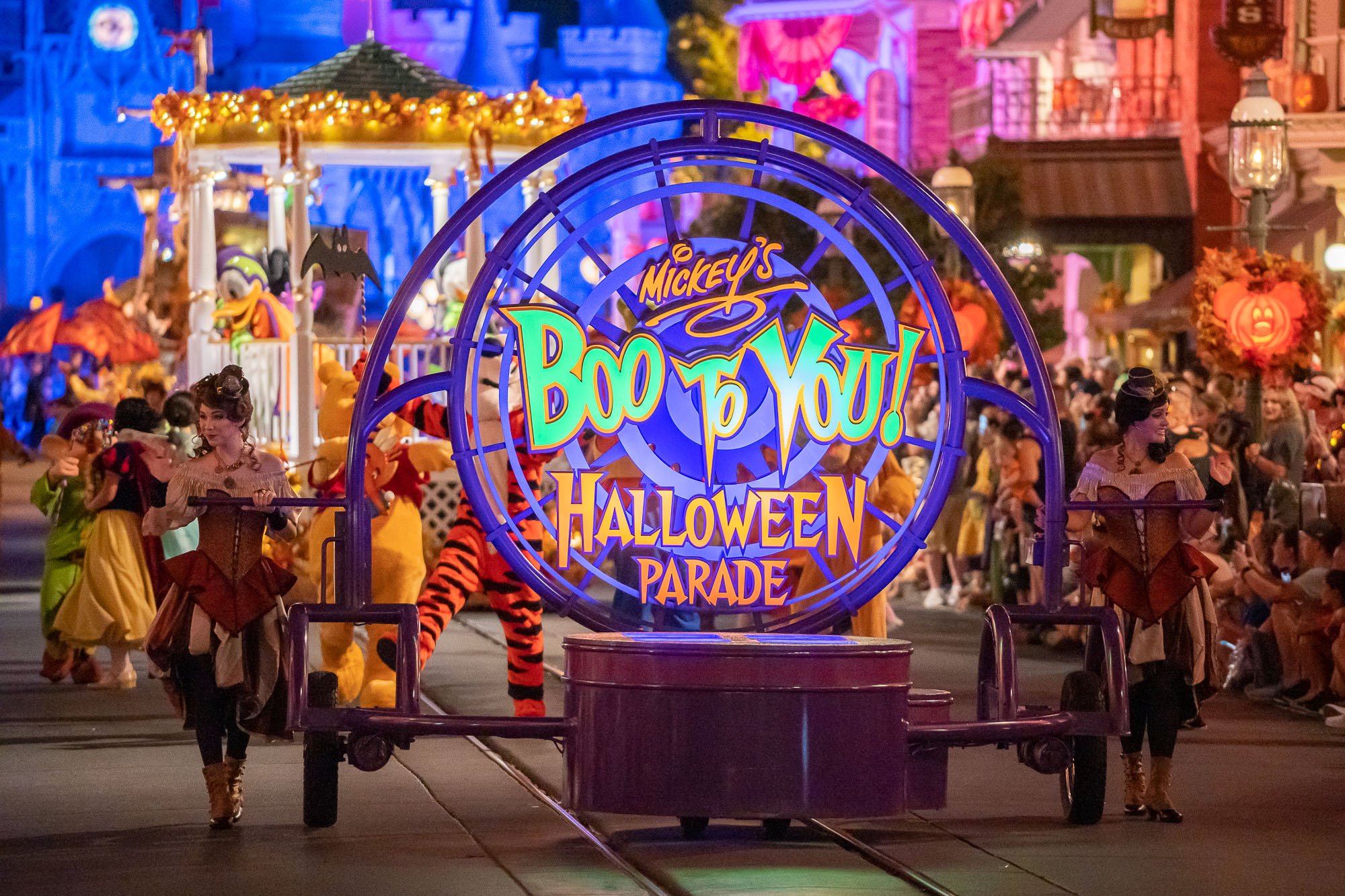 Hocus Pocus Villain Spelltacular
Showtimes:
August and September: 8:35pm, 10:45pm, 12am
October: 7:40pm, 8:35pm, 10:45pm, 12am
The Hocus Pocus Villain Spelltacular is a stage show that takes place three (or four) times per evening on the Cinderella Castle forecourt stage. As far as we're concerned, this is the top entertainment of the evening, surpassing the parade and fireworks. The final showing of the Hocus Pocus Villain Spelltacular is at midnight, so the touring advice here is to do everything you want during the official hours of the party, making your way over to Cinderella Castle maybe 15-20 minutes before midnight to enjoy the show.
The Cadaver Dans Barbershop Quartet
Showtimes: 7pm, 7:45pm, 8:30pm, 9:50pm, and 10:30pm
Gather 'round for the haunting melodies of razor-sharp wit of the barbarous-shop quartet performing during Mickey's Not-So-Scary Halloween Party!
Storybook Circus Disney Junior Jam
Showtimes: Intermittent 7pm to 12am
Get your groove on with favorite Disney Junior characters like Doc McStuffins, Fancy Nancy, Timon, and Vampirina in the Storybook Circus Disney Junior Jam.
Monsterous Scream-O-Ween Dance Ball
Showtimes: Intermittent 7pm to 12am
Join Mike Wazowski and Sulley for this monstrously fun dance party at Rockettower Plaza Stage in Tomorrowland.
For a review of the 2019 Mickey's Not-So-Scary Halloween Party (which is expected to be largely the same as 2022), check out our article below!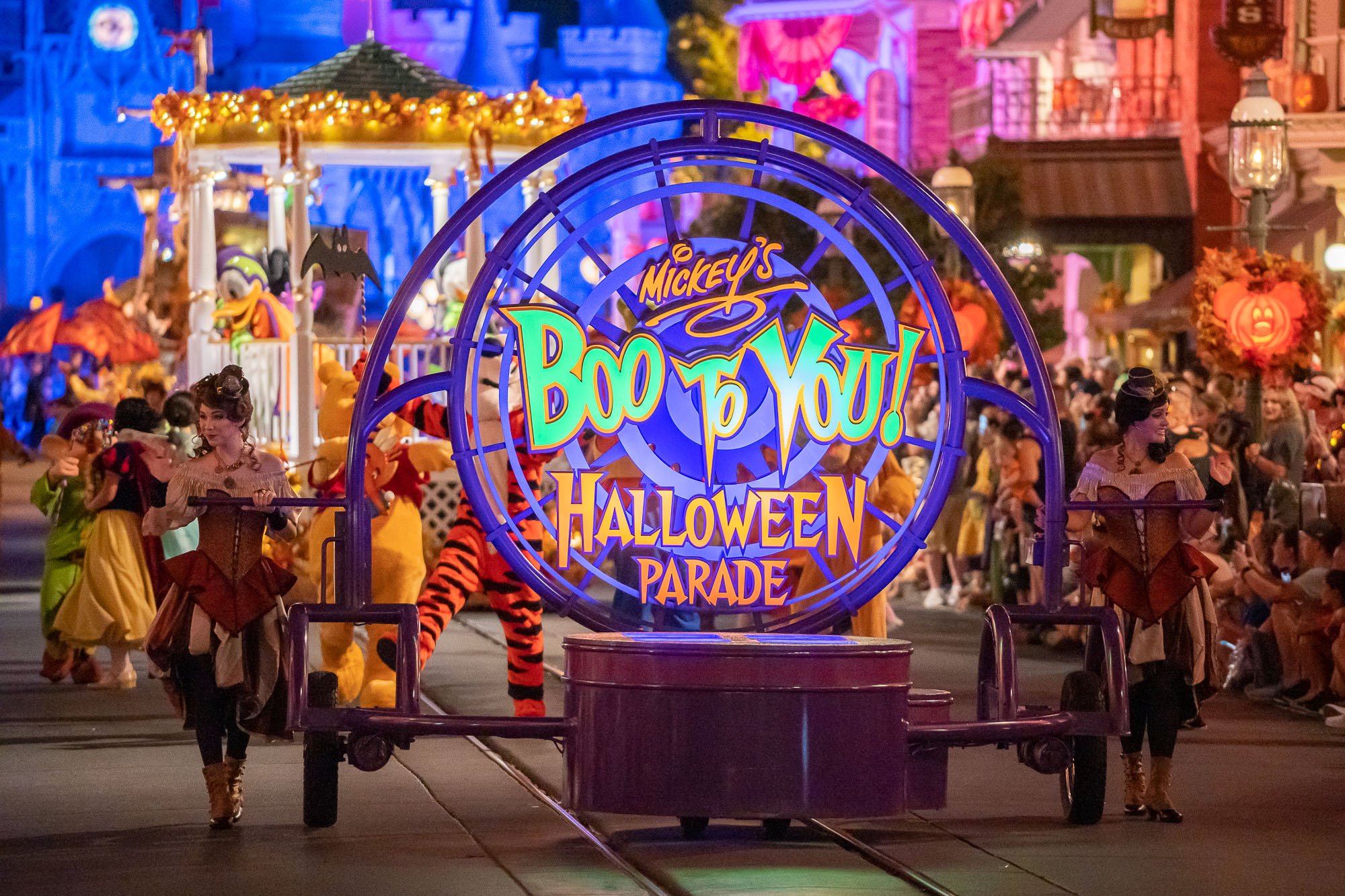 As always, keep checking back with us here at BlogMickey.com as we continue to bring you the latest news, photos, and info from around the Disney Parks!