Dino Diner, a snack cart in DinoLand USA, has been removed and planters are surrounding the area. Not only has the location been removed physically, but also digitally, with the Disney's Animal Kingdom park map updated to reflect its removal. It's actually a bit more complicated than that right now, the drawn map reflects the removal of Dino Diner, but there is still a waypoint for the snack cart, and the Walt Disney World website page for the location is still accessible. The website shows the location as "closed" and not "refurbishment", which could mean that the location is permanently removed.
Here's a look at the area.
Here's a before/after of the digital map. You can find Dino Diner tucked away in the upper middle of the map.
Here's an updated look at the DinoLand USA area digital map, with Dino Diner removed.
While the chorus says "let's not jump to conclusions", it is very uncommon for Disney to remove a location from a digital map if it's simply closed for refurbishment. That said, it's possible that the removal of Dino Diner is completely unrelated to the recently announced plans to transform the area into a Moana and Zootopia-themed area. Perhaps the location simply did not make enough money to remain open.
Disney Parks Chairman Josh D'Amaro noted that plans are considered "Blue Sky" at this point, but the concept art is quite mature compared to the "Blue Sky" plans for the addition of Encanto, Coco, and Villains to Magic Kingdom.
If we had to guess, we're still a year or so away from an official announcement that the DinoLand USA "Blue Sky" plans are being constructed, but we would not be surprised to see Disney begin work on the area in less than 365 days. With Universal Orlando "gaining [market] share" on Disney World, Disney will want to fill out its theme park construction schedule past the recently released end of 2024 guidance.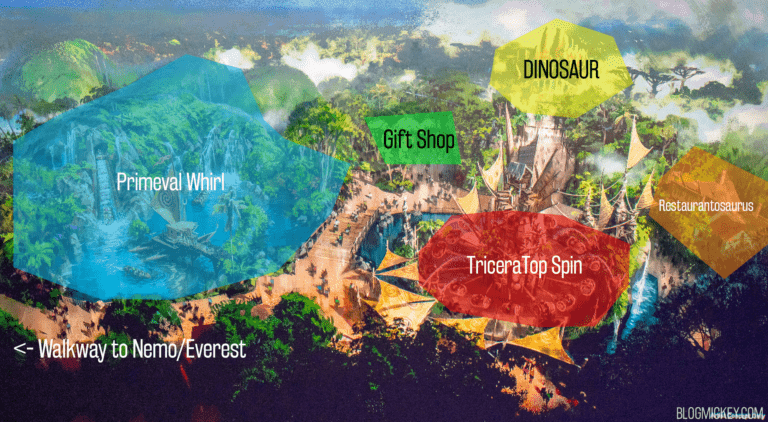 As always, keep checking back with us here at BlogMickey.com as we continue to bring you the latest news, photos, and info from around the Disney Parks!