Hoppy Easter! Or, at least, Happy Disney Easter, which will last about a month at Disney's Grand Floridan Resort – the headquarters for all things Easter. Earlier today, the culinary team at Disney's Grand Floridian Resort debuted their 2023 Easter Egg display in the lobby, and it includes some returning favorites as well as more than a dozen all-new displays! Let's take a look!
Walt Disney and Cinderella Castle Blueprint
Returning this year is the Walt Disney and Cinderella Blueprint egg. New to this display is the Disney100 nametag for Walt Disney and Roy Disney – including their characters, Goofy and Mickey Mouse, respectively.
Luca
Also returning this year is the Luca easter egg display!
Orange Bird (NEW)
New this year is an Orange Bird display! Also new this year are descriptions of the inspiration that the Cast Member drew from when creating the display. We'll include those in italics as we go along.
I attended the parks in the 70s and 80s as a kid and always loved the Orange Bird Character. I also saw him in ads for the Florida Citrus Commission on TV when we came down to the parks. -Stephanie (18 years of service)
Figment and Spaceship Earth
A returning light-up display is Figment sitting atop Spaceship Earth.
Piper
Also returning is Piper from the Pixar short of the same name.
Winnie the Pooh Honey Pot
Rounding out the collection on the elevator side of the lobby is a returning Winnie the Pooh honey pot Easter Egg.
Time to walk to the other side of the lobby and check out some new and returning favorites. First, here's an overview.
Raya and the Last Dragon
Raya, Sisu, and Tuk Tuk have returned again this year and can be found on the right side of the display. We'll work right to left.
Ratatouille
Remy and a serving of Ratatouille also return to the 2023 lineup. Can you spot the Hidden Mickey? There are plenty to spot throughout the displays in addition to enjoying the artistry that is required to give these eggs character – both figuratively and literally.
Avengers
Another returning egg is the Avengers egg. More traditional, there is a good mix of traditional egg shapes and some really unique designs this year.
Snow White and the Seven Dwarfs
Another returning favorite is the elaborate Snow White and the Seven Dwarfs Easter Egg display!
Encanto
The magical Family Madrigal is represented again this year with a returning Encanto display.
Mr. Toad's Wild Ride (NEW)
A new Easter Egg display brings Mr. Toad's Wild Ride back to Florida, courtesy of Cast Member Stephanie.
I used to come to Disney with my Grandparents and Mr. Toad's Wild Ride was my favorite. I look so forward to going on it every time we came to Disney.
Fantasia
The Pastoral Symphony scene from Fantasia is represented again this year!
Kevin (NEW)
Before we move on to the final section of Easter Egg displays, there is a giant Kevin display that is all-new this year!
If you've made it this far, that makes two of us. Let's keep going!
Cars (NEW)
New this year is a Tow Mater Easter Egg display courtesy of Cast Member Kait!
I wanted to create something for my fiance because we are getting married this year. His favorite movie is Cars and his favorite character is Mater.
Munchlings (NEW)
Another new display for 2023 is the Disney Munchlings display from Cast Member Krysta.
I remember my Grandmothers' antique kitchen that was so comforting. When the Munchlings came out, I thought it was the perfect mix of Disney characters and baked goods. This egg combines the two things that I love, Disney and Baking.
Princess and the Frog (NEW)
Continuing the new displays is the Princess and the Frog display which contains a silhouette of Tiana and frog Naveen.
When I first watched "The Princess and the Frog" I thought it was so inspirational. I identify with Tiana, she followed her dream with her Father's encouragement. It reminded my of my own Father's encouragement to pursue a baking career. -Maria (23 years of service).
Country Bear Jamboree (NEW)
Another new display this year is the Country Bear Jamboree display which recreates a scene and setting from the Magic Kingdom attraction.
The Country Bear Jamboree was my Grandpa's favorite attraction. I would sit next to him in the theatre and he would always sing along with "Big Al". It's a show that is very near and dear to my heart. -Loren (1 year of service)
Bambi (NEW)
The Bambi Easter Egg continues an impressive run of new eggs this year and was created by Cast Member Meg.
I love the Disney Classic Movies and I love animals. So I thought that Bambi had the quintessential Spring theme. I enjoy painting in all forms whether it be acrylic or cocoa butter as you see here.
Alice in Wonderland (NEW)
A wonderfully detailed Alice in Wonderland Easter Egg is up next and it was created by Cast Member Yadi.
I made a Rolex watch cake once that had actual moving hands. So this year I wanted to create a timepiece using the White Rabbit from "Alice in Wonderland" as the timekeeper.
Sword in the Stone (NEW)
A Sword in the Stone egg is all-new this year, created by Cast Member Juan!
Growing up I loved watching the Sword in the Stone. I watched that movie every day. I wanted to create this thrilling scene from that movie with my egg display. My favorite quote from the movie is by Merlin to Arthur – "Develop your brain! There's a higher power!"
My Neighbor Totoro (NEW)
Another all-new egg brings a much lesser-known movie to American audiences courtesy of Cast Member Ariel!
I wanted to represent a movie that is lesser known in America. My Neighbor Totoro is set in Japan and is known for its animation. It was a movie that I enjoyed watching with my best friend when I was a child.
Celebrate Mickey (NEW)
Another new Easter Egg is a team effort between Cast Members Chef Ernesto and Victoria. It celebrates Mickey in a very springtime design.
I am one fo the Pastry Sous Chefs here at the Grand Floridian Bakery. I choose this design based on Celebrate Mickey: 75 InspEARations. I was inspired by all of the Mickey statues and have always wanted to create something of my own. Victoria wanted to be part of this vision and collaboration. I love the idea of having an idea and making it a reality after all, It all started with a Mouse!
Main Street Electrical Parade (NEW)
The Main Street Electrical Parade is back at Walt Disney World!…at least, in egg form thanks to an all-new egg from Cast Member Mary Rose.
I visited the parks as a child with my father and we always watched the Main Street Electrical Parade from the train station at midnight. I was so excited to see Cinderella's Coach.
Winnie the Pooh Storybook (NEW)
A second Winnie the Pooh Easter Egg? Why not! This all-new display was created by Cast Member Justine and features Winnie the Pooh and a map of the Hundred Acre Woods.
I love BOOKS! All of my eggs have a book theme. I read Winnie the Pooh as a child and now I read it to my own children. My favorite character is Eeyore because he just keeps going.
The Lion, the Witch, and the Wardrobe (NEW)
Cast Member Aurora brings an all-new Easter Egg based on The Lion, the Witch, and the Wardrobe!
The Lion, the Witch, and the Wardrobe is one of my favorite Disney movies. I watched it with my parents who loved it as well. The graphics were definitely before its time, especially "Aslan", the animation was amazing!
Donald Duck and Daisy Duck (NEW)
The second collaborative egg brings Donald Duck and Daisy Duck to the Grand Floridian. The Easter Egg was created by the Cast Member team of Carolina and Monica!
Carolina loves the character Daisy because of her sense of fashion and independence. Monica's husband loves Donald Duck. Both of us are from South America and have grown closer through this project.
Another egg was being created live in front of guests when we visited this morning and we'll be back soon to capture photos of the finished product!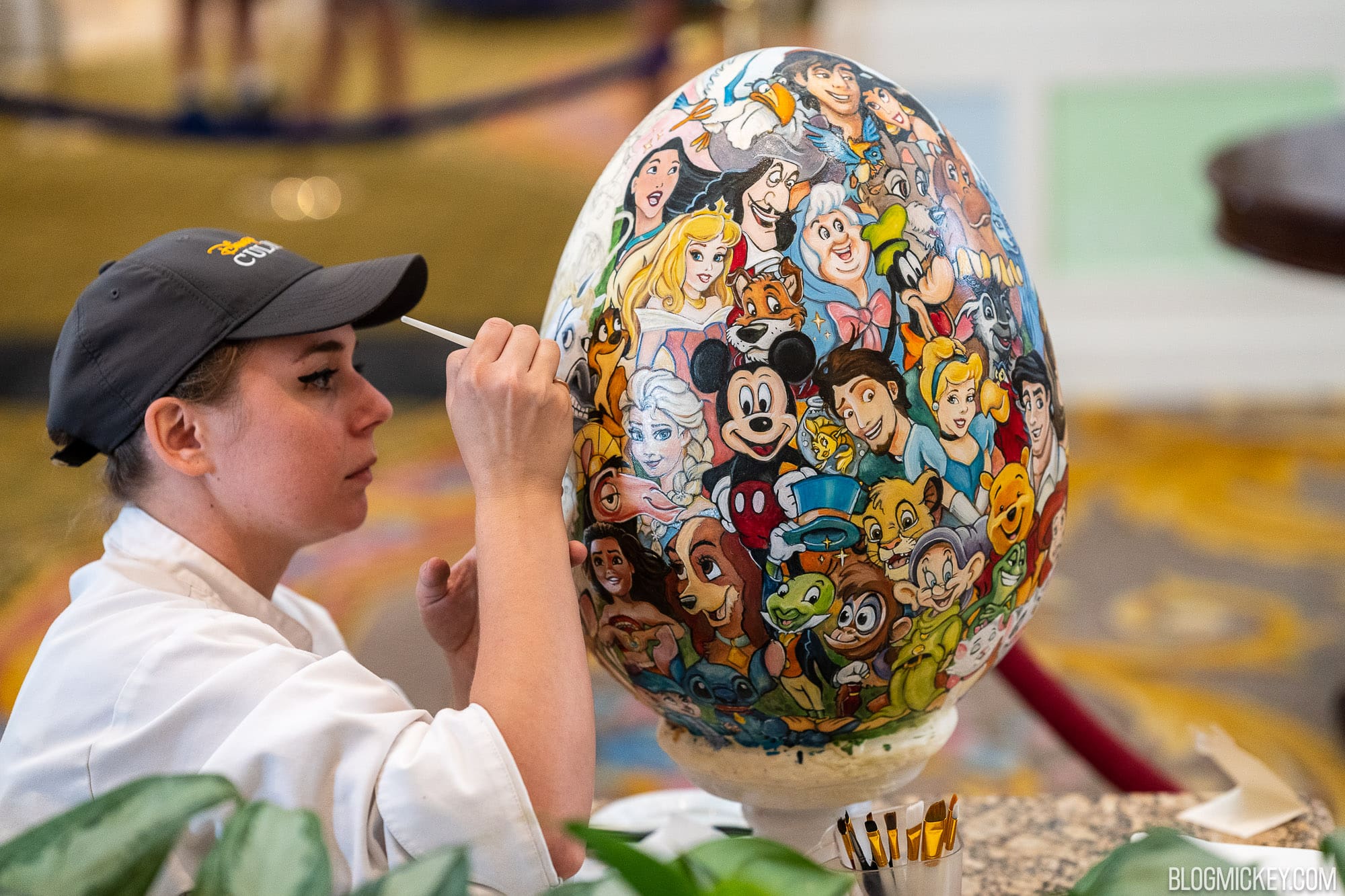 Also scattered around the displays are some fun and cute smaller creations.
As always, keep checking back with us here at BlogMickey.com as we continue to bring you the latest news, photos, and info from around the Disney Parks!