The Hoop-Dee-Doo Revue (previously the Hoop-Dee-Doo Musical Revue) has returned to Pioneer Hall at Disney's Fort Wilderness Resort and Campground and we were in attendance for the first show back since spring 2020! In this Hoop-Dee-Doo review, we'll take a look at the returning favorite food items, new changes to the show, and more! BlogMickey.com paid 100% for our review. Let's dive right in!
Hoop-Dee-Doo Location and Transportation
Tucked away in the shadows of Magic Kingdom is Disney's Fort Wilderness Resort and Campground. This corner of Walt Disney World remains largely untouched and provides not only a connection to Disney magic but to nature too. Of course, a little slice of wilderness paradise is not always easy to get to, so you might be wondering how to get to Hoop-Doo-Doo Musical Revue.
Guests have two main options and a bonus option. First, you can drive right up to Fort Wilderness and park in the main parking lot at the front of the resort. An 11-minute bus drive will then take you all the way back to The Settlement and Pioneer Hall. Note that if you are using third-party ride share, you will also need to be dropped off at the lobby/check-in area at the front of the resort as there are no drop-off areas near Hoop-Dee-Doo.
The second option is by boat. There is a dock just steps away from The Settlement that will connect you to Magic Kingdom and area resorts. We love this option, but it can get a little busy at peak times when the show ends. Note that the boat route to Magic Kingdom area resorts is not operating just yet and guests looking to arrive by boat will have to go to the Magic Kingdom park launch.
The third (bonus) option is via the Minnie Van service. This Disney-owned and operated ride service is the only vehicle besides buses allowed to pick up and drop off at Pioneer Hall. For more on the Minnie Van service, check out our recent experience.
Pricing and Reservations
Hoop-Dee-Doo Revue has multiple pricing levels for guests based on how close you want to sit to the stage. Advance dining reservations are highly recommended and can be made on the Walt Disney World website: https://disneyworld.disney.go.com/dining/cabins-at-fort-wilderness-resort/hoop-dee-doo-musical-revue/
As you might expect, the closer you get to the stage, the more expensive it will be. An Annual Passholder discount of 10% is available.
Category 1: $74 adults, $44 children 3 to 9 years of age
Category 2: $69 adults, $40 children 3 to 9 years of age
Cetegory 3: $66 adults, $39 children 3 to 9 years of age
There is really amazing value here when considering the all-you-care-to-eat model combined with drinks and wholesome entertainment. Gratuity and tax are included.
Here's kind of an overview of the seating options. The graphic above can be a little confusing, but basically, if you want to be "front and center", you'll pony up for Category 1. Most guests will sit on the main floor, but some Category 2 and all Category 3 guests will sit on the balcony upstairs, which still offers a wonderful view.
Here's a rough overlay of where each category is seated. It's worth noting that "center balcony", which is where the photo was taken, is also Category 2.
We don't think the seat matters as much here because the space is relatively intimate and you're likely going to have a good time regardless, but if you want to be in the action, purchase Category 1, if not, we enjoyed our view from the Category 2 balcony seats. The performers will move throughout the space to ensure everyone feels welcome.
Pioneer Hall was updated during the closure but still retains the classic, western charm with wood throughout and a warm, welcoming overall feel.
After you check in, either via the My Disney Experience app, or via the nearby host stand, you will be assigned a table and a Cast Member will greet you at the door and walk you to your table. Doors open at the posted showtime and the show will begin 20 minutes after doors open.
Starters (Salad and Cornbread)
When you arrive at your table, salad and cornbread will be waiting for you. Our number one tip for Hoop-Dee-Doo is: come hungry. Your dining experience will be just under two hours long as you chow down on a southern feast that your server will encourage you to order more of. Our number two tip is to do just that: order more. If you find something that you enjoy, don't hesitate to ask for more. The meal is served family-style and you can order as much as you'd like.
We'll start at the beginning and the starter "Hoop Salad" and house-made cornbread. The salad kept the exceedingly fresh ingredients that we remembered from our last visit. The signature "hoop" vinaigrette returns and the sharp white cheddar is not shy as a topping.
The cornbread is absolutely delicious and a returning item. You might find your first re-order in the house-made cornbread and wonderful honey butter.
New to the starter menu is a creamy coleslaw. You know your own coleslaw tastes better than we do, but it felt like an odd addition as a starter.
Critically, a BBQ sauce is also delivered as a starter, though you won't need it for a few more minutes.
Drinks (Unlimited Beer, Wine, and More)
Just like the food, most of the drinks are all-you-care-to-enjoy as well! This means unlimited beer, wine, and more from the moment you sit down until the curtain falls. As you'd expect, soft drinks are also included. Here are the options, with some drinks listed at an additional cost:
Our server made sure we never found the bottom of our drinks, often bringing a second drink when we were just halfway through our first. The service remained as excellent as we remembered.
While a lot of the place settings changed, the classic Ball mason jars remained. We didn't opt for any of the upcharge drinks but they're listed on the menu above should they interest you. Unlimited draft beer and unbelievable pours of (also unlimited) wine and sangria were enough for us.
Main Course (Ribs, Chicken, Mac & Cheese, and More)
While there is a temptation to fill up on cornbread, we hope you've shown some restraint up until this point. We'll start with what is likely going to be the highlight of your culinary adventure and the Pecan-smoked BBQ Pork Ribs. At first, we were a little bit confused by the visual and what appeared to be overly dry ribs. That said, we remembered the BBQ sauce that was delivered with the starters and found our way back to classic Hoop fare. Yes, you can find some flavor in the dry rub that's on the ribs, but it's not until you run a spoonful of BBQ sauce down the rib that the ribs come alive. They're not the best ribs in the world, but they're among the best ribs at Walt Disney World. We might have opted for the ribs to have sauce on them from the jump, but allowing some variety by adding the sauce as a side was smart.
To avoid a melodramatic take, we will simply note that the ribs and chicken are now served in a skillet that is not only easier to access for all but also takes up less space on the table than the buckets of yesteryear. The skillet is a smart move. Make sure to ask for a second…and a third.
Moving on to the "Legendary Fried Chicken", we found a crispy, tasty, classic fried chicken. As we noted in our review from a few years ago, Hoop-Dee-Doo knows what they do well and they execute to near perfection. It's actually a little surprising that they continue to do so well with their food options when they could simply coast by on the entertainment and unlimited drinks alone.
Speaking of knowing what they do well, we have a "new" menu item up next that regulars have special ordered for years. Previously on the kids menu, the Mac & Cheese has received a wonderful upgrade in not only status on the standard menu, but in taste as well. The new Cornbread-crusted Macaroni and Cheese earns its spot as a side dish and replaces the seasonal vegetable, which was corn on our last visit. Chefs noted that they were delivering a lot of Mac & Cheese as special orders before the shutdown and decided to give it a prominent spot on the main menu.
Home-style Mashed Potatoes and Cowboy Beans return and are also wonderful side dishes.
Overall, the main courses excel in exactly what you would want them to do – fill you up! You'll want to save room for dessert though because the famous strawberry shortcake is just around the corner.
Dessert (Strawberry Shortcake)
A dessert so famous at Walt Disney World that it has its own song in the finale of the show. The strawberry shortcake is a classic and still provides a wonderfully airy cake with delicious, fresh strawberry compote.
Vegetarian/Vegan Options
As with many other dining venues at Walt Disney World, there are vegetarian and vegan options at Hoop-Dee-Doo Revue in addition to the offerings above. Here's a look!
Impossible Sausage
Green Beans
Roasted Potatoes
Baked Beans
Baked Cauliflower
Jackfruit
Corn
Dinner Show Entertainment
Hoop-Dee-Doo Revue would likely be a solid dining option with just the food (and unlimited alcoholic drinks) provided, but it's a dinner show too! Now in its 48th year, it's actually one of the longest-running dinner shows in the United States. While the food can sometimes be the star of the show, here are the actual stars of the show that will be performing on stage throughout the 2-hour experience:
The Pioneer Hall Players
Six Bits Slocum
Johnny Ringo
Claire de Lune
Dolly Drew
Jim Handy
Flora Long
The Pioneer Hall Players are your entertainment for the evening and each character brings something fun (and oftentimes funny) to the table. Settle in and enjoy our video of the first performance in over two years!
As part of the return, Disney announced that there would be changes to the show. As with any announcement, there is a certain amount of trepidation from a fan base that is generally happy with the way things have been. However, any changes related to cultural sensitivities to the show are, for the most part, glancing updates to the script. Other updates were made to the set and scenery backdrops that now even feature Big Thunder Mountain from Magic Kingdom in one section of the show.
The vast majority of the show remains in place and changes made have no impact on the nostalgia and charm of the show that debuted decades ago.
Overall, Disney truly delivered on the promise that was made when the changes were announced of keeping the heart of the show in place. It was wonderful to see some familiar faces on stage too as the Cast Members really carry the show with improv and comedy that the whole family can enjoy.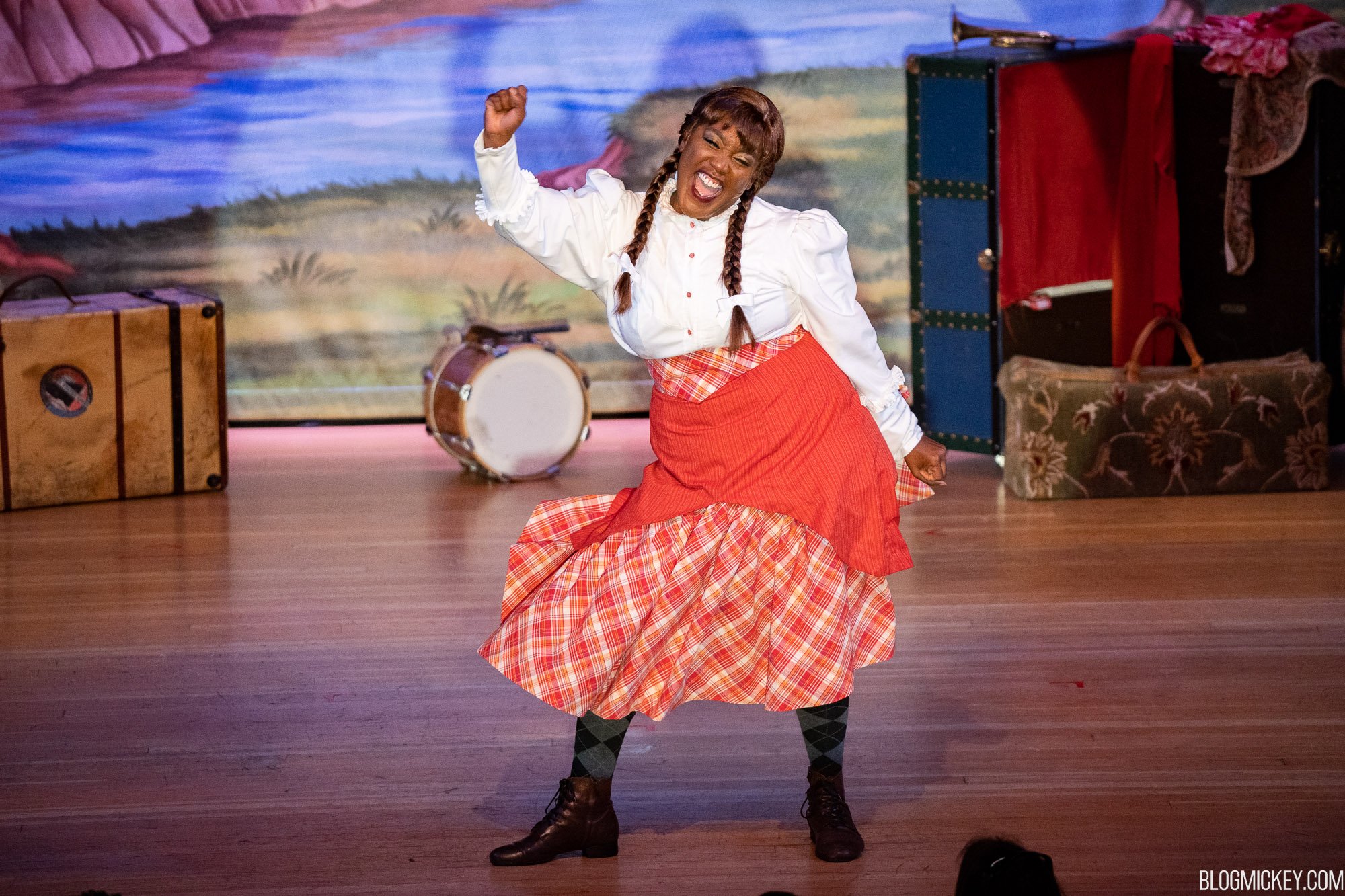 Closing Thoughts
The Hoop-Dee-Doo that we all know and love is back! Slight changes don't have an impact on the rootin' tootin' foot-stompin' good time that is Hoop-Dee-Doo, and the nostalgia of a show that has entertained generations is as strong as ever. Hoop-Dee-Doo remains a must-do for us on a very short list. The entertainment is wonderful, the food is good, and unlimited drinks are impossible to beat. We can highly recommend a visit to Fort Wilderness and the Hoop-Dee-Doo Revue.
As always, keep checking back with us here at BlogMickey.com as we continue to bring you the latest news, photos, and info from around the Disney Parks!