Today we're going to take a look around the best theme park in the world with our Animal Kingdom construction update. Let's take a quick look at the Disney Outfitters expansion.
We can see some nice detail work on the roof. The small details are one of the many things I love about Animal Kingdom.
Here's what the walk into the Animal Kingdom looks like with this construction.
Here's the backside of the building, across from Flame Tree BBQ.
Taking a left at the Tree of Life, we find walls start at the backside of the Island Mercantile, and work their way completely around Pizzafari.
There is a rumored expansion coming to the Pizzafari space. This rumored expansion should be a table service.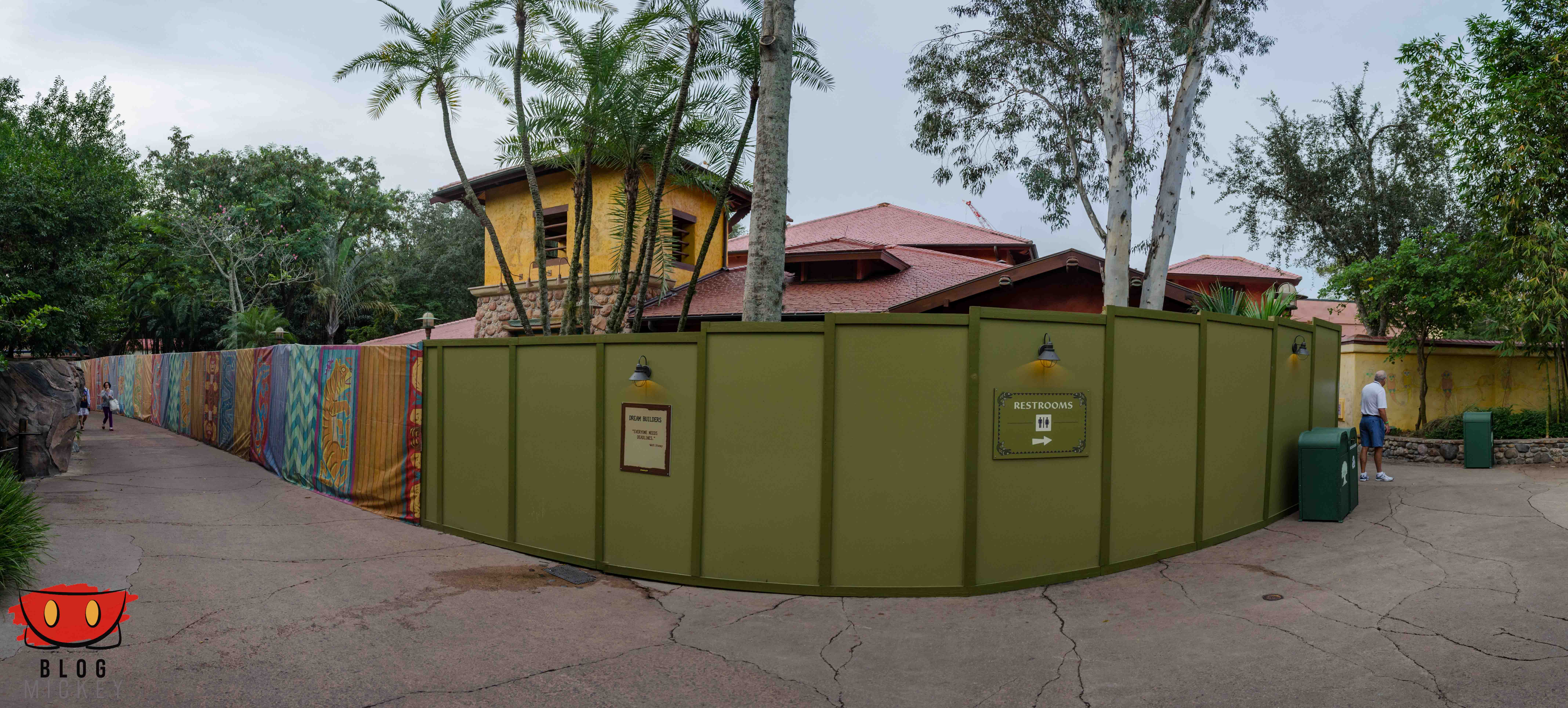 Making our way back into Africa, we find the wonderfully themed, and somewhat recently opened, Harambe Marketplace section.
This section offers quick service options starting at lunch. It's a wonderful spot to relax during the afternoon and maybe even grab a drink. (Our favorite is the frozen Starr of Harambe)
.@WDWToday the real starr of frozen drinks is the Starr of Harambe! pic.twitter.com/TVvnCuv1iN

— Blog Mickey – Mike (@Blog_Mickey) September 25, 2015
A quick look at the Rivers of Light area sees it coming together nicely. I think Disney is shooting for a Spring 2016 opening with a potential for multiple shows per evening.
Full size: http://i.imgur.com/rP1Z94r.jpg

Full size: http://i.imgur.com/O2xLtYH.jpg

Super wide, super large (75MB) panorama of the entire area: https://blogmickey.com/wp-content/uploads/2015/10/RiversOfLight_10182015_full-1.jpg
Primeval Whirl remains under refurb. Tens of touring plans have undoubtedly been ruined. Hopefully Disney will do something to address the noise of the attraction, with Rivers of Light seating literally yards away.
To wrap up our update, we have a look at Pandora – The World of Avatar. As you can see, the rock work is coming along nicely.
We can see the detail of the wire framing for the shaping of the mountains.
Crews were welding. These drooping metal sections are for the vines that will hold up the "floating" mountains.
That'll wrap up our look at Animal Kingdom!
If you enjoyed this post, please hit the share buttons. Thank you and have a fine day!