There are a few different dining options within Star Wars: Galaxy's Edge, but Ronto Roasters was the one we were looking forward to trying the most when it was announced. From a giant podracing engine "cooking" the meats to an interesting jerky lineup, here is our Ronto Roasters review.
Theming
As you wander through the market towards the Millennium Falcon, you'll come across an open and airy building with a giant podracing engine suspended above a grill. Specifically, you'll notice that this podracing engine has been repurposed to be the heat source that warms the spit of meats underneath it.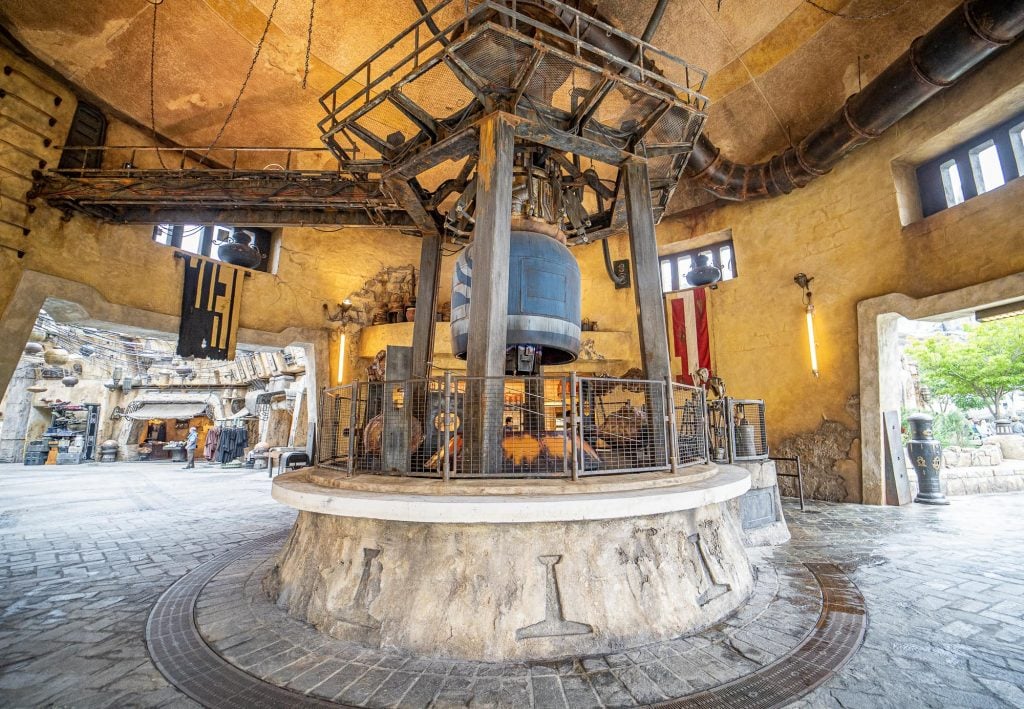 Occasionally, you'll notice that the podracing engine fires up, and a mist billows out from underneath it to simulate a fire emerging from the engine. It's an effect that probably doesn't work that great, but then again, podracing engines aren't meant for cooking as the 8D-series smelter droid will remind you. The smelter droid sits there and turns the spits with rontos on them all day, making quips here and there about the task at hand.
Actually, we should note that this quick service window is called Ronto Roasters, not Ronto's Roasters. Ronto isn't the name of some alien proprietor and you're visiting his quick service window, it's just the 8D-series droid (8D-J8) doing the cooking and the ronto is what's on the menu. The ronto is a creature native to Tatooine, first seen in the digitally remastered version of A New Hope. They were only featured on screen for a few seconds, but we know they exist. Actually, using a creature that was seldomly seen or mentioned seems to be the status quo for Star Wars: Galaxy's Edge. A more well-known creature might make you think of the stories that we already know of Luke or Anakin, but an obscure creature that feels very Star Wars allows you to immerse yourself in the environment while still letting you write your own story.
The backstory of Ronto Roasters is that it is a quick bites location and favorite stop for crews prepping for their next mission. Small creatures can be seen not only hanging over the counter, but also in a nearby nook where we can see tools used for preparing these creatures for consumption.
To make you feel like you're really there, we recorded a short 360° walkthrough and ambiance video. Keep an eye on our YouTube channel for more 360° videos that immerse you in Star Wars: Galaxy's Edge unlike anything else.
Anyway, this spacious area is a main walkway and connection from the Marketplace to Black Spire Outpost as a whole, and while we wish Disney would have pumped some smells that would remind us that this is a grill, the kinetic energy of the massive podracing engine wobbling back and forth as it heats the meat below is enough to draw most guests into this small switchback line. Unlike the Milk Stand, this small line will fill up throughout the day, so it's worth noting that Ronto Roasters does have mobile order. It's worth mentioning that Disneyland does Mobile Ordering slightly different than Walt Disney World, but knowing the difference is key to taking advantage of the benefit. Disneyland has time windows for you to request your mobile order be ready by. For example, it may be 11:15am, but the first available order pickup time window isn't until noon. This works well in most situations, but we did find that waiting in line sometimes would be much quicker than even the earliest return time window. If the line exits the queue and starts to wrap around the base of the podracing engine, it might be a good idea to open up the Disneyland app and mobile order. Because of the relatively limited menu here, the line seems to move well, even if it looks long at first.
Breakfast Exclusives (until 10am)
Ronto Morning Wrap – $12.49
Scrambled Eggs, Grilled Pork Sausage, Shredded Cheddar, Peppercorn Sauce, wrapped in Pita
The Ronto Morning Wrap uses the same grilled pork sausage as the all-day Ronto Wrap. It comes in a soft pita and the sausage sits on a bed of nicely prepared scrambled eggs.
It's worth noting that these didn't seem to be the same scrambled eggs you might find at most quick service windows. We've found those to often times be mass produced, sometimes watery, and usually quite rubbery. The scrambled eggs in the Ronto Morning Wrap were the exact opposite – fluffy and tasty. The peppercorn sauce was a slightly spicy and creamy sauce that drove most of the flavor profile. We noticed the flavor of the sauce more in the Ronto Morning Wrap than in the all-day Ronto Wrap due to the lack of tangy slaw found in the all-day variety. A shredded cheddar tries, unsuccessfully to melt over the top, but it doesn't need to in order to make this a delicious offering. Ultimately, it's too expensive at $12.49 to not come with a side dish, but the fact that it's served at a window and just handed across the counter to you as pictured makes it tough to pair with a side. It would be a no-brainer at $8.99 or maybe even $9.99.
Rising Moons Overnight Oats – $6.99
Oats, Dragon Fruit, Yogurt, Seasonal Fruit
You're paying $7 for a parfait mixed with oats that's not necessarily the best. While the portion size is bigger than a normal parfait you might find elsewhere, it's still not enough to earn a reorder from us. It's a unique color and the star fruit on top is great, but it's quite passable.
All Day Menu Options
Ronto Wrap – $12.99
Roasted Pork, Grilled Pork Sausage, Peppercorn Sauce, Tangy Slaw, wrapped in Pita
We kick off the all-day menu with a look at the Ronto Wrap. The same basic structure continues from the Ronto Morning Wrap, swapping out the bed of fluffy eggs for roasted pork, and adding some tangy slaw.
We think that both the Ronto Wrap and morning version work really well, but we lean more towards the morning version as something that would likely appeal to all guests. That said, the tangy slaw does a great job of adding some texture and flavor to the dish, infusing a bit of vinegar too. We're happy to see the peppercorn sauce make its way over from the morning wrap. If the star of the two versions of the Ronto Wrap is the sausage, the top supporting role goes to the peppercorn sauce. If you miss the 10am cut off for the Ronto Morning Wrap, you won't be disappointed by the all-day Ronto Wrap. Again, we'd like to see the market demand a price closer to $8-9 due to the lack of a side like the morning version.
Nuna Turkey Jerky – $7.49
Sweet Teriyaki or Spicy Herb
Another all-day option is the Nuna Turkey Jerky. You have two options on how you'd like your Nuna Turkey Jerky prepared: sweet or spicy.
A bit of background here on the Nuna creature that this gets its name from. The nuna is a bird-type creature that is not only found in the swamps of Naboo from The Phantom Menace, but also in The Clone Wars animated series. We think it's fun that the food offerings at Ronto Roasters are named after actual creatures that you can find in the movies, adding an authenticity to the location even if the creatures aren't extremely well known.
We'll start with the sweet Teriyaki version of the Jerky. We had originally assumed that the only difference would be the flavors of the two versions, but we found that there was actually a difference in texture as well. The sweet Teriyaki was more of a traditional, chewier and softer jerky. All of the flavors of Teriyaki are here with a subtle sweetness when it first hits the tongue.
On the other hand, the spicy herb was both harder in texture and drier. The spice here was undeniable, both on first contact and on the back of the tongue. We enjoyed both of these jerky offerings and thought that the portion offered was in line with the pricing that you might even find in a gas station, with very little "Disney surcharge".
Specialty Beverages
Tatooine Sunset – $5.49
Gold Peak® Unsweetened Tea, Odwalla® Lemonade with Melon and Blueberry
We see the continuation of Star Wars canon naming continued here, with the Tatooine Sunset. The two defining elements here are the unsweetened tea and the lemonade. These two ingredients effectively create an Arnold Palmer, a delicious combination of tea and lemonade flavors that presents itself as a sweeter version of tea with a tart finish of lemonade. We weren't able to pick up on the melon and blueberry, and the drink stands well enough on its own without those flavors.
Meiloorun Juice – $5.49
Barrilitos® Aguas Frescas Pineapple, Simply Lemonade® with Blueberry, White Cranberry Juice, Lemon Juice, and Desert Pear
Next up is the Meiloorun Juice. Earning its name from the Meiloorun fruit seen in some of the animated series, the end result is something that is forward with white cranberry flavor and a more traditional tart lemonade finish. This a similar drink in flavor order as the Tatooine Sunset, substituting a mild tea start for the more exotic cranberry.
Sour Sarlacc – $5.49
Minute Maid® Limeade with Raspberry and spicy Mango
Finally, we have arrived at the Sour Sarlacc. It presents a sour composition on first sip, followed by a mango finish and aftertaste. All three of these are decent options, but follow the general trend of sugary drinks offered at Star Wars: Galaxy's Edge.
---
Overall, Ronto Roasters is a fun space that might be overlooked by many guests as they travel towards the Marketplace or Millennium Falcon: Smugglers Run, but it does have some interesting options, especially the Ronto Morning Wrap. While we think that the offerings presented are delicious, we'd like to see a price drop (unlikely) or a side added to create some sort of value at the over $12 asking price.
If you enjoyed this review, please share it with your friends on social media. If there is anything that we missed or any questions that we can answer, please leave a comment below or reach out to us on Facebook or Twitter. Thanks for reading and please continue to check back with BlogMickey.com for more Star Wars: Galaxy's Edge content.