It's been a whirlwind day of Disney Parks news. We wanted to provide a single spot to wrap up all of the announcements made at the 2019 D23 Parks and Resorts panel.
Epcot
By far the biggest announcements came from the Epcot overhaul project.
First, Disney formally announced that Epcot will be anchored by four neighborhoods: World Showcase, World Celebration, World Nature, World Discovery.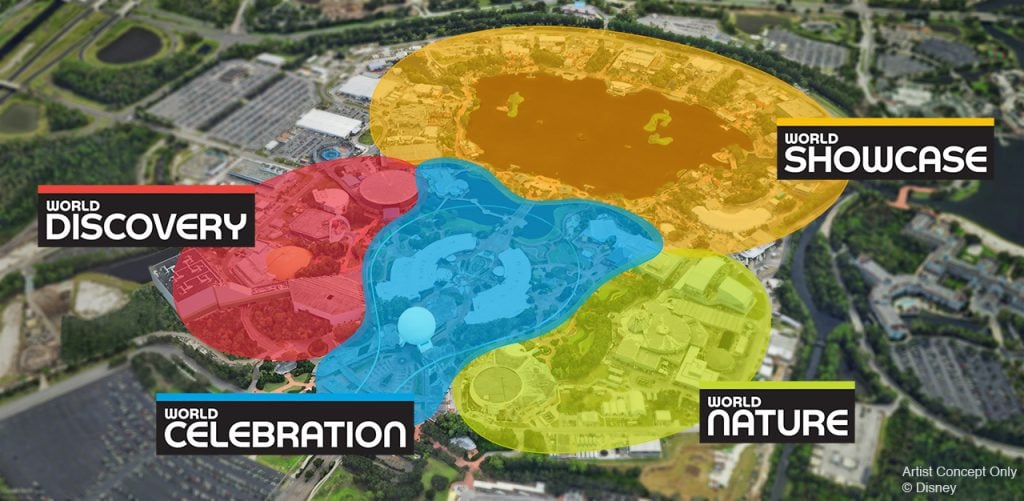 Disney announced that Spaceship Earth would eventually get a refurbishment, with new narration, new storyline, and new scenes. Spaceship Earth will remain a voyage through time as the journey transforms with new scenes reflecting the universal nature of the human experience. A new guide and all-new narration will focus on the storytelling that brings people together. Disney did not give a timeline for the refurbishment.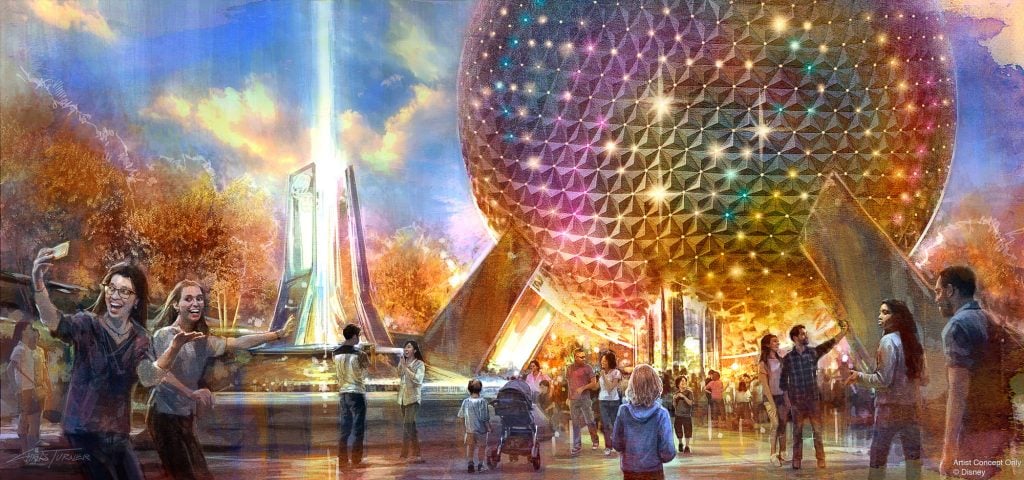 Disney announced a new pavilion that will become the home base for Epcot's signature festivals. It will provide a stunning view of World Showcase and an ideal spot to witness the park's nighttime spectacular. This beautiful, three-level structure will have one of the most remarkable designs at any Disney park and will fast become a new icon for Epcot.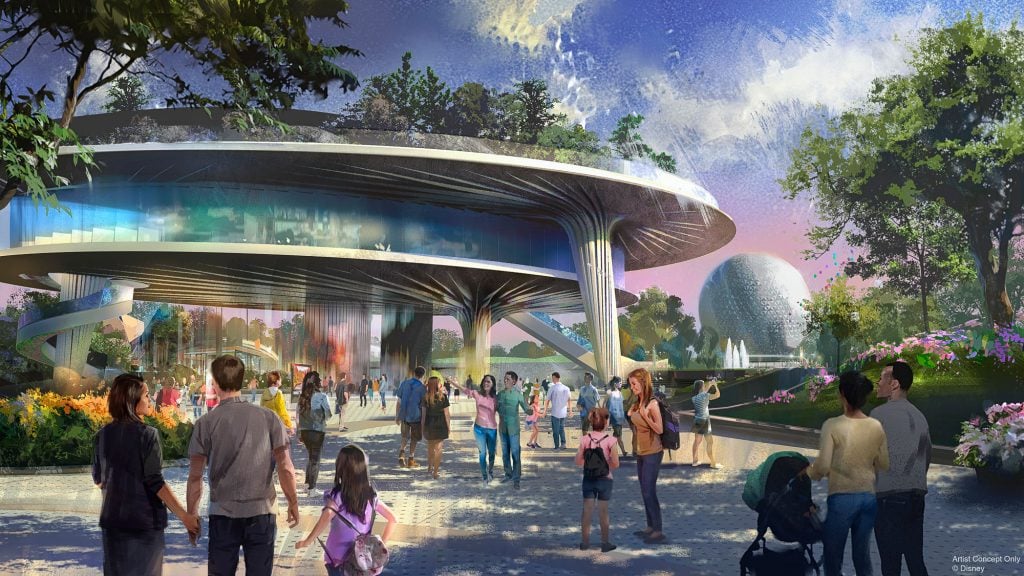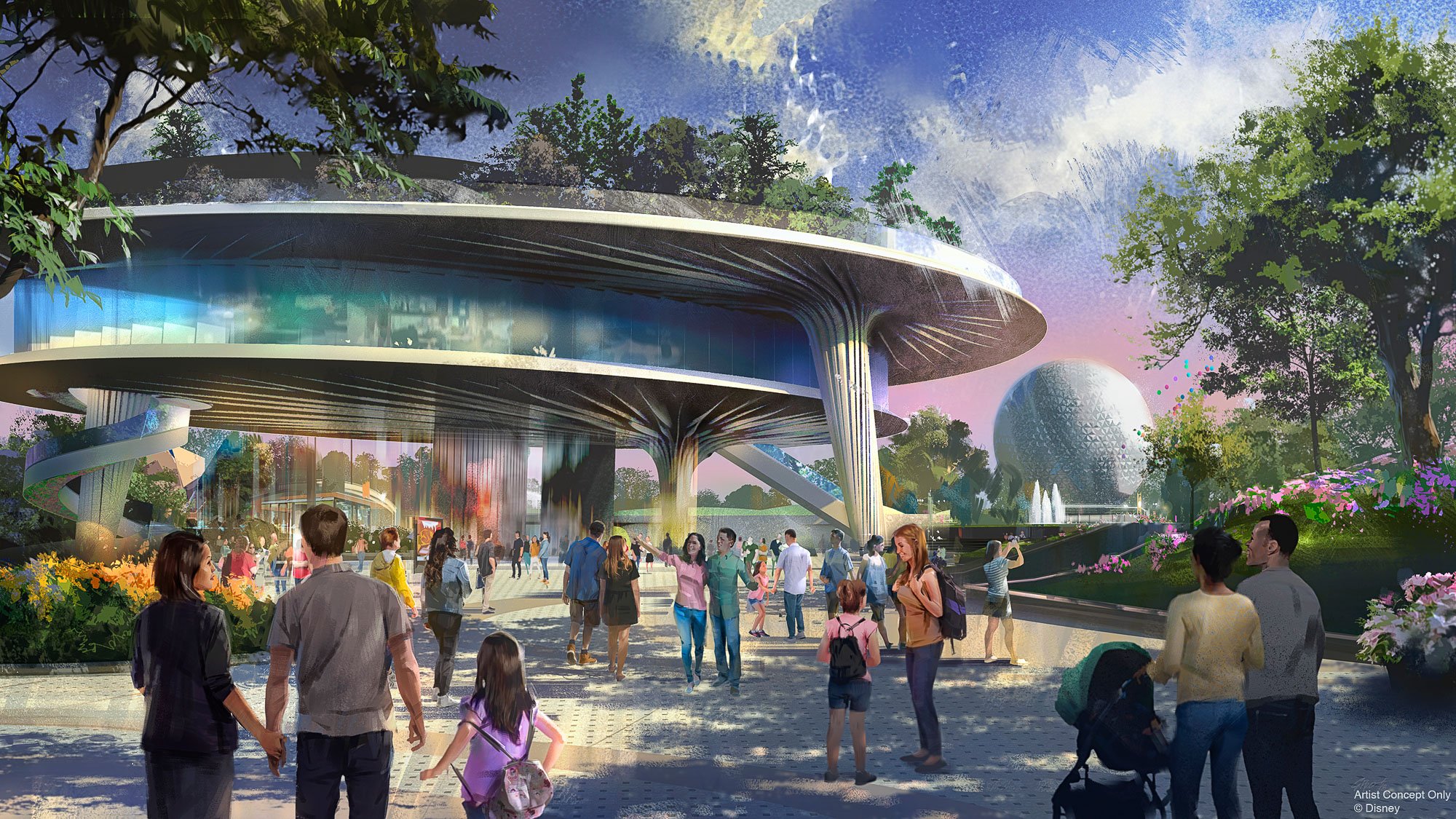 World Celebration will also feature breathtaking views at Dreamers Point, lush gardens, a wishing tree, an interactive new fountain and a statue celebrating the legacy of the original dreamer, Walt Disney.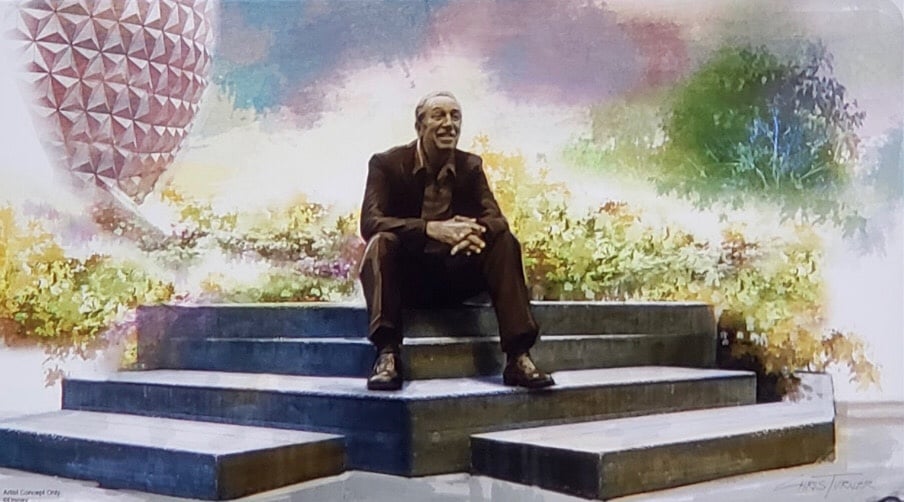 World Nature will feature natural elements such as The Land pavilion and The Seas.
Journey of Water, Inspired by "Moana" will be a lush exploration trail where guests can meet and play with magical, living water.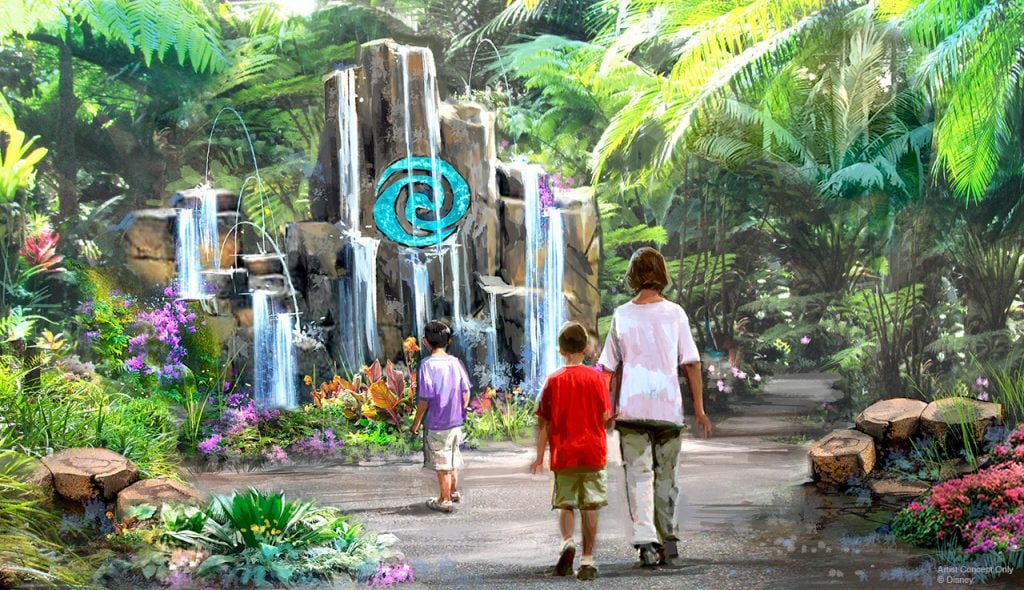 The Land pavilion's new film "Awesome Planet," which showcases the spectacular beauty, diversity, and dynamic story of the planet, will begin welcoming guests in January 2020.
World Discovery replaces what is currently known as Future World East.
Guests will ride on a daring adventure featuring the first reverse launch into space on Guardians of the Galaxy: Cosmic Rewind. This thrilling, family-friendly attraction will feature a never-before-seen storytelling coaster that rotates to focus on the action, wherever it may be.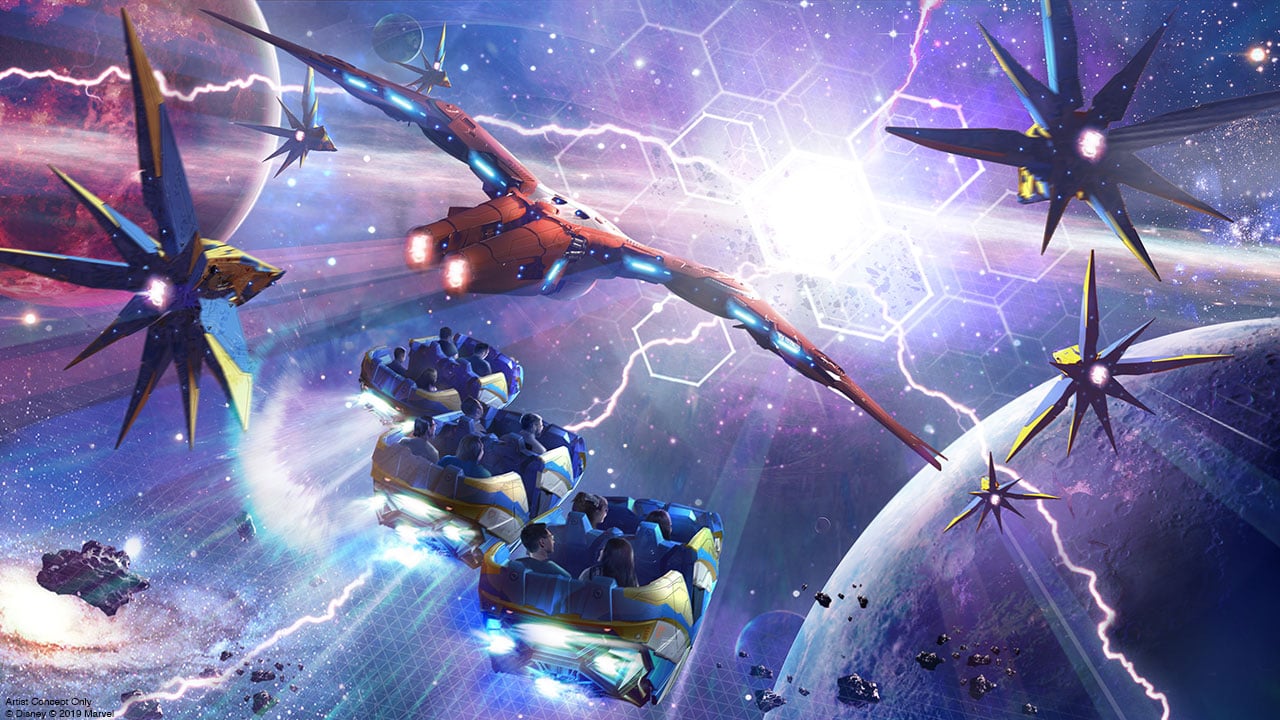 An expansion of the Mission: SPACE pavilion, the new restaurant Space 220 will be a culinary experience featuring the celestial panorama of a space station, including daytime and nighttime views of Earth from 220 miles up. You'll board a special elevator for a journey to a space station that is home to an incredible dining experience. Along the way, viewports will give you a real-time perspective as you travel high above the planet. Once you arrive, you'll enjoy fantastic meals and drinks while taking in views that are truly out of this world. Opening this winter, Space 220 will be operated by the Patina Group.
PLAY! pavilion will open in time for the 50th Anniversary of Walt Disney World. In this interactive metropolis, guests will discover a city bursting with games, activities, and experiences that connect them with friends, family, and beloved Disney characters like never before.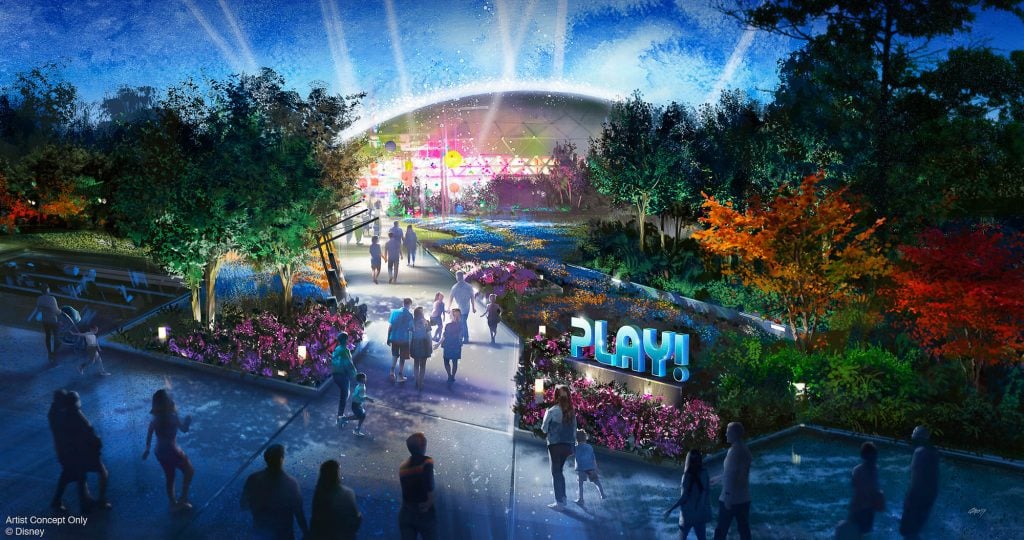 The first-ever Mary Poppins attraction was announced as part of Cherry Tree Lane, which will join the United Kingdom pavilion as an entirely new neighborhood!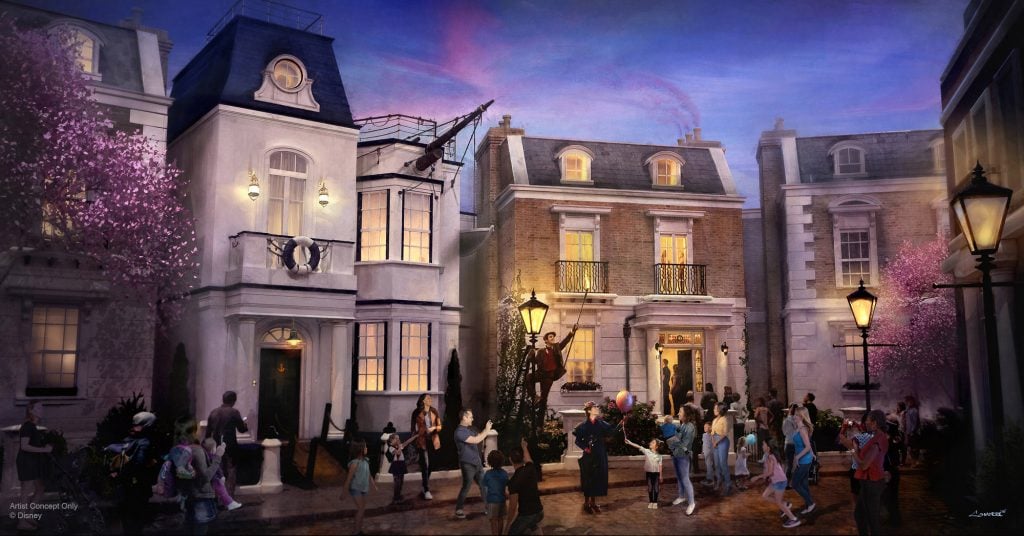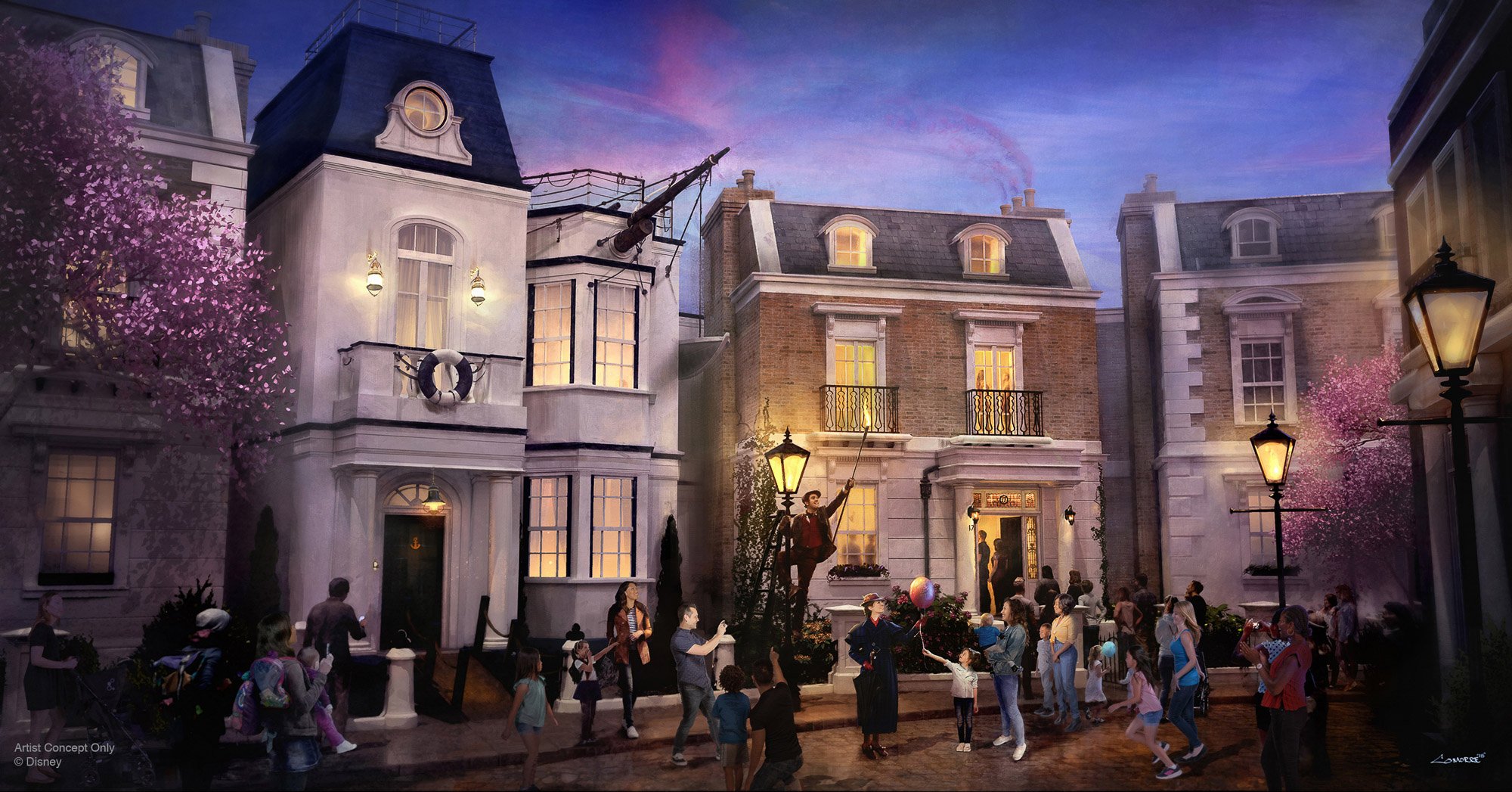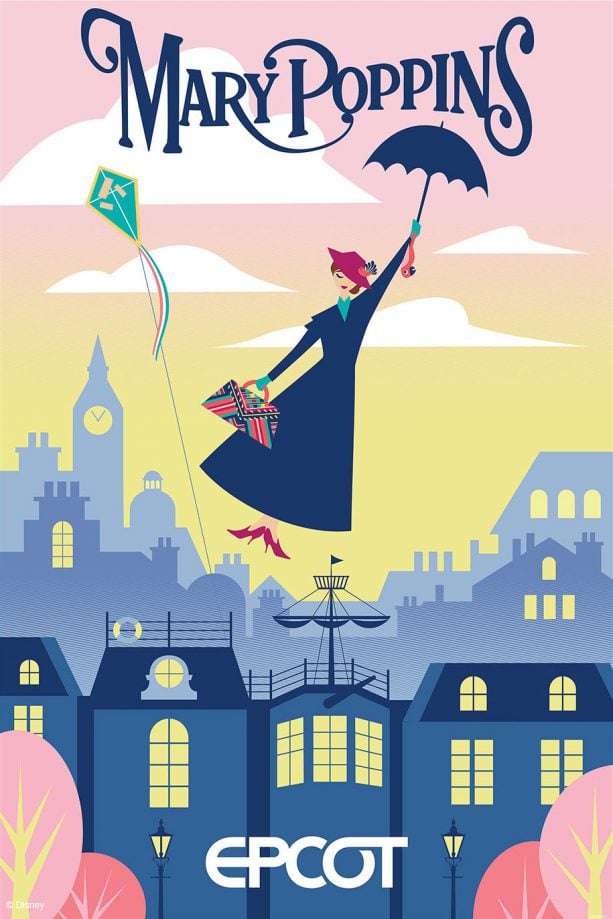 In the China pavilion, "Wondrous China" will take guests on a spectacular journey across China, filmed and presented in a completely seamless 360-degree digital format.
Also at World Showcase, the film "Canada Far and Wide in Circle-Vision 360" will debut in January 2020 in the Canada pavilion with new scenes and a new story.
The France pavilion will offer even more for guests to discover, including a new "Beauty and the Beast Sing-Along" in January 2020. And in summer 2020, the much-anticipated attraction Remy's Ratatouille Adventure will open, as well as a delicious new restaurant called La Crêperie de Paris, offering both table- and quick-service options.
In 2020, following the limited-time run of "Epcot Forever," the new "HarmonioUS" will debut as the largest nighttime spectacular ever created for a Disney park. It will celebrate how the music of Disney inspires people the world over, carrying you away harmoniously on a stream of familiar Disney tunes reinterpreted by a diverse group of artists from around the globe. "HarmonioUS" will feature massive floating set pieces, custom-built LED panels, choreographed moving fountains, lights, pyrotechnics, lasers and more.
Disney Genie Mobile App
You ain't never had a friend like this! Moments ago, at D23 Expo 2019, details were unveiled by Disney Parks, Experiences and Products Chairman Bob Chapek for "Disney Genie," a revolutionary new digital offering set to debut in late 2020 that will enhance the way you plan for and experience a trip to Walt Disney World Resort. Joining other innovations like the MagicBand, Disney Genie is being designed to help you make the most out of your visit, whether you're a first-time guest or a seasoned pro.
Disney Genie will make planning easier and more fun by providing customized itineraries geared to your interests, right at your fingertips – from a royal, princess-themed day at Magic Kingdom Park to a trip around the world at Epcot for foodies and even a perfect day for thrill seekers. Certain features of Disney Genie will also be available through your preferred travel professional.
Sometimes you may know exactly what you want to do, but may not know the best time or order in which to do it. You'll be able to tell Disney Genie what you'd like to experience, and it will quickly evaluate millions of options to present you with an optimal day. And best of all, it's flexible! If you change your mind for any reason, Disney Genie will re-optimize your day.
Disney Genie can also send you real-time tips and updates, including recommendations for experiences it thinks you'll love, helping you navigate the theme parks with added convenience and comfort. If you don't want to worry about making reservations in multiple steps, Disney Genie will even take care of that for you.
This represents yet another way we are using creativity and innovation to connect guests with the stories and characters they love, and to help them make lasting, magical memories with the family and friends they cherish most. Over the past several years, Disney parks have become more seamless and enjoyable through other digital offerings, such as mobile food ordering, the Play Disney Parks app, online check-in and so much more.
Star Wars: Galactic Starcruiser 
Disney announced more details about the Star Wars: Galactic Starcruiser, aka the Star Wars Hotel.
Guests are eagerly awaiting the immersive Star Wars vacation experience coming to Walt Disney World Resort. Star Wars: Galactic Starcruiser will be a glamorous ship – the Halcyon – where every window features stellar views into space. Guests will embark together on a two-night adventure that includes special activities, incredible dining, and a "spaceport" day on Batuu at Star Wars: Galaxy's Edge, inviting guests even deeper into their own Star Wars stories.
More details can be found in our overview post.
Avengers Campus – Marvel Land
Guests can suit up alongside their favorite Super Heroes at the Avengers Campus, beginning in 2020 at Disney California Adventure park and later at Disneyland Paris. Both campuses will feature the first Disney ride-through attraction to feature Spider-Man. The attraction will give guests a taste of what it's like to have actual super powers as they sling webs to help Spider-Man collect Spider-Bots that have run amok.
As Super Heroes continue to assemble at both campuses, one of the iconic buildings in California will be the Avengers Headquarters. The building will become the future entrance to a brand-new E-Ticket attraction where guests will fly alongside the Avengers in an epic adventure to Wakanda and beyond when it opens in the next phase of development.
Avengers Campus will feature Pym Test Kitchen where Pym Technologies is using the latest innovations to grow and shrink food.
Guests will also find heroic encounters throughout the campus, including Ant-Man and The Wasp, Doctor Strange, the Guardians of the Galaxy, Super Heroes from Wakanda and Asgard, and Iron Man. Guests may even catch a glimpse of the Avengers along the rooftops of the Avengers Headquarters.
At Disneyland Paris, guests can extend their adventures at Disney's Hotel New York – The Art of Marvel, opening next summer. The hotel will celebrate 80 years of Marvel art and artists, with more than 300 stunning pieces on display. Rooms will include one-of-a-kind themed suites featuring favorite Super Heroes like Spider-Man, and guests can even meet these legends in a dedicated space.
Target x Disney
Target and Disney are coming together for a project that includes the launch of 25 Disney stores within select Target stores nationwide on October 4, with 40 additional locations opening by October 2020.
The "shop-in-shop" will feature an enhanced Disney assortment of more than 450 items, including more than 100 products that were previously only available at Disney retail locations.
Cirque du Soleil x Disney Animation
For the first time, Walt Disney Imagineering and Walt Disney Animation Studios have joined forces with Cirque du Soleil at Disney Springs to create a show that combines Disney storytelling and heart with Cirque du Soleil's signature artistry. Previews will begin March 20, 2020, leading up to the world premiere on April 17. Tickets are on sale now!
Frozen and Hong Kong Disneyland Castle Additions
Disney Parks, Experiences and Products Chairman Bob Chapek shared several new updates on the ongoing expansion of Hong Kong Disneyland at D23 Expo 2019, including a spectacular first look at the transformed castle.
Castle of Magical Dreams will stand as a shining beacon of courage, hope and possibility, draws inspiration from 13 beloved Disney stories featuring princesses and heroines. The structure will feature adornments like Snow White's apple, Cinderella's coach and Belle's rose as well as original artwork and sculptures.
And the castle will become a canvas for new entertainment, including a daytime show and nighttime spectacular and be home to a new Bibbidi Bobbidi Boutique.
Also at Hong Kong Disneyland, guests will be able to experience the world of "Frozen" like never before – enjoying its sights, sounds, cuisines and traditions. The new "Frozen" area will feature a one-of-a-kind coaster called Wandering Oaken's Sliding Sleighs that will take guests on a winding journey through Arendelle. Each experience on Wandering Oaken's Sliding Sleighs begins when you visit Oaken's infamous store. Then, Olaf and Sven help pull your sled to the top of the lift before sending you on your way.
Frozen Ever After – the popular attraction at Epcot – will also be opening in the Resort's new "Frozen" area. Frozen Ever After takes guests on an adventurous journey through the kingdom of Arendelle. And during visits, guests will have the chance to see Elsa create a beautiful "winter-in-summer" day.
Zootopia at Shanghai Disneyland
The "Zootopia"-themed land coming to Shanghai Disney Resort will feature new entertainment, merchandise and dining options that can only be found in the land along with a new major attraction that blends storytelling and state-of-the-art technology.
Disneyland Resort
At D23 Expo 2019, Bob Chapek, chairman, Disney Parks, Experiences and Products just shared details about the next generation of animated stories we're bringing to life – starting at the Disneyland Resort!
Debuting in spring 2020, the all-new, extraordinary "Magic Happens" parade will travel down Main Street, U.S.A. in Disneyland park.
Celebrating awe-inspiring moments of magic—both large and small—that are at the heart of so many Disney stories, "Magic Happens" reminds us we don't need wings to fly, shooting stars were made to wish upon, and magic doesn't stop at midnight.
This daytime spectacular will feature stunning floats, beautiful costumes, and beloved Disney characters – all led by Mickey Mouse and his pals.
On her voyager wa'a (or canoe), Moana journeys forth on the crest of a beautiful wave, inspired by beautiful koa wood carvings inset with LED panels, providing a dazzling glimpse into the magic the ocean holds.
Celebrating the magic that happens when Miguel strums the guitar of Ernesto de la Cruz, the spectacular float inspired by the Disney and Pixar film "Coco" bridges the Land of the Living and the Land of the Dead with vibrant marigolds. Fantastical alebrije spirit animals join the procession, along with Miguel's dog Danté.
The regal grand finale of "Magic Happens" parade celebrates magical moments from classic Disney stories, including the trio of fairies from "Sleeping Beauty" who transform Princess Aurora's gown from pink to blue and back again!
In addition, the parade will feature ​even more floats and characters, an energetic musical score and a new song produced in partnership with singer-songwriter Todrick Hall. The high-energy music combines this original song with classic Disney tunes in a fresh, contemporary style.
At Disneyland park, the attraction will be opening in Mickey's Toontown in 2022. The action takes place at the El CapiTOON Theater, where Mickey and Minnie are premiering their newest short, "Perfect Picnic." Before you enter the cinema, you'll experience a special exhibit created by the Toontown Hysterical Society featuring costumes and props from the toon world.
At Disney's Hollywood Studios, Disney Imagineers are getting ready to open next year. You'll be invited to the Chinese Theatre, which serves as the magic portal through which theatergoers will step from the human world directly into the cartoon world for one Goofy adventure aboard Mickey & Minnie's Runaway Railway!
Mickey & Minnie's Runaway Railway puts you inside the wacky and unpredictable world of Disney Channel's Emmy® Award-winning "Mickey Mouse" cartoon shorts! Once you step into the cartoon world of Mickey and Minnie, you'll board a train with Goofy as the engineer. Then, one magical moment after the next leads you to a zany, out-of-control adventure filled with surprising twists and turns.
With an original story and lovable theme song, Mickey & Minnie's Runaway Railway uses state-of-the-art technologies and dazzling visual effects to transform the cartoon world into an incredible and immersive multidimensional experience.
Disney Cruise Line
Disney Cruise Line guests can look forward to a signature island experience that celebrates the spirit and culture of The Bahamas and the natural environment at a new Disney port of call, which will be located on the breathtaking island of Eleuthera at a place called Lighthouse Point.
Disney also announced the name of their fifth Disney Cruise Line ship – the Disney Wish. Rapunzel will be the character that rides on the back of the Disney Wish.
Magic will be found throughout this new ship, including the three-story atrium that will be inspired by the beauty of an enchanted fairytale. The Disney Wish will be delivered in late 2021 and will set sail beginning in January 2022.