A new detail has been confirmed today about Guardians of the Galaxy: Cosmic Rewind! The indoor roller coaster will take guests on one of the longest indoor tracks in the world on a mission for Rocket Raccoon. The new detail is revealed in a new audio spiel for the monorail system, which says that guests will "rocket back to the Big Bang with the Guardians of the Galaxy".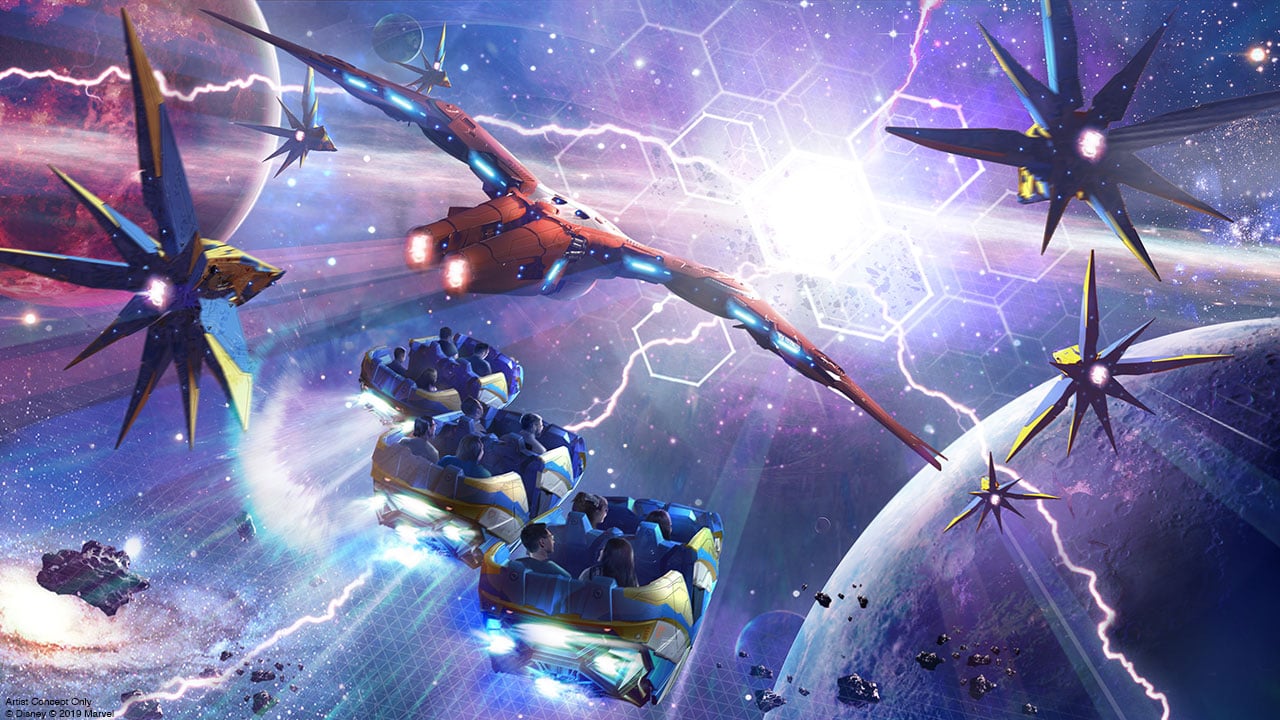 Of course, we already know that the coaster will feature the first-ever backwards launch at a Disney theme park. It stands to reason that guests will likely go back in time by launching backwards when the attraction starts…all the way back to the Big Bang! Bob Chapek has been calling this a storycoaster for months now, and it's very likely that the storyline will see us all travel back in time to help the Guardians of the Galaxy on their latest mission.
An interesting thing to note is that the Infinity Stones were created at the Big Bang. Will we witness the creation of the powerful stones or even try to retrieve one? Either way, the roller coaster is slated to open in time for Walt Disney World Resort's 50th anniversary in fall 2021, so it'll be interesting to see if the storyline played out in Cosmic Rewind will have any impact on the Guardians of the Galaxy Vol. 3 movie when it hits theaters in 2022.
When riding the attraction, Disney will be using a rotating base on the roller coaster to direct your attention to the action. Check out the photos and video below to get a better idea of how the ride vehicle will rotate.
It's important that the ride vehicle is able to rotate because we'll be traveling through some potentially huge scenes with action taking place in a 360-degree view around you. Check out our story on the permits filed by Disney that might give us a glimpse into the scale of the attraction or pre-show elements.
Of course, if the Big Bang sounds familiar, it might be because we visited it in Ellen's Energy Adventure, the former tenant of the Universe of Energy Pavilion where Guardians of the Galaxy: Cosmic Rewind is moving into.
As always, keep checking back with us here at BlogMickey.com as we continue to bring you the latest on the Guardians of the Galaxy: Cosmic Rewind attraction and much more from around the Disney Parks.