In what feels more like a journal entry describing a long journey than an actual news article, we'll discuss how Disney changed the Rise of the Resistance availability to swing the pendulum of opportunity to Resort Guests. The change in protocol this morning is different than the past two mornings and may affect how you approach Rise of the Resistance Lightning Lane purchases in the future if the new protocol sticks.
First, let's take a look back at how Rise of the Resistance Lightning Lane distributions appeared to operate for the first two days of the Disney Genie rollout. On Tuesday, October 19 and Wednesday, October 20, Disney appeared to have two buckets of Lightning Lane return times available for guests to purchase. Of course, when using the My Disney Experience app, guests were not given the option to purchase from different buckets, but the availability of Lightning Lane return times appeared to be divided into Resort Guest availability and Day Guest availability.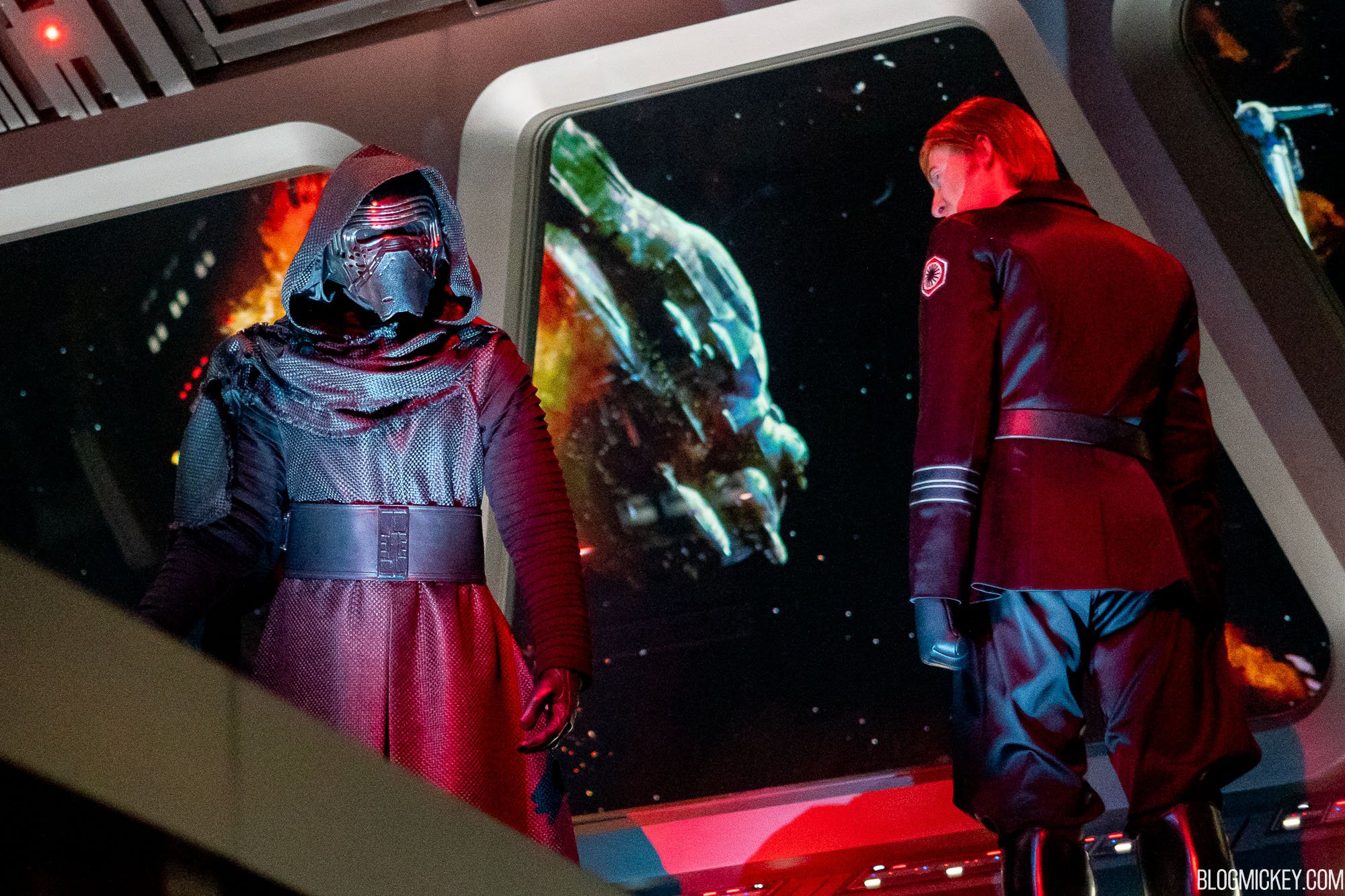 To understand where we're going with this article, it's important to remember that access to purchase an Individual Lightning Lane attraction is done in two waves. Guests who are staying at a Disney Resort (or partnering hotel) can purchase Individual Lightning Lane attractions starting at 7am. For non-Resort guests (or "Day Guests"), the ability to purchase an Individual Lightning Lane attraction begins when the theme park you'll be visiting officially opens for the day. In theory, if there was one giant bucket, this 1-3 hour head start (depending on which park you'll visit) would give Resort Guests an advantage to pull from a larger list of return time windows for the Individual Lightning Lane attraction they want to pay to skip the line for.
However, what played out the past two days could hardly be described as giving Resort Guests an advantage. Instead, what we saw was that Disney would "refill" the Lightning Lane inventory at park open. Here's a screenshot from 8:59am yesterday and then at 9am on the dot. We can see that Rise of the Resistance actually "sold out" during the Resort Guest purchase period, only to be refilled with 10:05am return windows when the clock struck 9am.
Understandably, Resort Guests were unhappy with the fact that they held absolutely no advantage over Day Guests. Well, now it looks like what we saw in the first two days of Disney Genie operations has changed to give Resort Guests the advantage that they thought they would have.
This morning, we watched to see if the protocol of refilling availability would continue, but it looks like Disney did not refill availability when the Day Guest booking window opened at 9am.
As you can see in our screenshots below of the 8:59am to 9am sequence, there was no refilling of availability. Instead, inventory "flew off the shelves" as the return time quickly advanced from 5:40pm for Resort Guests, to 7:15pm during the Day Guest booking window, to showing as "sold out" for the day at 9:01am.
From 9:01am to about 9:20am, some Lightning Lane return windows would pop back up in the app for anywhere from the 5 o'clock hour to the 7 o'clock hour, but by 9:25am, the attraction was showing as "sold out" for the day per Disney Genie verbiage.
This change in protocol definitely gives Resort Guests the advantage that they assumed that they would have. That said, you'll still have to be ready to purchase right at 7am if you're a Resort Guest looking for your ideal return window for Rise of the Resistance. As a refresher, here's our guide on how to purchase Individual Lightning Lane attractions.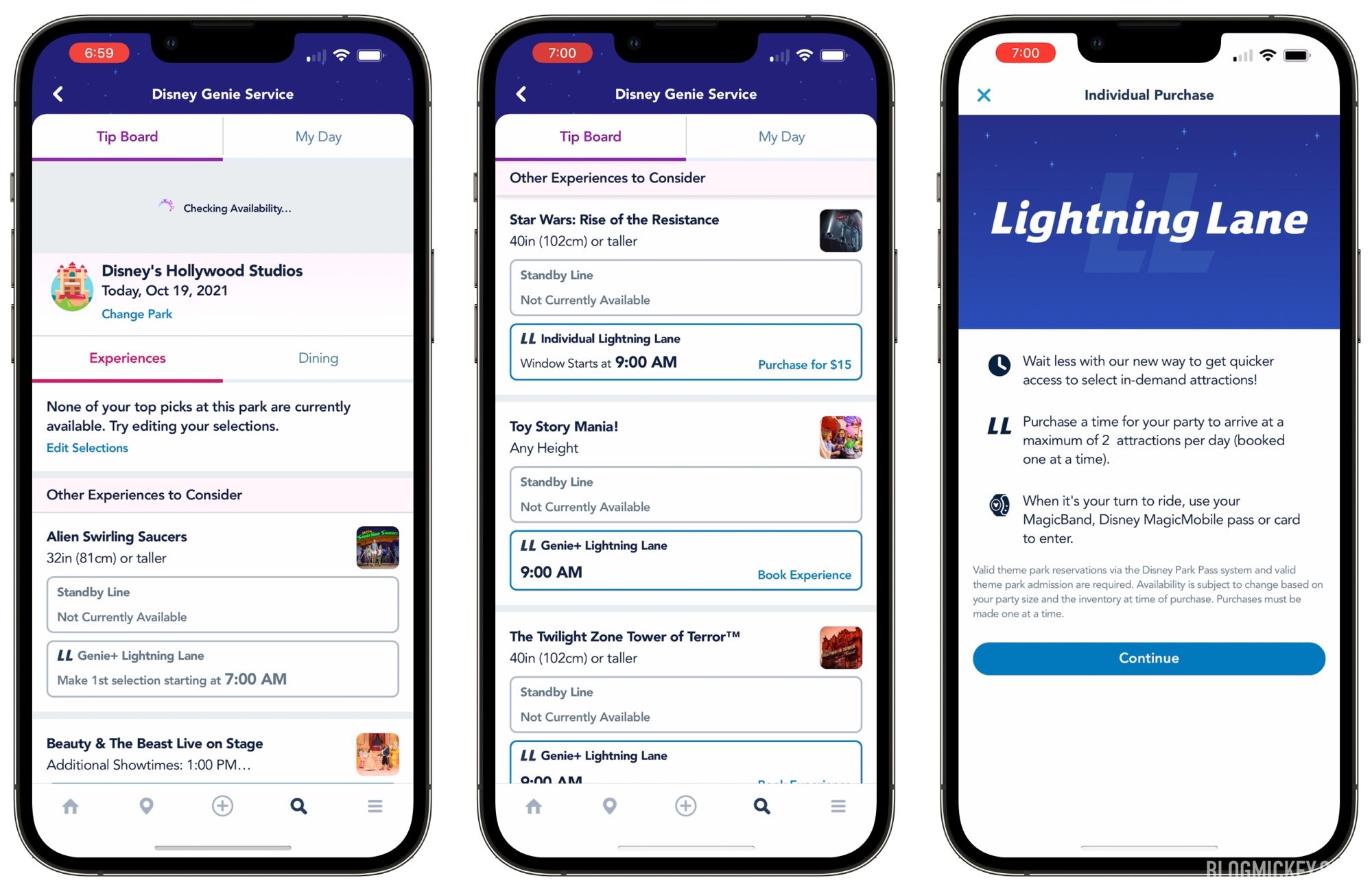 We'll continue to keep an eye on Disney Genie behavior and have a few articles in the works detailing how we've used the app across all four Walt Disney World theme parks over the past few days.
If you have any questions about Disney Genie, Disney Genie+, Individual Lightning Lane attraction selections, please feel free to ask us on Facebook or Twitter or by leaving a comment below!
As always, keep checking back with us here at BlogMickey.com as we continue to bring you the latest news and photos from around the Disney Parks!