With the newly reopened walkways in World Discovery, we get a closer look at the future entrance to the PLAY! Pavilion at EPCOT. When it was first announced back in February 2019, Disney said that the PLAY! Pavilion would open "just in time for the 50th anniversary of Walt Disney World Resort". Obviously, PLAY! Pavilion is not open, and the 50th Anniversary is underway. Disney has actually been silent about the status of the PLAY! Pavilion basically since it was announced, only giving a brief update back in summer 2019 and offering nothing of substance since then. The PLAY! Pavilion was not mentioned during the recent Destination D23 event at Walt Disney World.
Now, we have a closer look at the front of the pavilion and what appears to be a blocking off of the entrance to the building. Here's a look.
Shifting our vantage point to the right a bit, we can see that the landscaping doesn't reach all the way across the face of the building. Instead, Disney looks to be installing sod where the new pathway entrance for the experience will be. To get a better idea of where the pathway will be, here's a look at concept art for the entrance.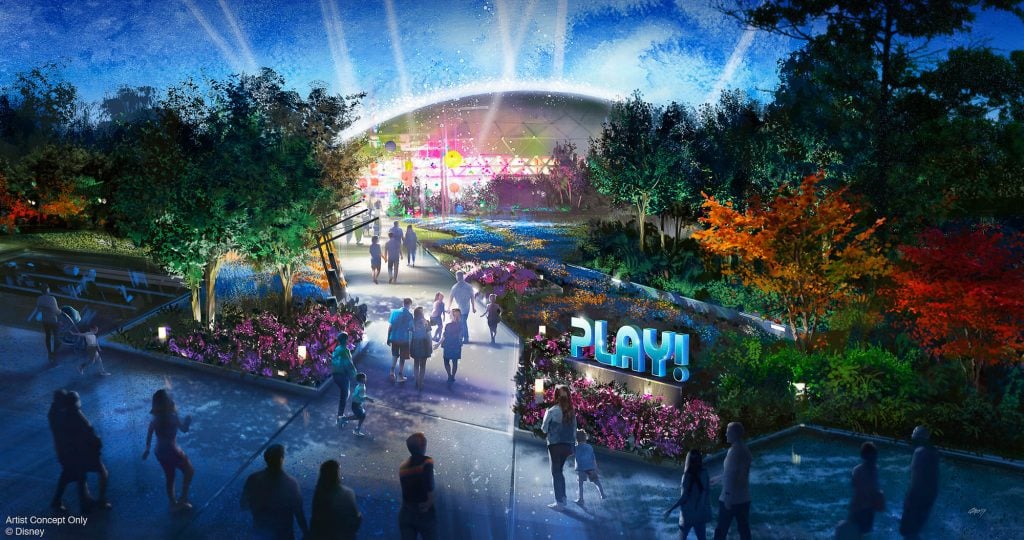 The art above appears to have a straight walkway angled away from the PLAY! Pavilion structure. The current walkway is curved and doesn't appear to match the concept art. If we shift ourselves to the right of the photo above, we can get a better look at where Disney is laying down sod. It's likely that the sod will remain in place until the project progresses to a point where the entrance will take shape. The pathway seen to the right in the photo below is a backstage access path and will not be the new walkway.
Either way, the fact that Disney is not making any visible progress on the exterior of the PLAY! Pavilion while the Cosmic Rewind entrance takes shape does not bode well for a timely opening of the experience. Hopefully Disney is able to provide an update on the project soon and it hasn't been cancelled.
As always, keep checking back with us here at BlogMickey.com as we continue to bring you the latest news, photos, and info from around the Disney Parks!