We had grand plans this morning of rope dropping Rise of the Resistance to see how much is doable during Resort Guest Early Entry at Disney's Hollywood Studios. Of course, once you plan your day around Rise of the Resistance, it will break down, and break down it did. Here's our Early Entry experience this morning, complete with Rise of the Resistance breakdown and how it impacts your options.
What is Resort Guest Early Entry?
As part of The World's Most Magical Celebration, Guests staying at Disney Resort hotels and select other hotels can take advantage of a 30-minute early entry into Walt Disney World theme parks every day.
Valid admission and a Disney Park Pass for the park that you want to visit are required. You'll also be asked to validate your Resort Guest status, usually by scanning a MagicBand or using MagicMobile on a smart device.
For a full list of participating hotels, check out our earlier article: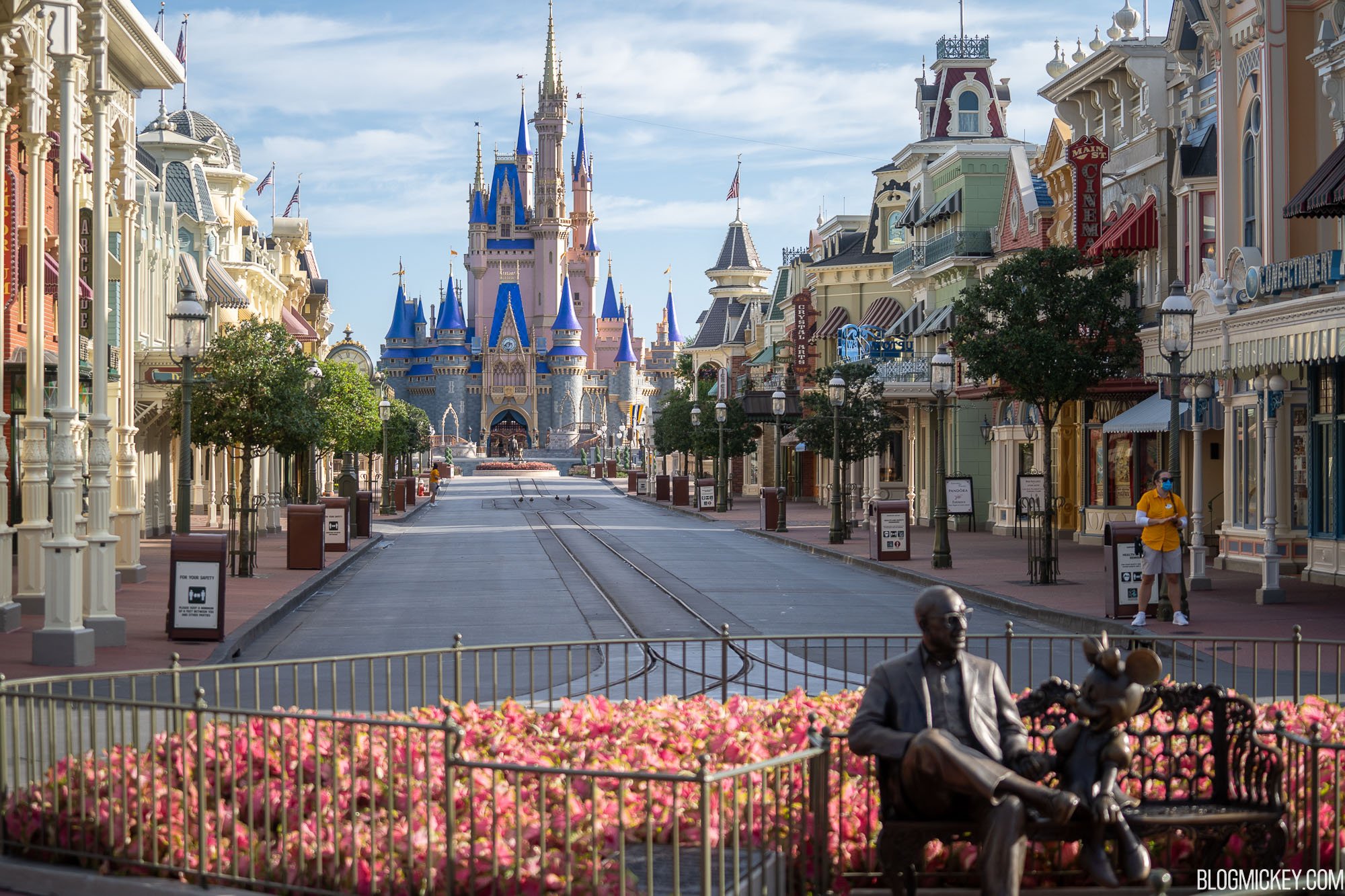 Hollywood Studios Early Entry Attractions
Here's a list of the attractions that are currently offered for guests taking advantage of Resort Guest Early Entry:
Alien Swirling Saucers
Mickey & Minnie's Runaway Railway
Millennium Falcon: Smugglers Run
Rock 'n' Roller Coaster Starring Aerosmith
Slinky Dog Dash
Star Tours – The Adventures Continue
Star Wars: Rise of the Resistance
The Twilight Zone Tower of Terror ™
Toy Story Mania!
Arrival Time
While Resort Guest Early Entry is technically 30 minutes before park open, you would be wise to plan on getting to Disney's Hollywood Studios much earlier than that if you want to take advantage of your extra time in the park. Keep in mind that this advice applies to Disney's Hollywood Studios and will differ for other parks. We plan on having Early Entry articles for all four parks in the next few weeks.
For Disney's Hollywood Studios, the parking plaza (and parking lot) opens 60 minutes before the official start of Early Entry. Today, Disney's Hollywood Studios opened at 9am, with Early Entry starting at 8:30am. We'll talk more about why that 8:30am start time won't matter in a few, but for now we should note that operations teams do use that time to calculate the parking lot opening time.
That means that the Disney's Hollywood Studios parking lot opens at 7:30am. Technically, it's open for everyone, and you won't need to show your Resort credentials just yet, but plan on arriving as close to 7:30am as possible if you want to take advantage of Early Entry. Note that if you show up too early (read: before 7:27am) operations teams will make you turn around.
If you're arriving by car, you're probably at a slight disadvantage over Resort Guests who are able to find an early bus, take the Disney Skyliner, or walk from the EPCOT area resorts. That said, if you plan on getting to the parking plaza at 7:30am and not 8:15am, you already have a leg up on other guests who think 8:30am means 8:30am.
Resort Guest Early Entry Priorities
There are a few different ways you can approach Early Entry, but we think that the vast majority of guests would do well putting Rise of the Resistance at the top of their priority list.
Here's how we would prioritize Early Entry if you're arriving as close to 7:30am as possible:
Star Wars: Rise of the Resistance
Slinky Dog Dash
Millennium Falcon: Smugglers Run
Mickey and Minnie's Runaway Railway
Toy Story Mania
Tower of Terror
Rock 'N' Roller Coaster
Now, there are a few caveats here to our list. First, it assumes that you are not paying for Individual Lightning Lane attraction selections or Genie+. Next, it also takes into account physical location within the park. We aren't going to suggest that you rope drop Rise of the Resistance, head over to Tower of Terror, and finish up with Slinky Dog Dash. Again, Early Entry is only supposed to be a 30-minute head start, and not something like Extra Magic Hours where you might be able to get half of Disney's Hollywood Studios done.
Rope Dropping Rise of the Resistance During Early Entry
Ok, with our priorities set, we're going to start with Rise of the Resistance. That means that we have done a bit of the hard work up front and made sure we set an early alarm and that we were one of the first dozen cars through the Hollywood Studios parking plaza.
From there, we walked down Hollywood Blvd, past Mickey and Minnie's Runaway Railway, and towards Star Wars: Galaxy's Edge. Here's a look at what we saw, complete with timestamps.
As you can see from the timestamps, we were not only into the park early, but there were no holding points that would prevent us from going straight to Rise of the Resistance. We can't stress enough how important it is to get to Hollywood Studios much earlier than the advertised 8:30am start to Early Entry.
Operations teams at Hollywood Studios are well versed when it comes to managing crowds and demand, and they very smartly open up the park early. In the case of Rise of the Resistance, operations teams know that there will be increased demand, so it benefits them to get the ride running early if possible. Typically, Rise of the Resistance will be the first attraction to load guests into the queue and begin operations. That's why we think it's critical that you get to the park early and begin the Early Entry perk closer to 7:30am and make your way to Rise of the Resistance than leisurely stroll in at 8:30am expecting to get anything done besides getting into a single queue.
With that said, rope dropping Rise of the Resistance does come with the risk that the complex attraction isn't running. That was the case for us this morning when we arrived, queued up, and were subsequently dumped out of the line and told that the ride was unavailable.
Here's a look at photos from the time we were hopeful that our morning would go as planned. Walking by empty queues for Disney World's most in-demand attraction felt like a win, but soon turned into a bit of a loss as we were informed that Rise of the Resistance wouldn't be operating. Timestamps included.
As you can see, we were in the Rise of the Resistance queue just 8 minutes after the parking plaza opened. Even if you're in the queue 15 minutes after the parking plaza opens, you're in good shape, typically.
Everything up until this point was basically a constantly moving line. Yes, there were some people in front of us, but we were moving and felt good about our position.
A short pause in the queue movement signaled to us that the queue in front of us had been pre-filled and we were waiting for the attraction to open. Unfortunately, when the queue began moving shortly before 7:50am, we weren't loading into the attraction, but being rerouted down the Lightning Lane queue and towards the exit. Rise of the Resistance was not working and wouldn't be available during Early Entry.
So, what do you do when Rise of the Resistance isn't open during Early Entry? We consulted our priority list from earlier in the article and made our way to Slinky Dog Dash.
A quick note, we asked about a recovery option due to the fact that we were in the queue for Rise of the Resistance and were dumped from the queue and we were told by a coordinator that because we were in the queue before the Early Entry perk officially started, that we weren't eligible for any recovery offerings. That means that the time we spent was not honored, but not eligible to be honored because it was before 8:30am. On to the next thing.
It seemed like most guests being removed from the queue at Rise of the Resistance either made their way to Toy Story Land or Millennium Falcon: Smuggler Run.
The line for Slinky Dog Dash stretched back to the entry to Toy Story Land, but that was because the queue hadn't been loaded yet. In short, the line looked long, but wasn't.
As we made our way to the back of the Slinky Dog Dash queue, the attraction was already testing, but with no guests.
Here's a quick look at the Toy Story Mania queue. There were only a handful of people and the queue had not opened yet.
Shortly after 8am, the Slinky Dog Dash queue began moving and the first full train of guests were launched at 8:02am.
In total, our Slinky Dog Dash experience (queue + ride) took 20 minutes with a posted wait of 60 minutes. Here's some photos of the queue and ride.
We were done with Slinky Dog Dash at 8:19am, 10 minutes before Early Entry was even officially scheduled to begin.
Consulting our priority list again, we should head to Millennium Falcon: Smugglers Run. In this case, we should've called an audible and simply done Toy Story Mania instead. Unfortunately, we opted for Smugglers Run and were met with a 55-minute wait. Our hopes that the wait would follow Slinky Dog Dash and only actually be 1/3rd of the posted wait were quickly dashed and our Resort Guest Early Entry experience was over.
By the time we would finish Smugglers Run, it would be past 9am and our total list of accomplishments would sit at two rides – Slinky Dog Dash and Smugglers Run.
For a "30 minute" Early Entry, two rides would largely be considered an accomplishment, but the exclusion of Rise of the Resistance from our morning was a bit of a bummer. That said, that's the nature of Rise of the Resistance.
Ultimately, if Rise of the Resistance is a top priority for you, and you don't have the flexibility of being able to come back for a second attempt at either Early Entry or a late-night ride, we would suggest putting an Individual Lightning Lane purchase in your budget. As a reminder, it is $15 per person to ride Rise of the Resistance with Individual Lightning Lane.
The only thing that we might have changed about our morning with the benefit of hindsight is to do Toy Story Mania and Alien Swirling Saucers after Slinky Dog Dash given then hour-plus wait we encountered at Millennium Falcon: Smugglers Run. Perhaps there is something to be said about taking advantage of the queue you can see versus taking a chance on the queue you can't see.
We'll probably be back at a later date to try Rise of the Resistance again during Early Entry, but a good game plan (with backup options) remains critical if you're trying to optimize your Resort Guest Early Entry experience.
As always, keep checking back with us here at BlogMickey.com as we continue to bring you the latest news, photos, and info from around the Disney Parks!