Let's step into Andy's backyard and explore Toy Story Land at Disney's Hollywood Studios. In our Slinky Dog Dash ride guide, we'll help you plan your visit to Toy Story Land and help you dash your way through Andy's backyard.
| | |
| --- | --- |
| Opening Date | June 30, 2018 |
| Height Requirement | 38″ |
| Type | Thrill roller coaster |
| FastPass+ | Yes, Tier 1 |
| Extra Magic Hours | Yes, evening |
| Ride Length | 2 min |
Slinky Dog Dash Ride Location
Slinky Dog Dash is located on the north end of Toy Story Land, near the entrance to the land. At least, that's likely where you'll find the line. The entrance to the attraction is in the middle of the land, as seen below. You can enter from either the Toy Story Land entrance or Star Wars: Galaxy's Edge.
The entrance to Slinky Dog Dash is a bit hidden if there is no line, but it'll likely be easier to find given that it's generally the longest line in Toy Story Land. The kinetics of the land is completely driven by Slinky Dog Dash and the Slinky Dog train running through the land. The easiest way to find the entrance is to look for the tallest point of the roller coaster and walk that direction.
Slinky Dog Dash Queue
A portion of the Slinky Dog Dash queue is outdoors, but has recently seen the addition of a shade structure installed to protect from the Florida sun. Here's a look at the outdoor portion of the queue with the newly installed, colorful queue shade structure. It's worth noting that this is a mesh-type covering, so it doesn't protect from the rain.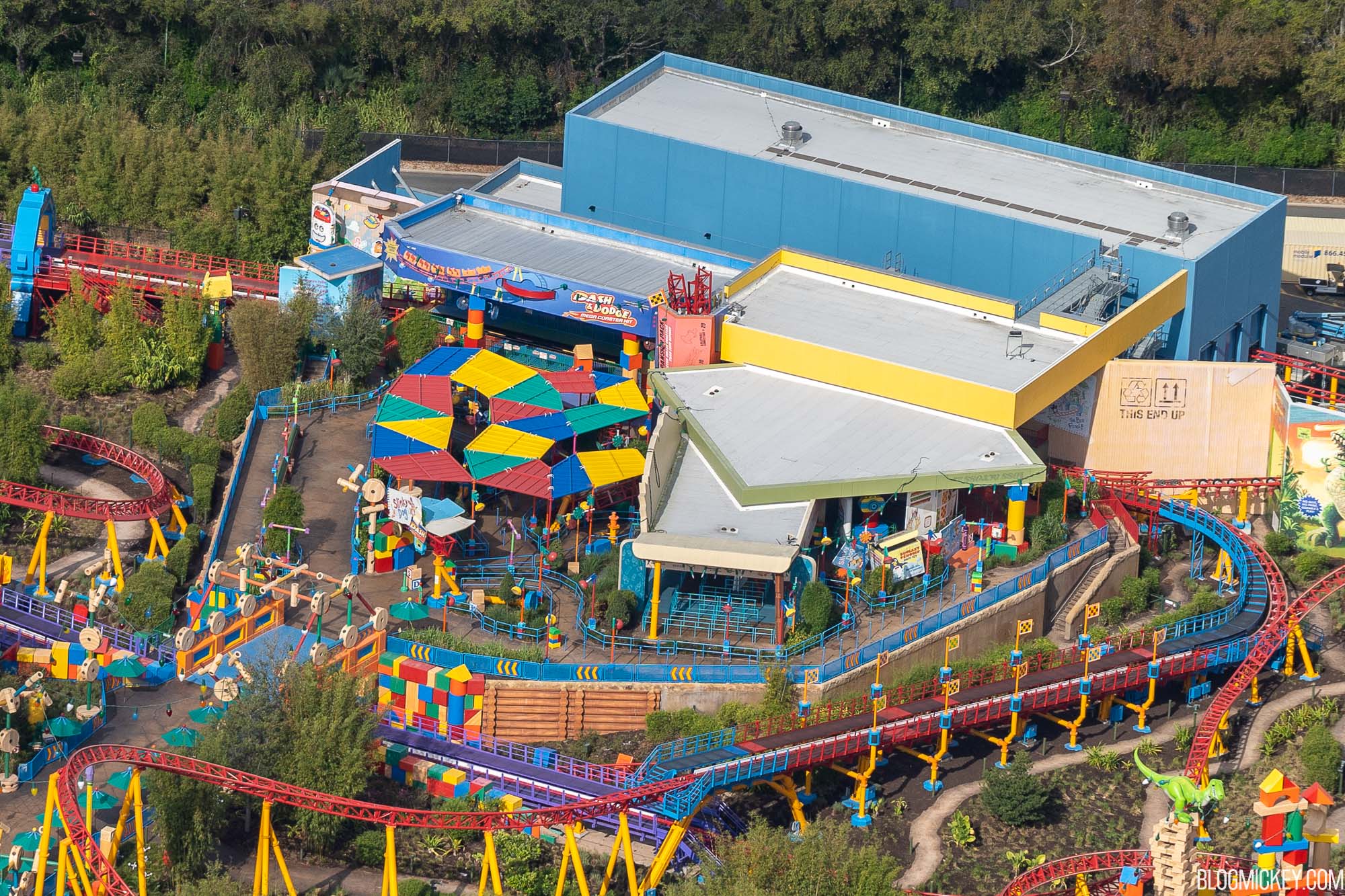 Once you reach the Slinky Dog packaging, a winding interior queue line is fully covered from any potential rain. Just like other attractions in Toy Story Land, you'll encounter oversized theming elements that make you feel like you've shrunk down to the size of a toy (or smaller!).
FastPass+
Slinky Dog Dash has FastPass+. By using FastPass+, you should skip the majority of the outdoor queue and only wait about 5-10 minutes. You don't miss anything noteworthy or any "must-see" theming in the queue by using FastPass+. While the photo props look like fun in the photos above, the queue can get full quick and the switchbacks can get repetitive.
With the FastPass+ tier changes in early 2020, Slinky Dog Dash remained a tier one selection. It joins Millennium Falcon: Smugglers Run and Mickey and Minnie's Runaway Railway as top tier FastPass+ options.
If you can get it, a FastPass+ for Slinky Dog Dash is recommended. We've found that the queue for Mickey and Minnie's Runaway Railway standby line does move relatively quick and with a longer attraction runtime, you get more bang for your buck with a Mickey and Minnie's Runaway Railway FastPass+ over the shorter attraction runtime for Slinky Dog Dash. With an outdoor queue and a necessity to close during heavy rain, we'd rather have a Slinky Dog Dash FastPass+ in our pocket over the other tier one attractions.
Grouping and Seating
Each car fits two adults and with bucket seating much like Seven Dwarfs Mine Train, you have your own lapbar as well. This two-by-two seating is not the bench seating you might find at Big Thunder Mountain Railroad.
There is a spot for you to put your small valuables as well. If you have a backpack or something similar, you can put it at your feet. While we compared the seating to Seven Dwarfs Mine Train a few sentences ago, it's worth noting that there is more space in Slinky Dog Dash for legroom and the like.
Slinky Dog Dash Wait Times
Slinky Dog Dash is one of the most popular attractions at Disney's Hollywood Studios. From fun, whimsical theming to an accessible roller coaster, it's a popular ride for guests of all ages.
As one of the most popular attractions at Disney's Hollywood Studios, it averages about 90 minutes for standby. It's a popular rope drop attraction, and something that we likely would recommend doing if you're very interested in riding it and were unable to secure a FastPass+. If your party would rather rope drop Star Wars: Galaxy's Edge, Mickey and Minnie's Runaway Railway, or MuppetVision 3D, we'd recommend waiting for the last hour or two of park hours for the lowest waits. We also really enjoy riding Slinky Dog Dash at night, and would recommend pairing it with Alien Swirling Saucers for late night lower waits.
Slinky Dog Dash Ride Review
Slinky Dog Dash is a much more thrilling ride than first glance might suggest. One of the great things about the ride is that you can see the entire length of the track, making it an easy attraction to "size up" for little ones who might be apprehensive.
Story
As it relates to the larger Toy Story Land theming, Slinky Dog Dash was built by Andy (or at least started to be built by Andy) before he was called away. While the coaster is complete (whew!) the queue and surrounding areas have scattered toy theming including Jenga blocks, Christmas lights, glue bottles, empty toy boxes, stray coaster parts, and more.
Andy also tricked out his coaster creation with a power booster. When Slinky Dog Dash hits its midway point, the coaster stops, reverses a few yards, then shoots through multiple rings pulsing with sounds, spinners and flashing lights to launch riders into the second act of the ride experience.
Andy saved one last surprise for his coaster's finale: Wheezy, the squeaky toy penguin from the Toy Story films, breaks into a rendition of "You've Got a Friend in Me." Created especially for Slinky Dog Dash, the Audio-Animatronics figure of Wheezy is unique among Disney Parks globally. Toys and toy packaging complete the scene, including a Rubik's Cube, a game canister for Pick-Up Snakes and toy wooden blocks spelling out F-U-N – all against the backdrop of a towering book, Mr. Pricklepants' "Songs for Singing," compiled by the huggable hedgehog from "Toy Story 3."
Ride
As a ride, Slinky Dog Dash is a wonderful attraction to introduce a child to bigger roller coasters. It has zero inversions, but there are two thrilling launches. The first is right out of the first turn from the station, launching guests into a tall, looping turn offering wonderful views of Toy Story Land.
Tight turns around a Jenga tower are improved by the stretching sounds of the Slinky Dog "coils".
The second launch of the attraction culminates in a slower climb up a hill the further back you sit on the vehicle, with our recommended seating being as close to the back row as you can get. It's worth resisting the temptation to sit up near Slinky Dog's head, which ultimately blocks most of the views. From the back row, you can watch the rest of the train twist and turn in front of you along the track.
A few humps give you small moments of getting airborne, but just enough to be thrilling for the youngest in your party and nothing close to what you would experience on bigger roller coasters or even Tower of Terror.
For an idea of what you can expect, check out our POV below where we show the ride from various viewpoints around Toy Story Land before jumping on Slinky Dog Dash ourselves!
Slinky Dog Dash News
Here is the latest news about Slinky Dog Dash at Disney's Hollywood Studios!