Connections Cafe and Eatery is the new quick-service hub in World Celebration at EPCOT. While Connections Cafe and Eatery are in the same building, we'll be focusing on Connections Eatery – the quick-service location in the venue. Connections Cafe is EPCOT's new Starbucks. In this Connections Eatery review, we'll focus on the sandwich section of the menu. In total, there are five burgers and a single chicken sandwich. Connections Cafe & Eatery officially opens on April 27th, but has been open for soft-opening previews for a few days now. BlogMickey.com paid 100% for all food in this review.
For a review of the pizzas and salads, check out our article below!
Theming
Connections Cafe is on the east side of the venue, facing the Guardians of the Galaxy: Cosmic Rewind attraction. There are two entrances to Connections Cafe from World Discovery, but everything is connected in this dining complex.
The theme is in the name – connections. The theme is mostly represented by a giant mural called "Global Gathering". This piece of art depicts the heart of this restaurant – people from around the world gathering around food. It's one of the largest murals Walt Disney Imagineering has ever created, and if you look closely, you'll notice the scenes blend seamlessly from sunrise to sunset.
Three show kitchens are scattered around the venue. Two flanking the ordering counter for Connections Eatery and one in the Connections Cafe side of the location.
In addition to the idea of a connection to others through food, eagle-eyed guests can also find some nods to the history of EPCOT and Walt Disney!
There are three flooring inlays at Connections Cafe & Eatery that showcase the history of E.P.C.O.T. by paying homage to visuals seen in the 1967 EPCOT film.
Overall, we're a bit torn on the Connections Cafe & Eatery venue. With a capacity of more than 1,700 people, the space is massive. For what it is, it's wonderfully laid out. A kitchen sits in the middle of the building (behind the multicolor wall in the photo above), and each side offers floor-to-ceiling windows that bring natural light into space throughout the day, and at night the space turns into a colorful but calming venue.
However, we have to wonder if there could be a better use of the space. There used to be a variety of attractions and experiences in this building as recently as just a couple of years ago. While there will certainly be a collection of new experiences around Connections Cafe & Eatery such as Guardians of the Galaxy: Cosmic Rewind on one side and the World Celebration green spaces on the other, it's hard to ignore just how large of a space this truly is. Space is at a premium within theme parks, so the fact that Disney chose to make this building entirely into a space for dining and coffee speaks volumes about what they think EPCOT needs.
Overall, the vibes are good. It's a clean, minimalistic space that offers a variety of views depending on your tastes. You can find a busy walkway on the Connections Cafe side and a garden view on the Connections Eatery side. Right now, the space feels calming, but that might change once Cosmic Rewind opens and the masses are looking for a place to grab a slice of pizza or a burger.
The floor-to-ceiling windows do a wonderful job of connecting you to the theme park around you. Watching a monorail pass by while enjoying a meal truly is a wonderful way to spend your afternoon. While Connections Cafe & Eatery uses many of the same design choices as Creations Shop, the two really couldn't be more different in execution. We will be stopping in at Connections Eatery a lot in the future.
Sandwiches Menu
Now it's time to take a bite out of the burgers and chicken on the "Sandwich" menu. We'll get to pizza and salads in a bit, but we wanted to break up the review over a couple different visits. Anyway, here's the menu for "The Sandwiches" portion of the Connections Eatery offerings. Each sandwich comes with your choice of a side, which we will also review as we go along. Spoiler alert, none of the sides were good enough to order on their own, but we're getting ahead of ourselves.
French Bistro Burger – $12.99
Gourmet Beef Blend, Caramelized Onions, Bacon, Brie, Mushrooms, Dijon Mayonnaise, Toasted Brioche Bun
We'll go right down the menu and start with the French Bistro Burger. This is a heavy burger. Not necessarily by weight, but by ingredients. Bacon, mushrooms, onions, and brie provide for a heavy combination when you get ready to head back into the park. No other burger on the menu sat in the stomach like this did.
At $12.99, this shares the title for the most expensive burger at Connections Eatery with the Southwestern Burger, which we ended up liking more than this one. For us, there really wasn't a lot of flavor going on despite an ingredients list that should provide for a wonderful burger.
Unfortunately, this is the burger that we liked the least and it would require quite a bit of convincing to get it again.
Banh Mi Burger – $11.99
Miso-marinated Gourmet Beef Blend, Pickled Vegetables, Sriracha Mayonnaise, Soft Sub Roll
The Banh Mi Burger is the only burger that attempted to do something different with the "gourmet beef blend". The miso-marinated element attempted to make this stand out from the crowd, but the "soft" sub roll wasn't doing it any favors.
One element that worked wonderfully was the Sriracha Mayonnaise, which we wish there was more of! Overall, there were some wonderful flavors here thanks to the miso-marinated patty and Sriracha Mayonnaise. The only ingredient that we didn't care for too much was the parsley. It tended to overpower the sandwich and didn't allow the sauce to shine. Less parsley, more sauce, and a better bun should get this to four-star status (or higher), but it currently sits at 3.5.
American Classic Burger – $11.99
Gourmet Beef Blend, Lettuce, Pickle, Tomato, Cheddar, Roasted Garlic Spread, Toasted Bun
It's a classic. More than any other burger, the gourmet beef blend was the star here. A wonderfully presented classic, the bun was toasted but forgivingly soft.
The roasted garlic spread was a winner here and a welcome deviation from "classic". If it wasn't for the Southwest or Chicken (spoiler alert), this would be top of the list for us. It sounds weird to have a "basic" burger as one of the top choices, but the execution here was wonderful and those looking for a standard burger will be pleasantly surprised with this offering.
Southwestern Burger – $12.99
Gourmet Beef Blend, Roasted Corn-Chipotle Salsa, Oaxaca Cheese Crema, Chamoy, Guacamole Spread, Toasted Bun
With a well-deserved 5-star rating, the Southwestern Burger does everything right. Most of the ingredients on the other burgers would be justified in being called "fresh", but everything on the Southwestern Burger was exceptionally fresh.
This thing is packed with flavor, and the photo below probably answers why that's the case. On top, you have the most of the ingredients and spreads, but Disney wisely places the burger on top of the chamoy sauce to ensure that the patty is surrounded by flavor. The roasted corn-chipotle salsa and Oaxaca cheese crema are a wonderful pairing that keeps things light while also adding excellent flavor and texture.
One of our criteria for a 5-star review is: will we order it again when not reviewing? Not only will we order this again, but it might even take precedence over the exhausting walk to the back of EPCOT and Regal Eagle.
Mediterranean Burger – $11.99
Gourmet Beef Blend, Shredded Lettuce, Pickled Vegetable and Feta Relish, Zhoug Mayonnaise, Housemade Doner Bread
We were extremely excited to try this burger heading into the review, but unfortunately, it never did enough to get past middle-of-the-road status. There are some good flavors here in about 35% of the burger, but the real killer is an overly dry bun.
In this cross-section, we can see some hope for a fun, light burger, but the crumbly, dry bun was just bad. Also, the ingredients seemed to be located to just the middle of the patty and not evenly distributed like what we found with most of the other burgers. It beats out the French Bistro in the fight for last place, but only because the pickled ingredients that we got in a few bites were actually quite good. We might be willing to give this burger another shot in the future if Disney can work out some of the shortfalls listed.
Hand-breaded Chicken Sandwich – $11.99
House-made Pickles, Signature Sauce, Toasted Brioche Bun
Hiding at the bottom of the menu is an excellent chicken sandwich! At the risk of tipping our hand when it comes to our continued reviews of Connections Eatery, we'll soon form the opinion that chicken might be the single offering that they excel at most.
Back to the chicken at hand, we find ourselves with a generous portion of chicken not unlike what you might find at Chick-Fil-A…only bigger.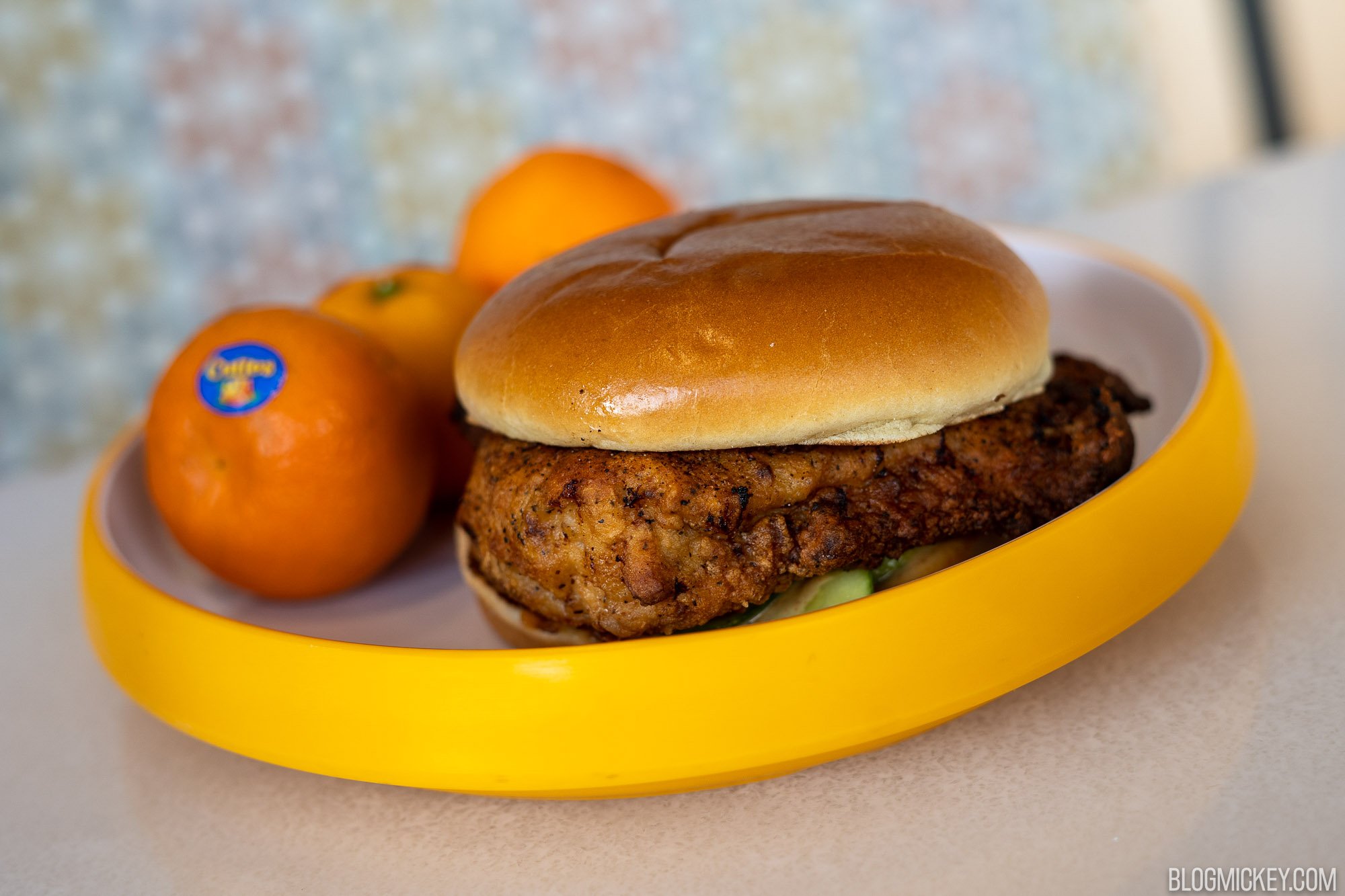 As we cut in, we see a perfectly cooked piece of white chicken with a wonderfully breaded exterior that wasn't overly crunchy and never soggy. We also get to enjoy the only implementation of house-made pickles, which is always a real treat. The standout though is the signature sauce which provides a bit of spice, and the hand-breaded chicken, which also has a bit of heat to it, but isn't going to set your mouth on fire.
Overall, this earns 5-star status for the same reason that the Southwestern Burger did – wonderful flavors and the fact that we'll continue to spend money on it and order again.
The Sides
We'll briefly go through the sides because you're probably going to get french fries anyway. Each of the sides is available as a standalone item. None of them are worth it. As noted earlier and on the menu, each sandwich includes your choice of side.
French Fries
Rather standard french fries. Not much to say here beyond that the sea salt really doesn't add much to the equation. Get these with a burger.
Coleslaw
We didn't care for the coleslaw at all. We found it to be rather uninspired and garden variety. It is a massive portion though if you do find yourself getting these instead of fries. Get the fries.
Mediterranean Side Salad
Get the fries.
Cuties Mandarin 2-pack
A fun diversion from what you'll probably end up getting…the fries.
As always, keep checking back with us here at BlogMickey.com as we continue to bring you the latest news, photos, and info from around the Disney Parks!