With the return of traditional, non-distanced character meet and greets, we're also starting to see the return of normal character interactions. While that may mean a hug from Mickey Mouse, or a high-five from Goofy at Walt Disney World, it means something completely different at Disneyland. Disneyland has always had more magical, spontaneous character interactions as Aurora walks past "it's a small world" or Genie strikes a pose in Fantasyland, but we didn't know exactly what that looked like in Disney's newest themed land – Avengers Campus in Disney California Adventure.
When it opened in June 2021, the superheroes were present, but distanced. You could strike a pose with Iron Man or Spider-Man, but you couldn't partake in a secret mission with Black Widow or learn about the strength in numbers of ants with Ant-Man. Now, with character distancing limitations dropped, Disney is able to experiment with more immersive and personal interactions beyond a physically distanced photo op.
As it turns out, the superheroes have been antsy to meet with new recruits, including the debut of an amazing prop that fans of the Disney theme parks will enjoy. Just days ago, Ant-Man debuted a small, working prop that shrinks the old "A Bug's Land" themed area into a handheld minature model thanks to Pym technology. As told to us by Ant-Man, instead of demolishing "A Bug's Land" he was able to convince the powers that be to allow him to shrink the former themed area into a mini theme park for his ant buddies.
Here's a quick video and detailed photos of the model!
VIDEO
PHOTOS
Ant-Man was very excited to show off "A Bug's Land" to anyone and everyone!
Let's take a detailed look at "A Bug's Land"! We'll start at the entrance, where the sign is perfectly replicated shrunken. In this first detailed shot, we can see the entrance in the middle, the restrooms (which still exist today) at the blue building on the left, and Heimlich's Chew Chew Train to the right.
We'll move over to Heimlich's Chew Chew Train next, which is a working version of the iconic attraction where guests would enjoy a leisurely trip through various foods that Heimlich would eat. Ant-Man was happy to inform us that the entire area still smells like watermellon.
Moving on, we'll head to Flik's Flyers! We can see Flik's Flyers on the left side of the model in this overview photo.
Let's take a closer look at the spinning attraction!
Neighboring Flik's Flyers is Francis' Ladybug Boogie. Francis' Ladybug Boogie can be seen to the left of Flik's Flyers in the photo below.
A closer look!
Next up on our tour of the model is Tuck and Roll's Drive 'Em Buggies. You can find this bumper car-style attraction under the tent!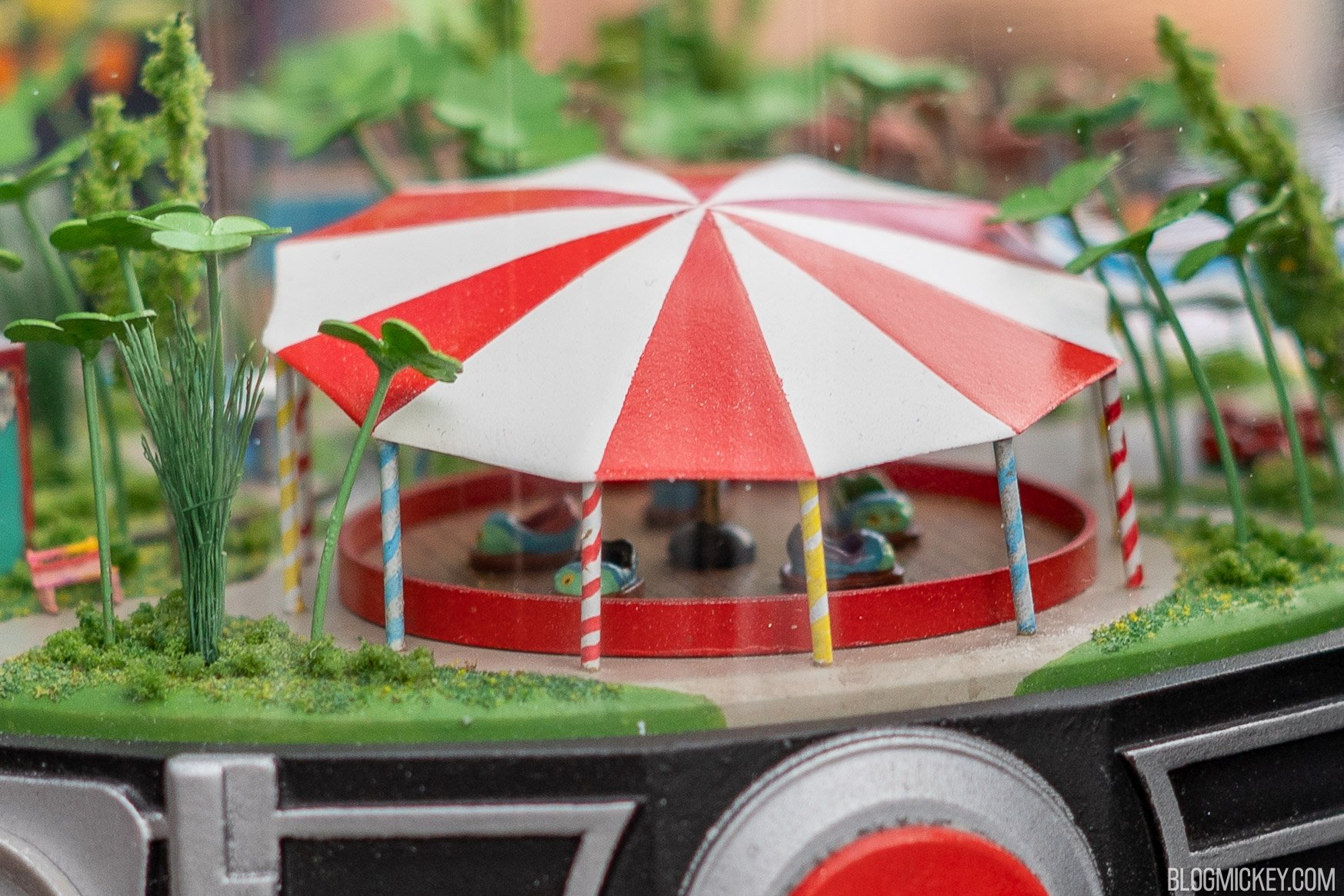 Here's another look at Tuck and Roll's Drive 'Em Buggies with Heimlich's Chew Chew Train.
Finally, we've arrived at Princess Dot's Puddle Park, which was the most difficult element to take a photo of, but you can just see the hose peeking through the clovers.
That completes our tour of the model! We understand that this model has been in the works for quite some time, perhaps even intended to debut with the opening of Avengers Campus back in June 2021, but delayed until close interactions with characters were allowed again.
As always, keep checking back with us here at BlogMickey.com as we continue to bring you the latest news, photos, and info from around the Disney Parks!