One of the most underrated/best-kept secret restaurants at Magic Kingdom has some new menu items. It has been a little while since we visited Skipper Canteen, but it remains one of our top choices when it comes to Magic Kingdom dining. The food is excellent and it's rather easy to get a table considering you're dining in the world's busiest theme park. We made a day-of reservation through the My Disney Experience app for lunch just an hour or so before we were seated.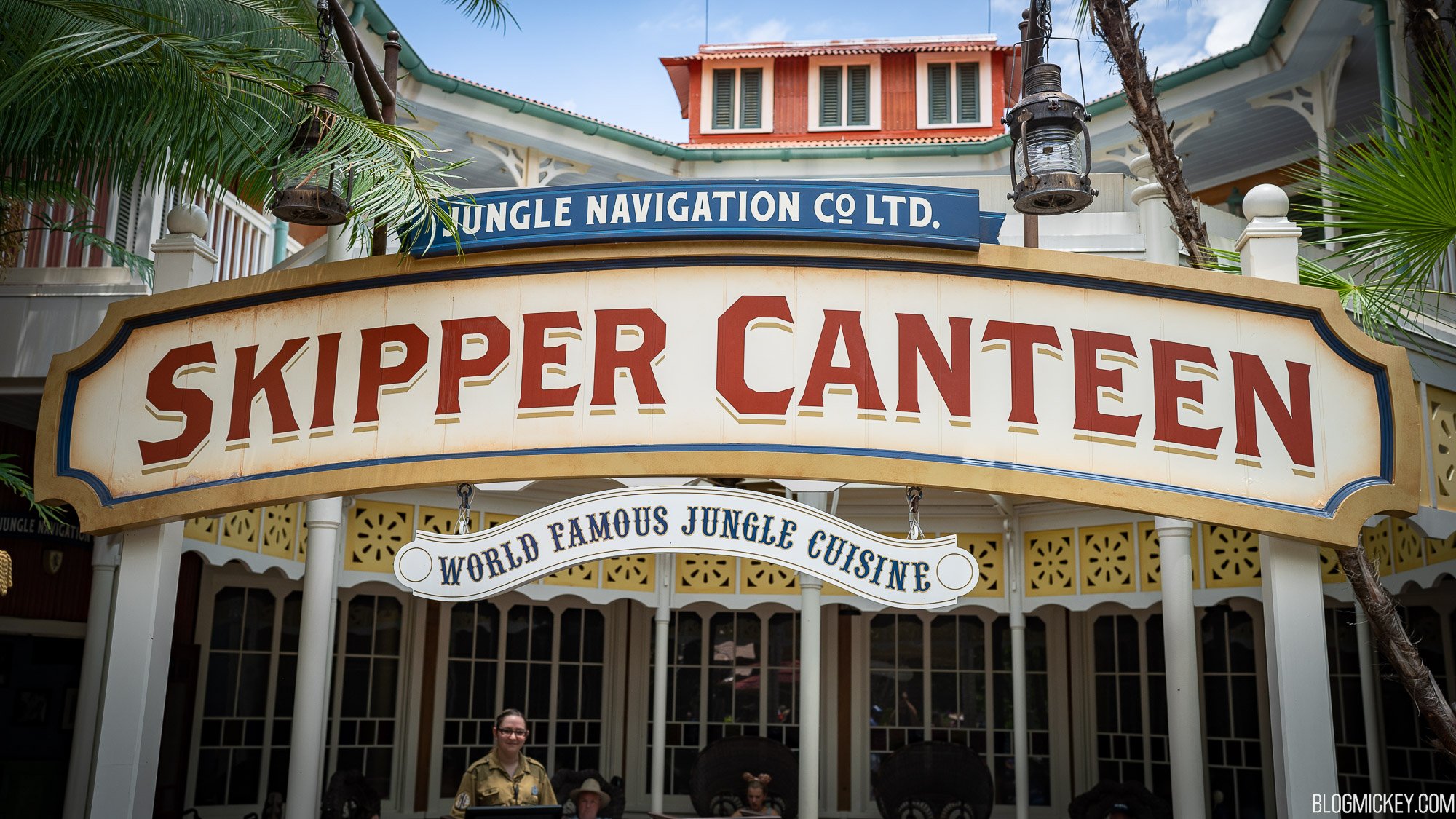 The Jungle Navigation Co. LTD Skipper Canteen is essentially a culinary version of the nearby Jungle Cruise attraction. Adventurous menu items are enhanced by punny names and the servers continue the fun with witty interactions and dry humor (only because they're on land). Here's how Disney describes the restaurant:
Welcome to the Jungle!
Explore the bold, flavorful cuisine of Asia, South America and Africa with the help of our daring riverboat pilots.
Dr. Falls, I Presume?
Immerse yourself in the legacy of the Jungle Cruise! The same skippers who guided your steamer down the Nile, Amazon and Congo Rivers have opened the doors and kitchens of their tropical headquarters to fellow adventurers and famished families like your own!
Delight your big and little explorers with premium table-service dining in 3 curiously quirky rooms: the crew's colonial-era Mess Hall (which is not messy at all, thank you very much); the Jungle Room, former family parlor of Dr. Albert Falls himself; and the S.E.A. Room—a once-secret meeting place for the Society of Explorers and Adventurers!
World-Famous Jungle Cuisine
Prepare your palate for exotic flavor adventures sure to tame your wildest appetite—and pickiest eaters!
Begin your culinary cruise with Orinoco Ida's Cachapas, an appetizer featuring house-made corn pancakes, beer-braised pork, Fresno pepper salsa and avocado cream. For your main dish, feast on Dr. Falls Signature Grilled Steak, a delicious adobo-seasoned New York strip served with vegetables, chorizo farofa and caramelized onion purée and red wine reduction. If you're craving lighter fare, try the sustainable fish served on a cassava cake with wilted greens and guava habanero sauce.
End your lunch or dinner with sweet memories of Panna-Connie's Congo Lime Delight — consisting of mango-lime sorbet and fresh fruit and a Brazil nut cookie — or the Kungaloosh, featuring African-inspired chocolate cake with caramelized bananas and cashew-caramel ice cream.
Gnu Menu Items
While there are certainly some wonderful go-to favorites, we had to ask what was gnu at the Skipper Canteen. Our skipper told us that they added some new menu items last week and we just had to try them!
Skipper Dan's Dan Dan Noodles – $26
Thin noodles tossed in a savory Spicy Chili Sauce topped with crispy pork, pickled mustard greens, radish, and cucumbers
A nice, spicy noodle dish comes in a decent portion with some wonderful flavor. While the noodles may look like 'Ohana-style noodles, the Spicy Chili Sauce sets these apart. The spice was never too much for us and the description of the sauce as "savory" was spot on. Some veggies can be found on top.
Our only issue with the dish was the way that the "crispy pork" was prepared. The ground beef-style preparation wasn't great and the flavor was essentially just ground beef despite being pork. A different presentation and these would be a winner. Our server said that the pork could be substituted for chicken or shrimp and that might have been a better choice.
In addition to the pork version, you can also have a wonderful pineapple tofu substitution that works really well with the spicy sauce.
Baa Baa Lamb Chops – $38
Spice-rubbed lamb chops, chermoula, cauliflower, potatoes, cipollini onions, and harissa sauce, garnished with preserved lemons and herbs
The Baa Baa Lamb Chops are a new take on the former Berber-spiced version, although the presentation and accompaniments are much different.
The lamb was exceptional and the harissa sauce was a wonderful addition that is likely going to be less spicy than you might think. This dish is very accessible.
While the lamb is certainly the star, the accompaniments are also wonderfully prepared and round out the dish well. We can absolutely recommend the Baa Baa Lamb Chops and they were our favorite of the new offerings!
Pao de Queijo – $12
On the (not very) secret menu is the Pao de Queijo. This offering has been around for a while, but we couldn't pass it up and we're glad we didn't!
A simple dish in presentation packs a flavorful punch with cheese bread combined with a poblano cream cheese and chimichurri sauce.
The cheese bread itself has the cheese incorporated in the bread and pairs wonderfully with the sauce. We'll be getting these every time we visit Skipper Canteen and hope they never leave the secret menu.
As always, keep checking back with us here at BlogMickey.com as we continue to bring you the latest news, photos, and info from around the Disney Parks!