After a little more than a month of the (now) "old" new menu, Disney has modified their 'Ohana dinner menu following guest dissatisfaction with some of the new items. Earlier today, news broke of Disney reversing course on their menu changes, and we decided to head out to Disney's Polynesian Village Resort to check out the changes. Here's our updated 'Ohana review!
Price and Updated Menu
During our August 2021 'Ohana review, here were the prices:
$55 per adult, plus tax and gratuity
$33 per child, plus tax and gratuity
For context on how we'll review the updated menu, our July 2021 review is worth a read to understand just how bad the menu changes were.
Here are the changes that Disney made following guest dissatisfaction with the old menu:
Peel-n-Eat Shrimp replaces Shrimp Casserole
Cheddar-Bacon Biscuits removed
Grilled Chicken replaces Eight-Way Chicken
Kielbasa Sausage removed (once Disney runs out of supply)
The menu still can't be considered the "original menu", but it largely resembles what was there before, so we figured it would be worth a visit. It's also worth noting that while there wasn't a complete overhaul of the menu, there were some improvements even with returning items.
Check-in and Theming
Located on the second floor of The Great Ceremonial House lobby building at Disney's Polynesian Village Resort, 'Ohana is the same as you remember. An open floorplan offers wonderful views of the lush surroundings and main pool area. Many tables have a view across Seven Seas Lagoon and Cinderella Castle in Magic Kingdom can be seen off in the distance. If you dine late enough, you are offered a wonderful view of the Happily Ever After nighttime fireworks show at Magic Kingdom.
As far as check-in goes, there is a podium with a Cast Member staffed during dinner hours, but Disney will prefer if you check-in via the My Disney Experience app. Following COVID-19, Disney has pushed as many interactions and procedures into the app as possible. From resort room check-in to ordering quick service meals in the parks and hotels, you'll want to become familiar with the My Disney Experience app. As a matter of fact, there is a scannable QR code that encourages guests to use the app before interacting with a Cast Member. It's a relatively simple process and you'll get a notification through the app and even a text message should you elect to when your table is ready.
Dining Style and Service
The skewers are still not back, and Cast Members we spoke with have indicated that there haven't been any discussions to bring them back. As Disney begins to reopen buffets, there are still some COVID-19 protocols lingering. We're not sure when COIVD-19 protocols stop being for safety and start becoming a permanent fixture, but we're not sure if the skewer serving style will ever return.
For now, plan on a family-style dinner that is still all-you-can-eat. Cast Members are more than happy to bring you refills of whatever food item you want to eat more of, and they will bring it out in whatever combination you'd like.
Starters
Once seated, you'll be presented with bread and salad as a starter. 'Ohana is a four-course meal that, depending on the pace, can feel like one long event.
Officially, the bread that you will be served is the "Signature 'Ohana Bread". We thought that this would be a return to the old Pineapple-Coconut offering, but it looks like Diseny is trying to make the Coconut-Papaya Scones the new signature bread.
First, here's a look back at the July 2021 bread lineup, which included the Coconut-Papaya Scones and the now-removed Cheddar-Bacon Biscuits.
The removal of the Cheddar-Bacon Biscuits isn't necessarily a loss in our opinion as we found them to be rather dry during our previous visit.
In contrast, we found the Coconut-Papaya scones to be wonderfully soft and flavorful. We weren't overwhelmed by coconut. There's no doubt that these blow the old Pineapple-Coconut offering out of the water.
Moving on to the Mixed Greens Salad. This is a holdover from the July 2021 menu, and we're happy it stuck around. We found this to be a robust salad with a delicious citrus dressing.
Wings, Dumplings, and NOODLES
After giving you some time to settle in with the starters, Cast Members will bring over a new skillet with wings, dumplings, and noodles. This is a different presentation than we saw last month, and actually addresses one of our pain points of the noodles coming out too late in the meal. In our photos below, you'll also notice that the kielbasa sausage remains a part of the meal, but we're told this is limited time magic and that Disney is simply working through the supply that they have now. Cast Member believe it will take about a week or so for the sausage to disappear completely.
The Honey-Coriander wings are as we remembered – sticky and sweet. Wonderfully cooked, the wings are easy to get distracted with. You'll get a combo of drums and flats here, and ours were served piping hot. Delicious!
Here's a look back at the July 2021 presentation, where they were served in a standalone bowl.
We've previously spoken quite highly of the Pork Dumplings, but we'll have to knock them down a few notches due to the lack of dipping sauce.
Due to the prevalence of nut allergies, Disney decided to remove the peanut sauce that used to come with this round of eats. They also decided to do away with the sweet and sour sauce and "toss" the dumplings in a garlic-chili sauce. While the dumplings are good, they certainly don't feel complete without the sauces.
According to Cast Members we spoke with, Disney is working on bringing both of the sauces back! We're not ready to celebrate just yet because they are not available now, but that might change in the next couple of weeks.
In the July 2021 version of the meal, the dumplings were served in a standalone bowl (below), but now they're served as part of the combo skillet (above).
One of the great controversies of the 'Ohana reopening was the lack of noodles in the initial menu release. As a matter of fact, Disney added the noodles back onto the menu shortly after the initial announcement, perhaps due to social media backlash.
Thankfully, the 'Ohana noodles were a part of the July 2021 menu, and they are still a staple of the August 2021 update. They were served about 10 minutes later in the July version of the meal, but we're happy to say that they're, once again, included with the dumplings and wings.
Steak, Chicken, and Peel-n-Eat Shrimp
The next round will be your meats and shrimp. Again, nothing is served by skewer at 'Ohana right now, so each of the offerings come in standalone skillets.
We'll start with the steak, which is the same in name as in July. That said, we think that the kitchen did a much better job with the steak this time than they did in July. Here's what we had to say in July:
This dish was so close to being good that we're going to chalk up the inconsistencies to first-day jitters. We found our beef to be medium rare at times, but more often a bit tough and well done.
It looks like the kitchen has worked through the cook times to present a much more consistent offering that is served medium rare. The teriyaki glaze remains outstanding, and you can request any cook temperature that you'd like should you enjoy something other than medium rare.
Here's a look back at the July 2021 version, which certainly spent more time on the grill than the updated version pictured above.
Moving on to the chicken, we still don't have a boneless sweet and sour chicken like the 'Ohana of old, there's no doubt that the grilled chicken (pictured below) is a better offering than the eight-way roasted chicken from the July 2021 menu.
Kind of like the steak in July, it looks like the kitchen struggled a bit with their first day back on the grill with the check as it was previously roasted. We'd prefer the old sweet and sour chicken, but we'll take what we can get here. We got a nice, grilled flavor from the chicken, but we think there's still a bit of room for improvement here.
Finally, we have arrived at what can only be described as one of the great wins for The Walt Disney Company in 2021 – the return of peel-n-eat shrimp!
Before we get to the update, we must subject you to one final look back at the shrimp casserole from the July 2021 menu.
Now, a look at the glorious return of the peel-n-eat shrimp!
Again, you're not going to find a skewer in sight, but the shrimp returns as we remembered, maybe even with a slight toning down on the spice levels. We can't really be critical though, as the peel-n-eat shrimp makes a triumphant return to 'Ohana and puts us back on the Sacred Timeline.
'Ohana Bread Pudding Dessert
One thing that remained consistent in both versions of the menu was the 'Ohana Bread Pudding Dessert. The bread pudding remains a staple at 'Ohana and is exactly as we remembered. From a soaked sponge to the delicious caramel sauce, you'll certainly end your meal on a high note.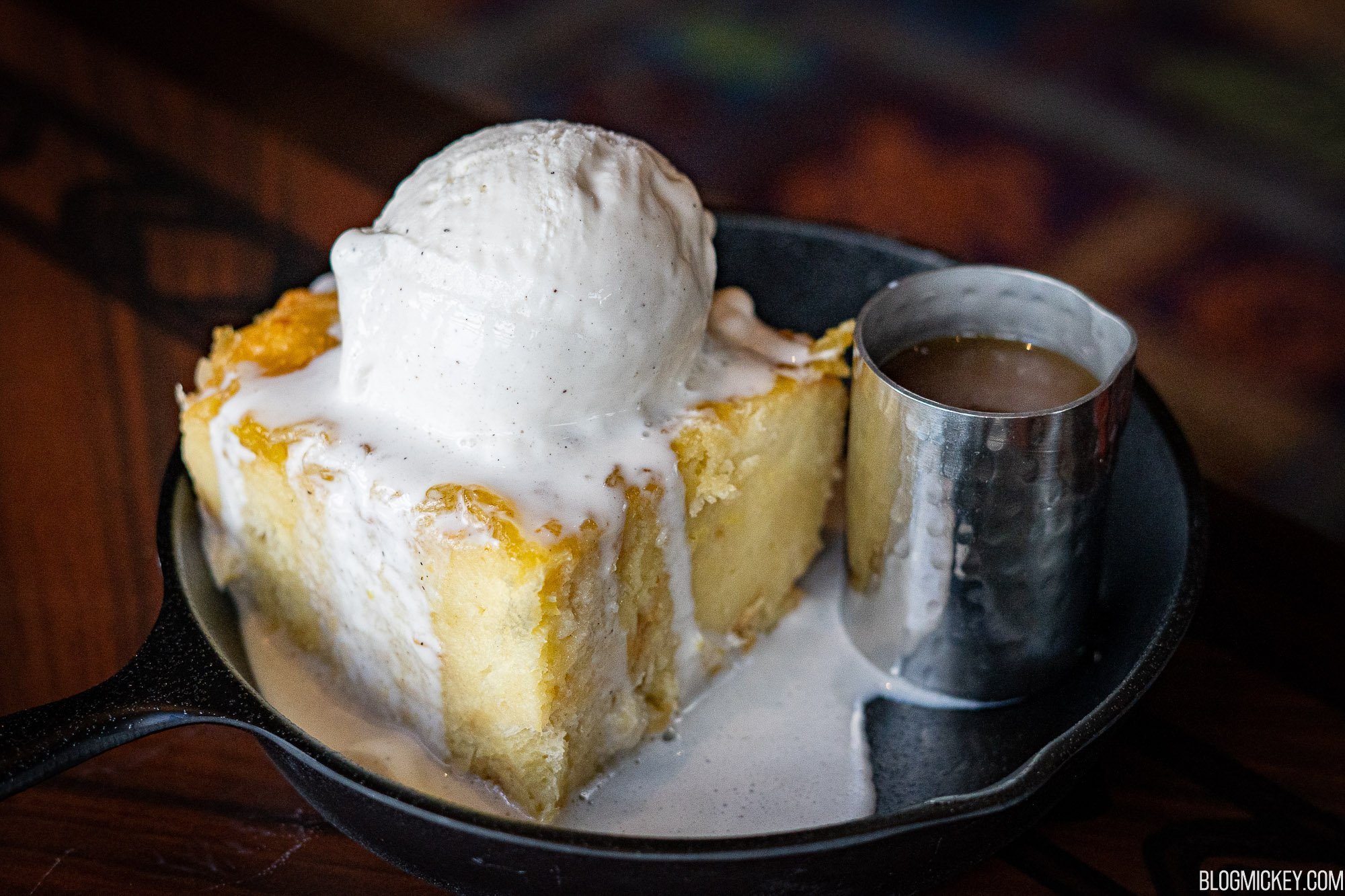 Overall 'Ohana Review Thoughts
It's still not old 'Ohana, but I think it's safe to say that 'Ohana is back to its former glory and certainly worth a visit. In our July review, we said that we'd look elsewhere for a meal at Walt Disney World, but with the menu revamp, 'Ohana earns a spot back in the rotation.
With the newly opened Moana rooms at Disney's Polynesian Village Resort, and the return of Trader Sam's, Disney had to do something to fix 'Ohana and the menu revamp is exactly what we think they had to do.
To make reservations, visit the Walt Disney World website or used the My Disney Experience app: https://disneyworld.disney.go.com/dining/polynesian-resort/ohana/
As always, keep checking back with us here at BlogMickey.com as we continue to bring you the latest news, photos, and info from around the Disney Parks!