Good morning from Magic Kingdom! While visiting Magic Kingdom, we decided to check in on the TRON Lightcycle Run roller coaster construction. With the D23 Expo less than two weeks away, guests are clamoring for a TRON Lightcycle Run opening date as testing continues to hit milestones at Magic Kingdom. We recently spotted the first human riders on the attraction as Disney continues to progress to an unannounced opening date.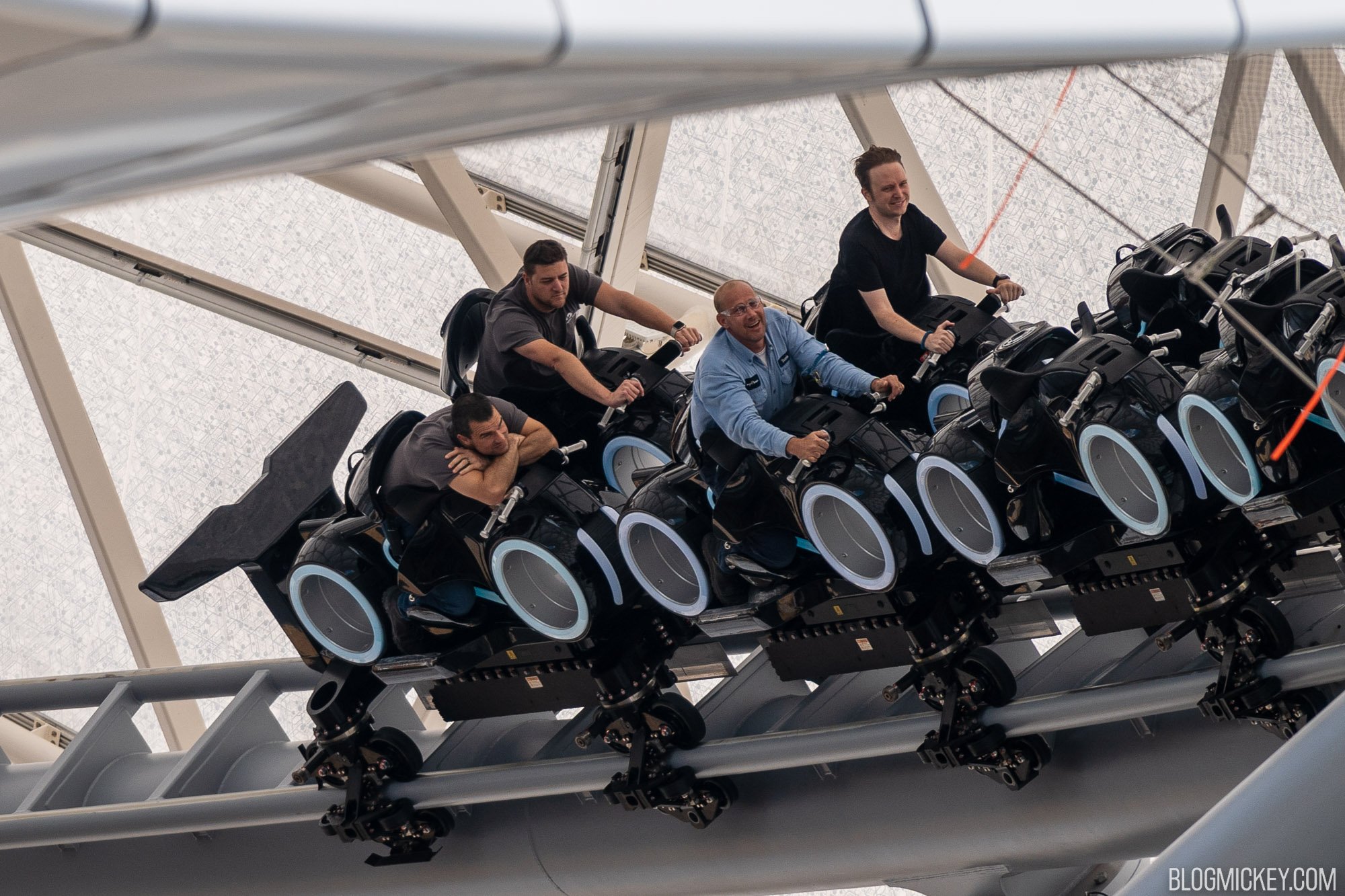 This morning, ride vehicle testing continued, but without human riders. However, we noticed that Disney was dispatching trains at a much quicker pace than we have previously seen. Typically, we could expect to see a train zoom by every 2-5 minutes, sometimes longer. This morning, Disney was dispatching trains closer to their peak efficiency – just 25 seconds between dispatches. With a dual load platform, Disney can quickly dispatch trains as long as the loading is efficient. Here's a look at the loading platform in Shanghai Disneyland, which will be the same as what is present in Magic Kingdom. A second load area is to the left of the sloping walkway.
If Disney is able to dispatch trains at an interval of 25 seconds, that translates to about 2,000 guests per hour. Of course, the operational reality of the attraction will probably take it down to about 1,200 to 1,500 guests per hour, assuming that there is no downtime.
We also got a closer look at the accessible vehicle, which allows guests to sit straight up instead of riding in a motorcycle position. Not every train has an accessible car.
Disney has not announced an opening date for TRON Lightcycle Run at Magic Kingdom, but Disney Parks Chairman Josh D'Amaro is set to take the stage at the D23 Expo and we imagine he'd like to announce an exact opening date for a ride that has taken more than 4 years to build.
As always, keep checking back with us here at BlogMickey.com as we continue to bring you the latest news, photos, and info from around the Disney Parks!