The D23 magazine for Spring 2023 is arriving in members' mailboxes and it features the thrilling TRON Lightcycle Run attraction on the cover. The issue features a ranging interview that covers some of the backstory of the attraction, how it ties in with the Shanghai Disneyland version of the ride, and what guests can expect when the ride officially opens April 4, 2023.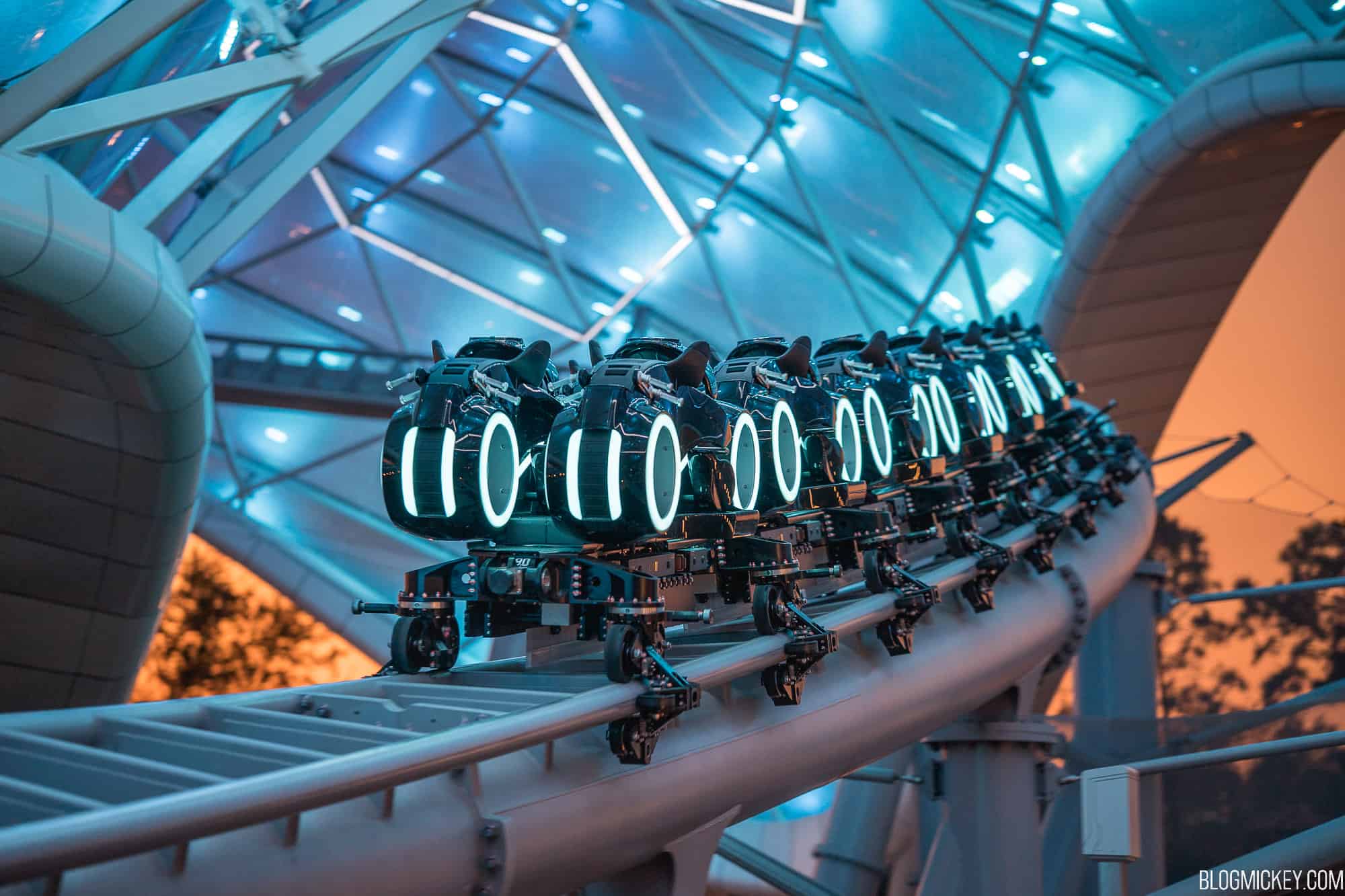 The article goes to great lengths to note that the roller coaster is not just any old roller coaster. Imagineer Chris Beatty says that "our coasters are very different than anyone else's in the world. We're not all about creating the biggest, the fastest, the most daring [attractions]. We always start with stories". Indeed, there are a great many elements that went into creating TRON Lightycle Run that works in harmony to create a thrilling experience. That said, many of the initial reviews of the ride noted how short the actual ride experience is. From launch to final deceleration, you're looking at about 60 seconds of ride time. However, in a "by the numbers" section of the article, Disney confusingly says that the length of the experience is "just under 4 minutes from Sync Chamber to completion".
The Sync Chamber is the load area seen in our photo below.
Beatty says that "the load station on this attraction is unbelievable. You get to see all the trains as they're loading and even that moment is spectacular. You have Lightcycles on both sides". The Sync Chamber loading area is similar to loading areas at Guardians of the Galaxy: Cosmic Rewind, Big Thunder Mountain, Space Mountain, or many roller coasters in that you get to see vehicles loading and dispatching before you ride.
In our initial impressions article, we concluded that the ride was too short. Yes, it's only slightly shorter than Rock 'n' Roller Coaster, but the fact that there aren't any novel elements to the roller coaster beyond the initial launch doesn't really leave you guessing or anticipating anything. Overall, the ride is thrilling and will be a hit among many guests. Our hope is that the Virtual Queue system will be able to keep total wait times around or below 30 minutes, which, in our opinion, is kind of the sweet spot for a ride that is roughly 60 seconds long.
As always, keep checking back with us here at BlogMickey.com as we continue to bring you the latest news, photos, and info from around the Disney Parks!