1,875 days. One thousand, eight hundred and seventy-five days. Put differently, it will be 5 years, 1 month, and 21 days since we spotted the first tree clearing for the TRON Lightcycle Run at Magic Kingdom and when it officially opens on April 4, 2023. Mercifully, we only had to wait 1,818 days thanks to an invite to an early preview of the attraction for Cast Members and their friends and family. For the next few weeks, Cast Members will be the first to preview TRON Lightcycle Run before Annual Passholders and other affinity groups get a couple weeks of previews in March. There will likely be DVC member previews as well before the grand opening. In this article, we'll run through our first impressions of TRON Lightcycle Run at Magic Kingdom and flag a few things to watch for over the next two months as previews lead into the long-awaited official opening date.
>cmd Start
First, a few basics to get up to speed on what, exactly, TRON Lightcycle Run is. TRON Lightcycle Run was first announced at the 2017 D23 Expo, although rumors of the roller coaster's inclusion in the Tomorrowland section of the park had been swirling for some time. The TRON roller coaster is a new roller coaster for Magic Kingdom, but cloned from the TRON Lightcycle Power Run attraction in Shanghai Disneyland. TRON Lightcycle Run sits on a plot of land next to Space Mountain and is a part of the Tomorrowland section of Magic Kingdom. There are two walkways to the TRON Lightcycle Run attraction – one from Tomorrowland proper next to the Space Mountain gift shop, and another walkway from the Storybook Circus area in Fantasyland. Overwhelmingly, guests will enter from the Tomorrowland side as their Virtual Queue is called.
TRON Lightcycle Run has a height requirement of 48 inches.
When it opens on April 4th, TRON Lightcycle Run will not offer a traditional standby line, instead requiring guests to join a Virtual Queue via the My Disney Experience app like other attractions such as Guardians of the Galaxy: Cosmic Rewind or, previously, Star Wars: Rise of the Resistance and Remy's Ratatouille Adventure. Each Guest can enter the virtual queue no more than once per day during regular park hours.
A paid access Individual Lightning Lane selection will also be offered for guests who wish to shell out $15-29 per person, per ride. Lightning Lane entry purchases are limited in availability, are subject to change or closure, may vary by date, and are not guaranteed.
C:\users\tron\backstory.txt
Before we jump into our preview, we wanted to take a look at the official backstory for TRON Lightycle Run as provided by Disney World:
In 1982, Disney made filmmaking history with TRON, the first production of its kind to mix live action with computer-generated visuals and backlit animation. This iconic film went on to inspire video games, comic books, an animated series and the 2010 sequel TRON: Legacy—as well as this new Disney theme park attraction.

Based on the ground-breaking sci-fi classic "TRON" (1982) from Walt Disney Studios, as well as its sequel "TRON: Legacy" (2010), TRON Lightcycle / Run brings the digital world to Walt Disney World Resort with 3,000 feet of speed, sounds, and sights to light up the sky.

Lean forward into the ultimate race of survival! Leave the real world behind and join Team Blue in an epic quest across the Grid—the dark, computerized world with no horizons from TRON. Here, there's no limit to the excitement.

Climb aboard your very own Lightcycle and take off on a high-speed adventure, racing against the Grid's most menacing Programs. Surge past your fierce opponents as you attempt to cross through 8 Energy Gates and secure your team's victory—so you can survive to race another day.

Scheduled to open April 4, 2023, TRON Lightcycle / Run will be one of the fastest coasters at any Disney theme park in the world.


>cmd TRACERT Arrival Experience
A winding ramp provides some excellent previews of the high-thrills attraction that awaits you. As guests walk up the gently sloping ramp, they will pass under the Upload Conduit, which is the giant canopy that protects the outdoor section of the ride from sun and weather.
While there is no doubt that the canopy looks much better at night, the entire attraction footprint is very kinetic thanks to Lightcycles constantly passing overhead and the scream of riders as they make a relatively gentle u-turn from a ground-level launch to the highest point of the ride entering the show building.
Hopefully with the use of a Virtual Queue, the line for TRON Lightcycle Run won't be too long. Ideally, it would start under the cavernous main entrance where guests either enter the Lightning Lane or the regular queue.
After the sunset, the line to ride TRON Lightycle Run grew during the Cast Member preview that we attended. One of the things we'll be keeping an eye on is how operations deals with guests who want to ride at night while a Virtual Queue is in place. Typically, a Virtual Queue will include a one-hour window in which you can return to ride an attraction before the Virtual Queue expires. However, whenever we have missed a Virtual Queue return window, Cast Members have never prevented us from riding. With TRON Lightcycle Run, there will be high demand to ride it at night. If the family from Denver gets a return window of 2pm to 3pm but waits until 8pm to return, will their Virtual Queue be honored? Something to keep an eye on.
Before we get in line, we should note that there are test seats outside of the main entrance. Not everyone can fit in the Lightcycle vehicles, and Disney notes that "The seating and restraints on this attraction may prohibit guests of certain body shapes or sizes from riding". These test seats should help you better understand the specific limitations that you may face when riding and help with setting expectations for when it comes time to board. While there is no single measurement that is a hard-and-fast rule, we found that most of the guests who had trouble fitting on the Lightcycle had issues with the calf restraint not locking into place and that the torso or waist size didn't matter as much. Here's a look at how the calf restraint folds out of the vehicle to lock in above your calf and behind your knee.
We've also seen reports from guests who were not able to ride Flight of Passage at Animal Kingdom but were able to ride TRON or vice versa. Unlike a ride like Flight of Passage where there is no alternative vehicle, TRON Lightcycle Run is more accessible thanks to a modified vehicle at the back of some of the trains. The modified vehicle functions like a normal roller coaster seat like you'd find at Expedition Everest or Guardians of the Galaxy: Cosmic Rewind.
We also saw the test seats being used as a photo op. Because of the storage requirements to ride, this is likely your best bet at getting a photo of yourself on a Lightcycle (assuming you don't purchase the on-ride photo).
>cmd start Digitize.exe
Now in the entrance cave for TRON Lightcyle Run, we can see the key to the rest of our experience, at least as far as the story is concerned. The SHV 20905 digitizer laser will translate our physical existence into a digital presence so we can compete for Team Blue in the upcoming race.
We'll utilize either the door on the right for a traditional queue or the door on the left for Lightning Lane. When we rode, Cast Members were instructing us to use the Lightning Lane. We'll hopefully return to another preview to take photos of the regular queue. Either way, the indoor portion of the queue starts the same for both the Lightning Lane and regular queue experience. You will walk down a digital hallway with designs meant to make you feel like you're entering a circuit board and the digital realm.
The short hallway comes to a stop before you enter a room that has a phenomenal "wow moment". While completely different mechanically from Guardians of the Galaxy: Cosmic Rewind, there is a reveal here that is just as cool the first time you experience it as the 10th time. This room was actually upgraded from the Shanghai Disneyland version of the ride in that when we visited Shanghai Disneyland, this was treated as a part of the queue, complete with stanchions, whereas it is a standalone, "fill in all the available space" room at Magic Kingdom. Here's a look at the room from Shanghai Disneyland…
…and here's the Magic Kingdom version. No queue!
Here's a look at the reveal.
VIDEO
Being that this was a Cast Member preview, we're certain that things will change between now and April 4th. One thing that we could see changing is that there is no Cast Member present to direct guests through this room. Basically, you stand at the end of the circuit board hallway above and are told to wait until the door opens. When the door opens, you have to make a sort of u-turn into the room and then stand there with seemingly nowhere to go. This is a Haunted Mansion scenario where it's not immediately obvious where the next door to the exit is. Eventually, the reveal happens and a door hidden as part of the wall opens, but again, no Cast Member to direct guests so there may be a bit of confusion here. A pre-recorded message and arrows appear on the glass, but guests did miss the information on one of our rides yesterday.
As we exit the reveal room, we can see the launch chamber that we just saw through the reveal. This is a great spot to watch a few launches as you continue through the queue. For the Lightning Lane queue, the time spent in this room is short, but the regular queue does allow you more time to walk around the launch and enjoy the energy and excitement from riders below.
In the Lightning Lane queue, the lockers are at the end of a (currently) lightly themed hallway. The regular standby hallway has some posters showcasing the other teams such as Team Orange – the other team that will be featured in the ride. Safety and informational messages play overhead. In the video, a Program explains how the locker system works and how to board the Lightcycle vehicle. Here's the full video:
VIDEO
>Store(stuff)
Ok, time for the lockers! Guests must store any and all bags or items "larger than a phone" in a free locker. TRON Lightycle Run is the first Disney World attraction that requires that loose items are stored in a locker and the policy is necessitated by the unique ride vehicle that has no room for bags or large items. Basically, a phone and wallet can be stored onboard the vehicle, but that's about it. When we rode, I put my phone and folded up hat in the small compartment. The compartment is smaller than the average on-ride storage pouch you might be familiar with. The locker system is quite easy to understand, and we found that there were quite a few Cast Members staffed in the area to assist guests with the locker system and answer questions about what items could be brought on the ride. In short, you'll want to store everything except your phone, if possible.
The lockers are relatively big, but may not fit all items. My camera bag barely fit in the lockers after having the find the perfect diagonal angle to make it work. For reference, the dimensions of my camera bag are 18.1″ tall, 11.8″ wide, and 8.2″ deep. If you have anything larger than that, I would recommend leaving it with a non-rider.
To open the lockers, guests will either tap their park ticket, MagicBand, or MagicMobile-enabled device. In place of those options, guests can also get a temporary locker ticket from a Cast Member that will function the same as a plastic park ticket would. The device of your choosing will function as your key to open the locker after the ride too. During the opening days of previews, the locker system has been met with some significant technical issues related to opening the lockers – both before the ride and after you exit. We had trouble getting a locker to recognize the temporary locker ticket given to us by Cast Members when getting ready to store our items. A second ticket had to be utilized before the locker would properly scan and open for storage. On a separate ride, we were able to store our items successfully, but upon trying to reopen the locker at the end of the ride, the temporary locker ticket wouldn't scan. A Cast Member had to override the locker from an iPad so we could retrieve our items. In the moment, it was just a couple extra minutes of waiting, but there were very few people and we can see the locker issues compounding once the ride is open to the public.
>cmd start TRONLightcycleRun.exe
One your items are stored, the next room is the loading area where guests will board trains of two-wheeled Lightcycle bikes for a special Lightcycle race through the digital frontier. The dual-loading platform is in a large room that functions the same as Guardians of the Galaxy: Cosmic Rewind. A Cast Member at the top of the ramp will direct you into one of two lanes based on if your party is an even number of guests or an odd number of guests. From there, you will make your way down the ramp where another Cast Member will direct you to your row number.
The loading process, which can and will be difficult for some guests, involves boarding the Lightcycle like you would a motorcycle. Unlike Avatar Flight of Passage where you can "walk" into the vehicle, you will have to swing your leg over the Lightcycle and straddle the bike.
All loaded in, it's time to make our way to the launch and outside under the giant Upload Conduit canopy before heading back into the large show building for the indoor portion of the ride. Filming was not allowed during our preview opportunity, but we will keep an eye on that policy to see if it changes. While a loose article policy was recently adopted at Space Mountain, guests with cameras secured to their bodies have not had any issues continuing to utilize them. Hopefully TRON Lightcycle Run is able to implement a similar policy to strike a more reasonable balance.
For now, we'll have to stick with a written description of the ride. As we've said in the past, the ride is a thrilling race through a dark warehouse similar to Rock 'n' Roller Coaster but without any inversions. The idea is that we're racing through eight Energy Gates, or portals, to try and beat the other teams. While there are physical portal props like the one seen below, the competing teams are all represented through screens.
TRON Lightcycle Run will be the most intense roller coaster at Magic Kingdom when it opens, but will still be less intense than Rock 'n' Roller Coaster or Expedition Everest. The construction photo below represents the interior portion of the track. As you can see, the ride dips and turns throughout the 45-second indoor section of the ride – no inversions or even significant drops, certainly not anything like Expedition Everest or even the recently closed Splash Mountain.
TRON Lightcycle Run is about 60 seconds long from the initial launch through the final deceleration zone. The ride itself is a clone of the original TRON Lightcycle Power Run ride in Shanghai Disneyland, but Disney calls the Magic Kingdom TRON coaster a "second gateway" into The Grid with the first being the roller coaster in Shanghai. After being a few years removed from our experience in Shanghai Disneyland, TRON is exactly as we remember it. A thrilling launch is only briefly tamed by a deceleration when reentering the main building again as you drop into the darkness, highlighted by props and cleverly placed mirrors to bring the race to life. The ride itself is quite smooth at the moment, although we think that Guardians of the Galaxy: Cosmic rewind is a much more comfortable experience. There are no moments throughout the ride where you slow down for any show scenes like guests experience during Seven Dwarfs Mine Train. There aren't any unique or novel roller coaster segments. All in all, what really makes TRON Lightcycle Run unique from the perspective of a rider is the Lightcycle bike itself. Uncomfortable at times, the Lightcycle vehicle accurately simulates the effect of racing on a bike with some twists and turns in the dark that will be thrilling.
While the ride is fun, experiencing the plaza area under the canopy is equally a highlight – especially once the sun sets. Here are some of our photos and video as day turned to night during our TRON Lightcycle Run preview experience!
>cmd Shutdown
We'll wrap up the article with some final thoughts and expectations for TRON Lightcycle Run. If you're looking for a thrilling roller coaster, this will be a popular option at not only Magic Kingdom, but all of Walt Disney World. It's a fun, quick ride with a very unique ride vehicle. That said, we do have some "complaints". First of all, this thing took way too long to build. If it opened in Summer 2021 as previously planned, it still would've still been too long of a build, but it would've benefitted from opening before Guardians of the Galaxy: Cosmic Rewind – which is a superior experience and ride. At 60 seconds from launch to stop, the ride is too short. With a Virtual Queue, it'll be tough to judge how long a standby wait would be, but anything over an hour or so is just too long of a wait for a roller coaster that is thrilling, yes, but over before you know it.
A glaring issue that has presented itself on viral social media posts in these early previews is vehicle accessibility. Disney will have to seriously consider adding an accessible modified car to the end of each and every train. There's no other way to say it – the average American guest has a considerably different shape than the average guest visiting Shanghai Disneyland. Disney should've seen this coming and added an accessible vehicle to every car. That said, we also think that more guests will be able to fit into a Lightcycle than what initial concerns on social media stirred up, and we encourage everyone who is able to, try and ride in a Lightcycle for the unique experience it provides.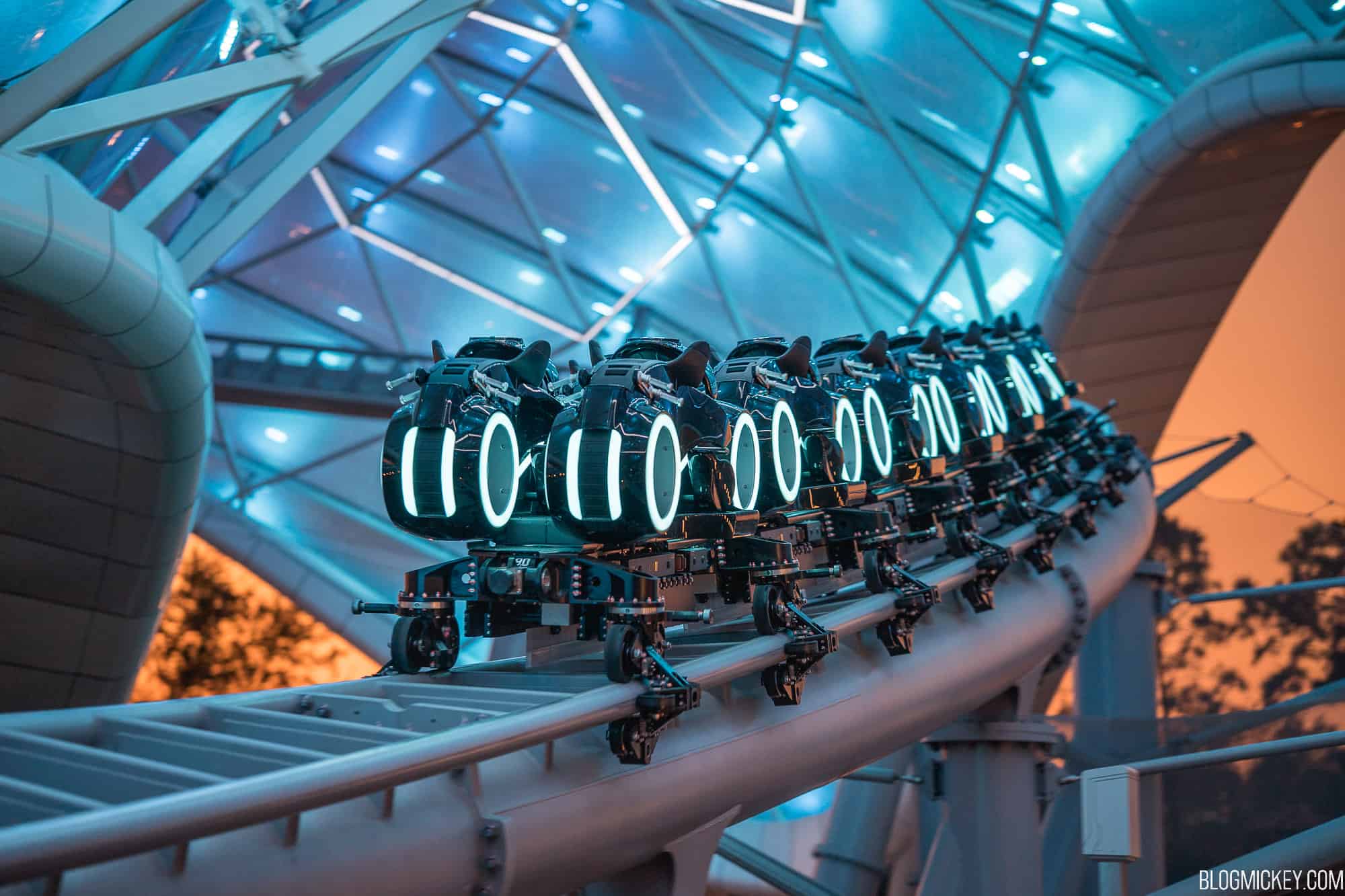 Finally, with this being a first impressions article, we wanted to highlight on final thing that will probably resolve itself over time as we get more comfortable with TRON Lightcycle Run, but the entire area felt very detached from Magic Kingdom. It's kind of difficult to explain because you can see so much of Magic Kingdom from the TRON Lightcycle Run area, so you know you're at Magic Kingdom, but between the unique area music and some new sightlines, it doesn't feel like you're in Magic Kingdom. Again, hopefully, this is something that resolves itself over time, but we almost feel like Disney could've done a better job placing the ride.
Overall, TRON Lightcycle Run is a winner and will speed to the top of your Magic Kingdom to-do list for years to come. It's grander than any other ride at the park and certainly more thrilling!
>end of line