Today marked the first day of Annual Passholder previews for the TRON Lightcycle Run attraction at Magic Kingdom. TRON Lightcycle Run officially opens on April 4, 2023, but with a month of Cast Member previews now out of the way, it's time for Disney World Passholders to preview Magic Kingdom's newest ride. Annual Passholder previews will take place through March 12th. We visited Magic Kingdom earlier today for our Annual Passholder preview, and we wanted to share our experience of the preview with you and answer some questions that people might have. Let's go!
TRON Lightcycle Run Passholder Preview Experience
Registration and Check-In
Registration for the Annual Passholder preview is closed after being open for a few hours back on February 16th. As is typical for these types of events, registration usually goes pretty quickly due to high demand. It is not possible for Annual Passholders to register for a spot now, and Annual Passholders who show up at Magic Kingdom without a verified registration will not be allowed into the preview.
As noted in the email, check-in for the Passholder preview of TRON Lightcycle Run is near the "plant wall" to the left of Space Mountain. Here's a photo of the check-in area.
During our preview window at 1pm, there was a significant line to get in, but it was likely more popular given the fact that it was the first-ever preview slot. That said, check-in was a breeze and there were plenty of Cast Members with iPads to scan park tickets (MagicBands, MagicMobile, etc). Disney says that Passholders should bring:
Valid Annual Pass and a government-issued photo ID for each registered Passholder
One printed or digital copy of your confirmation page
Disney also asks that you don't arrive before your preview window, and don't check in less than 15 minutes before the end of your preview window.
Once you check in, you'll be free to roam the TRON Lightcycle Run plaza, and snacks such as Mickey Ice Cream bars might be available for purchase from a snack cart nearby. During our preview, the TRON Lightcycle Run snack stand was not open.
Queue, Re-Rides, and Wait Times
During our preview, Cast Members said that re-rides were not allowed. While Cast Members said that this was the policy during our preview, they also said that the re-ride policy is subject to change. Signage clearly marks where the entrance to the queue is. Here's a look at the line as the first couple hundred guests walked to the entrance of the attraction. This is not the queue yet, but it's possible for the line to back up this far. During a Cast Member preview that we attended, we saw the line get this long when the attraction was running at reduced capacity.
Our actual wait kicked in after we had passed under the roller coaster track and started to exit from under the canopy. We were still in an "extended" portion of the queue although we would later find out that the entire queue wasn't really full at all once we got inside. From here, our wait would be about 25-30 minutes, which is just about as long as we'd hope the wait would get. Of course, we expect that the wait will go up the darker it gets, but we'll have to wait and see on that one.
A secondary park ticket scan took place at the entrance to the attraction to ensure that Passholders were only riding once.
Following the entrance scan, the biggest choke point of the entire attraction becomes obvious, but we're not there yet. Here's a look at the covered portion of the queue. In theory, if the attraction were packed to the gills, the queue would hold about 60-90 minutes of guests. In practice, we noticed a few rows of empty switchback queues both outdoors and indoors.
The biggest choke point right now seems to be the brief pre-show experience. A short walk down a circuit board hallway leads to a room with an impressive effect. This holding room is only a short special effect room, but one that can't be bypassed and one that effectively pulses groups of guests through the transition from outdoors to indoors. We'll have another article dedicated to some tips and tricks, but make sure that you put your little ones at the front of the room closest to the wall with the logo seen below so they can enjoy the special effects too!
Here are some more photos from the "standby" portion of the queue. Of course, it's probably not exactly correct to call it "standby" given the fact that Virtual Queue will be utilized when the ride opens to the public. Perhaps the "non-Lightning Lane" queue is more correct. This is a wonderful section of the queue that gives guests a chance to watch the launch for the ride.
"The Shot" is through a decal on the glass overlooking the launch area.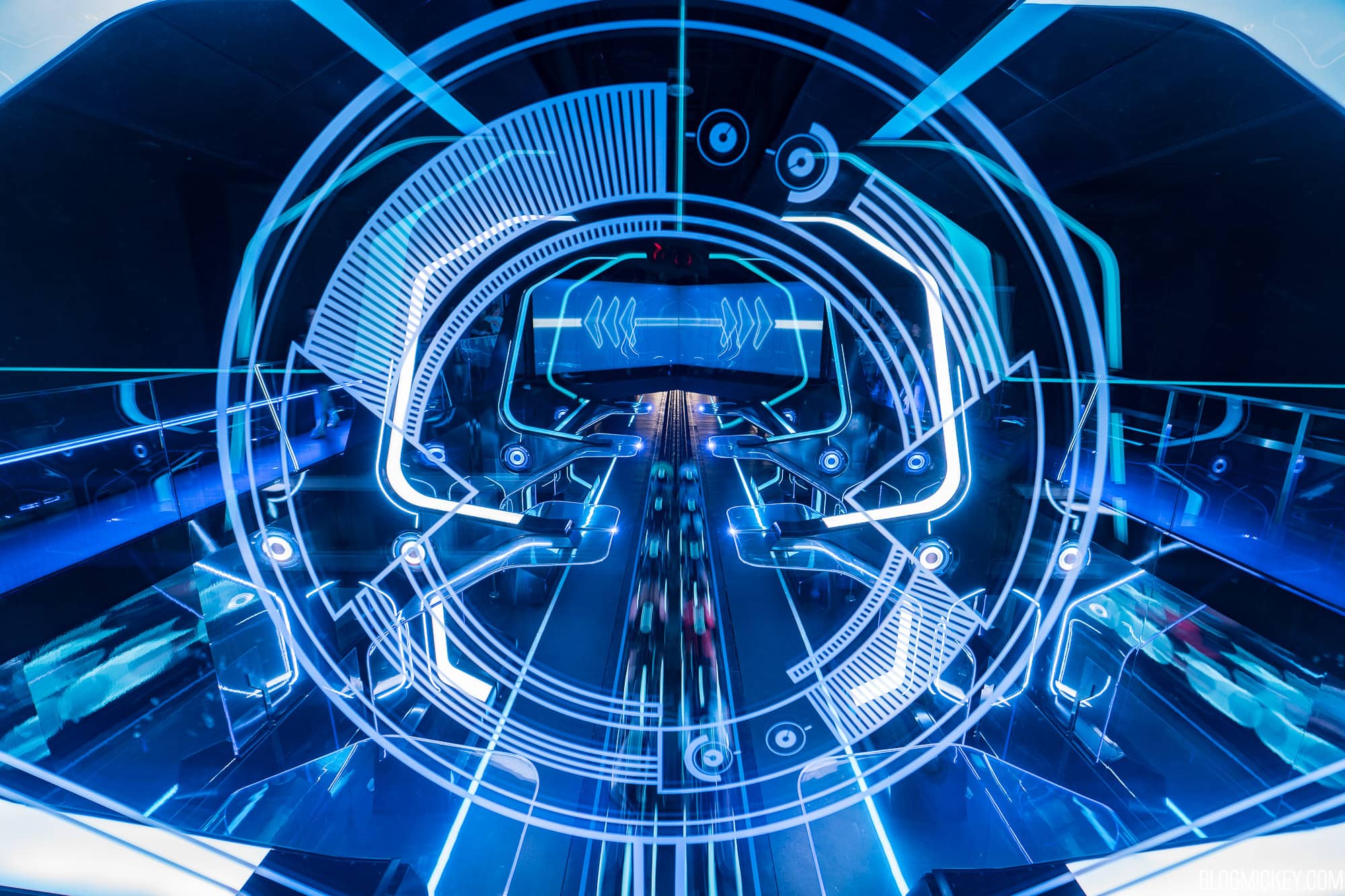 Make sure you turn around to see the Identity Disc on display behind you!
The "Hall of Champions" is the final switchback area you'll hit before the lockers.
The locker system is relatively straightforward. Scan your park ticket or MagicBand to unlock the locker, store your items, ride, and retrieve your items after you ride. Cast Members are on hand to help, and it seemed like there were fewer issues with the locker system than we saw during the first couple of days of Cast Member previews early last month.
TRON Lightcycle Run Ride Video POV
Unlike other attractions at Walt Disney World, TRON Lightcycle Run has a very strict loose items policy. The combination of a unique ride vehicle, a unique restraint system, and no space for bags means that the vast majority of your items should go in a locker. That said, filming on the ride isn't prohibited, just restricted. According to Cast Members we spoke with, any filming must be done with a chest-mounted system for a GoPro-style camera. No handheld cameras or handheld phones were allowed. We were able to film with a chest mount during the Annual Passholder preview without an issue. Here's our on-ride video!
VIDEO
"Team Green" Experience and Gift Shop
Somehow, after more than 5 years of construction, both the Team Green Enterprise Rent-A-Car post-show experience and the gift shop are still under construction and were not open during our preview.
Closing Thoughts
Overall, it was nice to preview a new attraction before it opens. We had wished that Disney World was able to find out a way to allow re-rides, but Passholder previews are more of a way for Cast Members to keep training than an "event". We're really looking forward to the D23 Gold Member preview that allows as many re-rides as desired during the event. We wouldn't recommend going out of your way to attend Passholder previews anymore, but they are a nice perk to work into an already planned day at Magic Kingdom.
As for TRON Lightcycle Run, our opinion hasn't really changed much. The ride is certainly thrilling, but ultimately too short. A unique ride vehicle and high-speed launch create the most thrilling 15 seconds on any Disney ride, but the remaining 45 seconds are somewhat pedestrian and don't surprise the rider. That said, if Virtual Queue wait times hover around the 30-minute mark once the ride opens to the public, we will still highly recommend adding it to your Magic Kingdom experience. You might find some diminishing returns if the wait climbs past 40-45 minutes.
As always, keep checking back with us here at BlogMickey.com as we continue to bring you the latest news, photos, and info from around the Disney Parks!