It's the big one, the Epcot International Food and Wine Festival. While other festivals at Epcot may focus on plants or the arts, this is a whole festival of food and drinks. Below you can find our Epcot International Food and Wine Festival food reviews.
Click on any of the kiosk names below to jump to their specific review, or feel free to scroll through them all.
Future World
World Showcase
Flavors from Fire
See how fire and heat can add flavor to your day at Epcot—along with beverages that will help you wet your whistle.
Piggy Wings – $4.50
Roasted Pork Wings with Korean Barbecue Sauce and Sesame Seeds
These are simply wings. Nothing bad about them, but there are better offerings
Smoked Corn Beef – $5.00
Served with Warm Crispy Potatoes, Pickled Onions, and Blonde Ale Beer Fondue featuring BelGioioso Romano and American Grana Cheeses
A solid dish that provides a quick nachos experience. The corn beef was flavorful and soft. It paired nicely with the fondue for a complete experience that was only overshadowed by a bit too much salt.
Sweet Pancake – $4.00
Served with Spicy Chipotle Chicken Sausage, Onion Jam, and Maple Butter Syrup
We really liked this offering. The pancake was nice and thick, which paired nicely with the chicken sausage. The jam and syrup worked together to create a wonderful dish.
Chocolate Picante – $3.25
Dark Chocolate Mousse with Cayenne Pepper, Chili Powder, and Raspberry Dust
A thick, rich chocolate awaits. We didn't find the chili powder or raspberry dust to be present enough to provide a challenge.
Light Lab
Stay light on your feet throughout the day with a refreshing array of bubbly drafts and spirited concoctions.
You're going to be hearing a lot about light lab over the course of the Festival. It's a brand new experience and a clever use of space and theme unlike what we've seen before. We thought it was so unique that we dedicated an entire post to it. Here's our review.
Active Eats
Satisfy your appetite with action-packed offerings—each one sure to please your palate as you explore the park.
Sweet Avocado Crema – $3.75
Served with Strawberries, Yellow Cake, and Tortilla Streusel
The Sweet Avocado Crema was a winner. True to its name in texture, the dessert was easy to navigate and the avocado wasn't overbearing. The strawberries at the bottom added a nice flavor. We ate it with as many of the layers in a single bite as possible, and they all combined wonderfully.
Coastal Eats
Feast on flavors from the oceans of the world, along with wines grown from the Pacific coastline!
Lump Crab Cake – $5.00
Served with Napa Cabbage Slaw and Avocado Lemongrass Cream
The solid plates keep coming at Food and Wine. This dish was excellent, and a decent portion for $5.00. Once again, the avocado wasn't overpowering, but rather a pleasant addition to a solid portion of crab cake.
Baked Shrimp Scampi Dip – $5.50
Served with a Sourdough Baquette
The general consensus in the group was that this was the winner at Coastal Eats. Right in the middle as far as price is concerned, this is another "big" portion as far as Food and Wine dishes go. Personally, I was a little less excited about the dish due to a general dislike of anything too "fishy", but at a booth known for bringing you food from the oceans of the world, this will probably be a good bet.
Seared Scallops – $6.00
Served with Roasted Corn and Butterbean Succotash and Chili-Chipotle Butter Sauce
A surprisingly small portion led to a less than enthusiastic response. While the food itself was good, the portion size leaves much to be desired.
Earth Eats
Turn your taste buds upside down as rustic techniques and modern technology merge for a flavor revolution.
Ricotta and Zucchini Ravioli – $4.75
Served with Rustic Tomato Sauce
While we enjoyed this dish, will definitely be better options as you make your way through the review.
Grilled Beef Skewer – $5.25
Served with Romaine, Apricots, and Feta
Our skewer came out a bit dry and tough, which made it more chewy than it was worth.
Peanut Butter and White Chocolate Mousse – $3.50
Served with a Caramel Drizzle
This was a really enjoyable offering. This dessert was light, and flavorful. A perfectly executed peanut butter dessert that exceeded expectations for $3.50.
The Chocolate Studio
Sate confectionery cravings with a trip to our one-stop chocolate shop for delectably dark and milky sweet treats!
The Cheese Studio
Don't just say "cheese"—eat it too as you indulge in foods inspired by this international favorite.
Braised Beef "Stroganoff" – $5.00
Served with Tiny Egg Noodles, Wild Mushroom, and Boursin Garlic and Fine Herbs Cheese Sauce
This was a divisive dish for our group. I came down on the side of liking it, but many did not. It was a creamy dish with good beef, but I'll have to revisit to give it a proper recommendation.
Savory Caramelized Onion Boursin Garlic and Fine Herbs Cheese Tart – $4.50
Served with Cold Arugula Salad and Aged Balsamic
When ordering this dish we fully expected it to be quartered and served. When the whole tart was passed to us, it was an unexpected surprise. We really enjoyed the tart. A sturdy exterior gave way to a soft and delicious interior. The balsamic paired nicely with the rest of the dish.
Cheese Trio – $5.50
Profiterole topped with Boursin Garlic and Fine Herbs Cheese and Orange Apricot Jam
Smoked Salmon Pinwheel and Boursin Shallot and Chive Cheese and Everything Seasoning
Strawberry Macaron with Boursin Pepper Cheese
Working our way from the top to the bottom (left to right in the photos), we didn't much care for the profiterole, as it was mostly air. The Smoked Salmon Pinwheel was delicious, with the salmon pairing wonderfully with the cheese. The strawberry macaron was also an enjoyable bite. Two out of three isn't bad, but for $5.50, we'd like to see three winners before recommending.
The Wine and Dine Studio
Sample an elegant medley of red, rosé and white wines hailing from the Golden State's renowned vineyards.
Islands of the Caribbean
Journey to the islands of the Caribbean, where the fusion of food and cultures create a melody in your mouth!
Quesito – $3.75
Puff Pastry with Sweetened Cream Cheese and Guava Sauce
A wonderful dish that was a good portion with an even better taste. Served warm and forgivingly soft, this snack is a wonderful option on your way out to, or returning from, World Showcase.
Hawai'i
Traverse the Pacific for tropical flavors and island faves—sweet or savory, these mouthwatering morsels scream aloha!
Grilled Tuna Tataki – $5.25
Served with Seaweed Salad, Pickled Cucumbers, and Wasabi Cream
I generally don't gravitate towards tuna, but this was a wonderfully made tuna.
Teriyaki-glazed SPAM Hash – $4.00
Served with Potatoes, Peppers, Onions, and Spicy Mayonnaise
This may well be my first time trying SPAM, but it won't be my last (at least as prepared for this dish). The spicy mayonnaise provided as much kick as flavor. The heat on this dish continued thanks to the peppers and onion. Luckily, it walked right up to the line of unpleasantly hot, but never crossed it. A recommended dish.
Passion Fruit Cheesecake – $4.00
Served with Toasted Macadamia Nuts
A smaller bite that was packed with flavor. Passion fruit flavor was nicely present.
Patagonia
Revel in the rich, aromatic flavors that South American delicacies are famous for and send your senses soaring!
The Almond Orchard
Let your taste buds go nuts for a tasty offerings that complement one of the world's most popular snacks.
Cauliflower Risotto – $4.75
Served with Pulled Chicken, Artichokes, Spinach, Parmesan, and Aged Balsamic
A heavy dish with a variety of elements turned out to be good for those who enjoy the elements individually. Wasn't something that I personally enjoyed, but those in the group who tried it liked it.
Fire-roasted Tomato Hummus – $5.25
Blue Diamond Salt 'n Vinegar Almonds served with Nut-Thins Crackers
Another hit for the fans of hummus in our group.
Banana Almond Soft-serve Sundae – $4.50
Served with Fresh Berries and Crunchy Chocolate Oats
A wonderfully satisfying dessert for the money. The banana was obvious in every bite and the layered elements meant that you basically got two desserts in one. Very recommended for fans of banana.
Almond Breeze Strawberry Smoothie – $4.50
This was a miss for us. A generally bland smoothie only periodically hinted at flavor. Go with the sundae above.
Australia
Explore an exotic array of food, wine and beer options from the Land Down Under.
Grilled Lamb T-Bone – $7.50
Served with Mint Pesto and Potato Crunchies
A change in presentation from last year lead us to order this dish, and it wasn't exactly the wisest choice we made. One in our group commented that it looked like a "CiCi's Pizza" version of Lamb T-Bone. This wasn't a compliment, for those who haven't been to a CiCi's Pizza. It did taste better than it looks, but it's a pass at $7.50, and probably any other price.
New Zealand
Head south of the equator for quintessential Kiwi meals, including savory plates and award-winning wines.
Canada
Take your taste buds to the Yukon, with delightful dishes, lagers and wines from the Great White North.
Canadian Cheddar Cheese Soup – $5.00
Served with a Pretzel Roll
Canada has been our go-to stop for a consistently wonderful pairing for the past few years. This year is no different. A soft, thick pretzel roll is large enough to make this a sharable offering, but you'll probably want to enjoy it all yourself.
"Le Cellier" Wild Mushroom Beef Filet Mignon – $8.00
Served with Truffle-Butter Sauce
Largely hidden under the wonderful truffle-butter sauce, the filet mignon is on the "pricier" side, but another solid choice. Mushrooms add to the dish and make this another must-do for us this year.
Scotland
Get swept away to the Scottish Highlands, where meals are magical and pubs are hotspots filled with fun!
Ireland
Escape to the Emerald Isle for a wee bit o' ale, wine and authentic Irish fare to warm the cockles of y'er heart!
Roasted Irish Sausage – $5.50
Served with Colcannon Potatoes and Onion Gravy
This dish fell into the "okay" category. Nothing terribly outstanding, but it should probably be in the $4.00 price range to avoid potential regret.
Warm Irish Cheddar Cheese and Stout Dip – $4.75
Served with Irish Brown Bread
I'm not sure anyone in our group was a fan of this dip.
Twinings Pumpkin Chai Tea and Caramel Shake – $4.75
This drink was the source of the greatest financial and strategic breakdown in our blogger-funded trip around World Showcase. Normally we'd order a single quantity of an item, but I think by the time it was all said and done, we had four or five of these at our table. Needless to say, it was a favorite of the group.
France
Fall in ooo-la-la-love with the classic cuisine and finest wines of France—bon appétit!
Moelleux au Fromage de Chevre et Epinards – $4.25
Warm Goat Cheese Pudding with Spinach
Goat cheese is a rather recent favorite of ours, and it's wonderfully executed here. While I would have liked to see some bread accompanying the dish, it stands very well on its own.
Croissant aux Escargots – $5.75
Escargot Croissant with Garlic and Parsley
Kind of like our yearly Canada must-dos, this was a must-do for one of the members of our group. A healthy portion of escargot will surely be a delight for fans of the cooked land snail.
La Passion Martini Slush – $10.75
Vodka, Grey Goose Le Citron Vodka, Cranberry, and Passion Fruit Juice
Another must-do on many a Food and Wine list, this martini slush will be a welcome reprieve from the hot Central Florida days. With the Food and Wine Festival seemingly starting earlier year after year, there will likely be few days where a slush isn't welcome. As far as flavor goes, it's a light, enjoyable, fruity drink.
Side note: the day that we toured had a heat index of over 106 degrees! This drink was essentially an oasis.
Brazil
Dig into South American cuisine and culture with the Land of the Palms' finest fare.
Crispy Pork Belly – $5.75
Served with Black Beans, Tomato, and Onions
If you're looking for pork belly, this is the spot to go. Perfectly executed with wise accompaniments that allow you to go in any direction you'd like, flavor-wise.
Frozen Caipirinha – $11.00
Another wonderful frozen drink. A refreshing taste that I hesitate to give a label to given the wonderfully unique taste of fresh Brazilian sugar cane. The taste is somewhere near cinnamon green apple, without being too heavy on any of the flavors.
Belgium
Indulge in waffles with a dessert-like twist as well as other sweet 'n' savory treats—courtesy of the Kingdom of Belgium!
Morocco
Relish an inspired array of exotic flavors—this north African region is a mecca of intriguing cuisine.
Chocolate Baklava – $4.00
Rolled Phyllo Dough with Toasted Almonds and Dark Chocolate Sauce
In a word: pass.
In more than one word: The whole dessert was way too dry despite the addition of chocolate sauce. Basically an instant dehydration for your mouth.
Japan
Delight your appetite with sushi and other delish dishes as well as libations from the Land of the Rising Sun!
Wasabi Shumai Steamed Pork Dumplings – $6.95
Our group actually ordered two of these dishes due to how much we enjoyed them. It's a solid dish with just enough heat from the wasabi to bring you back for more.
Salmon BLT Sushi Roll – $7.95
Futomaki Roll with Lettuce, Cabbage, and Carrots topped with Yuzu Miso Salmon, Tomato, and Bacon Chips
I really enjoyed this roll. A unique take on a classic, the BLT sushi roll had a lot of flavor and will be something that we order in subsequent visits to Epcot.
Teriyaki Ginger Pork – $8.25
Marinated Pork with Sweet Chili and Teriyaki Sauce
If I had to pick a dish that was the least preferable from this kiosk, it would be this one. That's not to say that it's not an enjoyable few bites, it's more a comment on the strength of the other two offerings.
Pom Pineapple Sake Cocktail – $7.50
A refreshing cocktail that is perfect if you like pineapple.
Italy
Mangiare… savor the simple elegance of cucina italiana, with some of the world's best-loved food and wine.
Crispy Calamari – $8.00
Served with Spicy Pomodoro Sauce
This was an order for the table, as we aren't exactly fans of this version of seafood. That said, it wasn't finished off.
Spezzatino con Polenta – $7.50
Beef Stew with Parmesan Creamy Polenta
Much more stew than beef, this was a nice offering, but we'd like to see some more protein for the $7.50 tendered.
Absolut Penne – $7.00
At first I was a bit confused as to why I enjoyed this dish so much, until I realized it wasn't just a basic marinara. The sauce and shrimp pair nicely to turn this into a dish worth getting.
Cannoli al Cioccolato – $4.25
Chocolate-covered Cannoli filled with Sweet Ricotta, Chocolate, and Candied Fruit
Can you go wrong with a cannoli? The answer is no. It's a wonderful cannoli and something we'll be getting again to survive the warm temperatures.
Spain
Take your tastes to the Old World as Spain returns to the Epcot International Food & Wine Festival.
Charcuterie in a Cone – $6.50
Served with a selection of imported Spanish Meats, Cheeses, and Olives with an Herb Vinaigrette
I enjoyed the meats and cheeses on offer here, but Charcuterie in general isn't my cup of tea. The "in a cone" option is nice here and makes sense for a continued walk around the Food and Wine Festival.
Sweet Olive Oil Cake – $3.75
Served with Powdered Sugar and Lemon Curd
This turned out to be disappointingly dry and would warrant a pass despite the decent sized helping for $3.75.
Seafood Salad – $5.25
Served with Shrimp, Bay Scallops and Mussels, Extra Virgin Olive Oil, White Balsamic Vinegar, and Smoked Paprika
I liked this dish. With a lot going on, it's important that the different elements work together, which they do here. Lots of flavor packed into a portion that makes me feel that the $5.25 was worth it.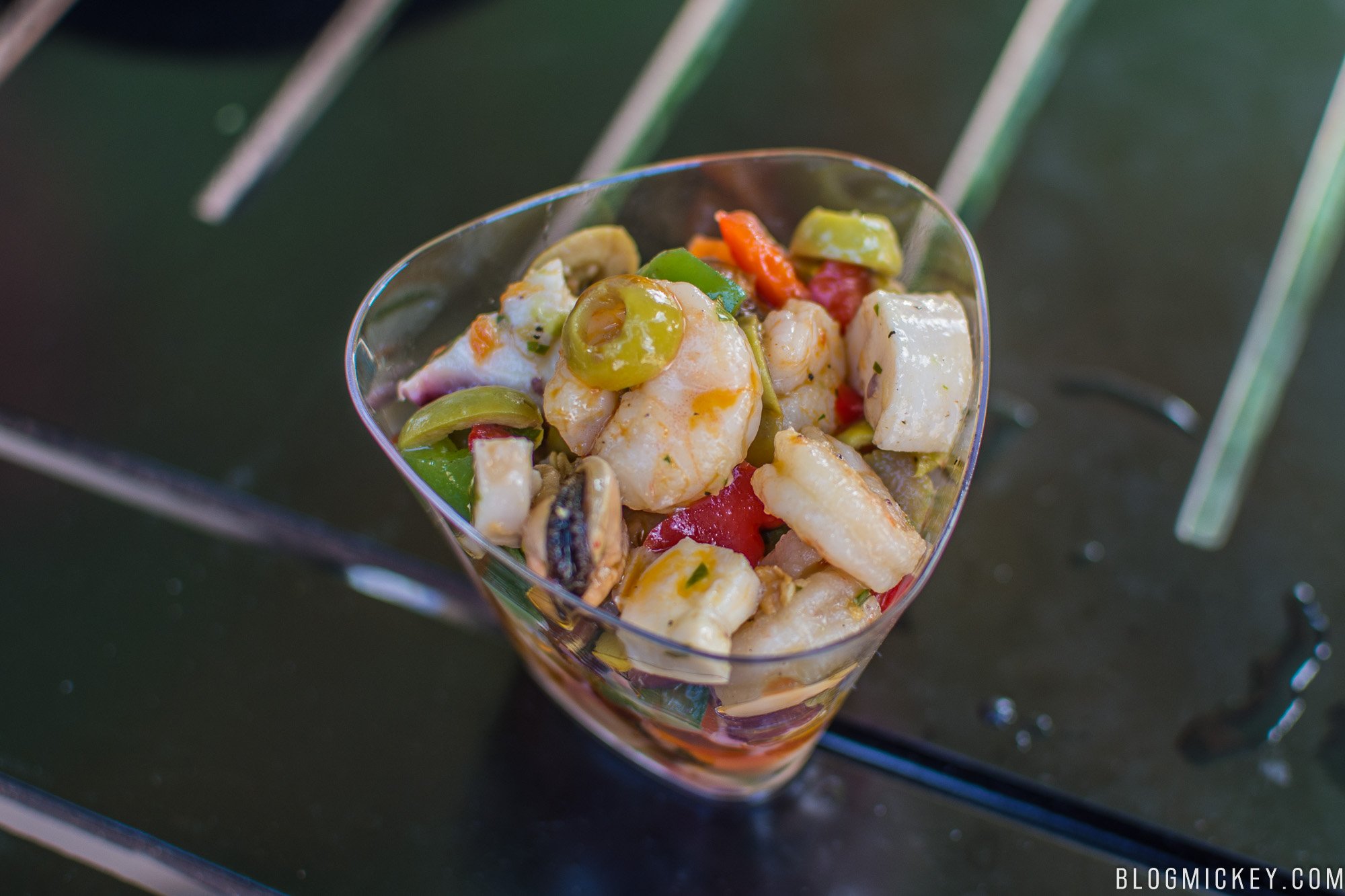 Traditional Spanish Paella – $5.25
Served with Shrimp, Mussels, Chicken, and Crispy Chorizo
While the single shrimp perched atop was more humorous than anything, the rice made up for it. I would like to see a total of 3 shrimp to really say this plate knocks it out of the park, but it was a very enjoyable dish that I plan on getting again.
Germany
Embark on an epicurean adventure to Deutschland, home of the heartiest food, drinks and appetites in the world!
Brewer's Collection
Pamper your parched nature with a glass or flight of Europe's best brews—from Pilsners to wheat beers.
Africa
Delve into a delectable menu inspired by countries abundant with history, mystery and cultural diversity.
Spicy Ethiopian Red Lentil Stew – $4.50
Served with Vegan Yogurt and Quinoa
A soup didn't seem appetizing to us at 110 degrees, but here's a nice photo.
India
Introduce yourself to some new flavors with Old-World origins as India makes its return to our Global Marketplaces!
Warm Indian Bread – $4.75
Served with Pickled Garlic, Mango Salsa, and Coriander Pesto Dips
An attempt at bringing Sanaa's bread service to Epcot has made me indifferent. I think I'd be more excited about the offering if I was given the chance to choose my sides. As is, I'd rather make the trek to Sanaa.
Madras Red Curry – $5.00
Served with Roasted Cauliflower, Baby Carrots, Chickpeas, and Basmati Rice
I was a fan of this dish. A relatively sizable portion of curry that packs just enough heat to keep me interested. Other elements such as the chickpeas and rice were similarly well done.
Korma Chicken – $5.25
Served with Cucumber Tomato Salad, Almonds, Cashews, and Warm Naan Bread
Hidden beneath an abundance of sauce is a wonderfully prepared chicken that was both perfectly cooked and flavored. I'd suggest saving the naan bread for the end of the dish to soak up what remains. A recommended dish.
Pistachio Cardamom Bundt Cake – $3.50
Served with Chocolate Coconut Mousse
While other cakes have proven difficult to execute, we enjoyed this one. The pistachio and chocolate was a delicious combination that is a decent buy at $3.50.
China
Introduce your palate to a diverse variety of popular plates and potables from one of the world's greatest cuisines!
Thailand
Exotic specialties from Southeast Asia await when Thailand returns to Epcot after a 7-year Festival hiatus!
Marinated Chicken – $4.75
Served with Peanut Sauce and Stir-fried Vegetables
A nice offering. The peanut stood out to us the most, but that's not to say that it was in any way overpowering.
Seared Shrimp and Scallop Cake – $5.00
Served with Cold Noodle Salad
A decent dish, but not great. Probably not a good thing when the noodles are the best part of the offering.
Red Hot Spicy Thai Curry Beef – $5.50
My notes for this plate was "as expected". Nothing stood out, but it wasn't terrible either. Probably a pass.
Greece
Bask in the Mediterranean flavors of traditional dishes and heavenly drinks popular in the Land of the Gods!
Taste of Greece – $8.00
Stuffed Grape Leaves with Lemon Dill Sauce, Grilled Octopus, and Feta Dip with Warm Pita
Bougatsa – $4.00
Warm Phyllo Dough Strudel with Sweet Vanilla Custard, Lemon Honey Syrup, and Cinnamon
Despite its appeasing look and wonderful description, this didn't leave a memory for us. It proved to be a bit "plain".
Farm Fresh
Invite your senses for some tasty vittles—featuring flavors that'll make you cock-a-doodle-do for more.
Crispy Chicken – $4.75
Served with Griddled Cornbread and Red Eye Gravy
What an awesome piece of chicken! Served with just the right amount of gravy should you prefer a softer bite, this plate gets it right from top to bottom. A soft, flavorful cornbread makes this plate worth it.
Roasted Beet Salad – $3.75
Served with Green Beans, Feta, Minus 8 Vinaigrette, and Toasted Walnuts
Another bite that was consumed at nearly high noon, this offering was wonderfully light and refreshing. If you're a fan of the various elements of the salad, I can recommend this dish.
---
As the 2017 Food and Wine Festival continues, we plan on adding more reviews to our post.