Prince Eric's Village Market has seen an overhaul of its menu the past few weeks, with the most recent additions arriving yesterday. We made it out to Magic Kingdom this morning to check out the two brand new items on the menu.
Sweet Thai Chili Shrimp – $6.99
Straight from the same ocean that Ariel herself called home is the Sweet Thai Chili Shrimp. A bit of a head-scratcher as far as theming is concerned, but one bite of the shrimp will likely allow you to forget that they probably knew Ariel before they unexpectedly came ashore.
Five shrimp find their way into your bowl along with vegetable slaw, ginger vinaigrette, salt, lemon, chili mayo, and garnished with black sesame seeds. The freshness of the shrimp surprised us for being served from what amounts to a nicely themed food stand. The only element that didn't live up to our hopes was the chili mayo. It wasn't spicy at all, which might be a good thing depending on your spice tolerance. That said, it had a nice flavor when combined with the ginger vinaigrette.
Overall, it's a solid dish that is probably $1 too expensive. If you're looking for a quick bite with some nice flavor and wonderful presentation, it's easy to look past that extra dollar though.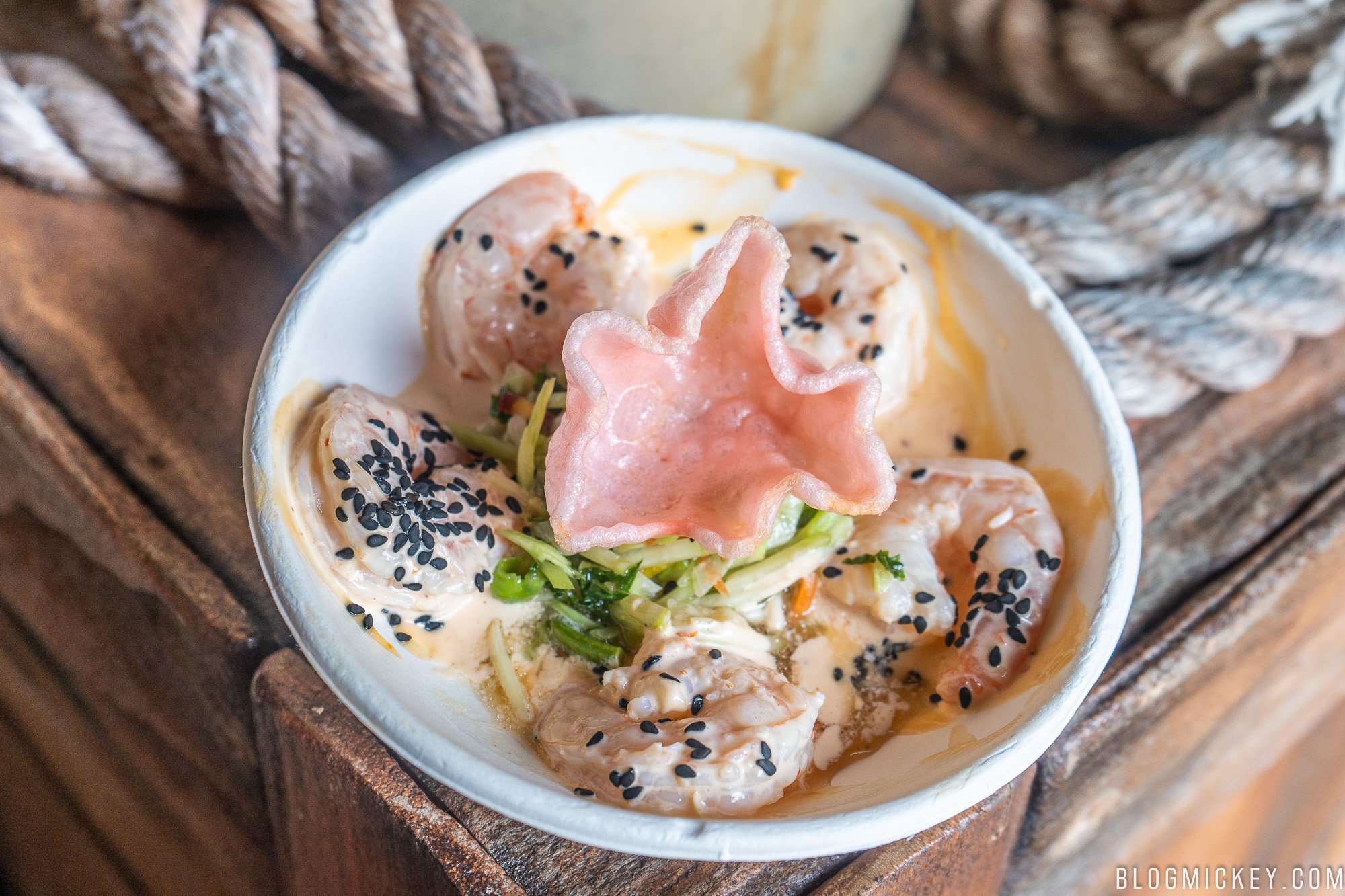 Witch's Frozen Brew – $6.49
Next up on the menu is the (Sea) Witch's Frozen Brew. A concoction of different flavors from the flavored coke menu, the Witch's Frozen Brew is available for those that don't want to choose. In the Witch's Frozen Brew, we find Minute Maid Frozen Lemonade and Frozen Coca-Cola, swirled with Monin Chery, Granny Smith Apple, Watermelon, and Red Passion Fruit syrups.
Unlike the frozen coke flavors that we reviewed some time ago, the Witch's Frozen Brew doesn't have a defining flavor. We noticed the Granny Smith apple and Cherry come through the most, with some watermelon present in some sips. The Red Passion Fruit didn't come through all that much and neither did the Minute Maid Lemonade. That said, it's a really fun drink that presents a variety of flavors set against a predominately Coca-Cola base.
We're happy to see Prince Eric's Village Market drop some of the more bland menu items such as the pretzel and sugar cookie, for some really unexpected flavors. We can recommend both the Sweet Thai Chili Shrimp and Witch's Frozen Brew for your next trip to Fantasyland in Magic Kingdom.