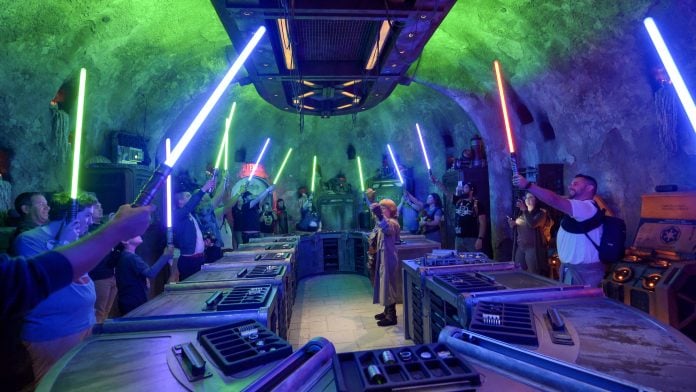 Disney has just announced that Savi's Workshop – Handbuilt Lightsabers now supports a 60-day booking window.
UPDATE: While the 60-day booking window was available at the time of this post, Disney has shortened that window to 14 days, stating that the 60-day window would be available "soon". The rest of our story continues below.
Since Star Wars: Galaxy's Edge opened to the general public a month ago today, guests were only able to make same-day reservations. Today, guests are now able to book up to 60-days in advance to build their very own custom lightsaber. You can book the advanced reservation directly on Disneyland's website.
To learn more about Savi's Workshop, you can read our full review here, or watch the build process in our video below.
In addition to the 60-day booking window for Savi's Workshop, Disney announced that Oga's Cantina would soon support the same booking window. As of publish time, you can still only book same-day reservations on the website and on the Disneyland app, but we'll keep you informed of when Oga's Cantina supports the extended booking window.
You can find our full review of Oga's Cantina and all of the specialty drinks you can order on our post here.