Welcome to Oga's Cantina! The local watering hole in Black Spire Outpost is the main spot to grab an alcoholic concoction and even a bite to eat. This small hole-in-the-wall is a place where bounty hunters, smugglers, rogue traders and weary travelers of all ages come together to refuel, enjoy music and conduct meetings—no questions asked. Take a trip to the edge of the galaxy with us on our Oga's Cantina review!
Theming
We'll start with a brief look around the place. From the first announcement of Star Wars land, we knew that a cantina-type establishment absolutely had to be included. Of course, because we're traveling to Batuu, it's not the exact same cantina that we've seen in the movies, but it's close enough to get the job done. We'll take a quick look around for this review, and we'll have a more in-depth look at the cantina, including a 360° video experience a bit later.
From the outside, Oga's Cantina blends in with the rest of the buildings of Black Spire Outpost, with only a single sign that says "Cantina" above the door frame. Of course you'll be able to identify where it is from the long lines outside of it and the music that can be heard from the outside of the building. Disney went with a cool effect here, pumping music outside that is muffled enough to make it seem like it's extremely loud inside. It gets your attention, allowing you to immediately recognize and anticipate what to expect inside. Of course, the music is still loud inside, but not nearly as loud as would be suggested by the noise pollution that seems to be making its way through the exterior walls.
We're all gathered around a u-shaped bar that has a bad hyperdrive as the central focal point. Occasionally, it will shut off and the whole establishment loses most of the power, but a quick bang of a hammer sorts it out and it's back to the bar-type vibe.
A wider view of the cantina near closing shows what you can expect from a "seating" perspective. Few few perimeter booths can be found and with Cast Members…eh, Batuuans doing the seating arrangements, it's likely that you'll be standing the entire time.
Don't let the photo fool you, these booths are a hot commodity and rarely empty. It was only in the last 10 minutes of operation that I was able to see a full booth. These are big enough to fit two or three (or four) parties, so be prepared to make friends.
DJ Rex can be found spinning tunes all day and night long, with a loop that seems to repeat every hour or so, just enough time for you to not hear any repeats during your 45 minute visit.
As far as additional theming is concerned, there is a lot to look at behind the bar, including themed taps and even some creatures. All of this could likely be missed if you aren't elbowed-up to the bar, but we really applaud the thought that was put into the spaces that are far enough out of guest reach to be properly themed.
Disney does a good job here of creating a convincing space. It's fairly dimly lit, and the constant music blasting from DJ Rex gives it a club/bar vibe that seems to strike a reasonable balance.
A Wretched Hive of Scum and Villainy
No, this isn't the Mos Eisley Cantina of Star Wars movie fame, but you'd be forgiven if you thought that Oga Garra (the owner of Oga's Cantina) wasn't at least a little bit inspired by the famous location. The logistics of Oga's Cantina seem to be similar to the Mos Eisley Cantina too. There is very limited seating, and it's often time luck of the draw as to whether you'll get a seat or standing space.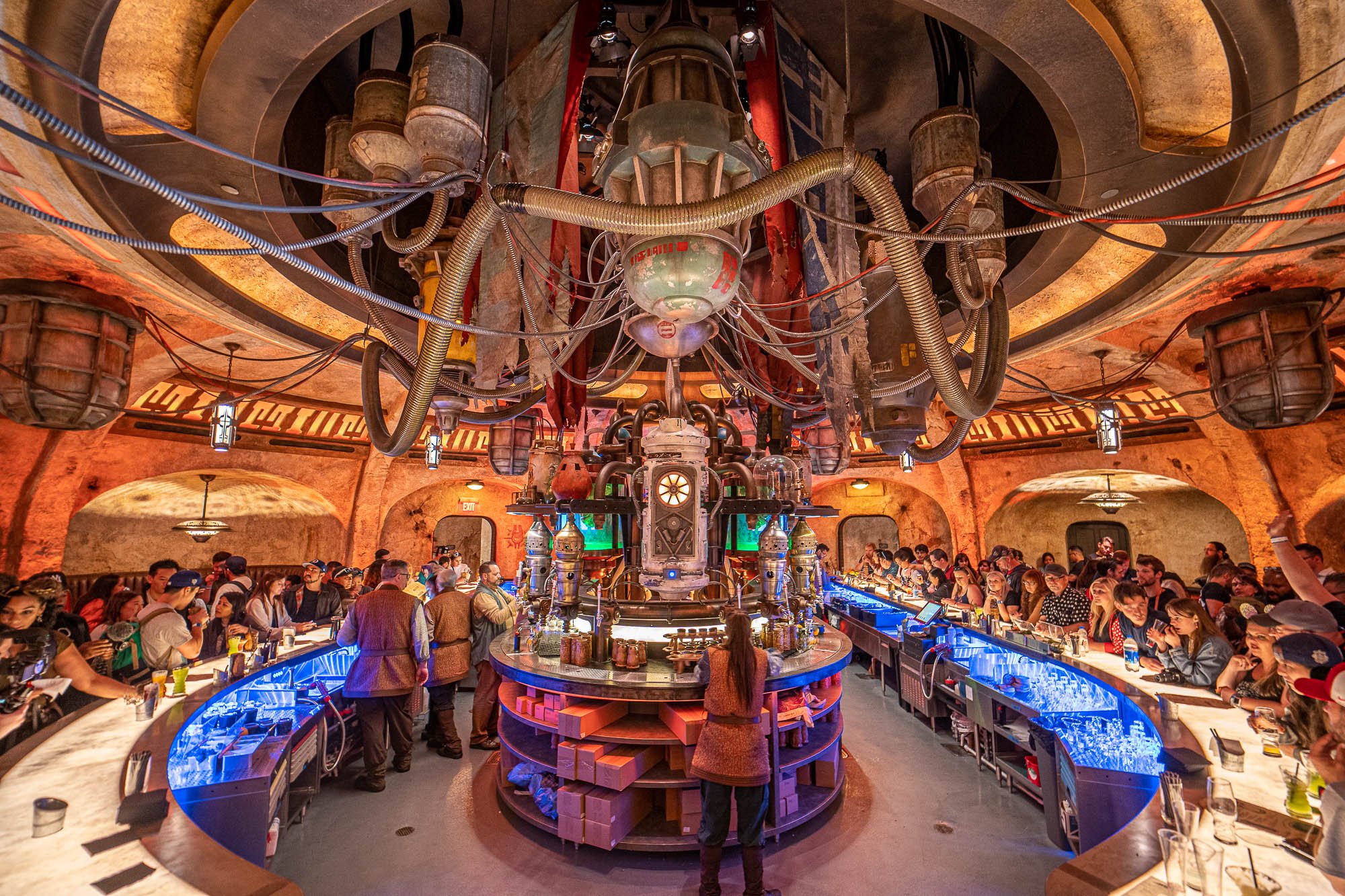 Our first experience with Oga's Cantina was a Batuuan simply herding the six of us inside, giving one of us barely enough room to put an elbow down at the bar, and telling the rest of us to line up behind them and try to work our way into a standing location at the bar as other guests left. To say that this was enjoyable welcome into Oga's Cantina would be a lie. A sign on the wall says that the maximum capacity is 276 people, but it felt like so much more. If you are lucky enough to get a table, like we were on our second visit to the Cantina, you will definitely be seated with another party or two, so get cozy.
We would kind of liken the experience to the opening weeks and months of Trader Sam's Grog Grotto here in Walt Disney World, where the Cast Members knew what the occupancy limits for the area were, and simply told you that seating is first come, first served. That said, Trader Sam's wasn't nearly as unpleasant as Oga's Cantina. If you try to relocate your party in Oga's Cantina, you will be told you can't do that. Do you see a group of people leaving a standing table and you don't want to be at the bar anymore? Your aren't allowed to. It's not like you'll be walking out on your bill should you want to relocate either, because you're expected to pay and tip before your drink even arrives.
Speaking of tipping on service before you even receive any service, we noticed that the Oga's Cantina Cast Members were some of the rudest that we've ever encountered. We had heard that the rudeness was an act to try and create a vibe of "scum and villainy" like you might have found at any other rough-and-tumble bar throughout the galaxy, but it was presented all wrong. We got the feeling that we were a nuisance and inconvenience to our servers, and they were extremely callus in their interactions with us. If the story of Oga's Cantina is meant to be unwelcoming, they certainly portray that. It was really tough to determine if the servers were simply trying to stay in some sort of character, or if they were so stressed out by the throughput demands that they were no doubt tasked with that they just weren't friendly. If the rudeness is part of an act, and if Disney wants to stick with that, we would like to see the Cast Members given the opportunity to "welcome" you with an in-story greeting along the lines of "look at this group of scum, which spaceport do you call home?" Just something to let you know that it's all an act, kind of like when "mom" comes over and tells you to get your elbows off the table and put away your phone at 50's Prime Time Cafe. It's in-story, and while some guests don't go for that type of thing, at least it's communicated that it's all an act.
On a more logistical note, Disney has just announced that beginning June 24th, guests who wish to visit Oga's Cantina will have to make a free, same-day reservation when they enter Disneyland Park. This is a different experience than what we went through on opening week, having to wait in hours-long lines to get an elbow space at the bar. While our initial thoughts and experiences are now outdated, you can still read them here, and our tips for the 4-hour reservation window here. Using a same-day reservation system via the website or mobile app will likely prove the be the best method of controlling crowds (and expectations) for Oga's Cantina. For more on that reservation system, check out our post detailing what operations will look like come June 24th.
Ok, with that out of the way, let's check out the drinks offered!
Alcoholic Concoctions
We'll start our drink review with the alcoholic concoctions. These are likely the reason that you'll be visiting Oga's Cantina. At Disneyland, this is the first time guests can order an alcoholic beverage at a bar since the park opened in 1955. For Disney's Hollywood Studios, the idea of an alcoholic drink for your day at the park is a little bit less unique, but there are some enjoyable drinks here that might just be worth your time.
Fuzzy Tauntaun – $15
Cîroc Peach Vodka, Bols Peach Schnapps, and Simply Orange® topped with Tangerine, Pure Cane Sugar, "Buzzz" Foam
We'll start with the Fuzzy Tauntaun. Right away this sticks out as a unique drinks thanks to the "Buzzz" foam sitting on top. It's a salt foam that actually sits on your tongue long after you've taken a sip. There's actually a definite tingling feeling that stays on your tongue while you enjoy this drink. The sensation almost gets to the point of a numbing feeling. It's extremely unique, especially for Disney. For that alone, it might be worth checking out.
As far as flavoring of the drink goes, you're going to notice the peach vodka immediately, with an overall citrus underbelly. It's a good drink and the presentation is definitely otherworldly.
Another fun and interesting tidbit about this drink is that it's literally an "in-canon" drink, having been mentioned in the Pirates Price novel that follows Han Solo, Chewie, and Hondo Ohnaka. Between a fun presentation, very unique foam palate adventure, and canon linkbacks, the Fuzzy Tauntaun earns a recommendation from us.
Jedi Mind Trick – $14
Ketel One Botanical Grapefruit & Rose Vodka, John D. Taylor's Velvet Falernum, Bols Blue Curaçao, White Grape Juice, Lime Juice, and Grapefruit Bitters
Next we have the Jedi Mind Trick. Despite it's colorful appearance, we didn't find this drink to be overly exotic. To be honest, it's a little bit bland as a result of the generous amounts of ice. We noticed some herbal flavors, but we didn't get the feeling that it was overly sweet. We certainly didn't notice the presence of any of the lime juice or anything that would produce a sweet flavoring. If you get a good sip, you'll notice a bit of a tangy, tropical vibe, but those are so few and far between that we can't recommend the Jedi Mind Trick.
T-16 Skyhopper – $15
Tito's Handmade Vodka, Bols Melon Liqueur, Kiwi, and Half & Half
We continue our tour of Oga's concoctions with the T-16 Skyhopper. The T-16 Skyhopper ship is defined by three distinct wings, formed in a triangle shape. I think the idea here was to create a drink with three distinct flavors, but we mainly just noticed the Bols Melon Liqueur. One thing that stuck out to us on the ingredients list was the half & half, as in the same half & half you'd put in your coffee. It can pair nicely with the kiwi on certain sips and adds a bit of cloudiness to the drink. That said, it's still a nice, sweet drink, that certainly gets the job done.
The Outer Rim – $16
Patrón Silver Tequila, Cedilla Açaí Liqueur, Lime Juice, and Pure Cane Sugar topped with Black Salt and Exotic Fruit Purée
This is probably the closest that you'll get to a margarita on Batuu, with fruity notes throughout. The winner here is the (mostly dissolved) exotic fruit puree. The "exotic fruit" comes out to be closer to mango than anything else, but it's very, very good – the highlight of the drink. A black salt "outer" rim adds to the margarita vibe, and the tequila is present enough to know that this is more than just a fruity drink. We can definitely recommend this for your visit to Oga's Cantina.
Dagobah Slug Slinger – $15
Herradura Reposado Tequila, Bols Blue Curaçao, Citrus Juices, Ginger, Herbs, and Bitters
Similar in appearance to the T-16 Skyhopper above, the Dagobah Slug Slinger provides a completely different taste. Whereas the T-16 was forward with a melon flavor, the Slug Slinger is almost more carbonated, with the ginger present in every sip. We'll notice the bitters come through here was well, with a tequila finish.
That said, this drink isn't for everyone. As a matter of fact, only one out of the six at our table "enjoyed" it, and that was mostly for the ginger coming through. Keep in mind here that it's garnished with rosemary, which is going to hit the nose as you progress through the drink. This is certainly not a sweet drink, and the rosemary adds an earthy, woody, evergreen scent that impacts the taste of the drink. With a two drink maximum and better offerings on the menu, you can safely skip the Dagobah Slug Slinger.
Bespin Fizz – $17
Bacardi Superior Rum, Yuzu Purée, Pomegranate Juice, White Cranberry Juice, and Cloud Swirl
The Bespin Fizz may be sold on Batuu, a planet which is supposed to be positioned "a long time ago, in a galaxy far, far away", but it's a pretty familiar take on the dry ice drinks that Disney has started to sell in the last year or so at Lamplight Lounge and last year's Incredible Tomorrowland Expo at Magic Kingdom.
Your mileage with the dry ice bubbling effect may vary, but ours was quite short-lived, barely even making it to the group shot pictured above. By the time it was ready for its close-up, the dry ice was a distant memory, and what's pictured below is what is left. The taste essentially comes out to be a red Gatorade, with a dry ice bubble or two occasionally making its way to the top. If you're able to get a good block of dry ice (delivered to the table quickly), you'll get even more of the fun bubbling effect while drinking. With a rum undertone, this may taste like a red Gatorade up front, but it ends up a drink that hides the alcohol pretty well behind the (hopefully) bubbling presentation.
Jet Juice – $14
Maker's Mark Bourbon, Ancho Reyes Chile Liqueur, Cedilla Açaí Liqueur, White Grape Juice, and Lemon Juice
For the on-the-go pilot who maybe doesn't have a lot of time to enjoy the full 45 minutes allowed in Oga's Cantina, there is the Jet Juice. It's the smallest vessel and pour of the bunch, but it might just pack the most punch.
As far as portion, this is essentially a large shot, best consumed over the course of a few sips. The mix of bourbon and liquors definitely seem like they're enough to fuel a jet. The Ancho Reyes Chile Liqueur in the mix gives a back tongue spice that doesn't linger, with the lemon juice giving a zing on the tongue. While this is certainly the drink that presents the most alcoholic flavors, it goes down "easy" thanks to the white grape juice and lemon juice. It's a really spectacular drink that's all liquor. We can recommend this drink, and while it's tough to say which two drinks you should get when visiting Oga's Cantina, we would make this a priority on return visits.
Yub Nub – $42 (Served in Souvenir Endor Mug)
Malibu Pineapple Rum, Sailor Jerry Spiced Rum, Citrus Juices, and Passion Fruit
We round out the specialty beverages with the Yub Nub, served in a souvenir Endor Mug. You aren't able to buy this without the souvenir mug, but why would you want to? The mug has some really awesome scenes that depict the battle of Endor.
Pineapple, rum, citrus, all the makings of a tiki drink which makes sense considering the mug its served in. You can see what appear to be popping boba on top, but it isn't. They are actually passion fruit seeds, but presented in a boba-type structure. They're odd, but shouldn't dissuade you from getting the drink. Overall, you're really here for the mug, and it's cool enough to earn a recommendation from us.
Rancor Beer Flight Souvenir Board with Four Teeth – $75
The thing we were looking forward to the most at Oga's Cantina was the Rancor Teeth beer flight. The appeal here wasn't so much the beers offered, but the souvenir flight and rancor teeth drink vessels. Of course, the beer flight offers the same beers as individually listed. We'll offer our thoughts on each of the beers below. Before we do that, we want to at least give Disney some credit here for going out to a variety of breweries to source what they considered to be some exotic beers. The breweries that Disney reached out to include Boston Beer, Sierra Nevada, New Belgium and Ballast Point. That said, it's frustrating that the combined brewing experience between all of these companies couldn't create a single great beer.
It's certainly a departure from their normal beer offerings, and it had to be something special for Star Wars: Galaxy's Edge. That said, it's not the first time we've seen Disney tread a bit off of the beaten path to provide guests with some better-than-average offerings. BaseLine Tap House at Disney's Hollywood Studios is a good example of Disney stepping outside of their Bud Light comfort zone and putting some interesting beers on tap. While this review is of the Disneyland location, Disney's Hollywood Studios should have a pretty robust beer lineup come August 29th.
Gold Squadron Lager – $12
(ABV 5.0%) Golden Lager with Lavender and Plum flavors. Blue Point Brewing Co., Patchogue
This typical lager tries to be more than a Bud Light, but it fails to do so. There aren't any distinct flavors that move this past just an average lager.
White Wampa Ale – $13
(ABV 4.5%) Classic Hefeweizen with Banana and Citrus Character, Ballast Point Brewing Co., San Diego
The White Wampa Ale is a hefeweizen by Ballast Point (who just opened their amazing brewery in Downtown Disney last year) and these guys know what they're doing, which is a shame that this beer isn't much better than it ultimately is. You'll find banana notes up front and a heavier ale than most.
Gamorrean Ale – $12
(ABV 5.8%) Red Ale with Roasted Caramel, Hop Character, and Touch of Grapefruit. New Belgium Brewing Co., Fort Collins
The Gamorrean Ale is a hoppier version than what we were expecting. You can tell that New Belgium Brewing Co. tried to take a fairly standard ale and add something extra to it. What results is an earthier, hoppier flavor as noted in the description. This is likely the best of the bunch, with the White Wampa Ale coming in second.
Bad Motivator IPA – $12
(ABV 6.0%) Tropical IPA with Galaxy and Comet Hops, Sierra Nevada Brewing Co., Chico
Despite the name, this doesn't really play like an IPA. It's actually a quite basic beer that walks the line closer to an ale than anything else, really.
Spice Runner Hard Cider – $11
(ABV 5.0%) Hard Apple Cider with Vibrant Red Color and Spices, Angry Orchard Cider Co., Walden
Another 'out of the way' partnership with a brewery, this time with Angry Orchard. These are the hard cider guys, one of the first and most popular ones out there. This hard cider was specifically made for the land and has a great cinnamon flavor upfront that lingers afterwards. It's not too different from the Angry Orchard Cinnful Apple variety available at your local grocer, but it's crisp and airy enough to get and enjoy from a tap.
Wine
Of course, we were limited to just two drinks each which means that we didn't get to the wine offerings on this visit, but here's a look at what you can expect.
Toniray – $13
Formerly produced on Alderaan, teal-colored, refreshing, crisp style, aroma characteristics of green apple and meyer lemon with flavors of juicy white peach, apricot and a hint of vanilla.
Imperial Guard – $16
Fully clad crimson-colored, nicely focused red cherry and raspberry aromas combined robust red berry fruit flavors, a touch of caramel, dark chocolate, and spice with long, supple tannins.
Non-Alcoholic Drinks
Cliff Dweller (Served in Souvenir Porg Mug) – $32
Citrus Juices, Coconut, Hibiscus-Grenadine, and Seagram's® Ginger Ale
Here it is, we've made it to the Porg Mug. It's $32 and doesn't contain an ounce of alcohol, but it's cool. It really doesn't matter what Disney put inside either of their souvenir mugs (or beer flights), because the vessels here are great. The porg is carved out of a tree, with the reverse of the mug showcasing the bark. Ok, enough about how cool the mug is and onto the drink.
The Cliff Dweller is essentially a citrus ginger ale drink with some added kick from coconut and grenadine. Certainly you're paying for the mug here, but the drink is refreshing. If only there was a way to add a shot of rum to the mix for an upcharge…
Hyperdrive (Punch It!) – $6
Powerade® Mountain Berry Blast, White Cranberry Juice, Black Cherry Purée, and Sprite®
An aptly named punch, as suggested by the name. A mix of blue Powerade, white cranberry juice, sprite, and black cherry puree, this one comes out a mix of blue and red making it look awesome. A little sweet with some carbonation from the Sprite included, it's a solid drink that tastes the part. That said, if you've been around Star Wars: Galaxy's Edge and had any of the many other Powerade-inspired drinks, this might not stick out as a unique enough option.
Jabba Juice – $6.50
Simply Orange® with Pineapple, Kiwi, Cantaloupe, and Blueberry Popping Pearls
Yup, those are boba balls floating around the murky mixture. They're supposed to be Worrt eggs. Yeah, the frog in the glass fish tank sitting up near the bar, that frog is a Worrt. The drink itself is a fruity mixture of pineapple, kiwi, and cantaloupe and the boba balls are blueberry. Get yourself past the stigma that the drink looks disgusting because it's quite tasty albeit a little thick from the pineapple juice. Just be prepared to get the boba out without a straw!
Of course, what kind of review would this be if we didn't actually show you the Worrt and its eggs?! Yeah, Disney did a great job of creating an atmosphere here that can be much more than meets the eye.
Blurrgfire – $7
Odwalla® Lemonade, Pomegranate Juice, and Habanero-Lime
The Blurrg are a two legged riding beast featured in a few episodes of The Clone Wars but originated from Endor. This drink brings together what the blurrg were known for: their ill temper and their usefulness for farming. Mixing lemonade, pomegranate juice, and a kick of habanero-lime, this drink hits the sweet and spicy notes really well.
Carbon Freeze – $7.50
Powerade® Lemon Lime and Wild Strawberry with Blueberry and Green Apple Popping Pearls
Han Solo not included. A dry ice drink, similar to the Bespin Fizz idea, but without alcohol this time. Instead it's a mix of yellow Powerade and wild strawberry flavor with blueberry and green apple boba balls. It fizzes over the top and bubbles the popping boba balls inside. It's a fun drink that doesn't necessarily hit all the flavor notes, but it's fun to hold and take pictures with. You can compare this photo with the photo above of the Bespin Fizz to see how much of a difference a quick delivery of the drink can make with regards to how much dry ice is left. Having dry ice makes all the difference, with an odd sensation of inhaling the carbon dioxide bubbling at the surface. It's unique and if you get a dry ice drink, try to request one that has a lot of dry ice in it. It won't change the flavor, but it is a really cool sensation.
Blue Bantha – $13
Blue Milk served chilled with Bantha-inspired Vanilla-Butter Sugar Cookie
While this drink may be photogenic with the cookie on top, that doesn't erase the fact that you're drinking blue milk. If you haven't already read our Milk Stand review of both Blue and Green milk, that's available here, but suffice it to say that we aren't fans. This is, perhaps, an even worse implementation of the drink, as it's not frozen at all, just chilled a bit. Overall, the cookie on top is interesting, but not nearly interesting enough to get us to surrender $13 again.
Provisions
Oga's Obsession – $7.50
Odwalla® Lemonade, Cotton Candy Flavor, and Blueberry Popping Pearls with a bursting Dried Fruit Mixture
Get it. Don't think about it, just get it. It's a jello mixture with boba balls inside, there's lemonade and cotton candy flavor mixed with the blueberry boba balls. It's topped with pop rocks. It's the most unique food offering in the land and again, something that feels Star Wars.
Snack
Batuu Bits – $8
a light crisp Snack Mix from the galaxy
We didn't get a chance to try the Batuu Bits before our 45 minutes were over, but I can't imagine it would produce better results than a Ronto Wrap. Save your money and stick to a few drinks as recommended above.
Breakfast – Concoctions with Alcohol
We didn't get to the breakfast offerings due to the impossibly difficult availability, but here's a rundown of the alcoholic offerings. We'll be sure to update this review once we get a chance to return.
Spiran Caf – $16
Peru Alto Mayo Organic Joffrey's Coffee®, Orange Marmalade, Gosling's 151 Rum, Vanilla Whipped Cream, and Citrus Zest
Bloody Rancor – $17
Tito's Handmade Vodka, Ancho Reyes Chile Liqueur, Spicy Bloody Mary Mix, and Rancor Bone
---
Thank you for reading our Oga's Cantina review! If there is anything we missed that you're interested in, please reach out in the comments below or on Facebook or Twitter.