We made it out to Epcot recently to find not one, but two meet and greet areas under construction in the Imagination pavilion. While Disney has already announced what one of them will be, the second remains a mystery that we can speculate about. We'll start with the known meet and greet under construction.
Mickey Mouse Meet and Greet
A new Mickey Mouse meet and greet is coming to the queue of the Pixar Short Film Festival section of the Imagination pavilion. This one is really easy to find the construction site for as it was described by Disney to be "just inside the entrance" of the Pixar Short Film Festival queue. Mickey's imagination has led to a career in the movies for 90 years and counting, featuring roles in dozens of short films such as "Get A Horse" which you can enjoy as part of the festival.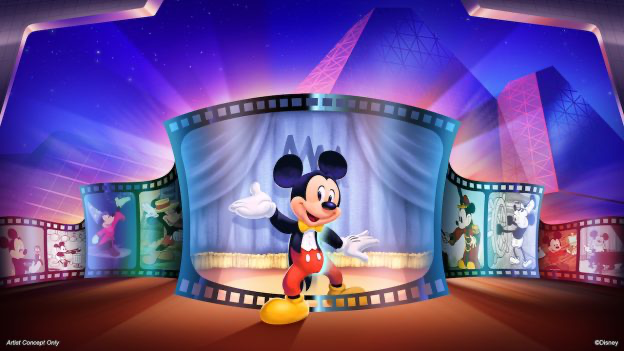 Here's a look at the area cordoned off for the new Mickey Mouse meet and greet.
Mystery Meet and Greet
The second area of construction takes place in the Imageworks section of the Imagination pavilion and is a bit more mysterious. Disney hasn't announced any character additions to the Imagination pavilion, but we can use a process of elimination to try and figure out who will be new neighbors with Ralph and Vanellope.
Back when the temporary Character Spot was announced and opened, Disney also announced that these characters would be moving out eventually, with Mickey heading to the Imagination pavilion as explored above, Minnie heading out to the World Showplace gazebo, and Goofy plans on "venturing out into the park" when they are evicted from their temporary location when demolition comes to Innoventions West.
With those characters accounted for, that leaves Joy and Sadness, and Baymax as the only other characters in a building slated for demolition. Of those characters, it's most likely that Joy would be on the move to the new character location under construction and seen below.
That said, it looks to be quite a "light" meet and greet when compared to the quite impressively themed Ralph and Vanellope meet and greet nearby.
As always, keep checking back with us here at BlogMickey.com as we continue to keep an eye on this and many more ongoing projects from around the Disney Parks.