You'd be forgiven if you forgot about the PLAY! Pavilion. It almost feels like Disney has as well. As a reminder, the PLAY! Pavilion was billed as a space to learn and play at EPCOT. The PLAY! Pavilion is taking over the old Wonders of Life Pavilion, but with radio silence from Disney on the project for years, many guests are wondering what the status of the project is.
While we aren't able to give a status of the project today, we can see that Disney has installed new construction walls as they get ready to expand the walkable area in World Discovery. As seen from the EPCOT monorail, a second construction wall has been installed behind the current construction wall. This will ensure that the area remains fenced off from guests as Disney presumably continues to work on the PLAY! Pavilion.
Here's an overview of a portion of World Discovery as seen on the Disney World digital maps. As you can see, pathways will soon open up around Cosmic Rewind, but the walkway to the PLAY! Pavilion will remain blocked.
Here's a look at concept art for the PLAY! Pavilion exterior.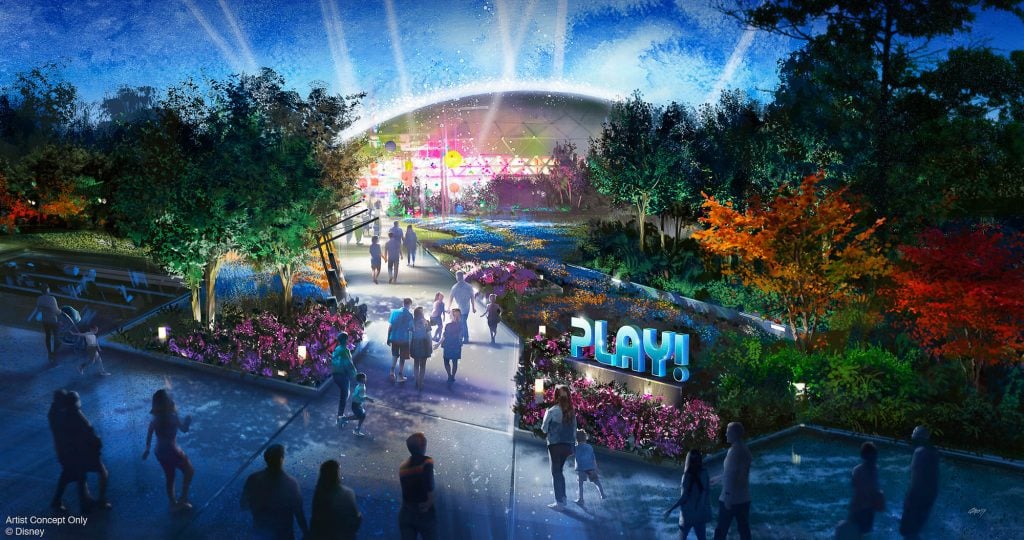 For more on the PLAY! Pavilion, check out our overview article below.
As always, keep checking back with us here at BlogMickey.com as we continue to bring you the latest news, photos, and info from around the Disney Parks!