Showtime A(P)-holes! The galaxy needs saving and Disney World is turning to its Annual Passholders in the weeks leading up to the May 27th grand opening. We attended the first Annual Passholder preview on May 8th and we wanted to put together a guide and detail our experience during the preview. While we'll discuss our thoughts on the attraction in a later article, we're going to try and answer some of the questions we got with regards to the Annual Passholder preview experience.
Do You Need a Disney Park Pass Reservation?
No. Each valid registration received a Disney Park Pass to EPCOT as part of the registration process and you should see it added to your My Disney Experience account a few days ahead of your preview date.
How Do You Sign Up?
Oh boy. We've got bad news. Annual Passholder preview registration opened and filled up in about 90 minutes back on April 14th. If you don't have a valid registration, there is no way to get in now.
Check-In
When you signed up for your Annual Passholder preview you were given a window to experience the ride. We'll talk about re-rides in a bit, but suffice it to say that the window you have in your preview email is your check-in window, not your preview window.
To check-in, make your way to World Discovery. If you're not sure what World Discovery is, just walk towards the plaza that connects Mission: SPACE and Test Track. Guardians of the Galaxy: Cosmic Rewind will be to your left. If you've ever been to the Future World East Joffrey's Coffee kiosk, that's where you'll want to head.
When checking in, make sure that you have your park media (MagicBand, MagicMobile, physical card, etc) for a Cast Member to scan. Cast are also advising that you have the email pulled up on your phone should there be any discrepancies. We saw some Passholders print off the email, but that seems like overkill a bit.
When Can You Ride?
In short, whenever you want! Once you get into the Guardians of the Galaxy: Cosmic Rewind courtyard (aka past the hedges and the Cast Members working diligently to secure the perimeter), you are in and can start to have fun! Cast Members weren't letting anyone in before their experience window (that we saw).
Can You Re-Ride?
UPDATE: Disney has not allowed re-rides since the first preview. Cast Members are scanning MagicBands or cards at the entrance to ensure everyone only rides once. Annual Passholders who attended the May 8th preview were allowed as many re-rides as they liked. Our original article continues below.
---
YES! Well, probably…maybe. We asked multiple Cast Members and managers if re-rides were allowed and they all gave the same answer: as long as the line doesn't get too long. Cosmic Rewind operated wonderfully yesterday, and while there was definitely an overflow queue that made the lines look long, that's more of a function of the building not having enough queue capacity than any issues with the ride. We've experienced extended downtime of more than an hour in the past, but the ride was running smoothly yesterday.
So, if the ride is running well, Cast Members will enthusiastically welcome you back to re-ride and continue your afternoon of fun! During our preview, there was no wristband distribution or anything that would indicate what experience window you were assigned.
Is the Treasures of Xandar Gift Shop Open?
No. The Treasures of Xandar gift shop for Guardians of the Galaxy: Cosmic Rewind will not be open during previews. It's likely, but unconfirmed, that there were supply chain struggles and that Disney is holding back merchandise to ensure that there is enough for opening day on May 27th.
Is There PhotoPass?
Yes! There are PhotoPass photographers stationed in front of the 51-foot-tall Starblaster ship in front of the attraction. This is a popular photo-op location, so you will likely encounter a line.
Unfortunately, managers with the PhotoPass service were telling guests that on-ride photos won't be available until the ride officially opens on May 27th.
UPDATE: On-ride photos are now working during previews.
Can I Leave and Come Back?
No. Cast Members were letting guests know that once you exit the courtyard and pass through the hedges to the rest of EPCOT, you will not be able to reenter the preview experience. It seemed like Cast Members were making exceptions for guests who had to use the restroom though. The nearest restroom is in Connections Eatery, which will be perfectly fine for normal operations, but Connections Eatery is outside of the preview experience perimeter. THERE ARE NO FOOD OR DRINKS SOLD INSIDE THE PREVIEW. There is a single water fountain in the courtyard within the preview experience perimeter.
If you have to leave the preview experience perimeter for any reason, we would recommend speaking with a Cast Member first. Also, if your traveling party is more than just you, we would recommend keeping the rest of your party within the preview experience perimeter.
Expected Wait Times
So, what were wait times like during the Annual Passholder preview of Guardians of the Galaxy: Cosmic Rewind? We rode 8 times during the preview and noticed a variety of wait times. When we first arrived for our 12pm arrival window, there were a few hundred Passholders ahead of us as the queue to enter snaked around the exterior of Connections Cafe & Eatery and made its way back towards Spaceship Earth. It was a long line of people, but because the attraction is so efficient, you'll likely find yourself constantly moving.
As more and more preview windows arrive, the line will inevitably grow to use the outdoor overflow queue next to the building. The overflow queue is unforgiving and hot. We hope that Disney adds some umbrellas to the mix shortly (UPDATE: They did). Bring water and maybe an umbrella.
Ok, so, wait times. The building holds about 30 minutes worth of queue before you reach the start of the pre-show. The outdoor overflow queue probably holds about 45 minutes' worth of guests. In total, our longest wait from the outdoor queue to the start of the pre-show was 45 minutes. The Lightning Lane is open to guests needing special DAS accommodations, otherwise, everyone uses the standby queue (even re-rides).
We would plan for each ride experience to take about an hour when the ride is operating smoothly during the Annual Passholder previews.
It's worth noting that this is a preview experience, and the ability to ride is not guaranteed.
For more on Guardians of the Galaxy: Cosmic Rewind, check out our project page below!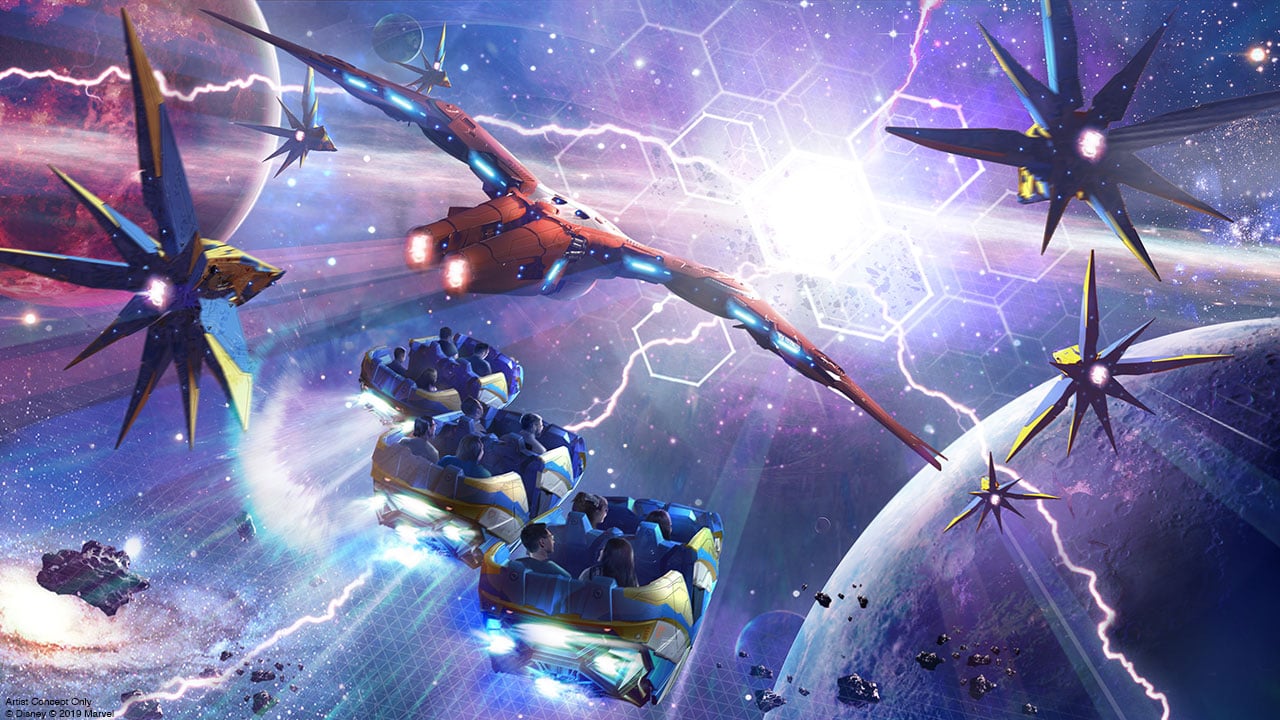 As always, keep checking back with us here at BlogMickey.com as we continue to bring you the latest news, photos, and info from around the Disney Parks!