Welcome to our Guardians of the Galaxy Cosmic Rewind review! In this article, we'll discuss our thoughts on EPCOT's newest ride and what you can expect when it opens on May 27th. Cosmic Rewind represents a few "firsts" such as EPCOT's first roller coaster, the first reverse launch roller coaster in a Disney park, and (most importantly) the first Marvel attraction at Walt Disney World. With Annual Passholders getting a first look preview for the next couple of weeks, we wanted to release our Guardians of the Galaxy Cosmic Rewind review.
Guardians of the Galaxy Cosmic Rewind Review
I think that reviewing something like this is a bit tough to do without spoilers, so we will be talking about things that would definitely be considered spoilers such as attraction storylines and even a really cool special effect in the pre-show. We'll have a more spoiler-free guide once we experience the attraction more over the course of the preview period, but for right now we aren't going to declare this article spoiler-free.
If you're looking for info on Guardians of the Galaxy: Cosmic Rewind motion sickness, check out our article below!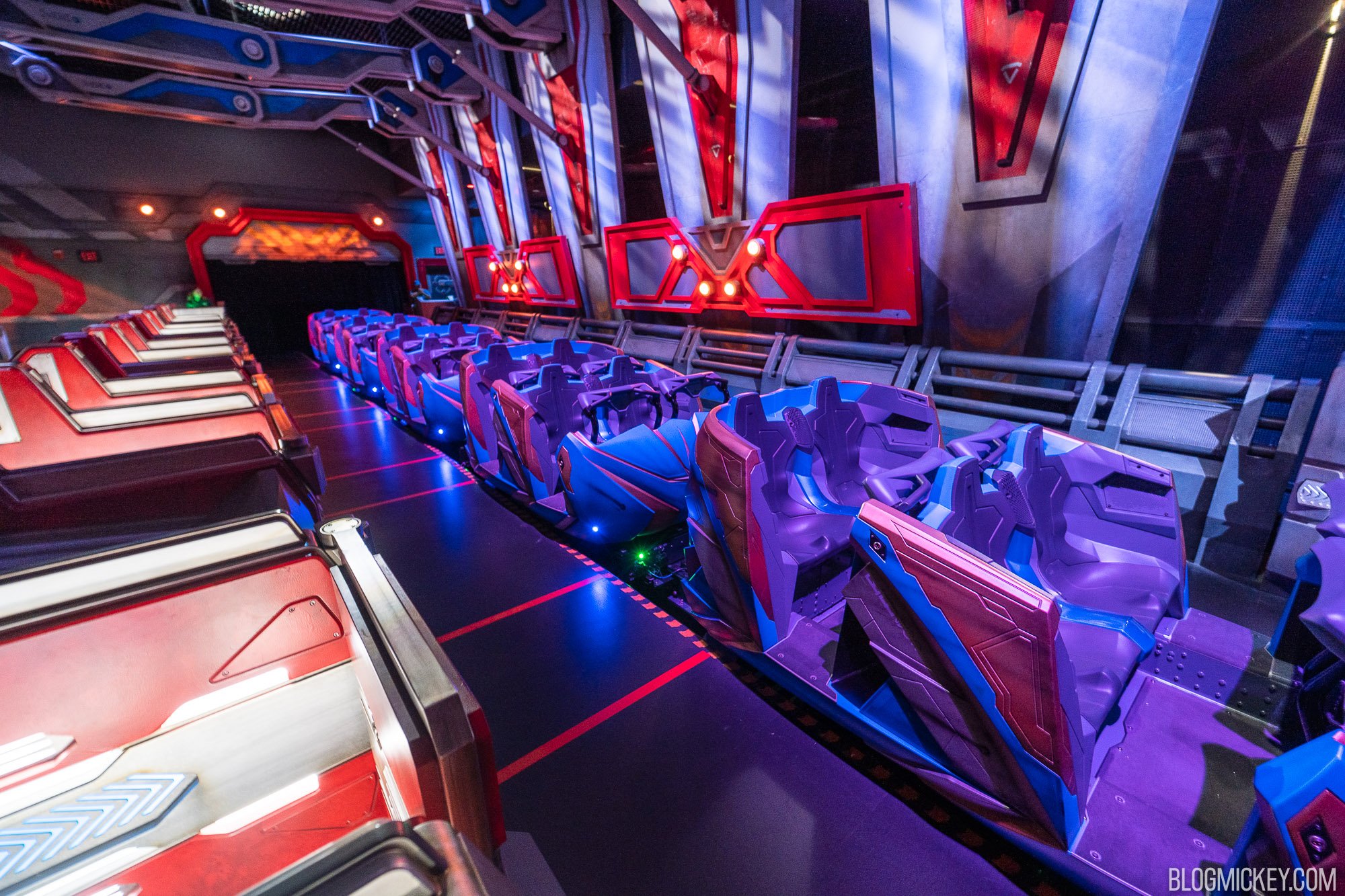 Galaxarium and Xandar Gallery
Taking over the old Universe of Energy Pavilion shell, the similarities to the former attraction stop after you go through the automatic doors and a sign welcomes you to the Wonders of Xandar Pavilion. Yes, there are nods to the former attraction and even some great deep cuts for eagle-eyed fans, but this really is a brand new experience in a relatively old structure. At a rumored price tag of $450+ million, we'd expect very little to be reused from a building that has been in use since 1982. Nothing here feels old, is what we're trying to say.
The first room that you'll experience, the Galaxarium, is also the biggest room in the building with the exception of the load area. A large dome demands your attention and while this part of the queue doesn't contain any critical information for your upcoming adventure, there will be plenty to look at and enjoy during the 30-minute looping video.
Worldmind, a Xandarian supercomputer, narrates this portion of the queue. It's not remotely important to know this once you're seated on the ride, but Worldmind holds the collective knowledge, memory, and experience of all the Xandarian people. We even get to experience some of the Edutainment elements that we wrote about back in 2019. Most notably, we get our first mention of the Big Bang here, as well as learning facts about the Andromeda galaxy that Xandar resides in. Worldmind even mentions The Golden Record that was sent into space for other species to find as part of the real-world Voyager deep space missions.
Like most parts of the queue, this doesn't feel forced and feels like it belongs in EPCOT.
It's worth noting that guests using Individual Lightning Lane will see this portion of the queue, although it should be briefer than guests who are waiting in what amounts to the "standby" queue (although Virtual Queue will be in use when the attraction opens to guests and a standby line will not be an option).
Unless there is a breakdown of the ride, guests shouldn't be in this part of the queue for more than 15-20 minutes, but we'll know more about actual operational efficiency as previews continue and opening day approaches.
A short, Space Mountain-esque ramp continues our upward climb from ground level up one story to the Xandar Gallery. The Xandar Gallery is meant to help Terrans (that's you) learn more about Xandar. This area acts as a transition point between the Galaxarium and the Xandar Gallery.
This gallery reminded us a bit of Test Track in the sense that you get to wind between various models before getting to a holding room for a pre-show. Of course, instead of futuristic cars, you're looking at a model of one of the cities on the planet Xandar or learning more about the Xandarian people. We'll have an article later that will talk about the dozen+ easter eggs in the queue and on the ride, but the gallery is another place where you'll want to keep your eyes peeled. If the Galaxarium is a mostly passive experience with a chill vibe, the Gallery is where you'll want to start paying attention.
As an aside (and an excuse to take more photos), we love the scale models in the queue. We've waited hours to photograph a scale model of "A Bugs Land" at Disney California Adventure, The EPCOT Experience and Walt Disney Presents were/are always must-dos for us, and no trip to Magic Kingdom is complete without a viewing of the Progress City on the PeopleMover, so this is an official petition to continue using scale models in the parks.
The model is extremely detailed and there are some phenomenal projection mapping effects that highlight different parts of the city. The accuracy and vibrancy of the projection mapping here is almost a bit of foreshadowing of what we'll experience on the ride. If The EPCOT Experience was a temporary assignment for Walt Disney Imagineers, this model is the end of the year project. We only wish that we had more time with the model, and I think you will too!
Again, we get Edutainment elements here with regards to city planning and design. At times, this part of the queue and the show writing feels like a natural extension of the EPCOT design idea presented by Walt Disney decades ago.
Overall, the queue does a really good job of accomplishing what it sets out to do. The Wonders of Xandar Pavilion is billed as EPCOT's first-ever "Other-World Showcase Pavilion". This phrase plays to the idea of traditional World Showcase Pavilions such as Morocco, Japan, or France. Instead of a country showcasing its culture, it's an entirely different species doing so. Poetically, we end up learning that we aren't so different from Xandarians, just like people around the world aren't so different. That said, just like the pavilions around World Showcase Lagoon, the Wonders of Xandar balances the message of "we are one" while still showcasing what makes them unique.
Overall, we enjoyed the relaxing vibes of the Galaxarium and really enjoyed the Xandar Gallery. We like to think of the Xandar Gallery as a smart switchback. Typically, walking back and forth past the same guests is boring, repetitive, and unimaginatve. While you will find yourself walking back and forth past the same guests, you will also find yourself walking back and forth past the same model or video. We think that this is actually a good thing given how much there is to see in the Gallery without it feeling boring or repetitive.
What struck us as odd is how little space there seemed to be in the queue. During the inital Annual Passholder preview, an overflow queue was used outside of the building. This isn't because there was a flood of guests or the ride was breaking down often. Instead, it's because of how little indoor queue there really is. If operations are smooth, there's probably about 30-40 minutes of interior queue space at most. We actually found ourselves wanting to slow down through the queue to enjoy the Xandar Gallery, but because the next room was a waiting room with a capacity of 140 people being filled every 4-7 minutes, there is very little time to sit and watch a video or admire details of a mini city.
Welcome Center and Phase Chamber Pre-Show Rooms
Before we get to the welcome center, we enter this holding chamber. You're only going to be here for a few minutes, but the vibe of the Galaxarium continues in this room. This room kicks off a series of three rooms in a row that a maximum of 140 people at a time will be pushed through.
After a few minutes, we're ushered into the Welcome Center where Glenn Close reprises her role as Nova Prime Irani Rael. Rael is the leader of the Nova Corps and she is charged with protecting the Xandarian people from threats while serving as an emissary of peace through understanding across the galaxy. In this particular moment, she is able to embrace the role of emissary of peace as she talks about the shared history that Terrans have with the Xandarian culture.
The vibe of a shared experience between Xandarians and Terrans continues in this pre-show, including the acknowledgment that we're all born of the same moment – the Big Bang. To be in the former Universe of Energy Pavilion and have a storyline that (we'll find out) relies on the event of the Big Bang is a fun nod that, importantly, doesn't feel forced.
We'll take a moment to say that the video feels very EPCOT-y with a dash of Dino Institute. We really can't stress how pitch perfect the video is. Pre-shows can really be hit or miss, especially for repeat guests, but this welcome center video was always enjoyable and played really well to the crowd.
The Xandarians are here to share their technology with Terra and a partnership of future exploration feels hopeful and optimistic. We're told that our tour of the Wonders of Xandar pavilion will culminate in teleportation from EPCOT to a Starcharter Nova Corps ship hovering in outer space above Earth. While on the ship, we're promised an unforgettable experience as Xandarians demonstrate the power of the all-important Cosmic Generator that makes the Universal Neural Teleportation Network possible. For fans of the movies, this actually provides a backstory for a concept that we saw play out on the big screen and never got to fully explore.
Before we enter the Phase Chamber, we're introduced to Centurion Tal Marik (played by Terry Crews). Marik is the Commander of the Starcharter, leader of the Nova Corps peacekeeping efforts, and close advisor to Nova Prime. This character was created specifically for Cosmic Rewind and acts as the verbal muscle for Nova Prime, although our first encounter with Marik is comical as he ponders what to call the EPCOT Terrans. A quick bit of operational housekeeping and we're off to the Phase Chamber.
The Phase Chamber is a circular, nondescript room aside from the giant teleportation window that draws your eyes to the ceiling.
The Phase Chamber is the big "WOW" moment of the queue and pre-show experience. In recent years, Disney has created some really cool moments in their pre-shows. Of course, the first one that might come to mind is the Star Destroyer reveal during the Rise of the Resistance ride at Disney's Hollywood Studios. Another wow moment involves a critical point in Mickey and Minnie's Runaway Railway that actually invites guests to step into the cartoon world…literally! The Phase Chamber is another great example of Walt Disney Imagineering taking an opportunity to create a moment within an attraction experience that doesn't rely on the ride itself. We were impressed with the Phase Chamber transformation, even if the logistics are understood more on subsequent rides.
In this case, the Phase Chamber does an impressive job of teleporting guests from Earth to the Starcharter Nova Cruiser. As we described in our early description of the pre-show, we're essentially dealing with two elements to pull off this impressive effect. It's not necessary to detail how the effect is done, just that it is impressive and a true wow moment that allows you to suspend disbelief as much or even more so than during Rise of the Resistance.
Backstory, Villain, and Adventure
Now that we're on the Starcharter ship, we are finally ready for the demonstration of the Cosmic Generator that we were promised in the Welcome Center room back on Terra. Nova Prime and Tal Marik are seen on screens to the left of a giant window that looks out into space. The Cosmic Generator is seen in a corner of the room, ready for a demonstration.
As the demonstration is ready to begin, power is cut to the Nova Cruiser and the Cosmic Generator disappears from a display case in the room. Flashing red lights and alarms do a good job of catching everyone's attention in the room and Centurion Tal Marik is instructed to call the Guardians of the Galaxy into action. Classic Guardians humor is employed as we get our first look at Eson, a celestial god that aims to "erase" all Terrans after declaring humanity a "failed species". As we watch Earth get pulled into a "mutant jump point" that creates a tunnel between time, instead of a tunnel between space, hope seems to be lost by Malik as he informs the Guardians that the entire Nova Corps fleet is unusable due to the power loss from the Cosmic Generator.
As the pace of the experience begins to pick up, the villain has been introduced and the stakes are set for the Guardians to take action. Instead of using our Starjumpers as escape pods, Rocket modifies our ride vehicles to follow Eson into the closing jump point as we wait for the Guardians to arrive and take on the celestial. We're ushered out of the second pre-show room and down a hallway to eventually board our vehicle.
Much like Toy Story Mania, an elevated walkway passes over the ride tracks as we make our way to a dual-load station. A dual-load station is brilliant here, and Cast Members have the option to create enough parties to ensure that each train gets to 100% capacity most of the time.
The hourly capacity of this attraction should be anywhere from 2,000 to 2,300 guests, depending on how quickly the ride can be dispatched and assuming that it is operating smoothly. At that rate, this attraction should be a "people eater" – meaning it can get through a lot of riders per hour and give more guests a chance to ride it during any given day.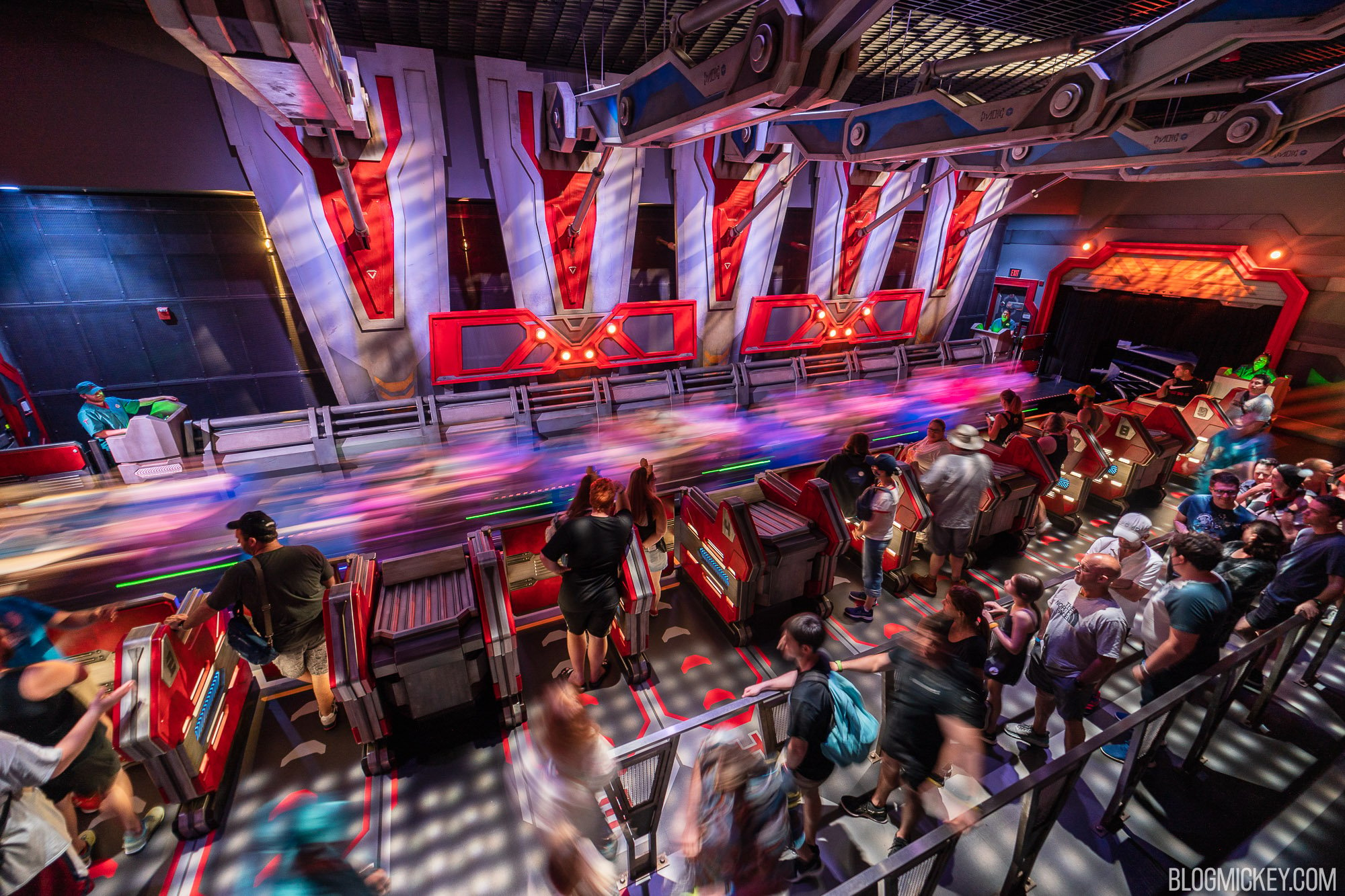 Cosmic Rewind Ride Story Review
We'll break the ride review into two portions. First is the storyline for the ride and then we'll talk a bit more about logistics. As has been established, we're on a mission with the Guardians of the Galaxy to follow Eson through Jump Points to stop him from destroying humanity.
Just like Dinosaur, or Disneyland's Space Mountain, we have some time to establish a bit of story before we jump into the chaos of the thrill ride. We're happy to see all of the Guardians of the Galaxy (Star-Lord, Gamora, Drax, Groot, and Rocket) back along for the journey and represented mostly in the onboard audio. Just like in the queue and pre-show, you'll have a smart mix of serious Galaxy-saving discourse and unique humor that we found ourselves laughing along to more than once during the 3-minute ride.
After making our way out of an airlock and into open space, we find the mutant jump point is almost closed – only large enough for our Starjumpers to make it through and come face-to-face with Eson for the first time in outer space. The Guardians are close behind us and as they knock the Cosmic Generator out of his hand, we're thrown back in time…all the way back to the Big Bang!
After the backward launch, what ensues is essentially an intergalactic chase through time and space as the Guardians work to get the Cosmic Generator back to Xandar and us back to EPCOT. The storyline is actually well thought out and the projection elements play well throughout the ride. We're going to step outside of the Walt Disney World theme park and compare Cosmic Rewind to a roller coaster at Universal's Islands of Adventures – Hagrid's Magical Creatures Motorbike Adventure. Just like most comparisons that we attempt with Cosmic Rewind, there isn't an exact match to other rides. In this comparison, we want to note that after the backward launch, you will not find yourself slowing down for a show scene until the ride is over. This is not like Hagrid's in the sense that the pacing of Cosmic Rewind still feels like a roller coaster, and not a "Storycoaster" as Disney has tried to use in blurbs in the leadup to opening day.
That said, the use of massive projection walls allows the scene to actually follow you! We'll talk more about the mechanics of the ride system after we take a look at the Guardians of the Galaxy: Cosmic Rewind soundtrack.
Cosmic Rewind Soundtrack
There are six songs on Guardians of the Galaxy: Cosmic Rewind at EPCOT. Just like Mission: BREAKOUT at Disney California Adventure, the songs are randomized and guests can not request a song. Here's the song list:
Conga by Gloria Estefan
Disco Inferno by The Trammps
Everybody Wants to Rule the World by Tears for Fears
I Ran (So Far Away) by A Flock of Seagulls
One Way or Another by Blondie
September by Earth, Wind & Fire
Of course, because you can't choose or request a song, it would be absolutely pointless to rank the songs. Here's our ranking:
Disco Inferno
September
Conga
Everybody Wants to Rule the World
One Way or Another
I Ran (So Far Away)
Before we move on to talk about the actual roller coaster and effects, we wanted to make a quick note about the songs. While most of them work wonderfully with the attraction, you will undoubtedly have your favorites. In our opinion, variability in an attraction experience can be one factor that would increase the re-rideability of the attraction. That said, with limitations such as a single access Boarding Group via the Virtual Queue, or a one-and-done skip-the-line pass via Individual Lightning Lane, the variability that was an asset for the re-rideability of an attraction can soon turn into a negative experience if you don't get the song you want.
Ultimately, we would love to see a way to choose a song, but we'd also settle for opening up a standby queue to allow guests to at least make the decision to re-ride if they want to try and experience their favorite song.
Cosmic Rewind Coaster and Effects Review
Before we offer our closing thoughts, we wanted to talk about the ride experience and the effects that you'll see on the Guardians of the Galaxy coaster.
We'll start with the good. The entire length of the track is incredibly smooth. This is not a rough ride like Space Mountain, and there aren't really any extreme forces put on your body like on Expedition Everest. Instead, we find ourselves somewhere in between Slinky Dog Dash and Expedition Everest in terms of intensity.
Disney bills this as a "family-thrill coaster" and while I'm generally inclined to believe them (with an emphasis on thrill), I think that there should be some caution here. We're probably closer to the Expedition Everest side of things than we are to the Slinky Dog Dash or Seven Dwarfs Mine Train side of things. It really is tough to place Cosmic Rewind on the roller coaster scale. It has elements of Space Mountain in it thanks to the darkness (and resulting disorientation), but it's much smoother. It has a smooth launch like Slinky Dog Dash, but you're doing it backward which makes it a unique sensation. It has vehicle movement like Seven Dwarfs Mine Train or the former Primeval Whirl, but it's controlled and intentional. It has helix elements like Expedition Everest, but they don't exert as much force on your body. Even the backward launch, while similar to Everest's backward turn, isn't nearly as bad on the body thanks to the smoothness and the fact that the vehicle spins to ease forces.
The ride motion really feels like skiing or skating through space. Smooth rotations into turns feel like a drift into a turn but because you aren't hitting a turn straight-on, the forces on your body are unique and, really, quite easy compared to a traditional roller coaster. The omnicoaster movement here is not a "teacups" approach. You are not spinning wildly, and you don't even make a single full rotation throughout the ride.
For as accessible as the rotation makes the roller coaster in terms of force on your body, it is a catch-22 because that very same rotation can lead to some very serious motion sickness. Cast Members that we spoke with said that they will put guests with motion sickness concerns in one of the middle cars, and suggest they sit in the left seat, which has fewer g-forces. We'll have another article talking about motion sickness and what we did to combat it on our dozen of rides, but our biggest piece of advice is to talk with Cast Members. They were all very knowledgeable on not only what the ride is capable of doing to people, but also how to minimize the effects of the unique ride system.
See that giant speaker between the seats? That's the onboard audio system – something that we don't get a lot of for Walt Disney World roller coasters and something that we wish would be standard (and retrofitted). The soundtrack is clean and easy to hear as you zip through the massive show building. If there was anything that we think could be improved from an audio perspective, it would be to bump up the audio from the voices of the Guardians because there are some wonderful jokes that we missed on our first ride through.
Finally, there are massive, and I mean massive projection walls. While we can't quite see it in this construction photo, there is a wall that runs not only the full length of the winding track on the right side of the photo but actually starts to the left of the photo, wrapping behind the photographer and down the length of the track. Our rough estimate is that this screen is something like 300′ in length from end to end. A football field-sized screen is as imposing as it is impressive and it really translates well during the experience because you aren't flying past the action like you would in Hyperspace Mountain in Disneyland or countless other indoor roller coasters, but you're flying with the action as it follows you through the building.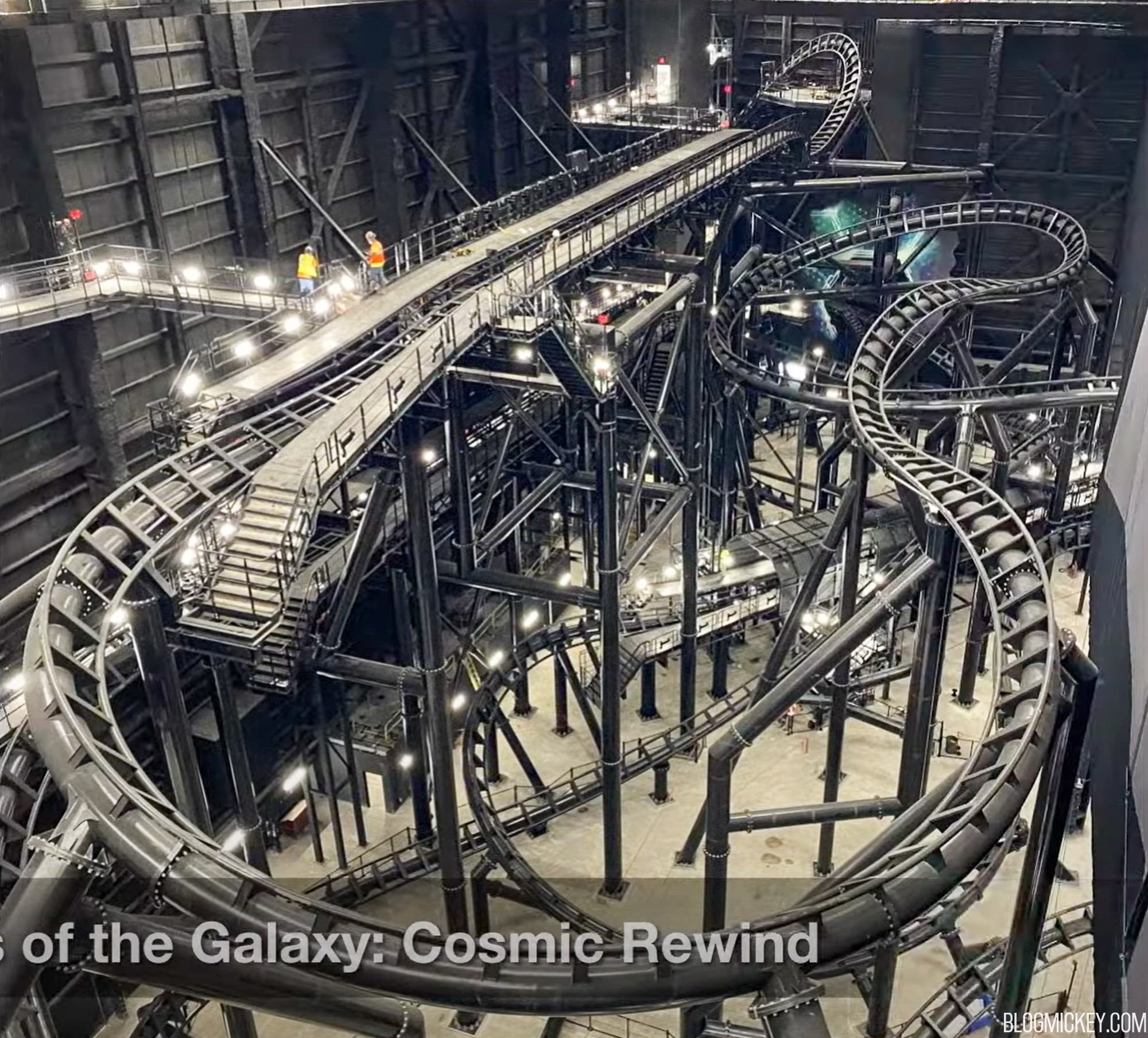 While we enjoyed most of the projection surfaces, we didn't enjoy all of them. For whatever reason, we think that Disney cheaped out a bit on the initial scene before the backward launch. While the gravity building does make you feel like you're in outer space, the initial projection room feels like just that – a room. We go from a smaller room where there is a wonderful, physical star field effect to a room with a flat wall. We wish Disney could've continued the star field effect through the jump point and into that first encounter with Eson to continue the immersive "space" feel.
One thing that we will note before our closing thoughts is the crispness of the projection units that Disney is utilizing. It's clear that you're on a roller coaster moving through a building with projection walls, but Disney really continued their excellent sourcing of projection units to ensure that the images rendered were believable.
Closing Thoughts
As we close out our initial Guardians of the Galaxy: Cosmic Rewind review, we wanted to provide some overall thoughts on the attraction. While we got into the weeds a bit in our review of specific elements, we still think that the Cosmic Rewind experience, as a whole, is going to be one of the top rides at Disney World. We're big fans of the Guardians of the Galaxy franchise and Cosmic Rewind feels like a wonderful addition to the existing theme park implementation already found with Mission BREAKOUT. The movies are fun and irreverent in the best possible way, and so is Cosmic Rewind.
Thinking back to the movies, this ride itself feels like we're in an opening sequence akin to Guardians of the Galaxy Volume 2. There is overwhelming action, fun music, and entrancing visuals. You're along for the ride knowing that the Guardians will prevail and you'll be smiling and singing along while drifting through space.
There has been a lot of talk about if Cosmic Rewind fits in EPCOT and I'm not sure if we can answer that if EPCOT isn't fully defined yet. Just like Disney's Hollywood Studios and Disney California Adventure, there are multiple versions of EPCOT that have existed over the years. You can't compare the EPCOT of the '80s or '90s to an EPCOT 25+ years removed from that era. Simply put, Cosmic Rewind fits into the future vision of EPCOT. It's a perfect fit for World Discovery, which houses Mission: SPACE and Test Track. Edutainment elements are present just like what you'd find in the queues for the other World Discovery attractions, and there is plenty of thrill for the actual ride element too. We'd wager that you'll actually be surprised with how thrilling Guardians of the Galaxy: Cosmic Rewind is!
We think Cosmic Rewind is a wonderful addition to EPCOT and it's something that the vast, vast majority of visitors will enjoy. It's thrilling, there's some Edutainment (more so than some older EPCOT attractions), there are wonderful queue effects, and most importantly it's fun!