Disney H2O Glow After Hours has returned to Disney's Typhoon Lagoon water park for Summer 2023. Typhoon Lagoon comes alive after the sun sets on select nights throughout the summer as part of the After Hours series of events at the Walt Disney World Resort. In this article, we'll combine a guide and review of the opening night of the event. Let's dive in!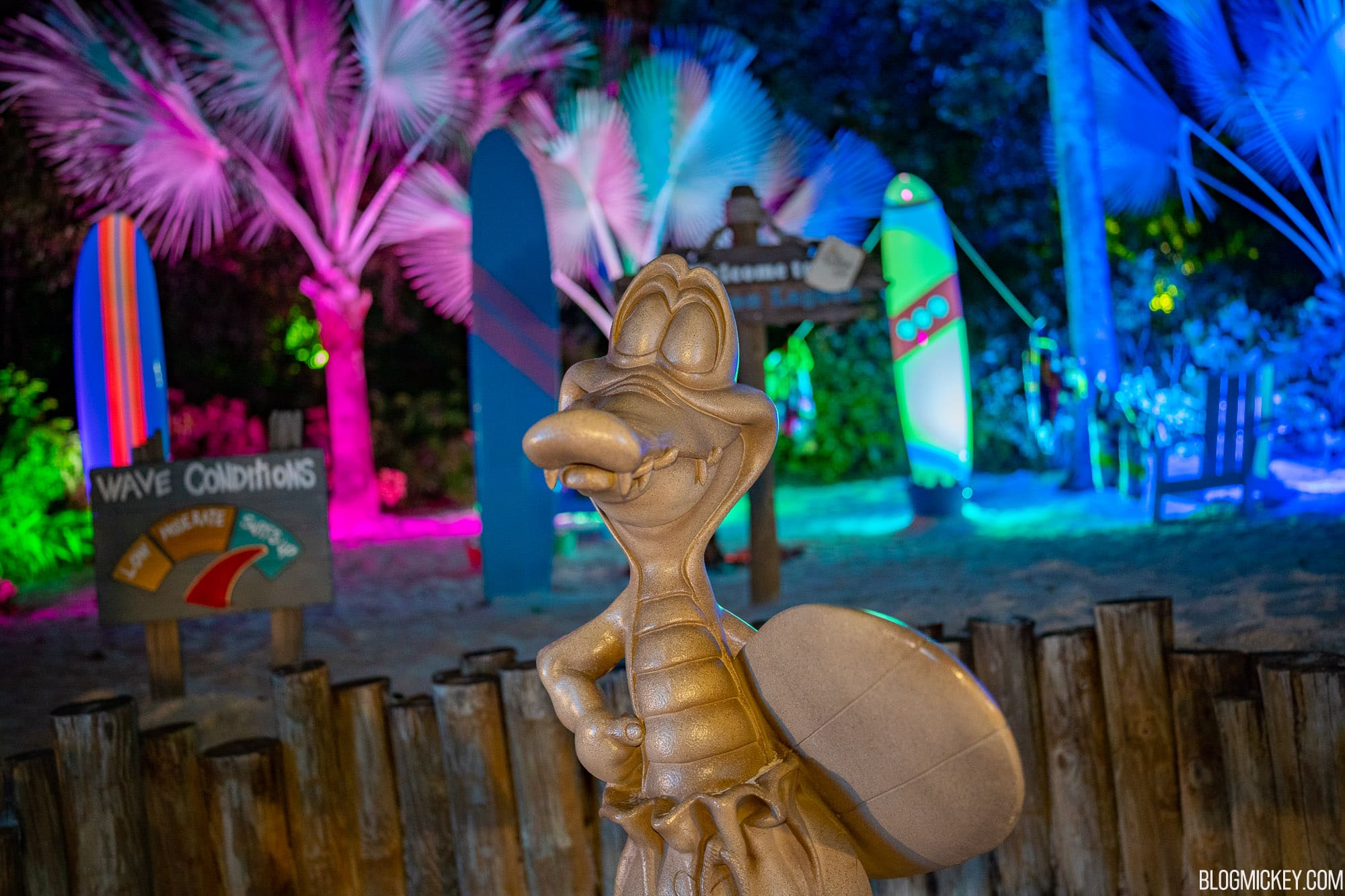 What Is Disney After Hours?
Disney After Hours is a series of events at the Walt Disney World theme parks and water parks that take place after the park closes with the promise of lower crowds, free snacks and soda, and sometimes event special entertainment. With Disney After Hours, you can experience some of Disney World's most popular attractions with little to no wait!
Disney After Hours is an additional cost ticket and only occurs on select dates. For more on the Disney After Hours events at Magic Kingdom, EPCOT, and Disney's Hollywood Studios, check out our page below.
2023 H2O Glow Dates & Pricing
H2O Glow After Hours takes place every Saturday from May 20th through September 2nd, with two Monday dates in July:
May 20 and 27
June 3, 10, 17 and 24
July 1, 3*, 8, 15, 22, 29 and 31*
August 5, 12, 19 and 26
September 2
*Monday
Unlike After Hours tickets in the theme parks, every date for H2O Glow is priced the same:
Adult (ages 10 and up): $75 plus tax
Child (ages 3 to 9): $70 plus tax
Annual Passholders and eligible Disney Vacation Club Members can purchase specially priced tickets at a pretty significant discount of $16 per ticket:
Passholder or Member – Adult (ages 10 and up): $59 plus tax
Passholder or Member – Child (ages 3 to 9): $54 plus tax
Tickets for H2O Glow After Hours are available for purchase on the Disney World website: https://disneyworld.disney.go.com/events/h2o-glow-after-hours/purchase/
H2O Glow Check-In & Event Info
H2O Glow takes place from 8pm to 11pm, but guests can get into Typhoon Lagoon as early as 6pm with their event ticket.
After entering Typhoon Lagoon, guests will receive a wristband for access to the event.
We attended the May 20th event, and there was no event guide, but A-frame signs around the park inform guests about what they can find during the event. Here's a sign that shows guests where they can find complimentary ice cream treats and popcorn.
Ice cream can be found at Happy Landings and Typhoon Tilly's. Popcorn is available at Crush 'N' Gusher and Lowtide Lou's. More on that in a bit.
H2O Glow After Hours Attractions
Here are the waterslides and attractions that Disney lists as being open during H2O Glow After Hours at Typhoon Lagoon:
Bay Slides
Castaway Creek
Crush 'n' Gusher
Gangplank Falls
Humunga Kowabunga
Mayday Falls
Miss Adventure Falls
Storm Slides
Typhoon Lagoon Surf Pool
Essentially, all attractions are open during the event, subject to changing conditions. During the event, you'll find shorter wait times than you would experience during a normal day. We didn't see any wait exceed more than 10 minutes, with most wait times below 5 minutes or even closer to no wait at all.
H2O Glow After Hours Entertainment
As part of the glow of Typhoon Lagoon, guests will find a DJ dance party on a stage near the world-class wave pool. The DJ will keep the party going from 8pm to 11pm with dance music not normally heard at Typhoon Lagoon during the day. Dancers and Disney characters will also join the dance party, sometimes dancing on the stage and sometimes joining guests on the beach to dance the night away. Characters you will see during the event include Goofy, Chip & Dale, Captain Hook, and Mr. Smee.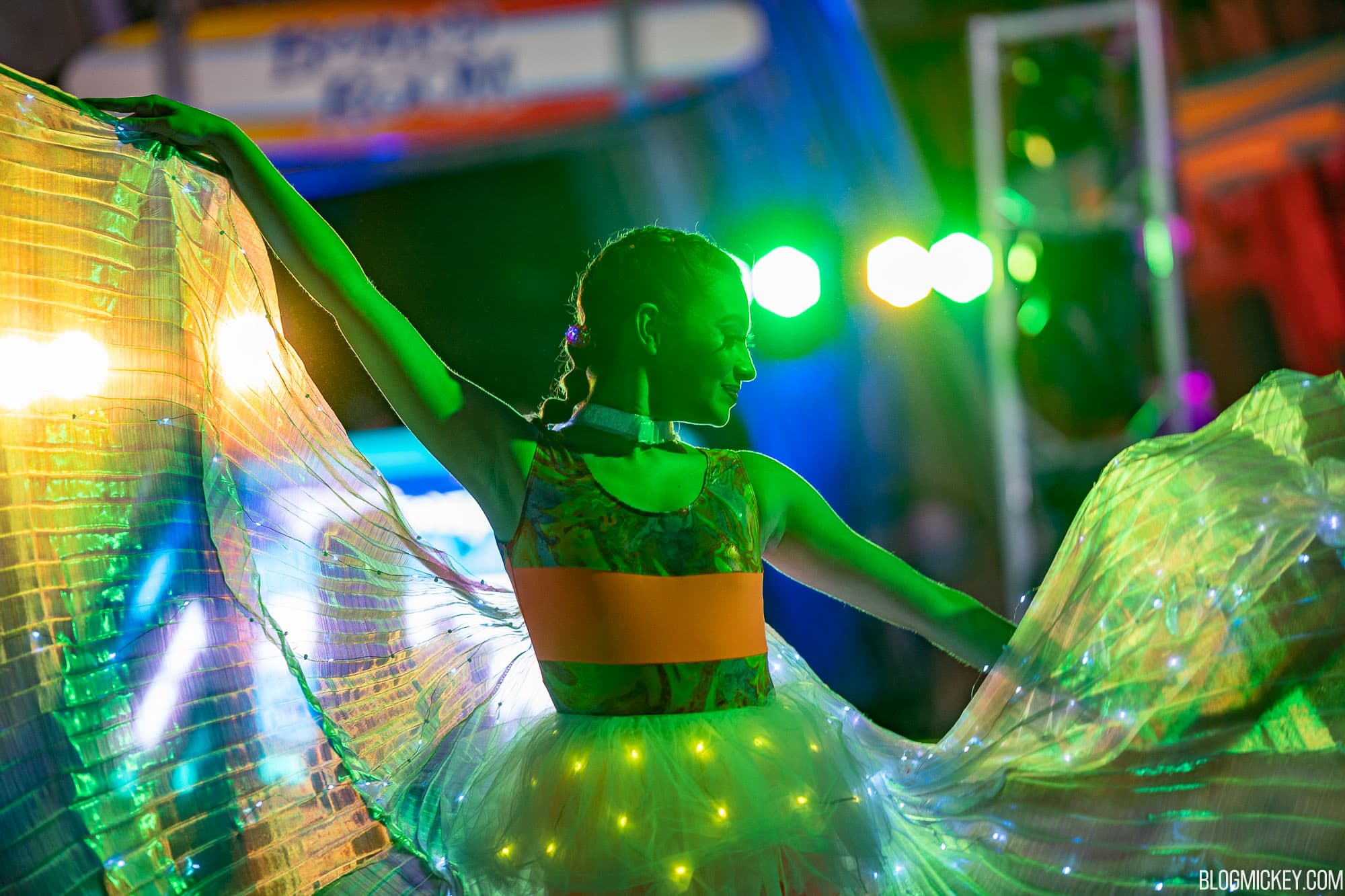 It's worth noting that there are no other character encounters anywhere else in the park – just at the wave pool stage. As a result, there are no traditional character meet and greets during the event. From roughly 10:30pm to 11pm, characters are available at a physically distanced encounter for guests to snap one last selfie before they leave.
Complimentary Novelties & Drinks
Before we get to the food and drink that is available for purchase, here's a look at the complimentary novelties that are included with your H2O Glow event ticket. If you forget where the snack distribution areas are, keep an eye out for the inflatable color-changing pillars.
Free Ice Cream Novelties
You can find free ice cream novelties at Happy Landings and Typhoon Tilly's.
The top three novelties in the photo below are available: Mickey's Premium Ice Cream Bar, Mickey's Premium Ice Cream Sandwich, and Strawberry Fruit Bar.
Free Popcorn
Free popcorn is available at Lowtide Lou's and Crush 'N' Gusher.
Free Soda & Beverages
Free soda is available at any of the refill stations around the park – including the Coke Freestyle machines. Guests were given a branded plastic cup on the way into the event, presumably for reuse at the refillable stations, but paper cups were available too. There were no refill limits during the event.
H2O Glow Food & Drink
If you're hungry for something other than popcorn and ice cream, Typhoon Tilly's and Leaning Palms are open during the vent and have some specialty options. As a matter of fact, there are a few locations around Typhoon Lagoon that have specialty offerings during H2O Glow. Here's a look at the food and drink available for additional purchase during the After Hours event.
Leaning Palms
Typhoon Tilly's
Snack Shack
Let's Go Slurpin, Hammerhead Fred's
High 'N Dry
Surf Doggies
Is H2O Glow After Hours Worth It?
With our guide out of the way, we'll start the review portion of the article, focusing on the question: is H2O Glow After Hours worth it?
One of the things we have to remind ourselves of is that After Hours events, at their core, promise lower wait times and free snacks. There are events like the Disney Vacation Club Moonlight Magic series that promise more in the way of unique entertainment, but After Hours is positioned as more of a bulk VIP experience with only marginally upgraded entertainment. To that end, H2O Glow After Hours delivers. There is a high-energy dance party with characters should you want to experience something different than a daytime visit to Typhoon Lagoon, but you should set expectations more toward low crowds than anything else.
With properly set expectations, we can start to talk about value and if the event is worth it to add to your Disney World vacation. In our opinion, the equation is actually more complicated than an After Horus event at a theme park. The approach to a water park is certainly more leisurely than just a checklist of attractions to ride throughout the day. Whereas we might be able to say that Magic Kingdom After Hours is worth it because we were able to hit headline attractions with little to no wait, we might say that H2O Glow wasn't worth it because we didn't have time to tan or couldn't spend as much time at the bar or in the lazy river as we'd like.
At $75, the price of H2O Glow After Hours is only $6 more than a daytime ticket – if you're paying the gate price. There are a few discounts such as the Florida Resident buy-a-day, get-a-day offer that start to drive the price down. We paid 100% for our After Hours ticket, which was $59 after a significant, and welcome, Annual Passholder discount. We think that the price is actually pretty good, especially if you can take advantage of the Passholder/DVC discount.
H2O Glow After Hours is 3 hours long if you simply go from 8pm to 11pm, but being able to get in as early as 6pm means that you get up to 5 hours of time in Typhoon Lagoon for $75. Unlike After Hours in the theme parks, which can feel like a crunch if you're trying to get as many rides in as possible, H2O Glow is a bit more laid back. Take a lap or two in the lazy river, jump out whenever you'd like to find nearly no wait for the slides, catch a dance party with Goofy, and grab as many snacks as you can. If this sounds like a good time, that's because it really is, but you really have to want to do a water park for us to recommend H2O Glow After Hours.
There are a few different ways we could see H2O Glow After Hours working into your vacation. If an entire day of Typhoon Lagoon doesn't work, but you really do want to go to the water park, this could be a great way of working it into your vacation after a half-day (or a little more) at a theme park. Similarly, if you can't find a way to work Typhoon Lagoon into your vacation because it closes at 5pm and you prioritize theme parks, this is a smart way to work some water park time into your vacation.
H2O Glow is also a wonderful way to beat the heat if you've previously visited Typhoon Lagoon and found it to be difficult to enjoy because of the unforgiving Florida sun. We're in that camp. A daytime visit can be tough to enjoy if you're battling the sun or even afternoon thunderstorms. While visiting at night doesn't completely eliminate the threat of rain, it does allow for a reprieve from the sun.
Finally, being able to visit Typhoon Lagoon at night is certainly a unique way to experience the water park. There is some special event lighting in select spots, but just being able to enjoy the park with nighttime lighting might be reason enough to attend H2O Glow.
While we're generally quite positive about the event, it's probably not for everyone. If water parks don't excite your family, visiting at night and getting free ice cream bars probably isn't going to change that. If you'd have to cut a theme park evening short on an already busy vacation, it's probably not for you. That said, if you enjoy Typhoon Lagoon or you're looking for something a little novel for your next Disney World vacation, H2O Glow After Hours is a fun event that we think is worth it.
As always, keep checking back with us here at BlogMickey.com as we continue to bring you the latest news, photos, and info from around the Disney Parks!