Spaceship Earth will be closed for a single day this week for a brief refurbishment. According to Disney, Spaceship Earth will be closed on July 19th for a one-day refurbishment, reopening to guests on July 20th. The scope of the work was not revealed, but it has to be extremely minor if it'll only take a day.
Unfortunately, Disney appears to have abandoned plans for a large-scale Spaceship Earth refurbishment as announced at the 2019 D23 Expo. The Spaceship Earth overhaul was meant to be the crowning achievement of the EPCOT overhaul project, but the overhaul project has been significantly scaled back and the "new magic" planned for Spaceship Earth will be relegated to history, only remembered by a few pieces of concept art.
Here's what Bob Chapek said about the overhaul planned for Spaceship Earth:
As always, Spaceship Earth will remain the park's brand icon. Since the very beginning Spaceship Earth stood for the ideas and values that represent EPCOT, and told the story of humanity through great moments of courage, creativity, and discovery. There's simply nothing else like it, and so we couldn't even think about an EPCOT of the future without putting a little bit of the new magic into this Epcot original.

The new Spaceship Earth will still feature great moments of human history, but instead of inventions and technology, we'll focus on something that binds all of humanity together: storytelling. Many of the scenes you know and love will remain, but we'll bring them to life in amazing new ways. We're also adding new scenes to reflect the universal nature of the human experience. In addition to fresh narration, you'll have a new guide. In each moment of your journey, you'll follow a magical light that we call our Story Light which will play a central in the experience. The story light will come to life in dynamic ways, giving each scene energy and stunning beauty while creating a narrative that ties your journey together.

Spaceship earth has stood for 37 years as an icon of EPCOT, Walt Disney World, and the Walt Disney Company. We are excited to evolve this unique attraction in a way that will resonate with the wide array of guests who visit Walt Disney World.
Other pieces of concept art were presented to D23 Expo attendees and even leaked online.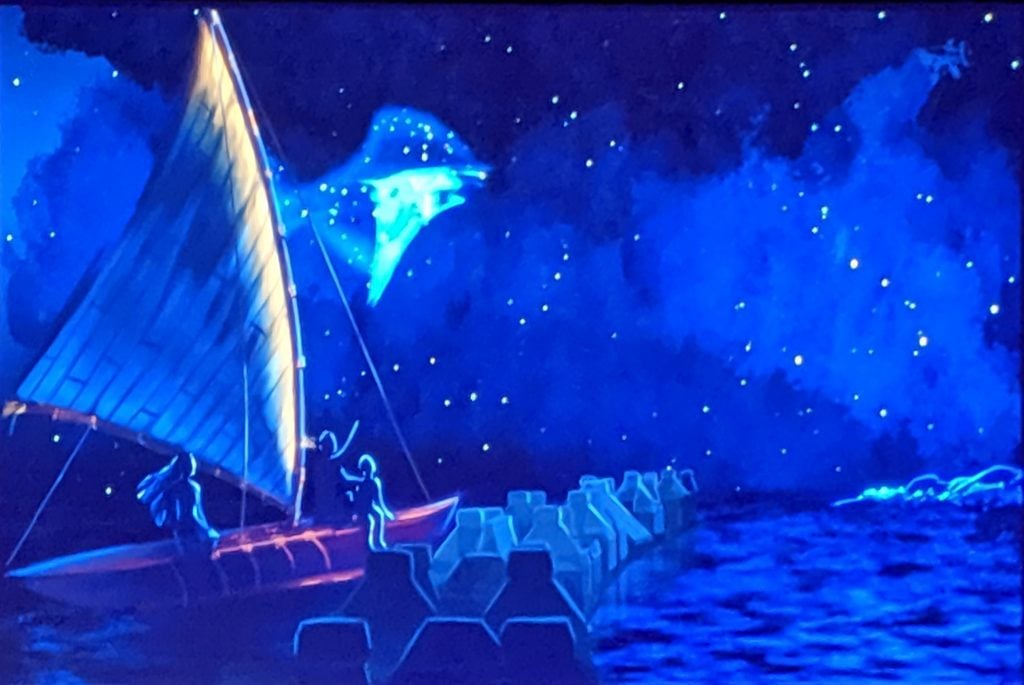 Here's a look at the vision presented for the future of Spaceship Earth from the now-closed EPCOT Experience showcase.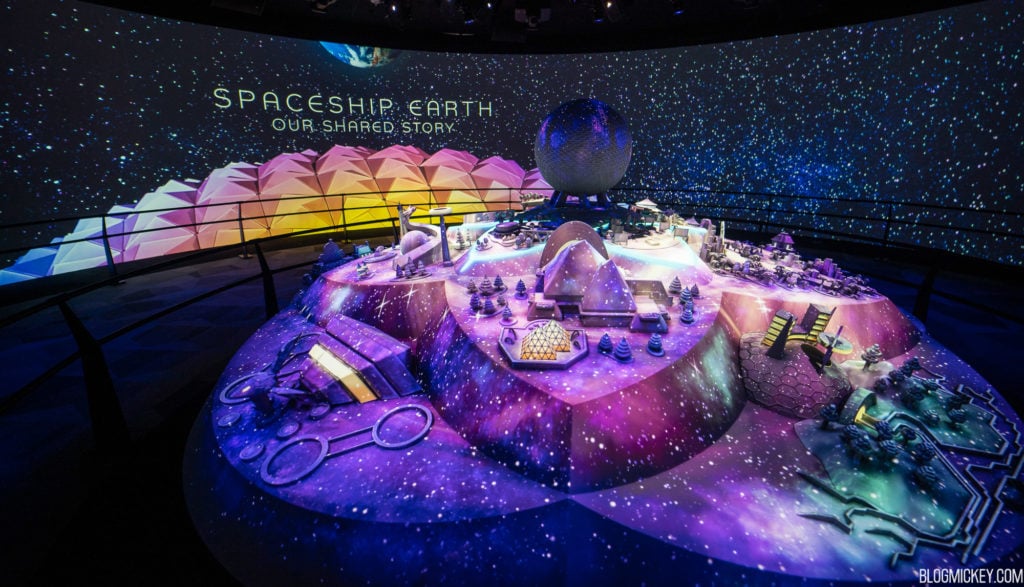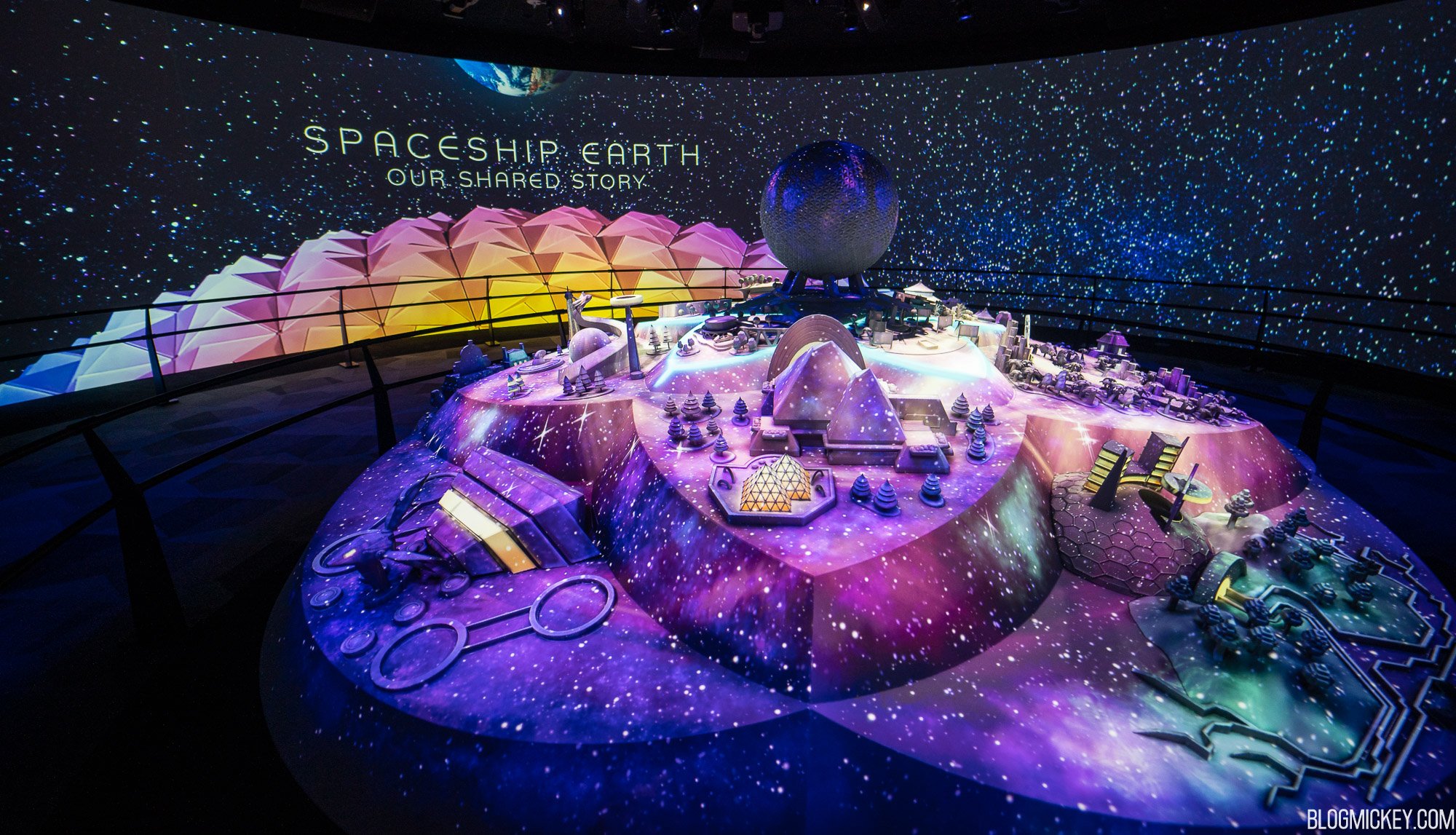 On February 25, 2020 it was announced that Spaceship Earth would be closing on May 26, 2020 for an extensive refurbishment. It's likely that the project was originally intended to be completed for EPCOT's 40th Anniversary in October 2022.
When the theme parks closed in mid-March 2020 due to COVID-19, construction around the resort was paused indefinitely – including the Spaceship Earth refurbishment. On June 1st, we wrote that it was rumored that Disney was going to delay closing Spaceship Earth.
By June 20th, Disney confirmed our reporting and announced that Spaceship Earth would continue to be available in its current state while they pause on its planned refurbishment.
Unfortunately, Disney World did not think that a Spaceship Earth overhaul was important enough to include in an EPCOT overhaul, and this short refurbishment does nothing to suggest that Disney has any actionable long-term plans for a much-needed refresh of 40+ year old attraction.
As always, keep checking back with us here at BlogMickey.com as we continue to bring you the latest news, photos, and info from around the Disney Parks!