As the icon of EPCOT, Spaceship Earth is one of the most recognizable structures at the Walt Disney World Resort. Guests board a slow-moving ride vehicle as they travel back in time and learn about the advances in communication that the human race has made. Filled with audio animatronics, Spaceship Earth is a classic Walt Disney World ride and Disney has said that they have plans to update the attraction. This page will serve as our Spaceship Earth refurbishment project tracker.
D23 Announcement
The Spaceship Earth refurbishment project was announced during the 2019 D23 Expo. The now-CEO Bob Chapek took to the stage and announced that Spaceship Earth would get some "new magic" as part of the World Celebration overhaul project and serve as a major part of the park's transformation.
Without any sponsorships such as the old Siemens partnership, Disney is going back to the drawing board to create a fresh storyline and new musical score as described below:
As always, Spaceship Earth will remain the park's brand icon. Since the very beginning Spaceship Earth stood for the ideas and values that represent EPCOT, and told the story of humanity through great moments of courage, creativity, and discovery. There's simply nothing else like it, and so we couldn't even think about an EPCOT of the future without putting a little bit of the new magic into this Epcot original.

The new Spaceship Earth will still feature great moments of human history, but instead of inventions and technology, we'll focus on something that binds all of humanity together: storytelling. Many of the scenes you know and love will remain, but we'll bring them to life in amazing new ways. We're also adding new scenes to reflect the universal nature of the human experience. In addition to fresh narration, you'll have a new guide. In each moment of your journey, you'll follow a magical light that we call our Story Light which will play a central in the experience. The story light will come to life in dynamic ways, giving each scene energy and stunning beauty while creating a narrative that ties your journey together.

Spaceship earth has stood for 37 years as an icon of EPCOT, Walt Disney World, and the Walt Disney Company. We are excited to evolve this unique attraction in a way that will resonate with the wide array of guests who visit Walt Disney World.
Concept Art
Disney has only released a single piece of concept art for the Spaceship Earth refurbishment. In the art below, we can see the Egypt scene has been changed significantly. The man pounding papyrus has been removed, as well as the entire conceit of paper bringing taxes as dictated by a pharaoh. New projection mapping effects seem to highlight the hieroglyphics in this scene.
Beyond this piece of concept art, there was some art shown off at the D23 Expo as seen below. It looks like this could be a change for the "Phoenicians" scene.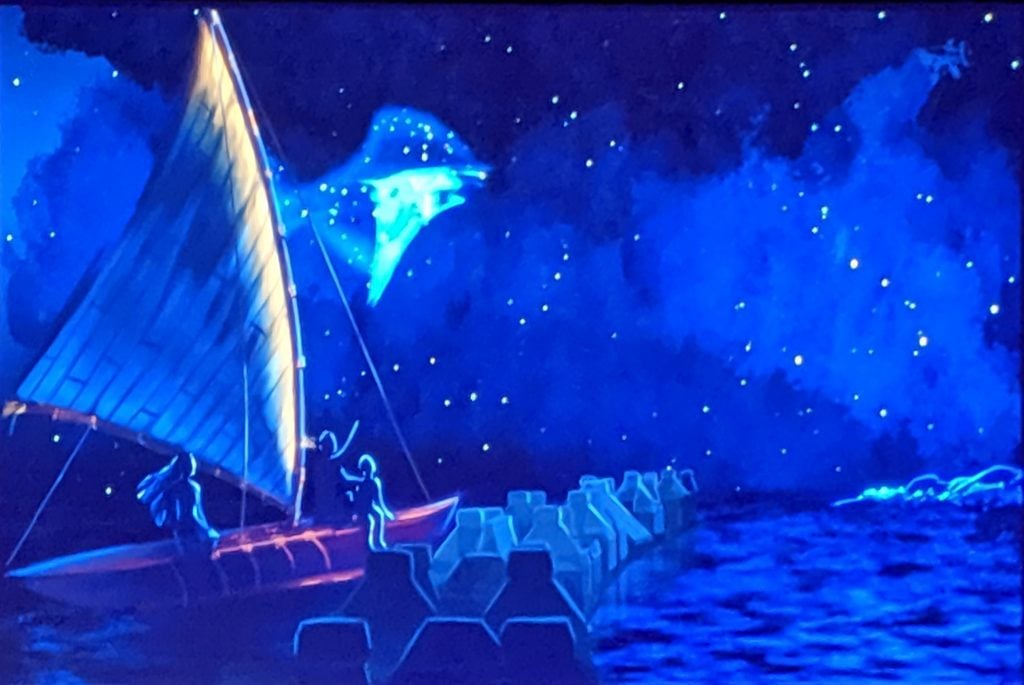 A final piece of concept art shows what appears to be a heavily modified exit experience. Here, we can see that the Project Tomorrow experience has been completely revamped or removed in favor of a more open and airy exit with what appears to be a ramp that will take guests into the Dreamers Point section of the World Celebration project.
Spaceship Earth Refurbishment in EPCOT Experience
When The EPCOT Experience first opened, a segment about the renewed version of Spaceship Earth was included. When the theme parks reopened after the COVID-19 closure, this segment was removed as the project had been delayed. That said, we have a look back at the Spaceship Earth Our Shared Story segment below.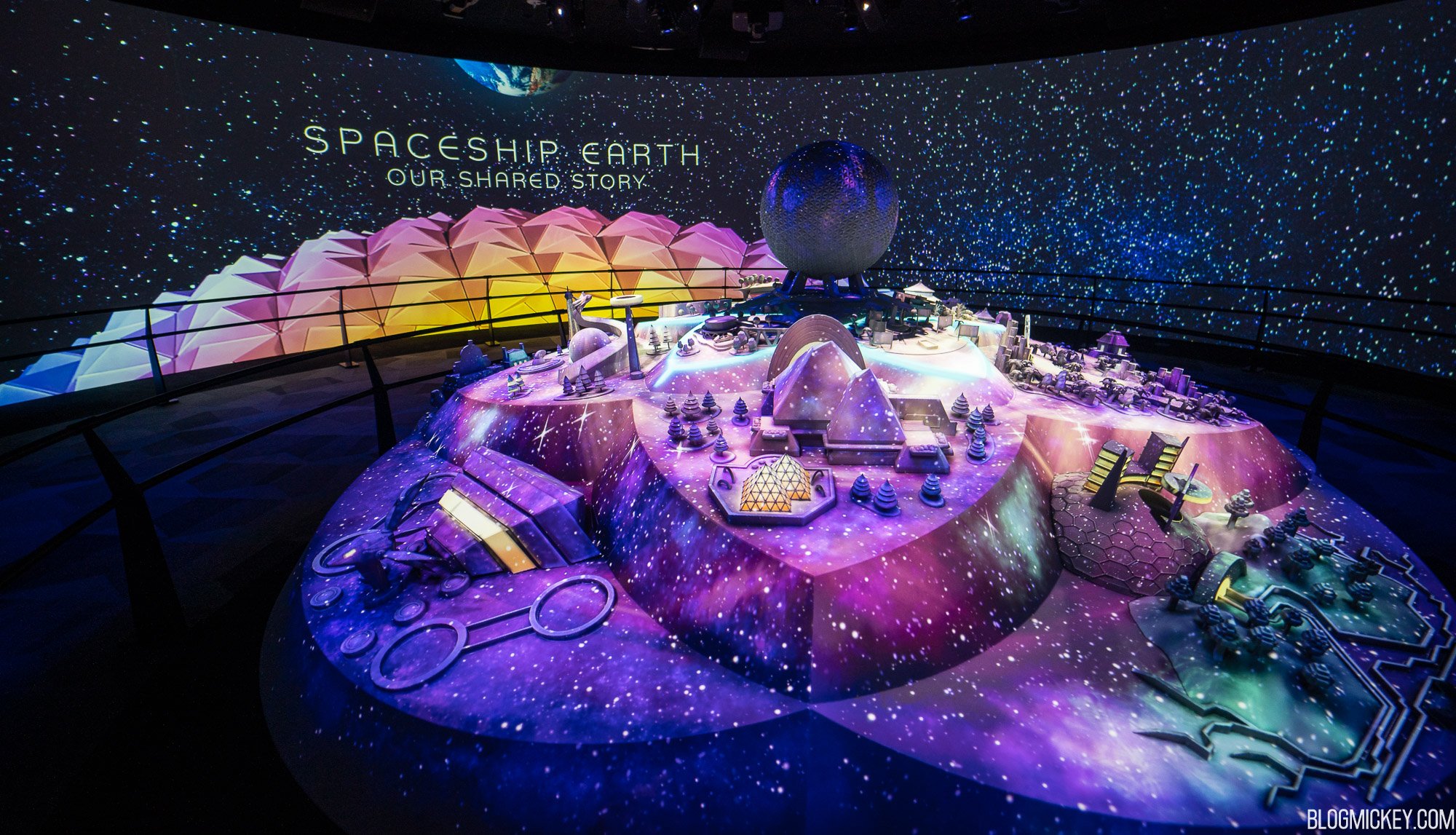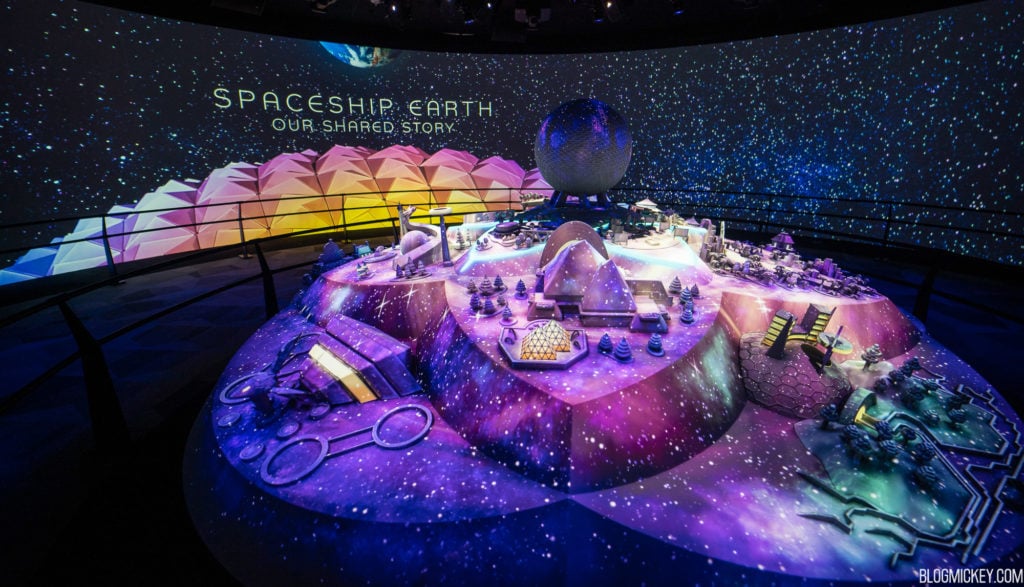 Spaceship Earth Refurbishment Dates
With such an ambitious refurbishment planned, it was expected that Spaceship Earth would be closed for more than a year to bring new magic to the attraction.
On February 25, 2020 it was announced that Spaceship Earth would be closing on May 26, 2020 for an extensive refurbishment. It's likely that the project was originally intended to be complete for EPCOT's 40th Anniversary in October 2022.
When the theme parks closed in mid-March 2020 due to COVID-19, construction around the resort was paused indefinitely – including the Spaceship Earth refurbishment. On June 1st, we wrote that it was rumored that Disney was going to delay closing Spaceship Earth.
By June 20th, Disney confirmed our reporting and announced that Spaceship Earth would continue to be available in its current state while they pause on its planned refurbishment.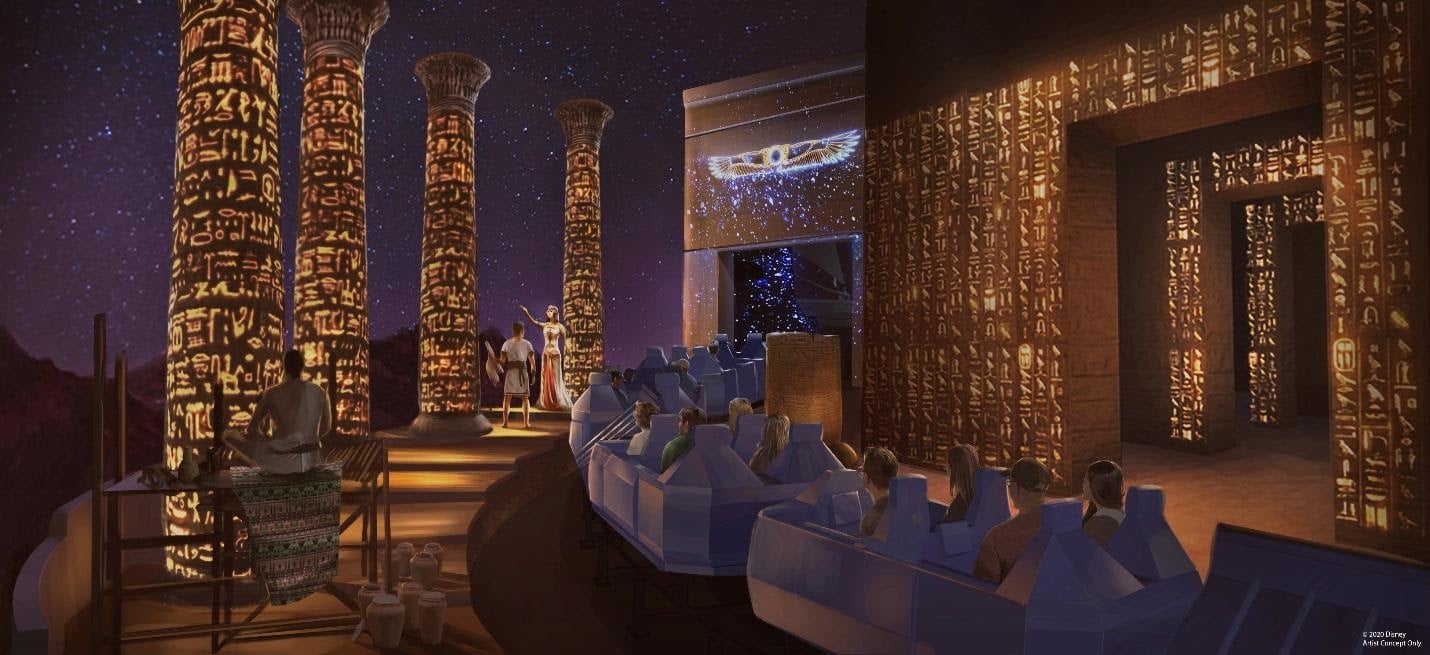 Spaceship Earth Refurbishment Project Details
While details are slim at the moment, it was clear that Walt Disney Imagineering wanted to reimagine the EPCOT park icon in a way that refreshed it for the next generation of EPCOT experiences. The Future World section of the park is going through a major refurbishment and Disney wanted to bring Spaceship Earth into a new decade of Disney storytelling with enhanced effects and a storyline that gave the attraction a fresh feel.
Details about the Spaceship Earth refurbishment project have been learned only through a few paragraphs of text and a handful of concept art pieces.
We know that there will be new scenes added to the attraction, but we're not sure what they will be. Some scenes will be refreshed. For example, in the concept art below, we see a complete refresh of the Egypt scene. No longer do we see an Egyptian pounding reeds flat or the birth of taxation – instead, we see what appears to be a high-ranking Egyptian woman motioning to the stars as if to tell a story.
A new narrator is expected, as well as a new script that will follow something called a Story Light – the guide for our new adventure. Previous narrators have included iconic names like Vic Perrin (1982-1986), Walter Cronkite (1986-1994), Jeremy Irons (1994-2007), and Dame Judi Dench (2007-present). Here's a look at the Story Light flowing throughout The EPCOT Experience before the project was paused and the EPCOT Experience removed.
We expect more details to be released if/when the project resumes.
Spaceship Earth Points of Light
While most of the conversation to this point has been about the interior changes, there are some exterior changes coming too.
The Points of Light are a permanent installation that will "plus" the exterior of Spaceship Earth with an all-new nighttime lighting package. The Points of Light are literally a lighting package housed in a softball-sized shell. The main lights will be able to produce multiple colors while beams will shoot out from the sides as they form a "connection" with each other on the exterior of Spaceship Earth. This effect is meant to drive home the story of human connection – a theme for not only the current version of Spaceship Earth, but also the new vision.
Here's an animated piece of concept art that shows off the points of light as well as the new nighttime lighting package that will debut on October 1, 2021.
Here's a full video of the EPCOT Anthem Points of Light show on Spaceship Earth.
Current Progress and Latest News
May 5, 2022 – The Spaceship Earth refurbishment project was omitted from an updated piece of concept art for World Celebration.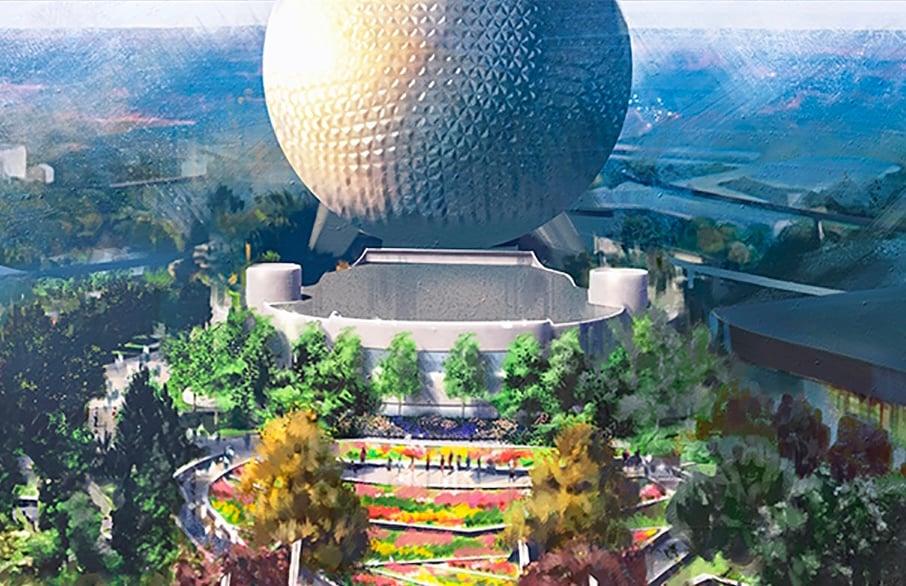 March 7, 2022 – Newly revealed concept art depicts never-before-seen updates to Spaceship Earth. As exciting as it might be to see new art, Disney has not indicated whether or not Spaceship Earth will be refurbished soon. It's unclear what scene the art depicts, but it could be a new scene at the top of Spaceship Earth before the descent.
April 9, 2021 – The first Points of Light were installed on the exterior of Spaceship Earth.
February 19, 2021 – Disney shares concept art of the new, permanent nighttime lighting package coming to Spaceship Earth.
July 15, 2020 – We broke the news that the Spaceship Earth segment was removed from The EPCOT Experience and that the project may be postponed. Disney later confirmed that the project was postponed along with the Mary Poppins project.
June 20, 2020 – The Spaceship Earth refurbishment project is officially delayed.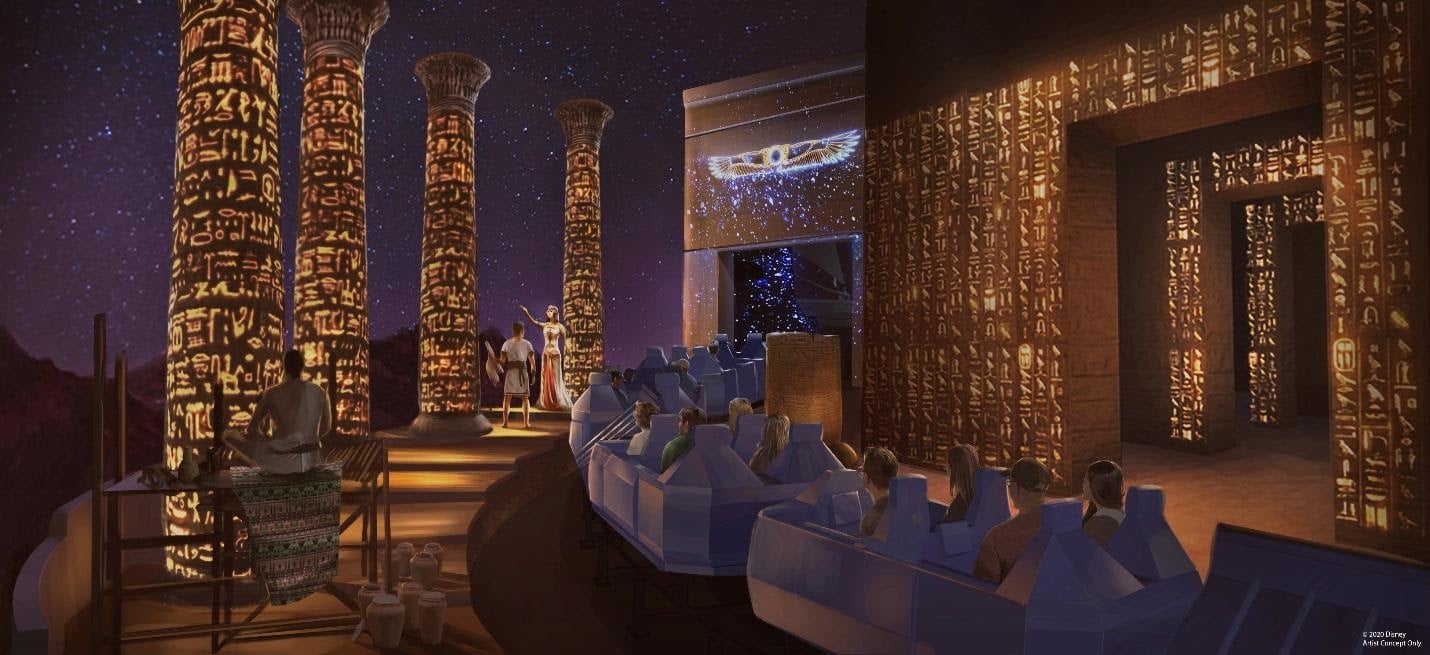 February 25, 2020 – Disney announced that Spaceship Earth is closing for refurbishment on May 26th.
October 1, 2019 – Spaceship Earth "Our Shared Story" poster and video segment debuts with The EPCOT Experience.
August 26, 2019 – Spaceship Earth refurbishment project was announced.
As always, keep checking back with us here at BlogMickey.com as we continue to bring you the latest news, photos, and info from around the Disney Parks!