Welcome to Docking Bay 7 Food and Cargo! Docking Bay 7 Food and Cargo is the main quick service in Star Wars: Galaxy's Edge. Docking Bay 7 Food and Cargo serves breakfast, lunch, and dinner as well as an assortment of drinks. We've compiled the full menu and photos for your Star Wars: Galaxy's Edge planning. We'll also include a full review once we've had the chance to try these items ourselves!
---
At this restaurant housed in a working hangar bay, choose from a variety of dishes prepared with ingredients from across the galaxy—all of it delicious, but none of it familiar. Chef Strono "Cookie" Tuggs has docked a food freighter loaded with fresh supplies and he's ready to satisfy the appetites of visitors and locals alike with an array of exotic offerings. His planet-hopping travels allow him to prepare fare with unusual flavors that delight customers.
Once you've got your grub, sit inside the spacious hangar, or grab a table in the rustic outdoor seating area surrounded by the crumbling walls of the old marketplace.
Breakfast
Rising Moons Overnight Oats – $6.99
Oats, Dragon Fruit, Yogurt, Seasonal Fruit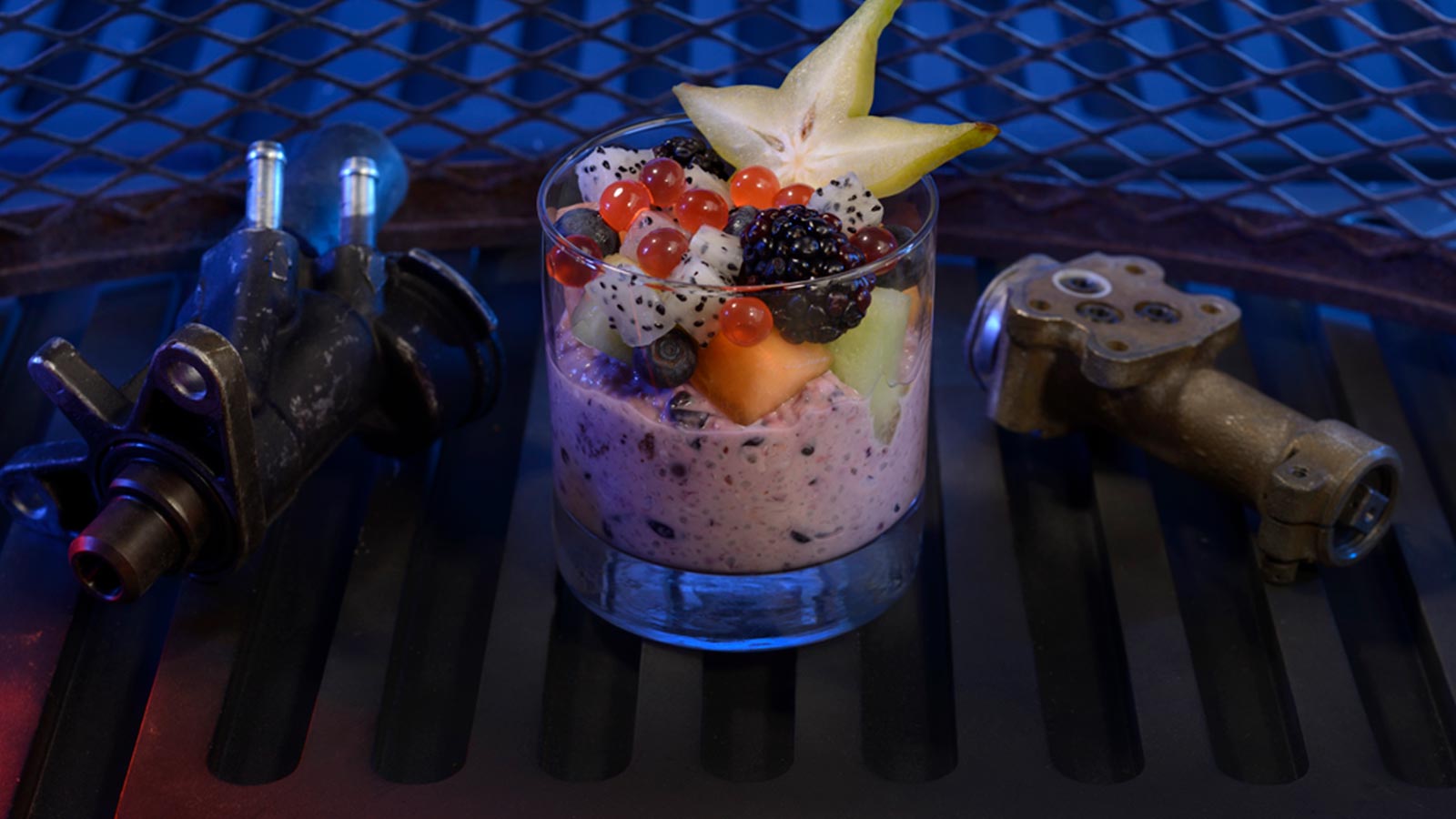 Bright Suns Morning – $10.99
Three-Cheese Egg Bite, Pork Sausage, Purple Potato Hash, Mini Mustafarian Lava Roll
Mustafarian Lava Roll – $5.99
sweet galactic delight
Lunch & Dinner
Felucian Garden Spread (Lunch Only) – $12.99
Plant-based "Kefta", Herb Hummus, Tomato-Cucumber Relish, Pita
Braised Shaak Roast (Dinner Only) – $18.99
Beef Pot Roast, Cavatelli Pasta, Wilted Kale, Mushrooms
Ithorian Garden Loaf (Dinner Only) – $14.99
Plant-based "Meatloaf", Roasted Vegetable Potato Mash, Seasonal Vegetables, Mushroom Sauce
Smoked Kaadu Ribs – $16.99
Sticky Pork Ribs, Blueberry Corn Muffin, Cabbage Slaw
Roasted Endorian Tip-Yip Salad – $13.99
Marinated Chicken, Mixed Greens, Roasted Seasonal Vegetables, Quinoa, and Pumpkin Seeds, tossed in Green Curry Ranch
Fried Endorian Tip-yip – $15.49
crispy Chicken, Roasted Vegetables, Potato Mash, Herb Gravy
Yobshrimp Noodle Salad – $15.99
Chilled Shrimp, Marinated Noodles, Vegetables, Cilantro
Desserts
Oi-oi Puff – $6.49
Raspberry Cream Puff, Passion Fruit Mousse
Batuu-bon – $6.99
Chocolate Cake, White Chocolate Mousse, Coffee Custard
Specialty Beverages
Moof Juice – $5.49
Simply Fruit Punch®, Simply Orange® with Pineapple, Chipotle-Pineapple
Phattro – $5.49
Gold Peak® Unsweetened Tea, Odwalla® Lemonade, Desert Pear
Batuubucha Tea – $5.49
Suja® Pineapple Passionfruit Kombucha™