After nearly two years of operation, Docking Bay 7 in Star Wars: Galaxy's Edge at Disney's Hollywood Studios has received a menu refresh. The refresh has been in the works for some time, but with summer crowds and repeat visitors coming back to Disney's Hollywood Studios, Disney decided to hit publish on the menu refresh earlier today. Here's our 2021 Docking Bay 7 menu refresh review!
New Menu and Returning Items
Before we jump into the new items, here are the items that have made the cut and continue to be offered from the original menu:
Smoked Kaadu Pork Ribs
Endorian Fried Chicken Tip-Yip
Falucian Kefta and Hummus Garden Spread
Of the surviving menu items, we could probably do without the Endorian Fried Chicken Tip-Yip just because it's served on a bed of mac and cheese. It just doesn't feel sophisticated enough to be offered as an adult entree, but it is something that the more picky eaters can enjoy.
For our review of the Smoked Kaadu Pork Ribs and the excellent Falucian Kefta and Hummus Garden Spread, check out our earlier article.
Ok, time to dive into the new items and see if this Docking Bay 7 menu refresh is a hit or a miss!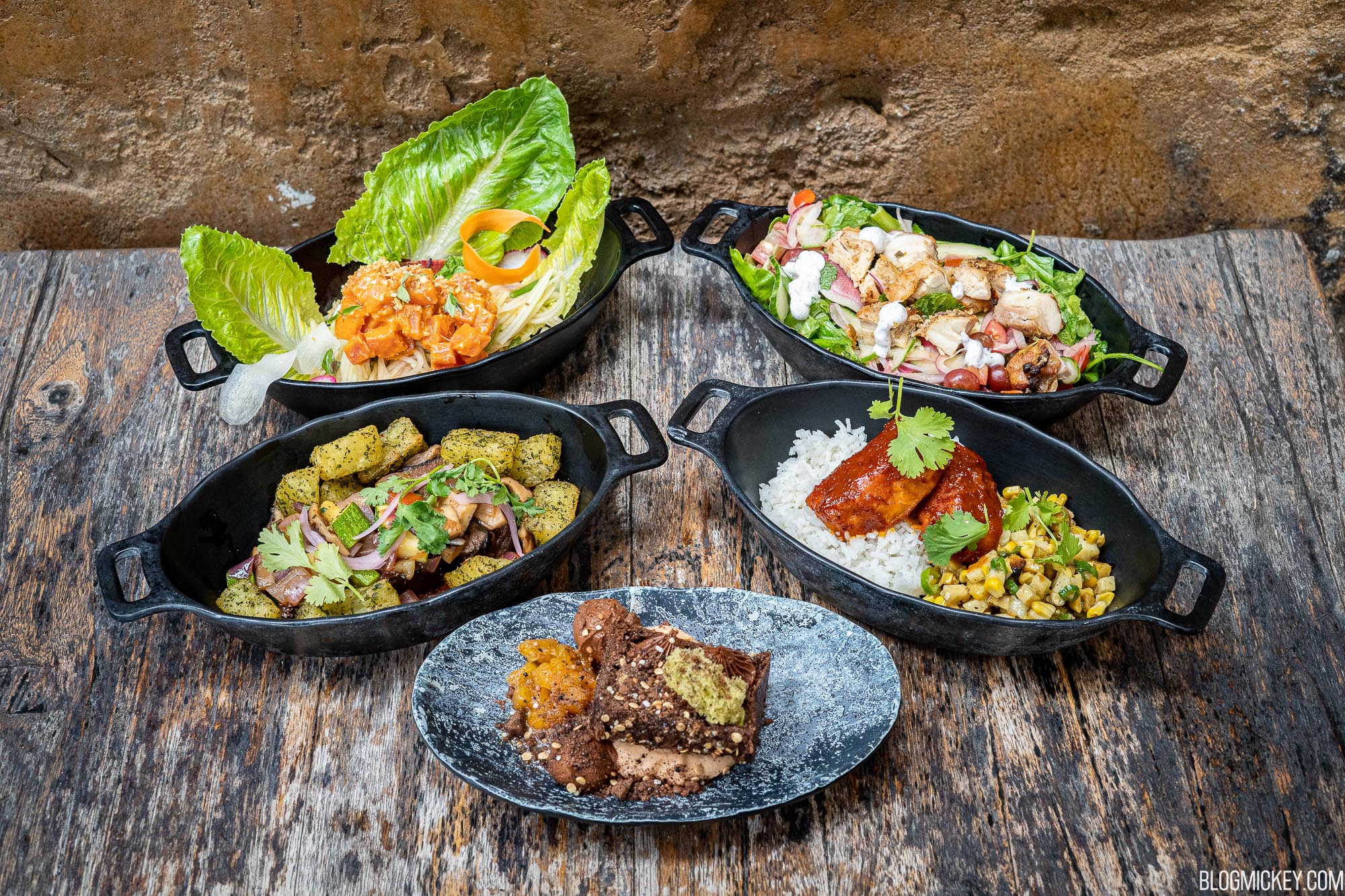 Batuuan Beef & Crispy Topato Stir Fry – $18.99
Smoky braised beef glazed in tamarind sauce served with stir-fried vegetables, crispy herb yucca, pickled onions, and cilantro.
We'll start with one of the contenders for the top spot in the refreshed menu – the Batuuan Beef. Hidden beneath a layer of fresh stir-fried vegetables are three chucks of extremely soft beef.
There really is no overselling how soft the braised beef was for us – no knife required. As a matter of fact, while we normally "feed" the camera first, once we got a bite of the beef we forgot to take a photo of a standalone portion of it. For now, you'll have to enjoy this glimpse of it beneath the stir-fry and nestled among the crispy herbed yucca. Before we talk about the yucca, we should note that the beef had a wonderful flavor to it thanks to a sweet tamarind sauce that meets you on first bite, and a smoky finish that will make you go back for more.
Now, onto the yucca. After having a rather pedestrian version of yucca at Disney's Caribbean Beach Resort recently, we were wowed by the crispy herbed yucca in this dish. If you aren't a fan of yucca, this version might just change your mind! As you'll find with most of the dishes we review from the menu refresh, the portion was impressive even if the price is steep. We can certainly recommend grabbing the Batuuan Beef on your next trip to Docking Bay 7!
Pirjanad Hot Chicken Tip Yip – $15.49
Crispy chicken glazed in a spicy chipotle sauce served with white rice, relish of sweet corn, shishito peppers, jicama, plantains, and cilantro.
As you might remember from our original review of Docking Bay 7, many of the menu items contain a reference to Star Wars lore. From "Kaadu" to "Felucia", there are some wonderful nods to existing Star Wars lore, and the Pirjanad Hot Chicken Tip Yip continues that tradition. "Pirjanad", as it turns out, is described as a spicy sauce made by members of the Mandalorian culture.
Depending on your tolerance of spice, this dish could very well dethrone the already delicious Batuuan Beef. Don't tread lightly here. The spice is certainly a welcome addition and full of delicious, hot chipotle flavor.
While this still falls within the theme park realm of spice (which means you can still go on with your day), the spice will linger unless you use the sweet corn and rice provided to temper the heat.
And the sweet corn really is a treat. Overall, this dish is smartly combined to provide a spicy, flavorful dish that could easily become a go-to offering for us.
Peka Tuna Poke – $17.99
Raw tuna tossed in a spicy Sriracha dressing served with green papaya salad, pickled mushrooms, fresh herbs, and crispy garlic.
Continuing the themed names, the Peka Tuna Poke actually gets its name from a nearby, unseen fishing village on the fictional planet of Batuu. The small town was created specifically for the backstory of Star Wars: Galaxy's Edge.
In this bowl, you'll find a good helping of raw tuna that has a mild amount of spice thanks to the spicy Sriracha dressing. It's not going to be as spicy as the Pirjanad Hot Chicken Tip Yip above, but if you're spice-adverse, know that you'll certainly find some in this bowl.
The tuna comes on a bed of crunchy papaya salad, cradled by a few mostly decorative greens. Slight spice notwithstanding, this is quite a refreshing offering thanks to the fresh, slightly chilled tuna. This bowl actually reminds us of the Trader Sam's offering of Hawaiian Poke in terms of flavor and freshness. Another smart offering here that won't disappoint if you're in the market for a poke bowl.
Endorian Roasted Chicken Salad – $13.99
Marinated chicken, mixed greens, grapes, tomato, cucumber, shaved onion, and radish in a lemon-pomegranate vinaigrette with spiced yogurt drizzle.
We'll end the entrée portion of our tour of the Docking Bay 7 menu refresh with the salad. While our first few bites didn't necessarily produce an overwhelming winner, this salad will grow on you. Just like the poke reminded us of a similar offering at Trader Sam's, the chicken and spiced yogurt drizzle reminds us of another favorite dining location of ours – Sanaa.
A deliciously marinated chicken combines nicely with the yogurt drizzle to remind us of the delicious Tandoori Chicken. That said, the salad continues to evolve as you make your way past the chicken and towards the refreshing lemon-pomegranate vinaigrette.
Also adorned with grapes, tomato, cucumber, shaved onion, and radish, the Endorian Roasted Chicken Salad is a solid option. We'd still opt for some of the earlier dishes, but there really is an impressive flavor profile at play here.
Outpost Puff (Green Milk Dessert) – $6.99
Chocolate pastry filled guajillo chocolate mousse and green milk sauce finished with Thai tea panna cotta, spiced pineapple, and confectionary debris.
Buckle up. We've reached the dessert portion of the refreshed menu and this one contains…green milk! The divisive drink makes its way over from the Milk Stand as a sauce that is hidden within the middle of the Outpost Puff.
Unassuming at first, the Outpost Puff is essentially a structured chocolate boat.
The presentation here doesn't really live up to the previous desserts, which – ultimately – we'd like to see return.
The crust of this pastry proved to quite chewy and tough to break apart. A knife would be required here.
Forgive the messy photo, but the green milk sauce is found after a few difficult bites through the exterior. While the chocolate is probably best described as "fine", the Green Milk here doesn't really do it for us. We're not necessarily fans of Green Milk proper, but did find ourselves quite enamored with the Green Milk Bread Pudding offered during the very limited run of breakfast at the Milk Stand back in March 2020.
Cast Members we spoke with said that Disney's goal here is to try and make Green Milk a Batuu "thing" as chefs continue to create new offerings. While we loved the Green Milk Bread Pudding, in-story Chef Strono "Cookie" Tuggs would have to change this dessert up a bit to get us to buy it again.
Overall Thoughts
Overall, this is quite an impressive menu refresh. Our high bar for quick service remains Satu'li Canteen over in Pandora – The World of Avatar, but Disney has made some smart adjustments here and we would absolutely return to enjoy just about everything on the Docking Bay 7 refreshed menu.
Just as important as the debut of new items is the choice to keep some "old" items around. Ribs seems like a no-brainer, but keeping the delicious plant-based Felucian Kefta and Hummus Garden Spread was a good call as well.
Docking Bay 7 is really establishing itself as one of the top quick service locations at Walt Disney World, and this menu refresh is an impressive move to take on Satu'li Canteen for top spot!
As always, keep checking back with us here at BlogMickey.com as we continue to bring you the latest news, photos, and info from around the Disney Parks!