Welcome to Docking Bay 7! Docking Bay 7 is a quick service restaurant within Star Wars: Galaxy's Edge. At this restaurant housed in a working hangar bay, choose from a variety of dishes prepared with ingredients from across the galaxy. Chef Strono "Cookie" Tuggs has docked a food freighter loaded with fresh supplies on the roof and he's ready to satisfy the appetites of visitors and locals alike with an array of exotic offerings. Let's take a spin around the hangar (and menu) with our Docking Bay 7 review!
Theming
We'll start with a quick lap around the hangar before sitting down for our meal. Rather unassuming from the outside, Docking Bay 7 quickly opens up the minute you walk in the front door. The easiest way to find Docking Bay 7 is by looking for Chef Tuggs' cargo ship parked on the top of the roof. It was the first ship to land in Star Wars: Galaxy's Edge during construction, and for good reason. Chef Tuggs has a lot on his plate, and he's been working hard to put some good grub on yours.
Again, from the outside, the restaurant is unassuming. It's about as tucked away as you can get for the main eatery in Star Wars: Galaxy's Edge. It's only once you're inside do you realize how much space there is.
We'll likely end up comparing Docking Bay 7 to Satu'li Canteen quite a bit throughout this review, so let's start with the first comparison. Unlike Satu'li Canteen, Disney did a really good job of creating unique, sometimes intimate spaces in Docking Bay 7. It's no easy task given the purpose of this location is to get guests in, get them fed, and get them on with the rest of their day. By breaking the space into a few different areas, Disney has smartly avoided the cafeteria-type feel of a Satu'li Canteen.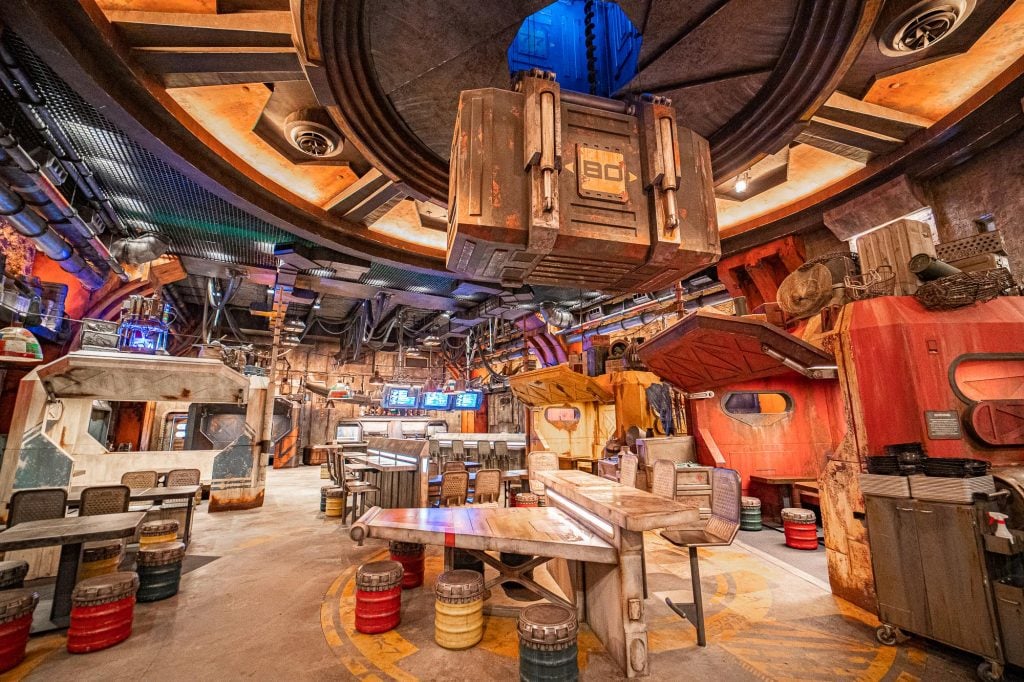 The focal point here is the cargo being "lowered" through the ceiling by the ship parked on the roof. Unfortunately, the giant shipping container is static, without even the slightest wiggle like we saw with the podracing engine over at Ronto Roasters. The lack of movement is perhaps expected, given it's positioning directly over unassuming diners, but we the whole space lacks a kinetic vibe and having the shipping container move up and down or even the circular airlock spin open and closed would have helped.
If you are looking for a bit more energy, there is an outdoor seating area that we found to be really enjoyable in the Southern California weather. We imagine that this space will be far more unpopular in Orlando given the propensity for extremely warm, humid summers, and the nearly consistent afternoon thunderstorm. This outdoor courtyard is separated from the hustle and bustle of the streets of Black Spire Outpost, but still close enough to all of the action.
Overall, the theming of Docking Bay 7 is pretty much exactly as you'd expect from a converted hangar. There are some fun seating spaces such as the interior of a cargo container or a table made from the wing of a spaceship. It's a pretty well configured layout that never feels too overly crowded thanks to the smartly designed seating spaces. We're happy to say that the restaurant carries over the attention to detail and authenticity that we've come to expect and enjoy from Star Wars: Galaxy's Edge.
As is typical advice for dining at Disney, you should try your best to avoid the rush hours of lunch and dinner. Despite having support for mobile order, we still saw lines out the door and into a small switchback during the busiest times of day (and night).
Ok, let's take a look at (and bite out of), every food item on the Docking Bay 7 Food and Cargo menu.
Breakfast
We'll start with the breakfast items. A quick aside here is that we're not confident about the future of breakfast in Star Wars: Galaxy's Edge. We'll once again go back to a comparison of Satu'li Canteen in Pandora – The World of Avatar. Satu'li Canteen opened by offering breakfast when the new land opened. It was actually quite good, and had a chance of being the place to grab breakfast at Disney's Animal Kingdom…if everyone wasn't already busy running to wait 3 hours for Flight of Passage at rope drop. It's because thousands of guests flooded the Flight of Passage queue in the morning, only to find that they missed the traditional breakfast period by the time they got off the ride, that Satu'li Canteen had to remove their breakfast offerings.
Of course, Star Wars: Galaxy's Edge will be a beast unlike anything that we've seen at the Disney Parks. Disney's Hollywood Studios is scheduled to open at 6am for the first two months of operation, perhaps allowing guests to experience Millennium Falcon: Smugglers Run early enough in their day to still make it to breakfast. If breakfast were to be removed from Batuu, we wouldn't expect that to happen until 2020 at the earliest. That's a good thing, too, because we actually enjoyed the breakfast items. Let's dive in.
Bright Suns Morning – $10.99
Three-Cheese Egg Bite, Pork Sausage, Purple Potato Hash, Mini Mustafarian Lava Roll
Bright Suns! Not only is that the accepted greeting on the planet Batuu, but it's also the name of the best value of any meal on the whole planet. A glance at the ingredients of this dish will reveal why it's the best value on Batuu. In the Bright Suns Morning bowl, you'll find one full pork sausage (the same delicious sausage as Ronto Roasters) AND a three-cheese egg bite AND purple potato hash AND a mini Mustafarian lava roll…all for $2 cheaper than the Ronto Morning Wrap. Don't get me wrong, I love the Ronto Morning Wrap, but it feels like $10.99 was a typo and Disney didn't want to get new signs made. Seriously, you can't go wrong here.
Ok, but how does it taste? The pork sausage is the same perfectly greasy, yet flavorful, smoked sausage that we saw at Ronto Roasters. The egg bite comes out nice and warm, and you'll get about 4 or 5 bites of cheesy goodness here. You can actually see the various cheese colors in the photo below of the egg bite.
The potato hash maybe wasn't as crunchy as it could have been, but it was still pretty good. One thing to note here is that the purple potato hash has full-stemmed mushrooms, which may not be the most pleasing thing for children (or late 20s adults not expecting mushrooms at 9 in the morning). Finally, we arrive at the mini Mustafarian lava roll. Disney once again took something rather benign like a cinnamon roll, and put an exotic spin on it with a lemon dusting. The dish as a whole is certainly Americanized. That said, Disney excels on Batuu when they take something very recognizable, but put an otherworldly spin on it. As you may have noticed in the overall photo for breakfast a few photos above, the mini Mustafarian roll is about half the size of the standalone Mustafarian roll, but it's just enough to round out the Bright Suns Breakfast as the supreme choice for breakfast on Batuu.
Mustafarian Lava Roll – $5.99
There's probably not much we can add to the standalone review of the Mustafarian lava roll that hasn't been said for the Bright Suns Breakfast, but we do want to touch on how sour the lemon dusting is. It's not your typical cinnamon roll, and we think that's for the best. There are certainly some already good options for a standard cinnamon roll in both Disneyland and Disney's Hollywood Studios, so going out on a limb to create something so unique is fun and unexpected.
Another thing we'd like to add is that this is a pretty good-sized offering. It earns the $5.99 when you consider the Disney (and Batuuan) upcharge on food and drink. We've included the overall photo as an attempt to provide scale.
Rising Moons Overnight Oats – $6.99
Oats, Dragon Fruit, Yogurt, Seasonal Fruit
We last saw the Rising Moons Overnight Oats in our Ronto Roasters review. You're paying $7 for a parfait mixed with oats that's not necessarily the best. While the portion size is bigger than a normal parfait you might find elsewhere, it's still not enough to earn a reorder from us. It's a unique color and the star fruit on top is great, but it's quite passable.
All-Day Menu
A majority of the dishes you'll find at Docking Bay 7 are served all day. That said, keep reading for the Lunch and Dinner exclusives, some of which are the best items at Docking Bay 7! We'll start first with the all-day entrees.
Smoked Kaadu Ribs – $16.99
Sticky Pork Ribs, Blueberry Corn Muffin, Cabbage Slaw
We're big fans of any time Disney can create a dish that has a tieback to the movies, games, or books of official Star Wars canon. In this case, we're taking a bite out of the Kaadu of Phantom Menace fame. The Kaadu were the beasts that the Gungans rode into battle on the Great Grass Plains. While these creatures aren't the most formidable in battle, it turns out that they're absolutely delicious. Chef Tuggs certainly went out of his way to bring this dish to Batuu as the Kaadu are native to Naboo, and we thank him for that.
The Smoked Kaadu Ribs are likely the highlight of your dining experience at Docking Bay 7 Food and Cargo. It's a deceptively meaty (probably quarter) rack of ribs. There is a great tangy sauce that covers the entire rack and even overflows a bit into the bottom of the bowl. That wonderful, tangy sauce is present in each and every bite, which is why we recommend this dish so highly. Are these going to beat your favorite local ribs place? No, of course not. They take some effort to separate the meat from the bones, but it's worth it. There's a blueberry corn muffin served below the ribs which mixes-in with the ribs and sauce making this dish unique and truly flavorful. Absolutely recommended, even with the high price tag.
Fried Endorian Tip-yip – $15.49
Crispy Chicken, Roasted Vegetable Potato Mash, Herb Gravy
We once again have a dish named after a creature from Star Wars lore. This time the exotic creature is…chicken. Yes, Tip-Yip is Ewokese for chicken. In Star Wars Episode VI Return of the Jedi you see these hens walking around with the Ewoks.
This dish consists of a piece of fried chicken on top of a bed of vegetable mashed potatoes. What's listed as an herb gravy is a green curry sauce that helps bring the entire flavor profile of the dish towards…curry. It's a solid option that tastes excellent, but it's hard to justify the $15.49 price tag when you can get the ribs for less than 2 galactic credits more. But hey, when on Batuu…
Roasted Endorian Tip-yip Salad – $13.99
Marinated Chicken, Mixed Greens, Roasted Seasonal Vegetables, Quinoa, and Pumpkin Seeds, tossed in Green Curry Ranch
Again we find ourselves with a chicken dish, this time roasted instead of fried. We also lose the mashed potatoes in favor for a bed of mixed greens and seasonal vegetables. The "curry" ranch comes off more of like a caesar dressing with an added kick, making this a refreshingly light and tasty option sure to satisfy. Another good portion here of not only chicken, but in general. Any time you can fill the bowl like this, you're going to leave satisfied.
Yobshrimp Noodle Salad – $15.99
Chilled Shrimp, Marinated Noodles, Vegetables, Cilantro
What are Yobshimp? I thought you'd never ask! Time for a REALLY far reach. Yobshrimp are a creature in Star Wars, native to Naboo and eaten by the species of scalefish found in Lake Paonga and in the Naboo Abyss. I haven't gone frame-by-frame, but I'm pretty sure the Yobshrimp didn't get any screen time. That said, they're mentioned in the Star Wars: Absolutely Everything You Need to Know book which makes them more canon than Star Tours: The Adventures Continue at this point. Anyway, on to the dish.
You'll find about a dozen shrimp on your plate here, much more than a "similar" dish at Satu'li Canteen (reviewed here). The plentiful shrimp sit on a bed of chilled noodles, carrots, and peppers. Again, we see the bowl completely filled here, justifying the somewhat hefty price tag. As you progress through the dish you'll find the spice starting to build in your mouth. Keep going though because this is another solid offering from Docking Bay 7 Food and Cargo and one that we'd gladly order again.
Felucian Garden Spread (Lunch Only) – $12.99
Plant-based "Kefta", Herb Hummus, Tomato-Cucumber Relish, Pita
This time we see not a creature represented by name, but an entire planet. Felucia is a green, jungle-like planet in the Star Wars Universe. Originally scene in Star Wars Episode III Revenge of the Sith for a short stint, this planet was used heavily during The Clone Wars. Such a humid, colorful, thick jungle could only produce a plant-based meal, right? In your bowl you'll find three plant-based "kefta" sitting on a bed of herb hummus. Hints of the tomato-cucumber relish can just barely be seen below the hummus. Where everything is doesn't matter, because you'll likely be creating a pita sandwich with all of the tasty elements combined. Even if you aren't into the whole plant-based thing, you'll certainly enjoy this dish for what it is. There are some excellent flavors working together here that earn this dish a recommendation from us.
Ithorian Garden Loaf (Dinner Only) – $14.99
Plant-based "Meatloaf", Roasted Vegetable Potato Mash, Seasonal Vegetables, Mushroom Sauce
Another plate with another backstory! From the planet Ithor, the Ithorians are a peaceful species dedicated to gardening and philosophy… and the occasional bounty hunting and antiquities selling, specifically Dok Ondar just across the pathway.
This garden loaf is made with plant-based meat, making it vegan friendly and just plain tasty. You wouldn't be able to tell it wasn't a real meatloaf if you didn't read the menu. Coming in at a dollar less than the ribs, but during dinner hours only, this is a close second behind those ribs as our favorite entrees for Docking Bay 7 Food and Cargo.
Braised Shaak Roast (Dinner Only) – $18.99
Beef Pot Roast, Cavatelli Pasta, Wilted Kale, Mushrooms
A Shaak is a hefty beast from the planet Naboo, grazing the grasslands in almost a cattle-type manner. Despite their leathery skin, they were plump with blubber. Luckily, what arrives in your bowl isn't blubberous or leathery.
This roast comes out pot roast style that almost tastes and resembles a stroganoff with the Cavatelli Pasta and mushrooms below. Another good example of a robust enough offering to justify the price tag (again, when the Disney and Batuuan upcharge is considered).
Desserts
There are two desserts that are offered on the all-day menu. We examine.
Oi-oi Puff – $6.49
Raspberry Cream Puff, Passion Fruit Mousse
So, this is an interesting tie-in to the Star Wars universe. Oi-oi is a berry that was seen in the background of Maz Kanata's castle in Star Wars Episode VII The Force Awakens. They weren't officially named until 2017 when a book, Star Wars: The Visual Encyclopedia, was released. Were these berries simply placed in Episode VII simply to identify them as in-canon specifically for Star Wars: Galaxy's Edge? We'd like to think so. Anyway, on to the puff.
It's rather unassuming on first glance. That said, we love the presentation and the inclusion of the Batuu logo chocolate medallion is just awesome. It's only once you cut into it that you find the raspberry cream inside. The sponge shell doesn't do anything for the flavor of this dish, but the raspberry is so good inside that we can recommend this dessert.
Batuu-bon – $6.99
Chocolate Cake, White Chocolate Mousse, Coffee Custard
The Batuu-bon is another wonderfully presented dessert. We have a galaxy-styled, hard chocolate dome that protects the much softer white chocolate mousse. This is the item in Star Wars: Galaxy's Edge for chocolate lovers. A dense chocolate cake is the base of this dessert, and it's a wonderfully chocolate ride through and through. We also enjoyed the coffee custard and felt that it blends well, only offering hints of flavor behind the nearly overwhelming chocolate flavors. If we had to pick, we'd go for the Oi-oi Puff on a return trip, but it's probably more of a toss up then it may seem at first.
Specialty Beverages
In addition to the expected lineup of sodas, there are some specialty beverages on offer as well. We couldn't leave Batuu without trying it all, so here are our thoughts on the Moof Juice, Phattro, and Batuubucha Tea!
We want to take a moment to speculate a bit on the beverage options in Star Wars: Galaxy's Edge and a major difference that we could see between the Disneyland version and the Disney's Hollywood Studios version. While the concept of an alcoholic beverage is unique at Disneyland, it's not uncommon at all in Disney's Hollywood Studios. Given the extreme popularity of Oga's Cantina, and a more relaxed stance on alcohol at Disney's Hollywood Studios, we wouldn't be surprised to see some alcohol find their way into some of the beverages at Docking Bay 7. Even the Phattro is alcoholic in Star Wars canon, but has been made non-alcoholic for Docking Bay 7. Most of the drinks in Star Wars: Galaxy's Edge could easily accept a splash of rum or vodka, and we anticipate Docking Bay 7 as being a great spot for Disney to play with some of the offerings. A longer shot may even see some of the alcoholic drinks exclusive to Oga's Cantina making their way onto the Docking Bay 7 menus. Of course, this is speculation at this point, but Disney would be leaving quite a bit of money on the table for no real reason by not offering a harder version of the drinks already offered.
Ok, with that bit of speculation out of the way, let's jump into the current offerings.
Moof Juice – $5.49
Simply Fruit Punch®, Simply Orange® with Pineapple, Chipotle-Pineapple
First mentioned in The Force Awakens a moof is a creature that secretes milk. You might remember that Han Solo first uttered the term "moof-milker" to insult the intelligence of Unkar Plutt for the modifications he had made to the Millennium Falcon. As for the Moof Juice, it tries to be a tiki-style tropical drink, but runs the risk of being a bit too watered down and bland. Perhaps it was just the mixture that day, but we didn't find this particularly interesting. This is a good example of where Disney could add a stronger citrus presence and a splash of rum to create a popular offering.
Phattro – $5.49
Gold Peak® Unsweetened Tea, Odwalla® Lemonade, Desert Pear
As it relates to Star Wars canon, Phattro is actually an alcoholic beverage that is bottled and sold in cantinas around the galaxy. The drink has only been mentioned in The Clone Wars so far, where it could be seen advertised on posters in the Coruscant underworld.
As for the non-alcoholic version found in Docking Bay 7, this drink ends up tasting quite like an Arnold Palmer thanks to the combination of the unsweetened tea and lemonade. We didn't find that the pear added much to the drink.
Batuubucha Tea – $5.49
Suja® Pineapple Passionfruit Kombucha™
This was pretty much just a kombucha. It wasn't really popular with the table as a whole, and it's interesting that it doesn't come with any warnings. The last time we saw kombucha in Walt Disney World was at the 2018 Epcot International Food and Wine Festival. At the festival, Disney put an advisory on the menu board that asked guests to "enjoy responsibly" given that Kombucha can contain minor amounts of alcohol. Overall, you'd really have to enjoy the flavors of Kombucha to enjoy this drink as it is literally just the same Suja Kombucha that you can buy from stores. It's unique, that's for sure, but very passable.
High Quality Otherworldly Food
As we wrap up our thoughts on Docking Bay 7 Food and Cargo, we wanted to take a minute to speak to the food quality here. This isn't burgers and fries, and we hope it never turns into that. Disneyland (and Hollywood Studios, maybe to a lesser extent) have options for those looking for simpler items. We were happy to see that the menu at Satu'li Canteen has lasted as long as it has. When you're building such ambitious lands such as Pandora – The World of Avatar, and now, Star Wars: Galaxy's Edge, it might be easy to try and create a menu for the masses.
Disney created a high quality lineup at Satu'li Canteen by essentially focusing on a few menu items and executing them really well. At Docking Bay 7 Food and Cargo, Disney has created a menu with greater variety while still keeping the quality of the product high. If you're traveling to Star Wars: Galaxy's Edge, we can highly recommend a visit to Docking Bay 7 Food and Cargo for your refueling needs.
---
Thank you for reading our Docking Bay 7 review! If there is anything we missed that you're interested in, please reach out in the comments below or on Facebook or Twitter.