Mickey and Minnie's Runaway Railway is open at Disney's Hollywood Studios and we've been riding it as much as possible to try and catch all of the easter eggs in the attraction. If you want to take a ride through Mickey and Minnie's Runaway Railway first to see how many you can find, check out our full, 4K ride through video below!
Park Opening Scene – 1928
We start at the beginning, and an easter egg that calls back to the creation of Mickey Mouse back in 1928. This is probably the easiest Easter Egg to spot as it's right in front of you and in the slowest moving part of the ride. As a matter of fact, transition archways seem to be a perfect spot to hide an easter egg or two, but more on that in a bit.
Carnival Scene
There are a couple of easter eggs in this scene. We'll start with the easiest one to spot – The Great Moving Ride. This is, of course, a call back to The Great Movie Ride which was the attraction that was previously housed in the Chinese Theater. In this post we'll talk about all of the easter eggs, but if you just want to see the easter eggs for The Great Movie Ride, check out our earlier post.
Potatoland! Tucked away in a corner of the carnival scene is a poster for Great Moments with Mr. Lincoln, potatoland-style. This one will be hard to see, but if you look between the shooting gallery and the bounce house as you leave the carnival scene, you should get a glimpse!
You can't see it from this photo, but this will give you an idea of where to look. Basically to your left and backwards when entering the Twister scene.
Here's a better look.
Finally, we come to the final easter egg that we've found in the carnival scene – Miss Fortunes. As told to us, Miss Fortunes actually pays homage to a current Disney water park attraction. When it was first announced, Miss Adventure Falls was called Miss Fortune Falls. Imagineers wanted to make reference to the attraction's original name and were able to with Miss Fortunes.
Twister Scene
There are a couple of easter eggs in the Twister scene, but perhaps the most fun is the reference to The Great Movie Ride. As we detailed in our Great Movie Ride easter egg post, a mailbox above Mickey and Minnie has the iconic phrase "No Place Like Home". Check it out!
Another easter egg calls back to the 1935 Mickey Mouse short "The Band Concert". As you can see below, a trombone can be seen in the twister as an easter egg.
Culvert
As you're being washed through the culvert from the underwater scene, check out the archway above you for a reference to 1901, Walt Disney's birth year!
City Scene
Oh boy! This is not only a busy scene, but one filled with easter eggs. Let's discover them together.
We'll start with a wide shot and direct your attention to the billboard on the top of the building on the left.
As you can see in this close-up image, not only do we get a Hidden Mickey, but we also see a callback to "Ink & Paint". Ink & Paint was a Disney animation department that was responsible for bringing the magic of color to animation.
With an attraction as colorful and vibrant as Mickey and Minnie's Runaway Railway, it's only fitting that the Ink & Paint department gets an easter egg!
Speaking of the early days of Disney animation, let's go back to the beginning, and a character that even predates Mickey Mouse. Oswald the Lucky Rabbit, originally created in 1927, was created by Walt Disney.
Oswald the Lucky Rabbit has a long and storied history with the Disney company and the loss to his rights ultimately led to the creation of Mickey Mouse, according to Roy Disney. Ironically enough, the idea for Mickey Mouse would come to Walt Disney on a train ride, which is obviously used as one of the main plot points in Mickey and Minnie's Runaway Railway.
With a history as storied as Oswald's, we were excited to find a newspaper in the city scene with the proclamation "Oswald Wins", just to the left of the entrance to Daisy's Dance Studio. You can see the newspaper stand behind the ride vehicle in the photo below.
Here's a closer look at the "Oswald Wins!" newspaper.
Speaking of the creation of Mickey Mouse, why not pay homage to the creator himself- Walt Disney! A very busy city scene has quite a bit to dissect, but we'll start with Retlaw parking. In the cartoon world, not everything is as it seems. What's forwards is backwards, and in this case, what's backwards should be read forwards. If that's too much of a riddle, "Retlaw" is actually "Walter" spelled backwards.
Retlaw is actually much more than a simple reversal of Walt Disney's name, Retlaw Enterprises is actually the family corporation of the Walt Disney family. Retlaw took over the family interests when Walt Disney sold his original WED Enterprises holdings to Walt Disney Productions in 1965.
Also in the city scene we can find a nod to Mickey Mouse…but in a different language! Maison des Souris translates to House of Mouse and can be found just above and to the right of the Retlaw Parking sign.
Before we continue with our examination of the cityscape, let's turn around completely and look back towards the culvert that we came through from the underwater scene to the city scene.
If you look completely behind you, you'll see that the water works building that you came from actually is called the Iwerks & Uwerks Water Works building.
This is an easter egg for animator Ub Iwerks, Walt Disney's right-hand man and the man that did the lion's share of animating, backgrounds, and designing lobby posters for theaters exhibiting the early Mickeys. Ub teamed up with Walt and another animator by the name of Les Clark to develop the earliest drawings of Mickey and Minnie Mouse. According to D23, Ub is credited with sketching Mickey Mouse for the first time.
Ok, back to the cityscape and a nod to some more recent Disney Cast Members.
The following two store names pay homage to two very important Disney Cast Members. On the right, we have Carter's Cameras. According to managers we spoke with, this store is named after Charita Carter, Senior Creative Producer at Walt Disney Imagineering. Charita has a passion for photography when she's not designing the latest Disney Parks attractions!
Next door is Holt's Coffee Shop, named after Joseph Holt, who is the art director for the Mickey Mouse shorts. Holt was in charge of ensuring the attraction's hand-drawn look was authentic to the cartoon. For example, Imagineers added extra floating "lines" around a cactus in the stampede scene that appear as if they're standing alone in midair, emulating a common technique used in the cartoons to emphasize motion.
One more tribute that can be seen in the photo below is "Jolley Gallery", named after Stan Jolley, one of the original designers that worked on Disneyland classics such as Golden Horseshoe saloon in Frontierland, the Autopia ride in Tomorrowland, and the Storybook Land Canal Boats attraction and interiors of Sleeping Beauty Castle in Fantasyland. Jolley was also the art director for the Academy-Award nominated animated featurette "Donald in Mathmagic Land". Perhaps it's fitting that his sign is next to Donald Duck in the attraction.
Zooming out a bit on the scene, we see Donald Duck driving. Of note here is the 'TVA' license plate at the front of the delivery truck. @DisneyTVA is the twitter handle for Disney Television Animation, makers of the Mickey Mouse shorts! Disney Television Animation created 10 new posters that appear in the attraction's queue; nine highlight existing "Mickey Mouse" cartoon shorts, while the 10this for "Perfect Picnic," the new short debuting in the theater.
Our favorite easter egg for the whole attraction actually takes us back to Jackhammer Pete and a closer examination of the scene around him. Previously, we asked you to look high, but now we'll ask you to look low. Specifically, let's take a close look at the road blocks.
Rafferty's Road Blocks is a reference to one of the lead Imagineers of Mickey and Minnie's Runaway Railway – Kevin Rafferty. Out of all the props and storefronts that Rafferty could've had his name on, it's almost too much of a coincidence that his name is on a "road block". Of course, we exclusively reported nearly a year ago that Mickey and Minnie's Runaway Railway would not hit the fall 2019 opening timeframe that Disney released. Later, Disney confirmed that they would not hit the fall 2019 opening time frame. Could "Rafferty's Road Blocks" be a sly reference to the road blocks that the project faced that caused a delay? Either way, we're happy to see Mickey and Minnie's Runaway Railway now open and we think that it's exactly what Disney's Hollywood Studios needed!
Finally, we'll take a look at an easter egg for the people who make this all possible – Walt Disney Imagineers. In this overview photo, not only can you see all of the easter eggs we already discussed, but a large "Flower Shop" sign pays homage to Walt Disney Imagineering headquarters at 1401 Flower Street in Glendale, CA.
Factory Scene
In the alleyway that connects Daisy's Dance Studio to the Factory, you can find the Brave Little Tailor shop, which is an easter egg for the Brave Little Tailor short film produced in 1938 featuring Mickey Mouse in a battle against a giant.
Also in the factory scene is a sound effect easter egg! As outlined in our Great Movie Ride easter eggs post, the trash can to the right of the dumpster makes the same sound effect of a cat that we heard in the Gangster shoot out scene in The Great Movie Ride.
While filming and focusing on the above effect, we also saw a bunch of names "tagged" on the dumpster…likely Imagineers or important names to those who worked on the project. Congrats to all!
Park Finale
Finally, we have arrived at the end of Mickey and Minnie's Runaway Railway. One of the last pieces of theming that guests see before entering the unload area is a directional sign that includes not only yet another Hidden Mickey, but also "Yensid Valley". Just like with Retlaw Parking, we have to read Yensid backwards to reveal "Disney".
One other fun thing to include is that Kevin Rafferty, one of the lead Imagineers for Mickey and Minnie's Runaway Railway decided to have a bit of fun with some of the opening team. According to managers we spoke with, Rafferty didn't tell Cast Members about the shock from Goofy as we re-enter the Runnamuck Station barn. When you're riding, a "shock" is sent through the seats as Goofy pulls the wrong lever. Essentially, the shock is accomplished by a rumble through the seat that is a fun little sendoff as the attraction comes to an end. This "shock" is very reminiscent of another fun sendoff that guests get on a Walt Disney World attraction that Rafferty was a show writer for – It's Tough to be a Bug in Disney's Animal Kingdom!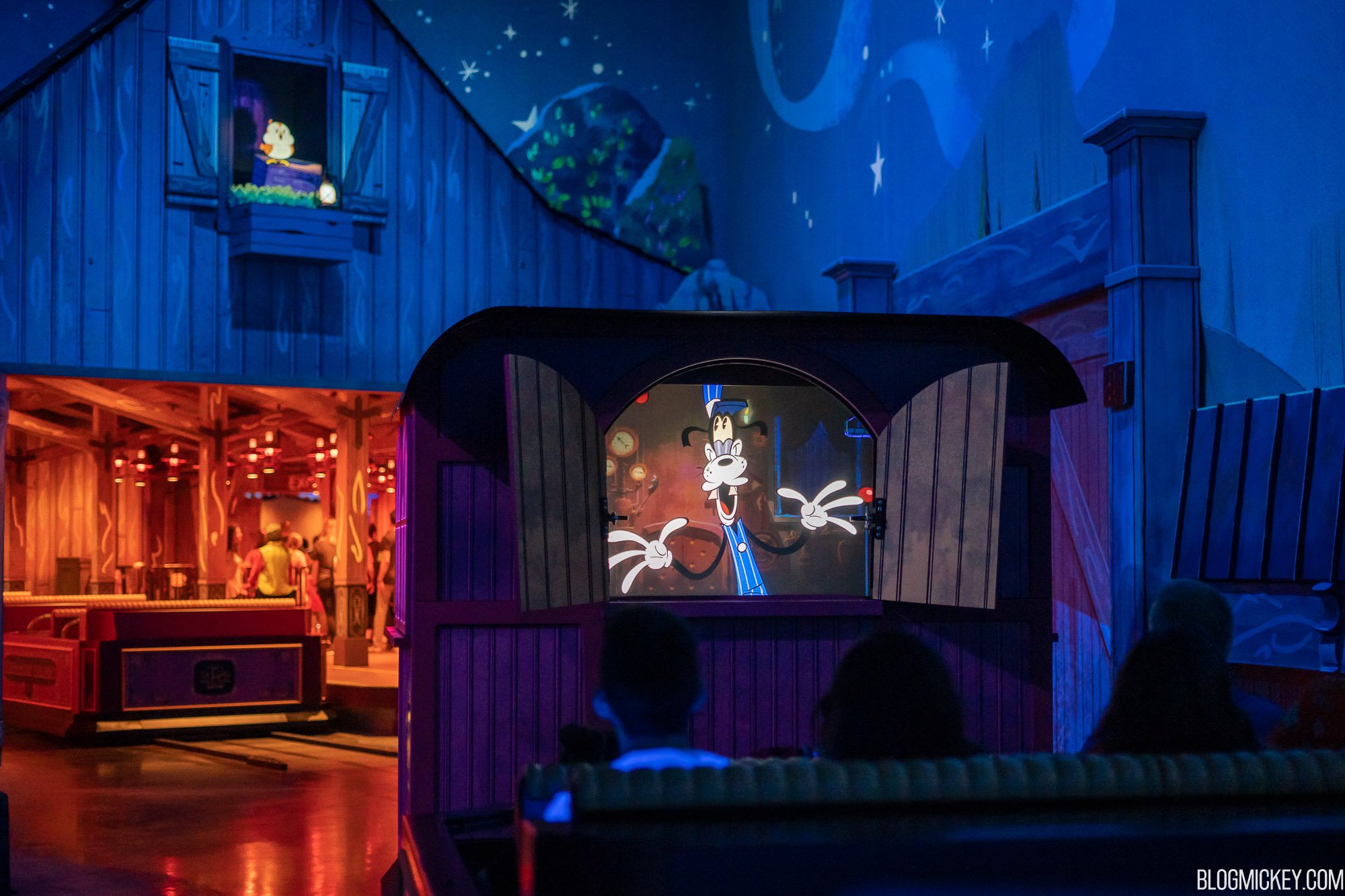 ---
We want to hear from you! We really enjoy looking for all of the fun easter eggs in the attraction, but there are likely many more that we haven't found yet. Let us know on our Facebook Page or on Twitter if you've found any that we may have missed!
For continuing coverage of the Disney Parks, keep checking back with us here at BlogMickey.com!