Mickey and Minnie's Runaway Railway, a new trackless dark ride at Disney's Hollywood Studios, is now open! The ride can be found at the end of Hollywood Boulevard in the Chinese Theater. In this post, we're going to not only review the ride, but examine how it fits into the attraction landscape at Disney's Hollywood Studios. All aboard! Here's our Mickey and Minnie's Runaway Railway review!
We'll get a few (important) details out of the way first. Mickey and Minnie's Runaway Railway has no height requirement and it is available as a FastPass+ option. Guests who don't have a FastPass+ can join the physical standby queue with no requirement for a boarding group or any virtual queue.
Ok, with that out of the way, let's talk about the story and ride before we talk about how it fits into Disney's Hollywood Studios. Here's the synopsis from Disney:
The darling duo are taking a leisurely drive to a picnic in their sporty roadster—with Engineer Goofy's train following merrily along. Plot twist—you get to go, too! Climb aboard a runaway railway and embark on a whirlwind ride through a world where the rules of physics don't apply. Prepare for unexpected twists, slapstick gags and mind-boggling transformations at every turn, as Mickey and Minnie try to save the day.
There's no telling where this train is heading! This is an adventure for Mickey and Minnie fans of all ages.
Guests step into the Chinese Theater for the premier of a new Mickey Mouse cartoon – Perfect Picnic. It's a completely original cartoon made in a collaboration between Walt Disney Imagineering and Disney Television Animation. As we see in the pre-show, Mickey and Minnie are in their roadster as they set off for Runnamuck Park in search for the perfect picnic spot.
As Mickey and Minnie sing the Disney Parks' newest earworm "Nothing Can Stop Us Now", things start to run amuck as Mickey accidentally sends Pluto flying into the air, launching a pie that gets stuck in the smoke stack of Goofy's locomotive which arrives into Runnamuck Station before exploding and ripping a hole in the screen. Guests are invited to step through the screen and into the fun cartoon world of the Mickey Mouse shorts! The effect is jaw-dropping and an ingenious way to introduce guests to a world that is just as unexpected as walking through a movie screen to enter an attraction.
Instead of walking you through each scene that you can watch in our 4K, stabilized ride through video at the top of the post, we want to talk about the scenes broadly.
First, it's a lot of action. You truly feel like you're stepping into a crazy, cartoon world where action happens all around you and sometimes scenes change in the blink of an eye. For the first-time rider, we felt like there was almost too much going on. It can certainly be overwhelming and the cars move through the scenes quickly, sometimes being swept up in a tornado and other times being drained down a culvert as a way to transition scenes.
The trackless ride system is not only great in terms of making you feel like you're on your own ride at times, but it also makes perfect sense in the storyline of the attraction. We're huge fans of trackless ride systems across the Disney Parks, most notably in Mystic Manor, Pooh's Hunny Hunt, and Rise of the Resistance. Mickey and Minnie's Runaway Railway is another example of the tech being used smartly. The trackless ride system is also the only way the storyline makes sense of breaking away from the locomotive and being thrown into the cartoon world of Mickey and Minnie.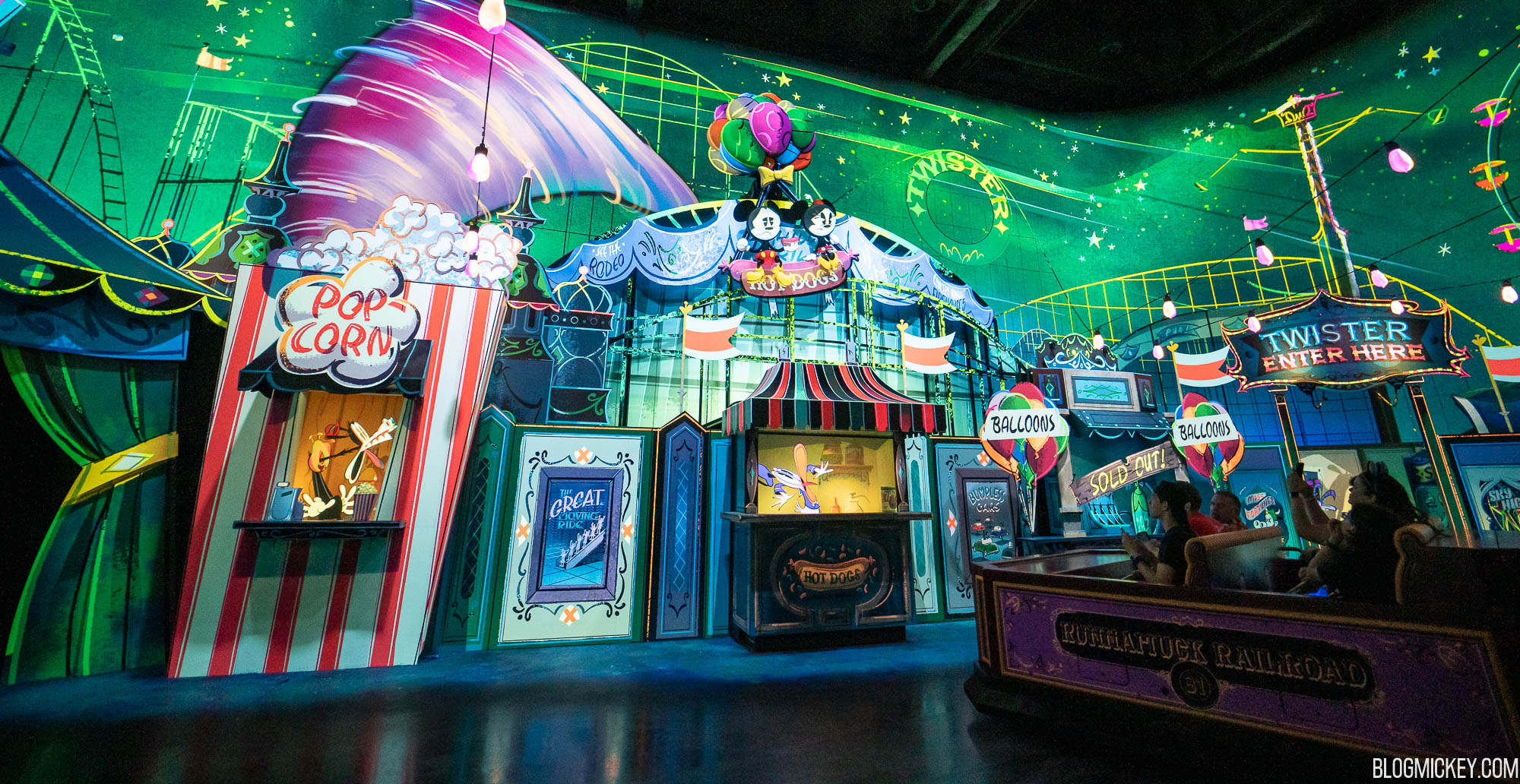 We will note one thing about the trackless ride system that seemed a bit out of place on our first ride through, a scene where guests enter Daisy's Dance Studio. This scene throws off the frantic pace of the attraction and almost serves as just a place where Imagineers can "show off" the trackless ride tech by making the cars "dance". Of course, the scene is still fun and contains the best audio-animatronic in Daisy Duck, but we would have liked to spend more time in other scenes that go by too quickly like the City scene, or an extended time in an upgraded Twister room. That said, we love the trackless ride tech which leads to twists and turns that are completely unexpected.
Another highlight of the attraction is the projection technology. Disney partnered with Panasonic back in 2016 and the projection technology has been getting better and better. While Panasonic tech can be found in other attractions such as Rise of the Resistance, Na'vi River Journey, Seven Dwarfs Mine Train, Frozen Ever After, and more, Mickey and Minnie's Runaway Railway demands a level of precision and vibrant colors unlike anything we've seen to date. Every scene is bright and the projection tech blends into the painted set pieces smartly.
Speaking of vibrant detail, let's talk about the cartoon world that you step into. The Chinese Theater has a classic old Hollywood feel to it, but the second you step through the screen and into the cartoon world of Mickey and Minnie Mouse, every little detail becomes what Imagineering is calling 2½-D. Everywhere you look, there are new and classic paint techniques at play that turn flats and dimensional sets into scenes with depth of field while still maintaining the cartoon aesthetic. There really is nothing like it at Walt Disney World. The best way we could describe it is a hyper-plussed version of a Disneyland Fantasyland dark ride.
One particular show-stopping scene is the Factory scene where Mickey and Minnie work frantically to try and prevent guests from being crushed. When they are successful, the entire scene transforms right in front of you using theatrical techniques to transform a factory into a scenic park in seconds. It's the highlight of the attraction and something that we wish there was more of throughout the ride.
Finally, let's talk about the ride as it relates to the rest of the Disney's Hollywood Studios landscape. It might be tough to read, but this isn't your parents Disney-MGM Studios. Gone are the days of behind-the-scenes moviemaking attractions. Instead of going behind-the-scenes, guests are invited to step right into their favorite movie and live their own adventure. The park has shifted considerably in focus and purpose over the past many years, and Mickey and Minnie's Runaway Railway is just a continuation of what has been happening in front of our eyes with Toy Story Land and Star Wars: Galaxy's Edge. An attraction like Mickey and Minnie's Runaway Railway couldn't really live in a Disney-MGM Studios of the past, but it fits in perfectly to the Disney's Hollywood Studios of today.
Back to our thesis, Mickey and Minnie's Runaway Railway is not only a fun family attraction, but it's also exactly what Disney's Hollywood Studios needed. It's a trackless dark ride with high capacity that has no height requirement. The lack of a height requirement is particularly useful as it's only the second moving attraction in the park that guests of all ages can ride (joining Toy Story Mania). It's hard to believe that a Disney theme park existed with just shows and a single moving attraction that the whole family could enjoy. Adding Mickey and Minnie's Runaway Railway is huge for the park, especially with a subject matter that the little ones can enjoy and relate to.
Overall, we're big fans of Mickey and Minnie's Runaway Railway, and we think that it's a perfect addition to the Disney's Hollywood Studios of today. We'll miss attractions like The Great Movie Ride and Backlot Tour, but even if they were updated they simply wouldn't fit into the future of Disney's Hollywood Studios.